4 Cybersecurity Blogger Success Stories [2022]
•
Updated: October 20th, 2022
4 Cybersecurity Blogger Success Stories [2022]
Become A Cybersecurity Blogger
Cyber attacks hit businesses and private systems daily. Highlights of the Check Point Cyber Security Report show that cyberattacks against corporate networks increased by 50% in the past year.
Therefore, IT professionals and all computer users are interested in understanding the changing cybersecurity landscape.
Are you a cybersecurity expert? Did you know you could earn a good income teaching others about cybersecurity matters? A cybersecurity blog features articles, surveys, research, and everything related to cybersecurity matters.
Cybersecurity is a vast, dynamic, and somehow overcrowded niche. To start a cybersecurity blog, identify a target audience and understand their pain points. Then, understand what your competitor's content your competition covers and focus on channeling better content.
Here are some real life success stories of starting a cybersecurity blogger:
1. All Things Secured ($300K/year)
Josh Summers (from Chiang Mai, Mueang Chiang Mai District, Chiang Mai, Thailand) started All Things Secured almost 6 years ago.
Team
1 founders / 1 employees
Case Study
Hey guys! My name is Josh Summers and I'm the founder of All Things Secured, a personal security and privacy brand that produces tutorials and educational content online. I started the company about 5 years ago while living in a sensitive part of China where the internet was highly censored and my activities were closely monitored, but have since moved to a more comfortable location in Thailand.
This past year, we crossed the 100,000 subscriber mark on YouTube and have continued to grow our content through email, live workshops, and other social media channels.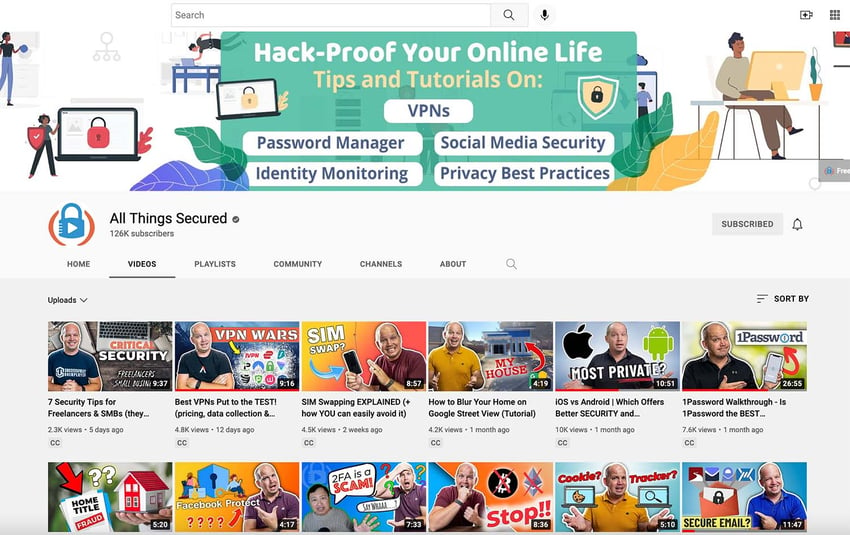 2. Gartner
Gartner is the world's leading research and advisory company. We equip business leaders with indispensable insights, advice and tools to achieve their mission-critical priorities today and build the successful organizations of tomorrow.
Website traffic: 2.89M/month
Business rank: #2.84K
Check out their full website ➜
3. Bitdefender
Bitdefender is a global cybersecurity leader you can trust and rely on, protecting over 500 million systems in more than 150 countries.
Website traffic: 5.51M/month
Business rank: #5.06K
Check out their full website ➜
4. Sophos
Sophos is Cybersecurity Evolved. Advanced Endpoint Protection and Network Security Fully Synchronized in Real Time.
Website traffic: 4.12M/month
Business rank: #6.13K
Check out their full website ➜
Want to find more ideas that make money?
Hey! 👋 I'm Pat Walls, the founder of Starter Story.
Get our 5-minute email newsletter packed with business ideas and money-making opportunities, backed by real-life case studies.