Thank you Klaviyo for sponsoring Starter Story ❤️
Turn one-time buyers into repeat customers. Try the platform loved by 265,000 brands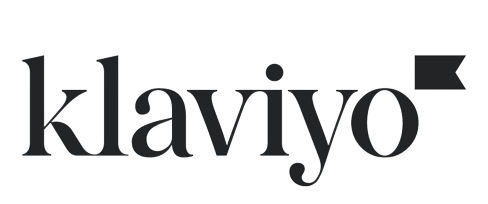 On Starting An Online Magazine About The Creative Industries
Hello! Who are you and what business did you start?
Hello! We are The Vibe Room, a digital magazine found by Natasha Magino and Isabel Yu. The magazine is currently run by Natasha Magino, Shaakira DeLoatch, and Jasmin Dixon.
The Vibe Room is a DMV based magazine that publishes quarterly. We host an issue release and networking event with every issue. Our vision is to establish The Vibe Room as a network that empowers creatives to pursue their passion and craft right where they are. By bringing the local creative community together, we act as a conduit for connecting and collaborating.
In our first year, The Vibe Room has had 5 successful issues and networking events. We've featured over 30 diverse creatives, artists, entrepreneurs and the like. We average 80 attendees at our events and surpassed 1,000 followers on Instagram. Imagine what we will do in year two…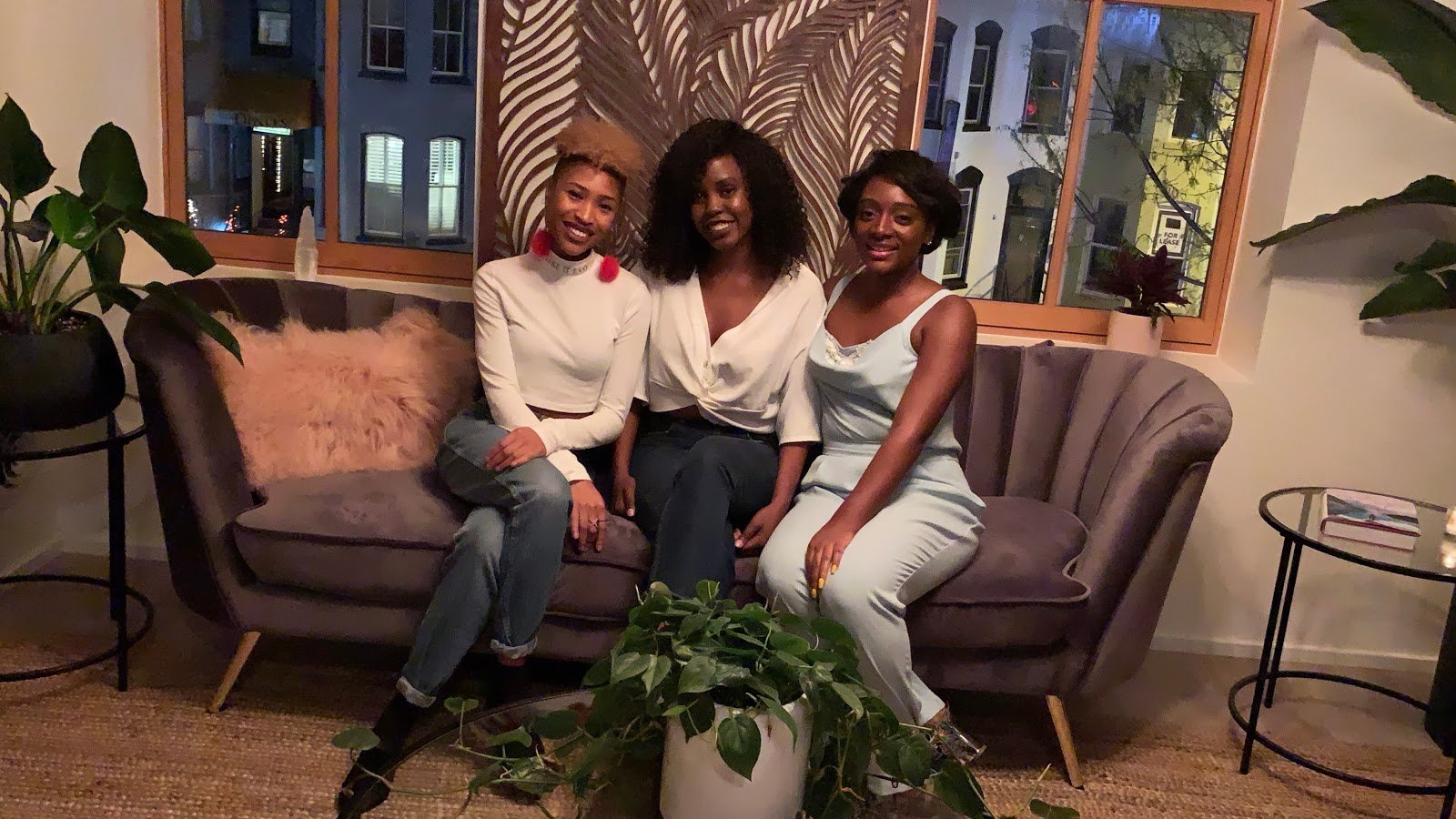 What's your backstory and how did you come up with the idea?
The cofounders of The Vibe Room, Isabel Yu, and Natasha Magino both majored in marketing which led them to cross paths at a digital media publishing company in downtown Washington D.C. They were both passionate about creative advertising and marketing. As their friendship blossomed the two of them decided to create a podcast that was themed around two millennials working 9-5s trying to figure out adult life, titled "We'll Figure it Out". During one of the recordings, the idea of The Vibe Room came to fruition.
Never let money stop you from starting anything.
As Natasha and Isabel bellowed over the microphone about how bored they were with their 9-5 routines, they eventually thought out loud. They thought of a space where people of all walks of creative backgrounds could come and escape the monotony of the corporate world that is the DMV (Washington D.C., Maryland, and Virginia). They realized that the DMV has an abundance of creatives but not enough spaces celebrating their talents. As they spoke, they eventually decided that they wanted to create a space for creatives where they can connect and network with each other. They also came up with a name for space, calling it "The Vibe Room". A month later they decided to move forward with The Vibe Room but as magazine instead of a space.
A few weeks later they met their future Creative Recruiting Director, Shaakira DeLoatch. She brought with her experience in business development, brand development, and marketing. She is now navigating towards project management, with interests in marketing strategy and product launch strategy. Shaakira has an ear for music, an eye for fashion, and a habit of discovering people and things before they blow up. She seemed to always be in the know of all things creative going on in the DMV, so Natasha and Isabel were ecstatic when she decided to join the team.
When we released our first magazine, we decided to accompany each release with an event to get the word out about who we are and to fulfill the goal of connecting creatives and providing them with an opportunity to network. We had a great turn out and in attendance was Jasmin Dixon our soon to be Editor and Social Media Manager. Jasmin has always been a think tank and a creative writer. She wrote for the University of Maryland, Eastern Shore's newsletter, started a photo blog and even dipped into comedy writing. She's used those talents to obtain a career in marketing. As a DC professional, Jasmin understands how the corporate world can be and the need for a creative outlet which in turn led her to join The Vibe Room.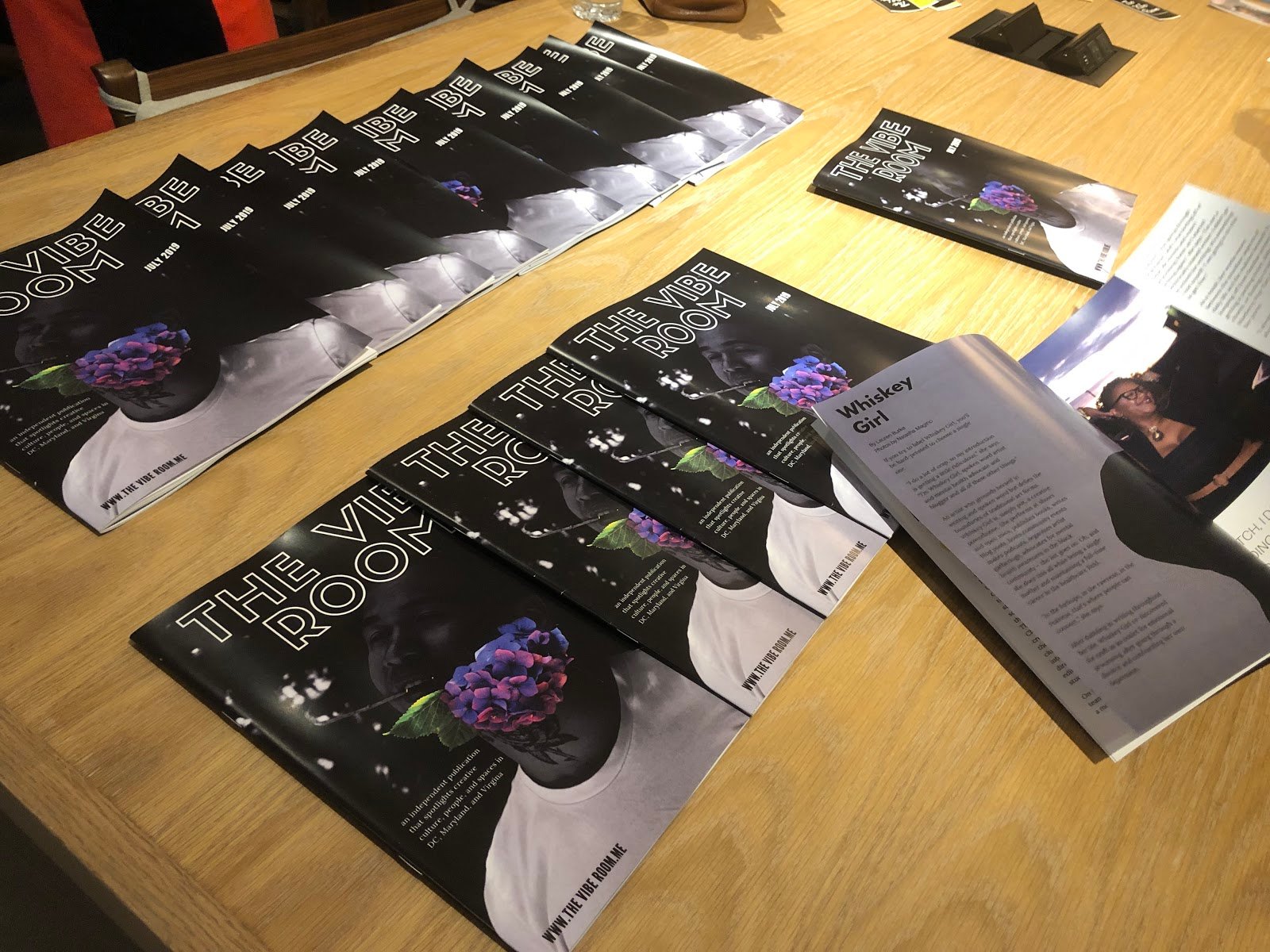 Take us through the process of designing, prototyping, and manufacturing your first product.
When the idea of The Vibe Room was first conceived, Natasha and Isabel, wanted to mirror the structure of popular magazine companies like Complex, Fader, I-D, etc. They wanted to produce original stories about creatives in the DMV (D.C., Maryland, and Virginia), but unlike these companies, they wanted to focus solely on underground artists.
One of the top complaints that they heard from their peers was, creatives in the DMV felt as though there weren't enough platforms highlighting them, which in turn made it hard for them to break out or gain any traction. This often resulted in creatives fleeing the DMV in search of fame and recognition in cities that they felt catered more to their needs. After a discussion about the frustrations that creatives face, Natasha and Isabel decided to create a platform that could help alleviate some of the hardships DMV creatives face.
From the beginning, we recognized that the audience we wanted to reach would be comprised of creative millennials. We realized that this group was the most receptive to our ideas and excited for a new creative platform. We were also very aware that this audience prefers to receive and send information electronically. So, we decided that our first magazine issue would be created and published digitally. Unlike most magazine companies who publish stories online in blog format, we decided to stick to the structure of flipping through a magazine. So, when you visit our website, you'll flip through each story page by page instead of scrolling up and down through an article.
There's no singular process when it comes to sourcing artists and topics. It's both organic and collaborative. Shaakira, head of recruiting, does a lot of the sourcing. A good portion of our features is creatives and artists she's met at local art shows, market fairs and the like. Other prospects come from our subscribers connecting us with creatives or, creatives reaching out to us through social platforms. Community is our driving force. Through The Vibe Room magazine, we hope to show whoever is reading that there is a lot more to D.C. than Politics and Lyft scooters!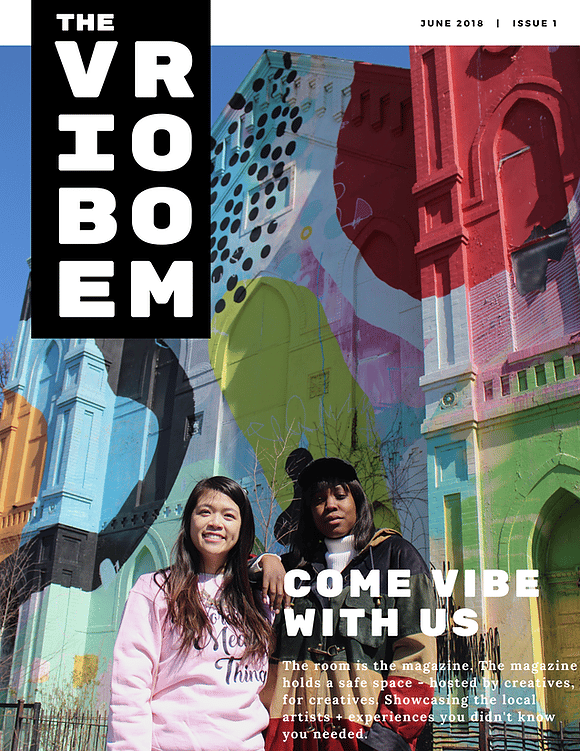 When our brand recognition started to grow, we decided to print a limited number of magazines in celebration of our one-year anniversary. For our first print, we stuck to a classic magazine feel with glossed pages and saddle-stitched binding. We immediately realized how much our audience enjoyed having a tangible product of The Vibe Room. There were appreciation and admiration for the print magazine that we've decided to produce print magazines to accompany our digital magazine for all of our forthcoming issue launches.
Describe the process of launching the business.
The Vibe Room was launched as a passion project. To cover expenses we used donations gained from event attendees and invested our own cash. The expenses include our digital magazine hosting platform/website, producing branded products, printing the magazine, and supporting/compensating local talents (DJ, photographer, speakers, etc) for our programming. We rely on platforms like Eventbrite to promote our events as well as raise donation money.
To launch The Vibe Room, we decided to take the start-up route. We designed and built the website ourselves. We also passed out printed flyers to get the word out about our brand and first magazine launch/networking event. To build traction, we followed as many creatives as we could on Instagram and Twitter. As the date approached for our first event, we sent messages to personally invite the creatives we followed. Finally, at our launch event, we were able to garner a crowd of 50 attendees. Since then our audience has continued to grow.
Since launch, what has worked to attract and retain customers?
Everything about The Vibe Room has been completely organic. Our following has grown from word of mouth and social platforms. People have emailed us saying how they love our mission and would like to be apart. Interactions like that have truly made us grow.
Instagram has been our most popular social handle, so we focus on and push most content there. Marketing for networking events always increases social and website traffic. Readers enjoy anticipating what's next and event post gives them the opportunity to share and keep track of the next issue/event. If needed, we will pay to push a post on Instagram depending on how many hits it has received.
Our readers stick around because we provide genuine content. Many of the features we write about, readers can relate to, personally know or have heard about before. These articles give readers the opportunity to learn more about creatives in a way they couldn't get elsewhere.
Our choice for event space has also helped with attracting an audience. We partner with local spaces that many of our readers are familiar with. We were able to host at spaces like Songbyrd, Eaton DC and The Glow Club. They all differ but maintain a consistent aesthetic and feel that we know our audience is looking for and would like to check out.
How are you doing today and what does the future look like?
We have overcome so many obstacles that have given us the courage to try new ideas. In July 2019, for the first time in our digital magazine history, we provided printed copies for sale. To our surprise, they sold out quick! All we could think was, "Wow, we should have ordered more." Taking chances like this has allowed us to grow into the positive space we are now and is preparing us for the day we become truly profitable.
The Vibe Room, the future holds endless opportunities. Our goal is to grow into a creative convention allowing a larger space for vendors, artists and entrepreneurs in the DMV to connect. We would like to provide opportunities for creatives by being the first publication people look to when in search of local entrepreneurs, talent and spaces.
Through starting the business, have you learned anything particularly helpful or advantageous?
Creating contingency plans can help with crisis management. Especially when it comes to planning events. Each issue we release is paired with an event, so there is a lot of behind the scenes preparation every quarter. Things don't always go as planned, but the show must go on! Contingency plans help you solve those problems with a little more ease.
Always allow yourself enough time for error. Nothing is worse than catching a mistake after projects have been finalized. If possible, set deadlines for a week before the actual due date. Then use the extra time to double-check all your work without the rush of a final deadline.
Don't be afraid to stand up for your business when people try to take advantage. Just because it may be new or not as established, don't allow others to treat it with no value. Set the standard for what you expect professionally.
What platform/tools do you use for your business?
Canva has been our top tool. We use it to create the magazine template, flyers and social media content. There are endless options to customize images even with the free version. It is a great way for upcoming businesses to maintain consistent professional branding at no cost.
For our networking events, Eventbrite has been our go-to tool for managing RSVPs. It allows us to capture information about guests and track data on event attendance. Once again, no cost! Another great tool for entrepreneurs to use. There is a fee if ticket sales or donations are charged. We are currently looking for a cost-effective option when it comes to that. So, if you know of any hit us up!
What have been the most influential books, podcasts, or other resources?
The best resource has been living in the DMV and knowing so many talented creatives pursuing their passion. Interacting with people who have the same mindset and drive to turn their dreams into reality is the true influence.
Many of us on the teamwork a 9-5 job that does not fulfill our true passions. Our own experiences have inspired The Vibe Room and have pushed its creation.
Advice for other entrepreneurs who want to get started or are just starting out?
A tip from each of us here at The Vibe Room:
Barters can be a great way to save money and build business relationships. Never let money stop you from starting anything. Find those people who are willing to exchange mutually beneficial services.
Closed mouths don't get fed. A lot of opportunities and creative spaces that we have come by were through talking about The Vibe Room out loud and passionately. You never know who is sitting next to you and the access they have. Attended networking events and do not be afraid to ask for help. The worst answer you'll ever receive is "no", but don't let that stop you from trying.
It is your business, you make the rules! Create a business plan that satisfies your vision and your "normal". Being genuine is what will attract and retain a following. So, have fun with it and stay passionate.
Are you looking to hire for certain positions right now?
We're always looking for creative writers to keep content and perspective fresh. We have an official creative writing call for every issue. Follow us on Instagram to stay updated on our calls or feel free to email us at [email protected] if you have something else in mind.
Where can we go to learn more?
If you have any questions or comments, drop a comment below!
-
Natasha Magino, Founder of The Vibe Room
Discover the best strategies of successful business owners
Join our newsletter and receive our handcrafted recap with the best insights shared by founders in Starter Story each week.
Useful, convenient, and free:
PROMOTED
Did you know that brands using Klaviyo average a 95x ROI?
Email, SMS, and more — Klaviyo brings your marketing all together, fueling growth without burning through time and resources.
Deliver more relevant email and text messages — powered by your data. Klaviyo helps you turn one-time buyers into repeat customers with all the power of an enterprise solution and none of the complexity.
Join Brumate, Beardbrand, and the 265,000 other businesses using Klaviyo to grow their online sales.
Starter Story
Wanna see 52 business ideas you can start with less than $1,000?
Join our free weekly newsletter and get them right now.