How I Started And Sold A $15K/Year Video Game Marketing Business
Start A Game Publishing Business
Hello! Who are you and what business did you start?
Hi, my name is Hassan and I'm the founder and CEO of UltraShock Gaming, an indie game marketing firm with a community of over 500,000 gamers. I'm a two-time startup founder, consultant, and final year computer engineering student in Philadelphia.
At UltraShock Gaming, I help indie game developers get their game on big PC platforms like Steam and take care of all things marketing, copywriting, and beta testing in exchange for a percentage of profits. Our other main revenue stream comes from advertising for larger gaming companies. We've done $15k in revenue a year, $12k of which is profit.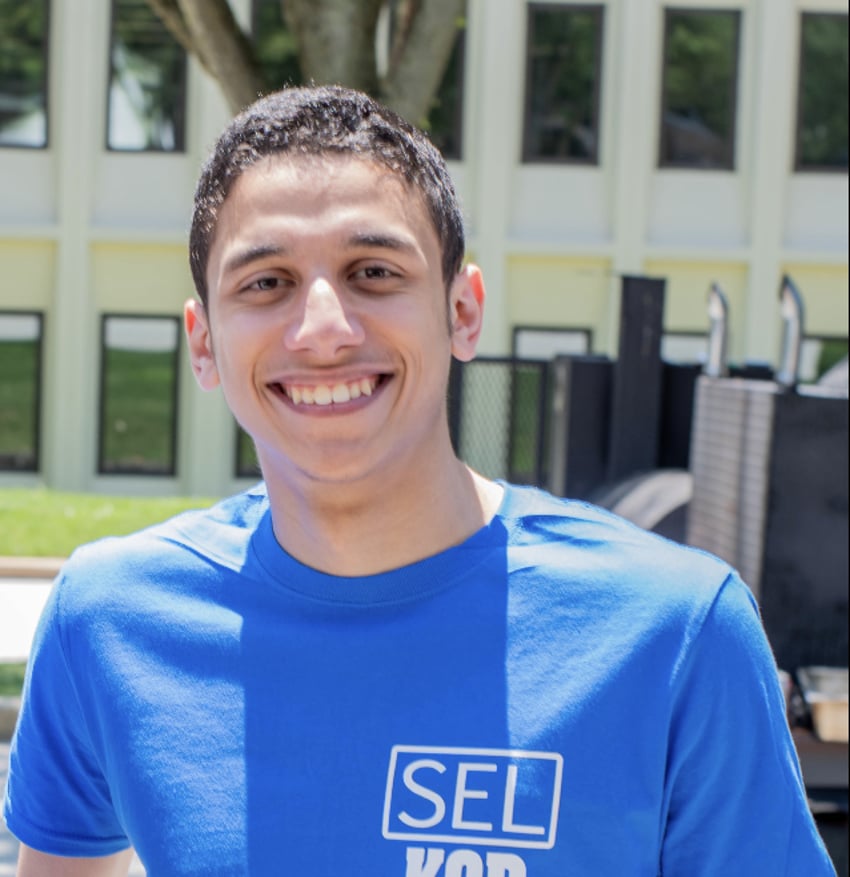 What's your backstory and how did you come up with the idea?
One day, in my junior year of high school, I was talking to a few game developer friends who were complaining about how hard it was to get their games on large PC platforms like Steam. These were people who developed games in their free time and were finding it difficult to get them on Steam to sell them.
There will always be some sacrifices - it's up to you if you think it's worth it.
At the time, Steam required developers to go through a process that involved putting their game on a platform called Greenlight where you needed to get many users to vote on your game and state that they would consider buying it. If it generated enough interest, (usually several hundred to a few thousand votes) Steam would "Greenlight it" and accept it into the Steam store.
I decided to try to see if I can help these small developers with their marketing and getting them on platforms like Steam to sell their games. I planned to do this by first growing an audience through free game giveaways whom I could ask to vote on certain games to greenlight them and get them accepted to the Steam store.
Thus, UltraShock Gaming was born.
Seeing this niche in the gaming market combined with my passion for gaming at the time really motivated me to try hard and see if I could turn this into a business. I had no prior experience with startups, the professional gaming industry, or business as a high school student. Just a naive kid with the confidence to go for it and learn as I go.
Describe the process of launching the business.
The first thing I needed was an audience to advertise to. I made a Steam group (similar to a Facebook page but on the Steam platform) as Steam had a better reach for gamers than traditional social media. After this, I started reaching out to developers who had games on Steam to ask if they wanted to send me some copies of their game to give away. It was a win-win situation; they got free advertising through me showcasing their game and I was growing my steam group through the giveaways.
I would post a giveaway, ask my audience to just comment on anything to enter, randomly pick winners when it concluded, and distribute the games to them. Here's an example of one I did.
I kept these giveaways free, consistent, and high quality (good games that people wanted) to grow as quickly as possible. My Steam group started growing from 1 member to 100, 1000, and then around 40,000 members several months later. Who knew people loved free games?
As a result of the growth, I decided to acquire a few other Steam groups to expand my reach with the $4000 I previously earned trading digital items the previous year. This quickly grew my audience to a combined reach of 500,000 gamers across all my groups.
I then started Twitter & Facebook pages to continue to promote giveaways, specifically those we ran through gleam.io that required users to perform certain actions to join giveaways. An example of a giveaway on Twitter can be seen below.
Before I knew it, I was managing five steam groups totaling 500,000 members and their respective giveaways, social media giveaways, finding game developers and emailing them for games to giveaway, and running other day-to-day operations. I was overwhelmed with work, so I decided to hire several interns to help out.
These interns helped me:
Collect emails of game developers, so I could email & ask for games to giveaway
Post giveaways and award prizes to winners
Enforce steam group rules and clean up spam
Interns would first compile a list of game developers who had their game on Steam, whom I would then email to ask for copies of their game to give away. I'd then send those copies to my interns, who would post giveaways, moderate them, and award winners with games across all the groups/social media.
Keep in mind that up to this point (~1 year of running the business), I've made a total of $0 from the business. I wanted to focus on providing value, growing my user base, and building credibility before I worried about the business model.
Since launch, what has worked to attract and retain customers?
I began to charge for services when I built this infrastructure and got access to half a million gamers. I kept doing free giveaways for willing developers but at the same time, started to include advertisements embedded at the bottom of the giveaways like the one below.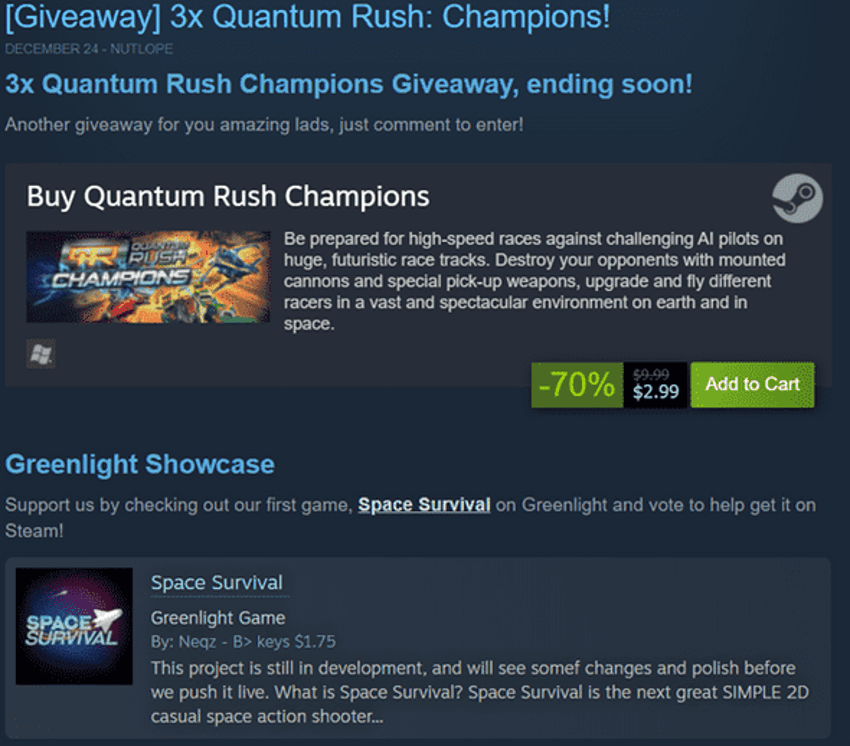 These advertisements would contain one of the following:
Ads showcasing gaming companies or Youtubers who wanted to drive more traffic to their sites. We charged $500-3000 for this service.
Games that we wanted to get greenlit (get enough votes on Greenlight to get onto the Steam store). We would charge a $500 flat fee to do this and it typically only took advertising the game on 1-3 giveaways.
Games that we wanted to publish (get greenlit and help the developer with marketing and beta testing). We would sign a royalty-based contract with the developer that would give us 15-30% of their profits.
Ads for our twitch channel whenever we were live (I paid a streamer to stream, hold giveaways a few times an hour, and collect donations). Donations generated ~$400 per month and we would split this with the streamer.
Keep in mind that these advertisements were completely free since we owned the distribution channel (Steam groups), which meant ~0 costs to post. We also didn't spend any money on advertising, just cold emailing gaming companies who wanted to advertise, inbound leads, and cold emailing developers.
We advertised to our gamers on our Steam groups (500k+ members), email newsletter (135k), and Social media (~120k across Facebook, Twitter, YouTube, and Twitch), all free channels.

How are you doing today and what does the future look like?
As mentioned, our first year was focused on growth and we did $0 in revenue because I spent the year building and acquiring Steam groups, providing value, and establishing my brand.
The second year, when I started charging for services, we did around $15,000 in revenue and approximately $12,000 of that was profit. The revenue was split approximately in the following way:
Advertising for gaming companies & influencers - $9000
Royalty contracts with developers - $3000
Greenlight flat fee deals - $2000
Twitch streaming - $1000
At the end of the second year, we had built a substantial follower base: 20k on Twitch, 30k on Facebook, 80k on Twitter, $130k email newsletter, and 700k on Steam.
I lost interest in the startup and gaming industry as a whole around this time, and it was also around when I graduated high school and moved to the US for college.
At this point, the startup was worth ~$100k and I started thinking of selling it. Instead, I kept the startup setting for another 3 years - doing the bare minimum while I watched as my communities lost users and the activity plummeted.
I just couldn't bring myself to sell it.
Every time I thought about selling, I would remember all the blood, sweat, and tears I put into it over the first two years, and I would think, "I should keep it since I'll bring it back to its former glory someday". Spoiler alert - that never happened.
In August of 2020, I decided enough was enough and moved forward with listing my startup on MicroAcquire at a fraction of the price I could have gotten. I got 22 requests from interested buyers, 7 of whom were serious and I had discussions with, and after a lot of back and forth, I ended up selling the business to two separate buyers for $10,000 a month later.
Through starting the business, have you learned anything particularly helpful or advantageous?
One big thing I learned from this business is the power of compounding. It's typically exponential and most people quit before they see this growth since it usually takes a long time of hard work with no results to get to this result. Another thing I learned is the power of consistency and what happens when you're not. I got fired by clients because I didn't deliver on my word.
If a student with no business background could start and run a semi-successful startup with no resources in a developing country, you can definitely run a startup (or do anything else you want). There will always be some sacrifices - it's up to you if you think it's worth it.
My typical schedule during weekdays of my senior year of high school was to go to school, come back at 5 pm, get homework done in 1-2 hours, then spend 6 pm to midnight working on the business. On weekends, I'd likely spend 10 hours a day on it. My social life suffered for a year but I was able to make it work, and if I had to do it again, I would in a heartbeat.
I learned so much from running this business. I learned how to manage people, how to be consistent (and what happens if you're not), how to pitch to clients, how to draft and sign contracts, how to build an audience/brand and so many more things. Things that I would have never learned from a book. So go out, create your own path, and don't listen to people who say you need to do X to start a business (or to do whatever you want to do), especially if you're still a student when risks are low.
Just do it.
What platform/tools do you use for your business?
Gleam.io for giveaways. It allowed us to build an email subscriber base of 135,000 gamers and helped us get traffic on our client's social media. Would recommend this platform if you're doing giveaways of any kind.

We used Bitrix for our CRM, mostly because it was cheap. The product was not the best but it got the job done. These days, I'd recommend Zoho.
Trello for managing tasks. Allowed us to see what everyone was working on and stay organized.
Discord for communicating with team members and weekly standups
Mailchimp for managing emails.
YouTube, Twitch, Facebook, Twitter, and Steam for distribution
What have been the most influential books, podcasts, or other resources?
My advice: TAKE ACTION. Just like one cannot learn swimming from reading a book, the best teacher in entrepreneurship is often experience.
Start that business, especially if you can afford to fail or are young. Look up how to do a business plan. How to make a website. How to market through social media. Practice how to pitch to clients.
Learn on-demand instead of just reading books and not applying anything they're saying. And build a great product/service.
I personally didn't read a single business book before starting this company.
If I had to recommend a book now, I'd say How to Win Friends and Influence People by Dale Carnegie was a game-changer in terms of how to deal with other people.
Advice for other entrepreneurs who want to get started or are just starting?
Think about something that makes you passionate and how you can turn that into a business. Start brainstorming ideas for how you can monetize it, and execute.
3 principles to keep in mind:
Consistency: Doing something repeatedly over a long period of time is a competitive advantage.
Compounding. Anything you do (blog, ads, videos, code) compounds. Most people quit before they hit exponential growth.
Iteration. Everything is trial and error, try something, see how it works, and adjust based on the feedback. Iterate frequently.
Are you looking to hire for certain positions right now?
No, I'm not since I sold the business. I'm currently consulting for a couple startups and brushing up on my coding skills to land a software engineering job at a high-growth startup.
Please reach out to me if you're hiring a motivated business-minded software engineer or if you need any advice for your startup.
Where can we go to learn more?
I recently sold the business and wrote more about my journey. If you'd like to stay connected or have any questions, I'd be more than happy to answer them. Feel free to reach out on Twitter or by email!
-
Hassan El Mghari, Founder of UltraShock Gaming
Want to start your own business?
Hey! 👋I'm Pat Walls, the founder of Starter Story.
We interview successful business owners and share the stories behind their business. By sharing these stories, we want to help you get started.
Interested in starting your own business? Join Starter Story Premium to get the greatest companion to starting and growing your business:
Connect + get advice from successful entrepreneurs
Step by step guides on how to start and grow
Exclusive and early access to the best case studies on the web
And much more!