How I Started A $20K/Month Pet Spa That Provides A More Comfortable Grooming Experience
Hello! Who are you and what business did you start?
My name is Olivia Glynn and I'm the founder of Pawsitivity Pet Spa, the only holistic, appointment-only grooming salon in Asheville, NC. Through my experience working for privately-owned and corporate grooming salons since 2005, I became aware that most of the stress associated with grooming is caused by improper groomer education and by some standard grooming procedures, such as long kenneled waiting and drying periods.
In 2014 I created Pawsitivity Pet Spa as an alternative to the typical grooming experience, to offer the same level of quality and comfort as is expected in the human spa industry.
Pawsitivity Pet Spa is not just my job; it's my passion. Grooming my clients' four-legged family members is a privilege, and I take pride in my ability to bring out the beauty in each dog. I am thankful for the unconditional love that dogs give us, and am honored to know that I am making a difference in the life of each dog I work with.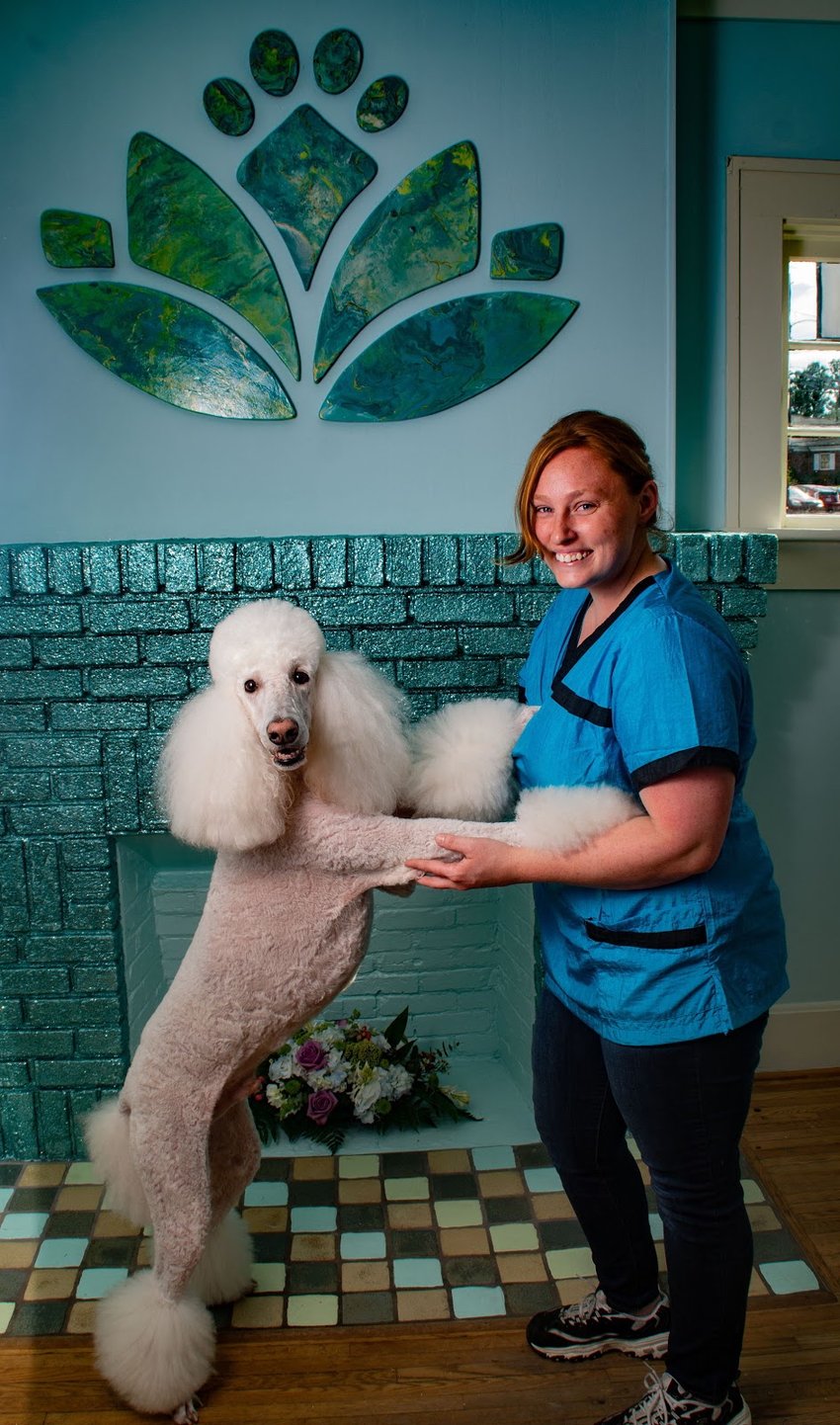 What's your backstory and how did you come up with the idea?
Having worked in several different grooming salons, I was not satisfied with how dogs were being treated. In the US in general, grooming is seen as a necessary evil, and the focus is not on making the dog comfortable or giving them an enjoyable experience. I began to see more and more clients who view their dogs as a part of their family, and I wanted to focus on serving this demographic. They are not looking for a cheap, quick haircut; they want to bring their dogs to a place where the stylists get to know their dog individually and understand what their needs are.
There is an expectation among entrepreneurs to have to give themselves extreme working hours and high expectations to be successful. Money is not worth it to me to work 80-90 hours a week. I could be a millionaire, but who cares? What I need is a good quality of life.
My idea was that there had to be a better alternative than the typical grooming salon. At Pawsitivity, our primary goal is the comfort of each canine client. We want to understand each dog's personality and what makes them happy so that we can give them a comfortable, pleasant grooming experience. I educate my clients on how to care well for their dogs, what spa services are needed to make their dog comfortable, and how to read their dog's body language, especially after a grooming appointment, to understand how they are feeling.
When we moved to our current location, we stopped using kennels altogether, and that has been a learning process. We realized that dogs in kennels were frequently barking, and we wanted to create a spa atmosphere where dogs are more relaxed and not stressed. This required a lot of changes on our part, some of which we are still figuring out. But we can tell the difference in the dogs' ability to relax and be comfortable, which makes it all worth it.
We've written about our philosophy of compassionate care in grooming and the rationale behind the spa treatments we offer.
Describe the process of launching the business.
I financed my original launch in August 2014 through personal investments and a very small loan of $6,000 from my landlord at the time. I was working at a grooming salon where I was paid as a subcontractor, and I realized that I was being taken advantage of. I had always wanted to start my own business, so decided that if it was ever going to happen, the time was now.
I found a building, pulled permits, installed a tub for $4,000 thanks to a handyman friend, and made posters, flyers, and business cards. I forwarded the spa phone number to my cell phone and worked from 9:00 to 5:00 every day, with or without clients. On days when I had no clients, I went out with flyers and business cards to meet people and make connections. I put my picture on my flyers so that people could recognize me and my work, and I had 28 clients who followed me from my former salon. My brother who works in IT helped me build a website, which was up before I even opened.
My overhead was so low that I was able to break even from the time I opened. It took about a year to be able to pay myself a full salary. My clientele grew rapidly, and I joined a couple of local Facebook groups where I marketed directly to dog-lovers. I had no money at all for marketing, and by October 2014, I saw that I had too few clients coming in to pay the bills. I went on one of the Facebook groups and offered 20% for first-time clients, and was quickly booked for the entire week.
Every single one of those first-time clients became regular, and I was able to raise their price to the regular price after the first visit. That is the only time in six years that I have ever given a discount because I know that in general giving discounts ruins my profit margin.
The original launch was much smaller than where we are now. It was just me for about two years, so I worked alone with the dogs in a small space. I planned to start in a smaller location first and grow into significant profitability before expanding. I was able to hire a skeleton staff before transitioning to a bigger building.
Pictures of the original location: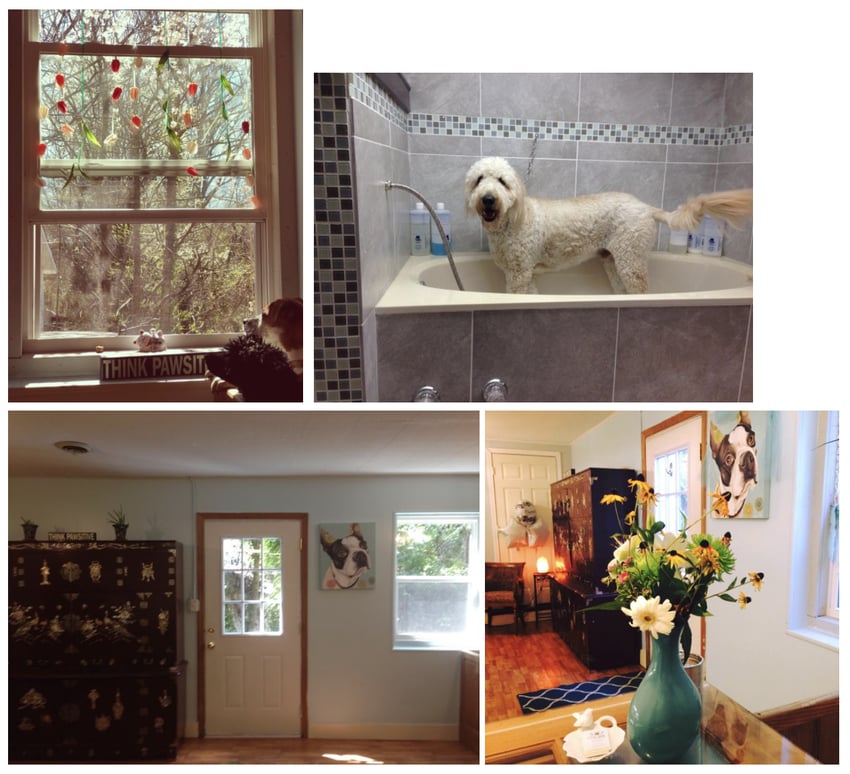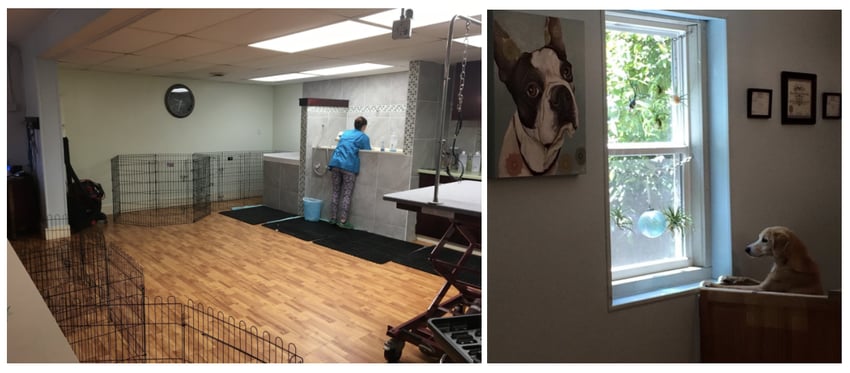 Since launch, what has worked to attract and retain customers?
Ever since opening, this business has consistently grown through word of mouth. We get more referrals from veterinary hospitals than any salon I have ever worked in because we take care of dogs properly and we communicate when we find an issue that needs veterinary care.
I have learned that the key to gaining and maintaining clients is the quality of work. Early on there were times when things got so busy that I neglected the quality of my own grooming. I lost a high-paying loyal customer because of this. This was one of the two biggest mistakes I have made as a business owner. The other was signing up for a three-year magazine ad contract in a local lifestyle magazine that in the long run cost me $14,000 and brought in exactly one client. I had heard that businesses should expect to spend 10% of their revenue on marketing, but in my experience, in this business print ads do not work.
In the first few months of being open, people were not finding my salon on Google. I realized it was because I had been so focused on using the wording "pet spa" that we had not used the word "grooming" much at all. My brother optimized the SEO so that a search for "pet grooming" brings up our site, and my website has been on the first page of Google ever since.
Our reputation comes from word of mouth; about 90% of our clients come to us because they have heard about us from other clients. This is a slow way to grow, but it is a reliable way to grow and it doesn't cost money up-front.
My advice would be to know who your best clients are and accommodate them. When we have to re-organize the schedule or make changes, I try to make our most loyal customers the least likely to know about it. We have a policy that we don't reschedule clients who are in our VIP program. They make their schedule a year in advance, and we need to be here for them when we say we will be.
I have learned that our clientele are very generous, and they have high standards. If we do the work well and meet their standards, they are the best clients you can get! My personal lesson in this is learning to charge what we are worth because we are the best at what we do and we offer a distinctive, unique environment and services.
We keep a presence on social media not because it directly brings in clients, but because it increases our visibility and popularity. People tell me all the time that they follow us on Facebook because we always have such cute pictures!
Be ready and able to set boundaries. A client who is demanding, manipulative, threatens to leave bad reviews, etc. is not a client worth having. Let them leave!
How are you doing today and what does the future look like?
This year, we won second place in the Best of WNC Awards. We are profitable, though it is very difficult right now because of COVID-19. But in the long run, I believe the pandemic will be good for our business because it is forcing me to make changes that I would not have made otherwise -- such as focusing on grooming instead of trying to expand into other revenue streams such as daycare and boarding. I have had to focus on what is already working, and make it more profitable.
Currently, with three full-time employees, we are breaking even and able to pay the overhead. Last year, our overhead without payroll was about $18,000, and our revenue was $289,000. I don't think we will reach that this year, but we are learning how to live with the reality of the pandemic and I don't think COVID can have any more of a damaging effect than it already has had. Our baseline of profits is 30% of what it costs us to pay our groomers, so as we add more staff we will continue to add profitability.
My current goal is to hire more staff who are capable and already fully-trained so that I can more comfortably back away from grooming. Right now, my physical ability and my time limit the amount of grooming I can do.
Long term, we want to be much more profitable, and I would like to add a mobile grooming unit. At one point I wanted to add more locations, but I have learned that if we run this location as it should be run, we don't need to add more locations to continue to add profitability. My ultimate goal is to make my brand into a franchise because I believe in what we are doing and I think that it is repeatable.
Pictures in our current location: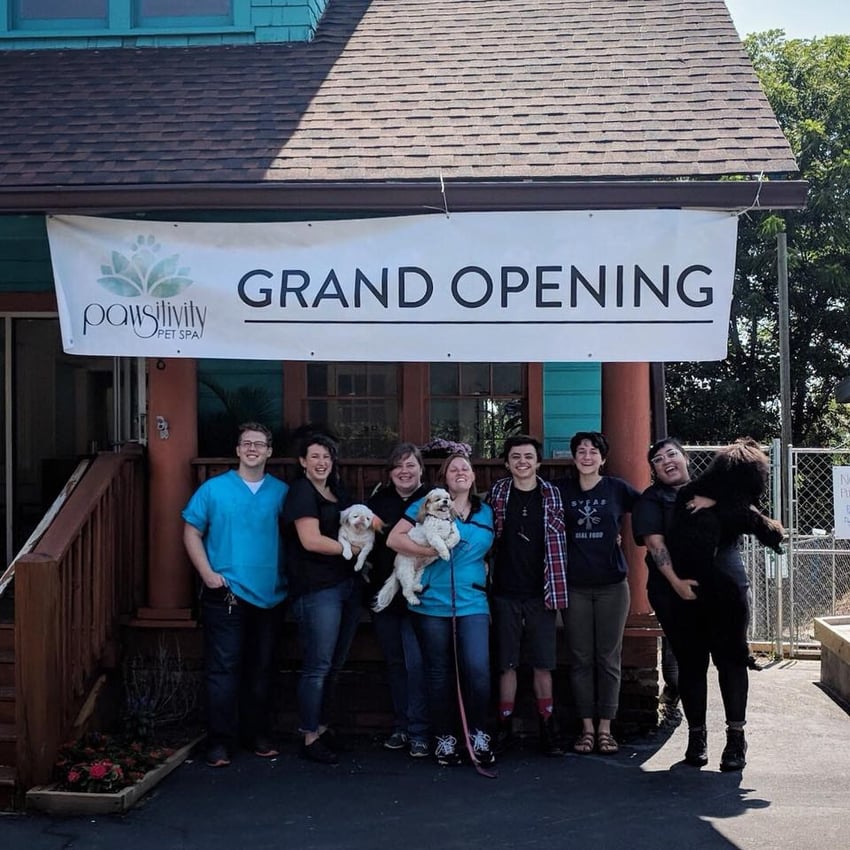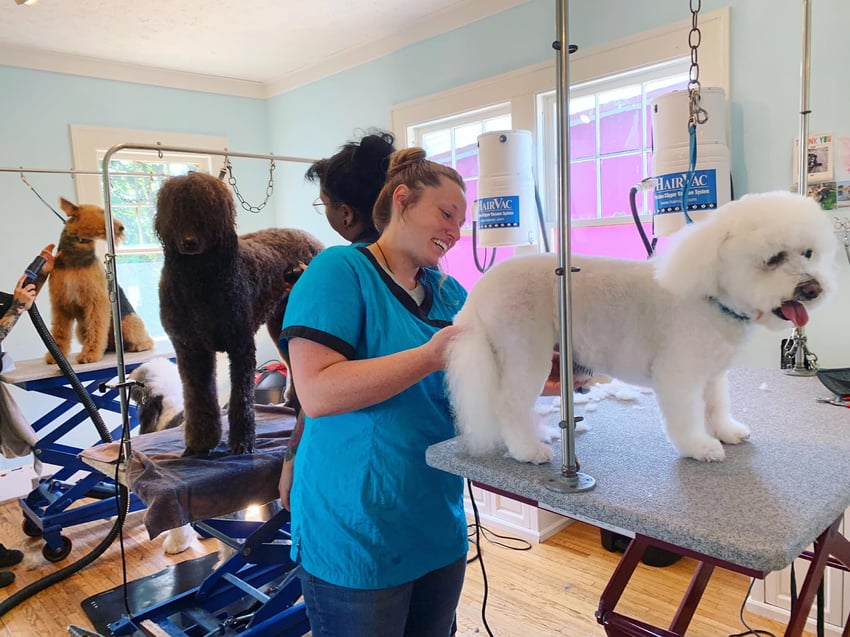 Through starting the business, have you learned anything particularly helpful or advantageous?
Ever since opening this business, I have been learning what is important to me and what goals I actually want to work toward -- and what is worth it. One important lesson I have learned is that advertising is rarely worth the money. I don't know if that's true for other businesses, but it is true for mine. It is much less expensive and much less work to keep clients because they're happy than to have to find new ones.
The biggest lesson I have learned is to not settle when it comes to employees. I'm very kind-hearted and can see the good in anyone; I tend to put up with people and have been way too lenient with employees in the past. The staff I have now tell me that they are proud to tell people where they work and that when people hear that they work here, they are impressed. This says a lot about what we are worth in the community. We are worth getting the best employees, and I shouldn't make compromises on it.
There is an expectation among entrepreneurs to have to give themselves extreme working hours and high expectations to be successful. But this comes at a very high price: most entrepreneurs I know have extreme anxiety and stress. Money is not worth it to me to work 80-90 hours a week. I could be a millionaire, but who cares? What I need is a good quality of life. For me, this involves a good work and home life balance. I want to work so that I can live, not live so that I can work.
What platform/tools do you use for your business?
I hired someone to run our social media accounts (Facebook and Instagram). I do not like doing social media, so I delegate that task. We use email for appointment reminders and to discuss things with people when a meeting in person doesn't work out. Other than this, we are a very in-person and locally oriented business, and this works well for us.
What have been the most influential books, podcasts, or other resources?
Advice for other entrepreneurs who want to get started or are just starting?
Do what you say you're going to do. Integrity is worth more than anything else you could do. The reason my business is doing well is word of mouth; the reason word of mouth works is that we deliver on what we promise we can do for people. I am honest and up-front with my clients. I tell them the truth about how their dog is behaving and what they need. As a result, my clients trust me -- and this trust is what has built the reputation of my business.
We put our dogs' feelings first, which is a hard thing to do many times -- but it is why our clients trust us and stay with us. When things go wrong, we have a conversation with the client and figure out how to handle it going forward. Taking the time to do this is more valuable than you can imagine. When you make a mistake, admit to it and learn from it as quickly as possible. You are the only one who will suffer if you don't.
At the same time, realize that you cannot please everyone. No matter how good you are at your job, you cannot make everyone happy. About a year into owning my business, I had someone leave me a one-star review after bringing in a 12-year-old dog that had never before been groomed. The client spent 30 minutes discussing what we would do with her dog, and I explained that we do not allow owners to stay while we work on their dog because it is a liability, causing distraction. She came for her appointment and announced she was going to stay and watch me groom her dog. I refused, and she assumed this meant we were trying to hide something. She got angry and left, and wrote a one-star review saying she wanted to know what I had to hide. Six years in, I have a total of fewer than five reviews that are less than 4 stars. 95% of our reviews are 5-star. All the sleep I lost over this customer did not matter in the long run!
Be ready and able to set boundaries. A client who is demanding, manipulative, threatens to leave bad reviews, claims that your staff has said something against the policy, complains about how you're running your business, tries to bully you into doing what they want, etc., is not a client worth having. Let them leave!
If your reputation is based on integrity, this type of client cannot bring your reputation down. Know what you stand for, and stick to your guns. If you're doing good work, the kind of client you want is willing to pay you for it. If a client tells me that my staff is lying to me, I know the client is a liar. If I didn't trust my staff, they wouldn't be in this salon. They are conscientious and excellent at what they do.
Are you looking to hire for certain positions right now?
I am always looking to hire professional pet stylists with 5+ years of experience who are proficient at hand-scissoring, breed standards, and gentle grooming techniques. This is a full-time salaried position, $40,000-60,000 a year depending on ability and productivity.
Where can we go to learn more?
-
Olivia Glynn, Founder of Pawsitivity Pet Spa
Want to start your own business?
Hey! 👋I'm Pat Walls, the founder of Starter Story.
We interview successful business owners and share the stories behind their business. By sharing these stories, we want to help you get started.
Interested in starting your own business? Join Starter Story Premium to get the greatest companion to starting and growing your business:
Connect + get advice from successful entrepreneurs
Step by step guides on how to start and grow
Exclusive and early access to the best case studies on the web
And much more!