How I Started A $41K/Month Junk Removal & Demolition Company
•
Published: February 18th, 2020
Start A Junk Removal Business
Hello! Who are you and what business did you start?
My name is Sal Polit-Moran. I am 25 years old and am the founder & owner of A+ Enterprises Junk Removal & Demolition. We are a junk hauling & demolition service that specializes in cleaning out homes and demolishing small structures. We're located in West Pittston, Pennsylvania and have been in business since August of 2017.
Our service is mainly used by people who have items they no longer want such as appliances, furniture, construction debris, etc. In addition, we have a demolition division that demolishes garages, concrete, patios, mobile homes, and more.
Primarily, our main customers are people who have recently purchased or inherited a home and need it fully cleaned out. We average approximately 90 jobs and $41,000 in revenue each month.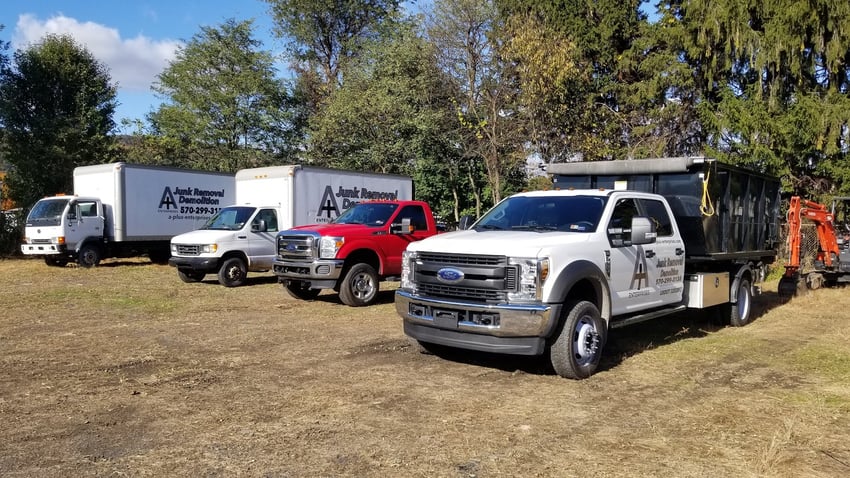 What's your backstory and how did you come up with the idea?
I graduated from Rochester Institute of Technology in May of 2017 with a degree in Networking & Systems Administration. During my time at college, I worked for a very large snow plowing business. My boss at the time taught me the ins & outs of running a scalable business, and halfway through my college career, I decided I wanted to be self-employed.
After graduating from college, I took a full-time position doing Systems Administration work for a large company. Within 1 week of working at this company, I realized I could never do this for the rest of my life. I came up with a plan to quit my job within 1 year by starting some type of business.
I did tons of research and realized that the area I am located in (Scranton, PA) is extremely underserved by junk removal companies.
One of the worst decisions I ever made was to do too many things. We were doing things we had zero experience in doing such as excavating or land-clearing.
All I had to start this business with was a 2003 Dodge pickup truck, a dump trailer, and $300 in my bank account. I funded this business at the beginning with my paycheck from my full-time job.
I began advertising on Craigslist due to it being free to post business ads at the time. Almost immediately, my phone started ringing for people who had junk they wanted to be hauled away.
I had no idea how to price jobs or where to dump the junk we were removing for people. After about 3 weeks of trial and error, I had a general idea of how to run a junk removal business.
After about 2 months of being in business, I realized we needed a bigger truck to haul junk in. We purchased a 1992 Hino box truck with 279,000 miles on it for $2000.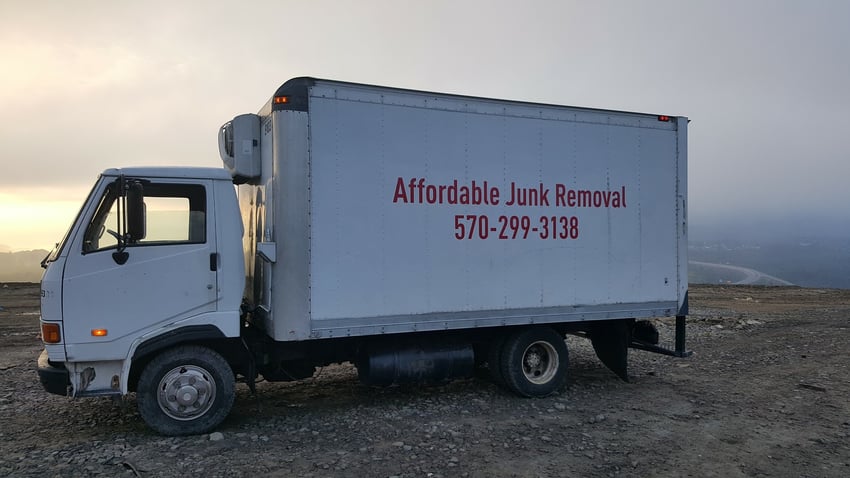 With a pickup truck, trailer, and box truck - we were off to the races. I began dabbling with Google Ads and started investing heavily in website design & SEO.
Take us through the process of designing, prototyping, and manufacturing your first product.
When I first started this business, I had absolutely no idea what I was doing. The only advertising we did at first was spamming Craigslist with ads. Originally, I was not concerned with branding, company image, or legitimacy. We were a cheap company servicing cheap people, and it started to work.
Due to being extremely cheap, we did not do anything legitimately. We had no insurance, no licensing, no LLC, etc. Just about the only legitimate thing we did was properly dispose of all junk we removed at landfills!
Part of my reasoning for running the business such as this was it was strictly a side-hustle at this time. Only after being in business for almost 8 months did I finally get the proper insurance & licensing. Looking back, this was an extremely risky decision on my part for many reasons.
Between getting liability insurance, auto insurance, and the legal filings, my actual startup costs were roughly $4,000. Doing this allowed me to pursue higher-priced jobs such as commercial cleanouts & demolition jobs.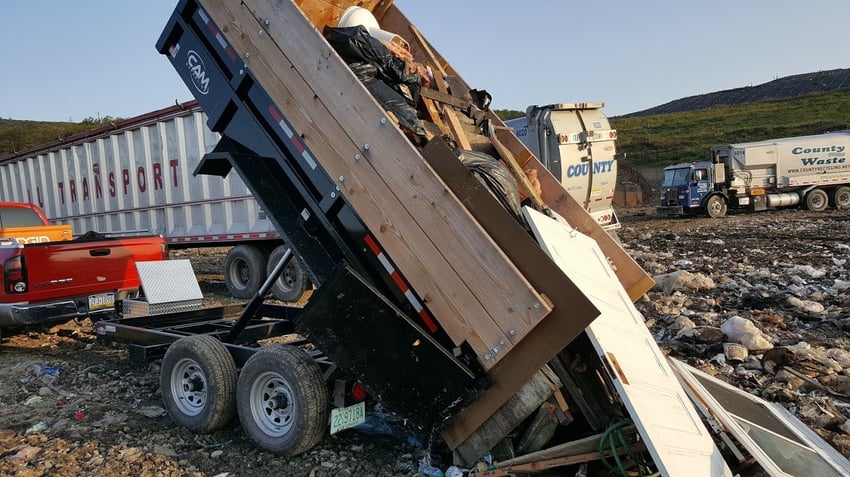 Describe the process of launching the business.
Launching this business was one of the scariest things I ever did in my life. Every single person I knew, including friends and family, told me I was crazy. "You went to college for 4 years to become a garbage man!?"
Not having anybody giving you support when starting a business is one of the worst feelings you can have. For over 1.5 years, nobody thought this business would work. I would work 14+ hour days, 7 days a week.
I financed this business by taking all the money I made from my full-time job and investing it in equipment & advertising. I did not take out any loans initially, as I was not sure if this business would work or not.
Fortunately, it didn't take long to start making money from this business. Only 2.5 months into this business, we landed a $5,000 hoarding cleanup job. That helped validate this business and put extra money into our marketing efforts.
When I wasn't working at my full-time job or doing hauling jobs, I was working on our website. I spent about 20 hours per week working on our website, SEO, and Google Ads. I knew that Craigslist wasn't a long-term solution for growing our business. The types of jobs we got from there were not profitable and the customers were looking for the lowest price.
I invested heavily in advertising on Google, and never looked back. Since then, I have been continuously doing SEO to help our website rank better and lower advertising costs.
One of the biggest lessons I have learned is to focus on what is working. When I started the business, we would do basically anything the customer requested to make an extra buck. Brush-hogging, excavating, driveway installation, and other services were dropped over time to focus on junk hauling and demolition.
Since launch, what has worked to attract and retain customers?
The single-most thing I can attribute to attracting & retaining customers has been customer service. In our area, there are dozens of smaller junk removal companies. Every single one of them has lower prices than our company. We stand apart by having top-notch customer service, clean & new trucks, and excellent employees.
We have increased our sales exponentially over the past 2.5 years by spending heavily on Google Ads and doing SEO. I would recommend to everyone who wants to grow a business such as this to have a great website and a solid advertising campaign.
SEO has been a very long-term game but has been paying dividends in recent months. It takes over 2 years for it to really start showing results, but the savings in ad spend have been worth it.
Our company has a very loyal following of repeat customers & referrals. We amaze every single customer with on-time, professional service. This, in turn, leads to word-of-mouth referrals and repeat business.
With that said, we occasionally make mistakes that could potentially turn disastrous.
I have spent over $1,000 to fix a floor at a customer's house after one of my employees made a 2" scratch in the hardwood. The job was only for $225, so I took a major hit.
That customer has turned out to be one of our biggest advocates and constantly refers to our new work. This just shows that doing the right thing for your customers goes a long way.
How are you doing today and what does the future look like?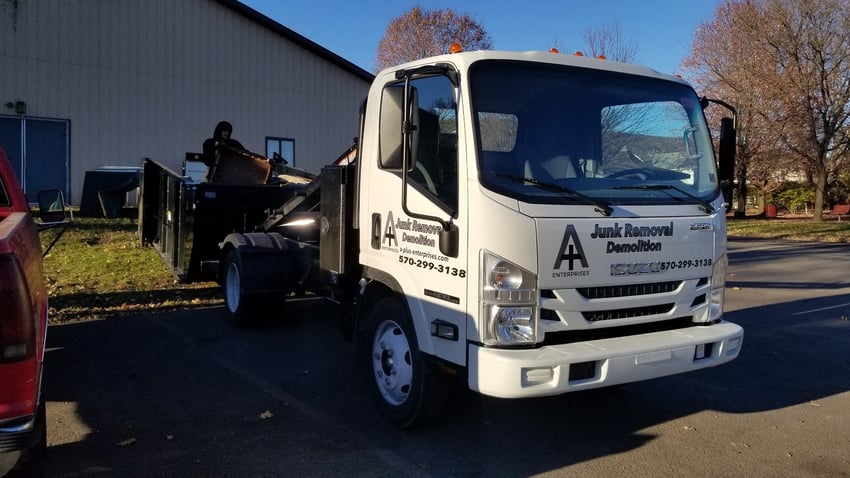 We have been growing consistently month over month since we started. We average a healthy profit margin on the jobs we do (40% gross), but continuously reinvest profits into growing the business more.
In December 2018, I quit my job to take this business full-time. This allowed me to focus 100% of my efforts on this business. As a result, 2019 saw a 300% increase in business compared to 2018. In August 2019, we reached $41,000 per month in revenue.
Our website averages about 900 visits per month, which is decent considering we are a local business in a small town. Currently, we are averaging about $2,500 per month on ad spend with Google. We still post on Craigslist weekly, because the ROI on a $5 post is very good.
We currently operate 5 junk removal trucks and have 3 different types of trucks. The types of trucks we run are a pickup truck, 2 box trucks, and 2 Switch-N-Go trucks. The box trucks are great for large cleanouts & donating furniture. The Switch-N-Go trucks have roll-off dumpsters that allow for efficient cleanouts of properties.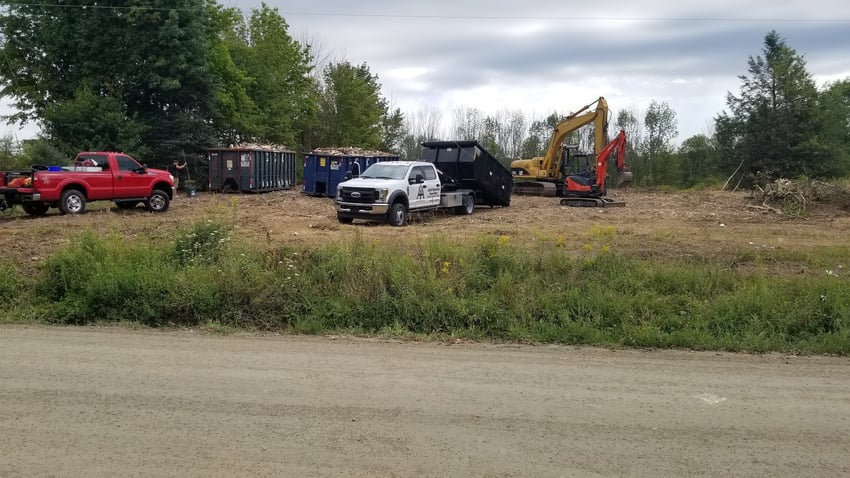 Daily operations involve me answering phones, dispatching crews, and doing marketing. I have excellent employees who meet with customers, estimate jobs and get jobs done for us. We use a scheduling & routing app called Jobber that has increased our efficiency exponentially.
Short term goals are to continue expanding in this market and hit $50,000/month this year. In addition, a major goal for this year is to pay down loans we have on equipment & trucks. I believe in using leverage to grow your business, but minimizing risk & exposure is also important.
Long term, we plan on expanding into surrounding areas such as Allentown, Harrisburg, and Lancaster. We have no intention of franchising the business, unlike most junk hauling companies. I have been training our employees and promoting from within to allow them to run their own branch when the time comes.
Don't overthink anything, just start doing something. You do not need to have any clue of what you are doing as long as you have courage and persistence.
Through starting the business, have you learned anything particularly helpful or advantageous?
One of the worst decisions I ever made was to do too many things. As I mentioned previously, we were doing things we had zero experience in doing such as excavating, land-clearing, etc.
This caused me to lose money on many of these jobs, and to have unsatisfied customers. In addition, it took away focus from our bread and butter - junk removal & demolition.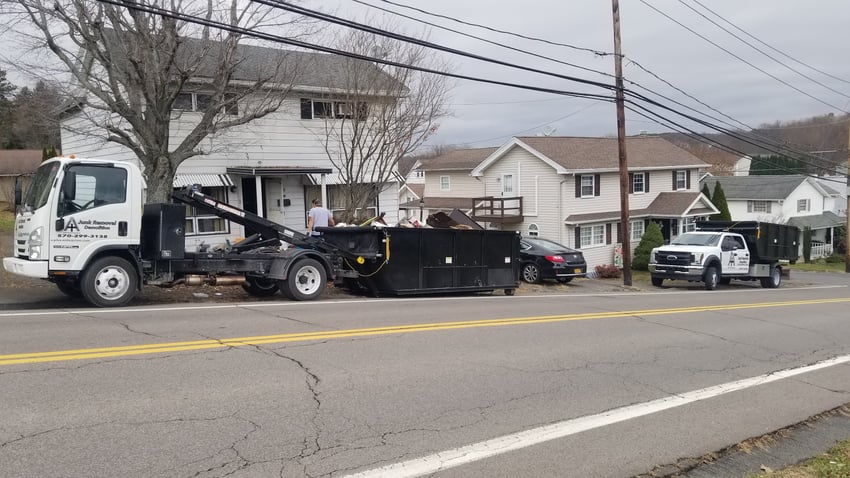 Thankfully, one of the best decisions I ever made was to trust my employees with handling jobs. Previously, I would go out to estimate every single junk removal job, and schedule the removal afterward. I only had a 30% close rate, and many customers would add items between the estimate & the removal.
For the past year, I have trained my employees to go to estimates, price jobs, and do them on the spot. This has increased our close rate significantly and allows my employees to earn more money/hours.
A major advantage we have in this market is the lack of competition and an aging population. Therefore, when a house or estate needs to be cleaned out, the only other legitimate competition is 1800-GOT-JUNK. Through more aggressive pricing & faster service, we are the leading junk removal service in this market.
At the end of the day, you are going to have successes and failures. It sounds cliche, but owning a business is a giant roller coaster ride. Some weeks, we were making more money than I ever dreamed of. Others, I paid out $50,000 in expenses and almost went bust. Just remember to save for your low periods when you have a high period.
When starting a new business, expect it to be akin to smashing your head against a wall constantly. Looking back, I remember working 20 hour days, fixing trucks in the dead of winter, underbidding jobs, and generally losing my mind.
Any of these things are excuses for you to quit. In order to succeed in business or life, you need to look at these problems as learning lessons, and continuously improve to not let them happen again.
What platform/tools do you use for your business?
The single best tool I have used to scale my business is a program called Jobber. It is not perfect but handles all of our day-to-day operations. Between quoting jobs, scheduling, invoicing, payment reminders, and automated follow-up, it helped us tremendously. My employees have an app on their phone that lists out each job for the day and have all the information they need to succeed.
Google My Business has helped us find customers and allows us to rank locally & have reviews in the same place. Our website is self-designed and managed as well as our Google Ads campaign.
What have been the most influential books, podcasts, or other resources?
Love him or hate him, Grant Cardone has been a major influence for me. Growing up in an economically-depressed area, it is easy to fall into the small-thinking mentality. Listening to Grant's podcast helps me think bigger and gives me the courage to aggressively follow up with leads & customers.
One of the most important things I recommend for anybody looking to start a business is to get a mentor. Not one of those "online pay per hour" mentors, but a real person who actually cares.
I attribute most of my success to my former boss who took me under his wing and taught me how to operate a business. I still consult with him constantly regarding any questions & issues I face.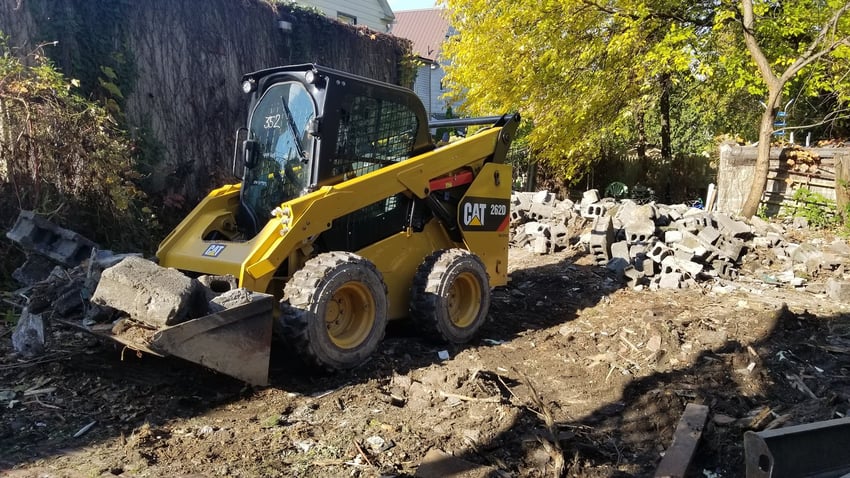 Advice for other entrepreneurs who want to get started or are just starting out?
Don't overthink anything, just start doing something. You do not need to have any clue of what you are doing as long as you have courage and persistence.
If you think small, you will be small. Nobody has ever saved their way into becoming a multimillionaire. In business, especially if you are young, take risks! Start that business, buy that new truck, do whatever you can do blow up!
I have this thing where I see something, obsess over it, and make it my goal to have/accomplish it. Sometimes it takes years to get there, but there is no better time to start than now. I started this business with literally $5,000 between my truck and trailer. 2.5 years later we are close to half a million a year in sales. Just go for it.
Are you looking to hire for certain positions right now?
Currently, I am looking for another truck crew leader in the Scranton/Wilkes-Barre areas. No experience necessary other than a willingness to learn, insane work ethic, and driver's license. Your earning potential is unlimited!
Where can we go to learn more?
If you have any questions or comments, drop a comment below!
-
Sal Polit-Moran, Founder of A+ Enterprises Junk Removal & Demolition
Want to find more ideas that make money?
Hey! 👋 I'm Pat Walls, the founder of Starter Story.
Get our 5-minute email newsletter packed with business ideas and money-making opportunities, backed by real-life case studies.