Thank you Klaviyo for sponsoring Starter Story ❤️
Turn one-time buyers into repeat customers. Try the platform loved by 265,000 brands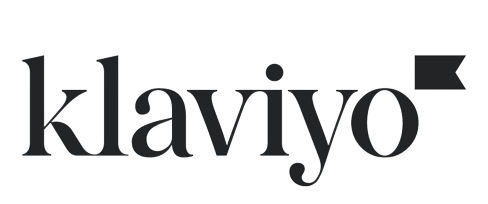 How We Started A $50K/Month Food Truck In Colorado
Hello! Who are you and what business did you start?
In 2018 we had the idea of starting a food truck. The inspiration came from my lifelong goal of being my own boss and running my own business. I had no idea this goal would land me in the food business but it did and I am forever grateful that it did.
We are Roll Up Food Truck, originally selling our variations on gourmet egg rolls from a $2,700 trailer that we purchased in La Junta, Colorado on Craigslist. From here we stayed dedicated to bringing our community of Widefield, Colorado affordable, fresh, and accessible food options.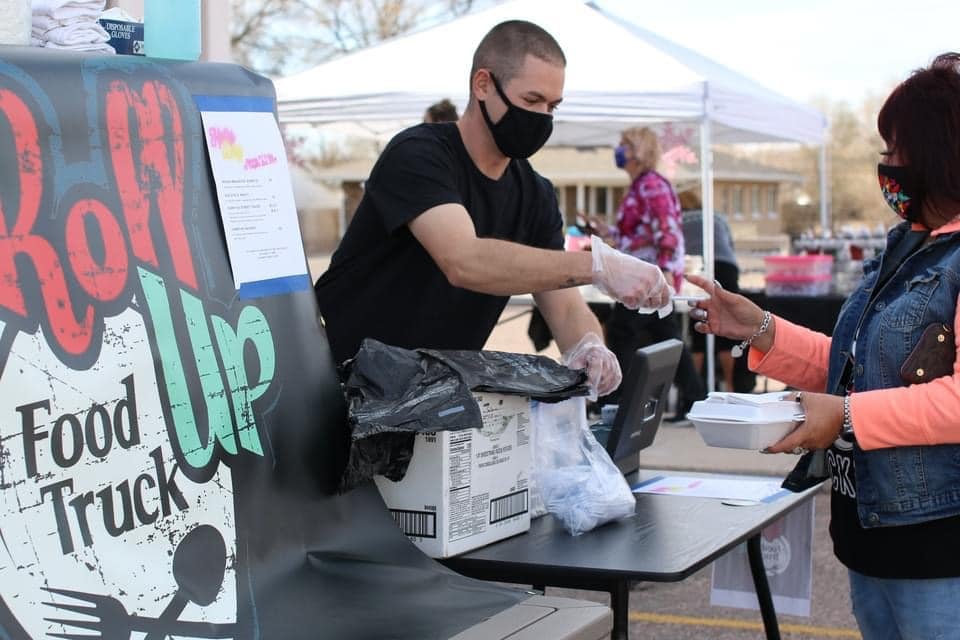 Apart from our flagship egg rolls, we are now widely known for our breakfast burritos, carne asada fries, and a green chile burger that we added to the menu as a special not knowing it would become one of our top sellers.
Running ourselves seemingly to death trying to set the trailer up for a lunch, then packing up to run a night shift at a brewery paid off in the best way possible and we now have a five-person staff and insanely busy days that always keep us on our toes.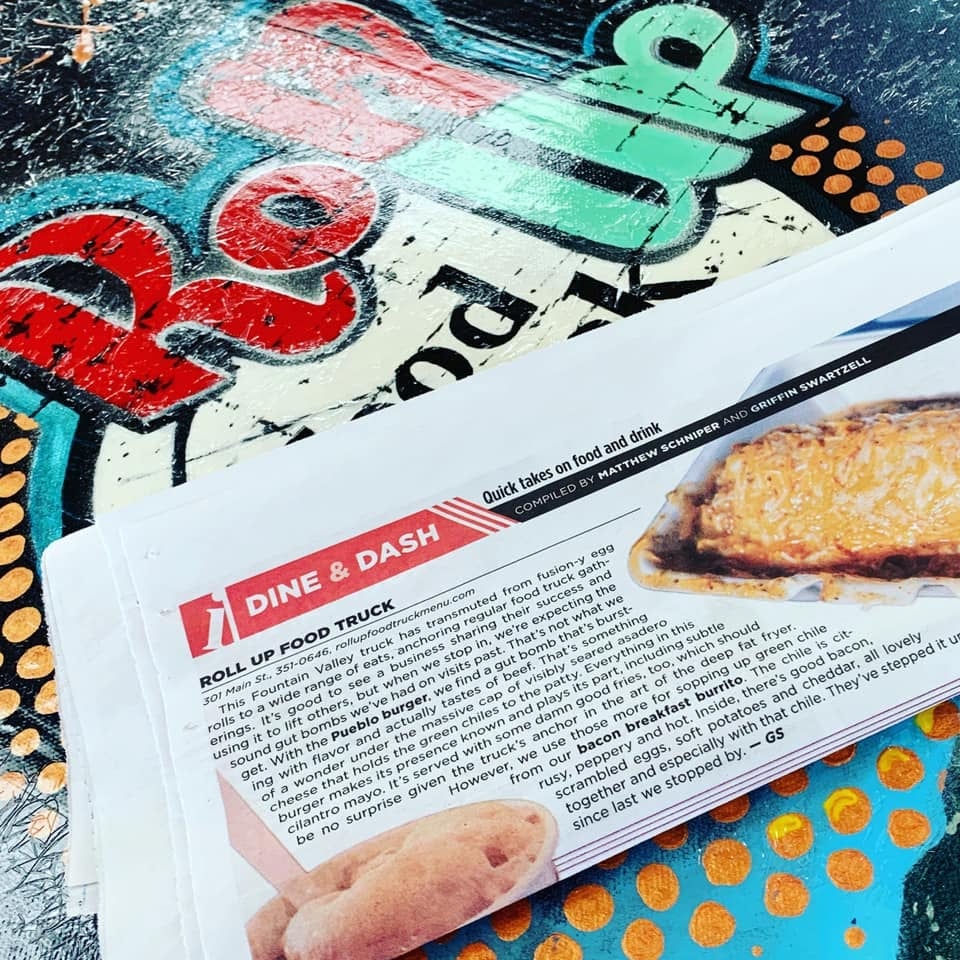 What's your backstory and how did you come up with the idea?
I have been running my own businesses in some way since I was 13 years old. I would print business cards and advertise online that I mow lawns and would get jobs that my parents would drive me to.
The freedom of having income and the satisfaction of doing it for myself had me immediately hooked. From there I had some regular jobs after high school such as McDonald's, car dealerships, etc but it just wasn't for me.
Chase what you want for selfish reasons but never forget WHY you wanted to chase that goal and pay appreciation and give back to everyone who helped you get there.
Through my college education at UCCS for business administration, I ran a junk removal and hauling business that became very profitable and showed rapid growth. Through the success, I again found that I wasn't in the right field and had little to no passion for what I was actually doing. The day-to-day grind and constant scheduling and interaction with customers burnt me out and I was seeking alternatives.
Coming from a family who loves to cook I always had the idea of selling food but never really thought I had the know-how or talent to do so. Rather than obsessing over logistics and coming up with a full-on business plan, which in retrospect is something I definitely recommend, we jumped right in, bought a trailer with my friend Eddie, and got going hitting the streets under the name "street treats" selling holiday baked goods until we were licensed for full food service.
The name Roll Up is a play on how we roll egg rolls in addition to how we "roll-up" to locations. The food was a seemingly instant hit and consumed all of my time since then.
Take us through the process of designing, prototyping, and manufacturing your first product.
Roll Up is quite literally the product of effective trial and error. We would meet up in our free time to cook random things, put them in egg rolls, and see how it works. We had a limited menu of ideas that we added to in time. Some things flopped and some were a hit. Knowing when to pivot on ideas and completely cut some from reality is key for a new business.
The worst thing we could have done is cling to an idea or product for too long for self-fulfilling or egotistical reasons if the market wasn't responding well to it.
The biggest hurdle of getting started in this business was all of the legal logistics. Foodservice is pretty heavily regulated so going into this business with virtually no experience was pretty overwhelming and scary at times. Learning how the process of filing and obtaining business licenses, tax licenses, insurance, and mainly health department approval was humbling but a key learning experience in my career. I learned to check all the necessary boxes that I knew I needed to do and be confident in my preparation.
From day one the goal has just been to grow the business while still staying true to our customer base and the true needs and wants of our customers. Even though we now sell various street food plates we still brand under the Roll Up Food Truck name and throw various egg roll and spring roll specials on.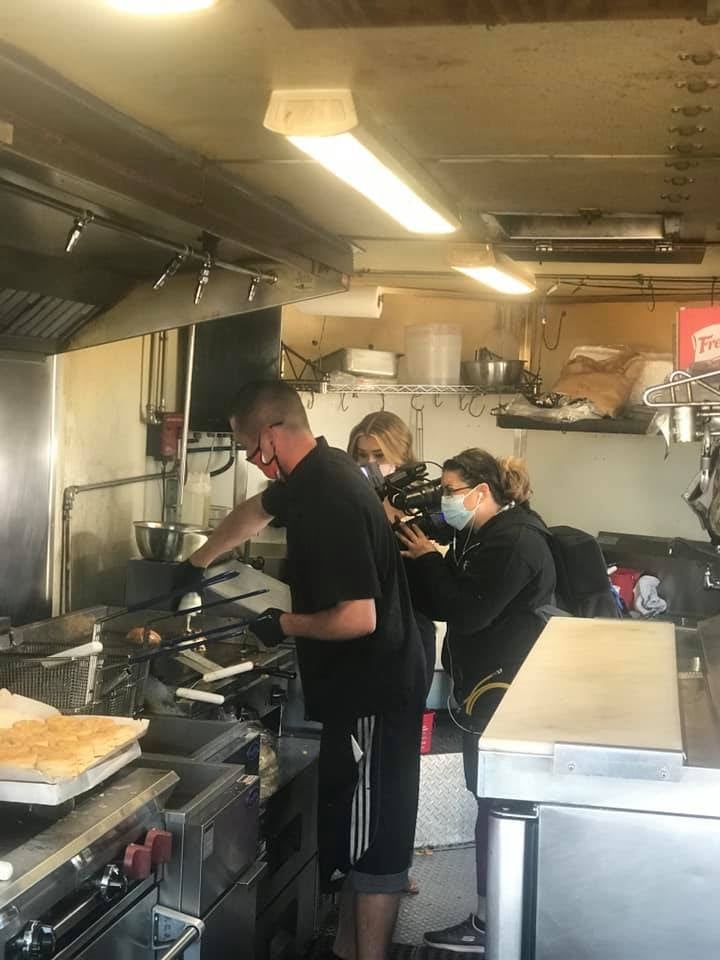 Describe the process of launching the business.
As I said before, I went with a head-first approach to getting into this business. The pressure that I HAD to turn a profit to survive financially, not just in a business aspect, but personal aspect gave me a lot of motivation and pressure to make things work.
Having a degree in business and emphasizing my college career in digital marketing and search engine optimization has paid huge dividends when it comes to the growth and success at Roll-Up.
Our launch was essentially a marketing blast on Instagram and Facebook where we posted our product, address, hours, and a call to action. I targeted the local area and definitely saw the results. The key was to make sure our product matched our marketing. You can have the best product in the world and not know how to sell it or on the flip side be able to sell a terrible product. Finding the happy medium is the true key to succeeding in my opinion
Other than the trailer and internet presence that I was able to complete out of my own pocket with no outside investment or capital, we eventually took out a decent sized loan to finance our current Roll Up trailer that functions as a full-service kitchen with all the refrigeration, storage, and cooking equipment necessary to thrive. Credit cards are still used to buy and track our cost of goods sold but never to keep a running balance and accruing business debt.
My biggest lesson learned is the absolute need to keep investing back into the business. The end-of-month profits, especially when overhead and expenses are low become very attractive to pull out and spend carelessly but keeping the money in the business and letting it build future growth has given us tremendous momentum.
Since launch, what has worked to attract and retain customers?
Word of mouth and staying true to our customers has marketed Roll Up better than any online or digital effort. Not to say online marketing is not effective, I personally think that every small business should dedicate time and money to this, but keeping in touch on a face to face basis is so much more effective than say, posting a poll or posting a call to action asking what the customer wants next.
Pairing our customer service and constant desire for feedback with Facebook, Instagram, and Twitter campaigns are really paying off. I try to post 2-3 "sales" posts a day where I show off a product and info on how to get it and then 1-2 more fun posts daily where we show a future product, something new, or just a picture of our line that day or crew working during a rush.
Our customers like to see a more humanized view of the business and see the personality shine through the posts rather than keeping them structured and simple about our address and hours.
Another very effective marketing method is collecting emails and information from our point of sale for email blasts and coupon lists. Customers have the option to join an email list either on our online store or right after checking out in person. Debit/credit cards generally save the email or phone number so as long as the customer consents to market, it is a very simple and effortless way to keep in contact with customers. They are then added to automated emails such as birthday coupons, reminders after we haven't seen you for 30 days, and a review request 24 hours after your purchase from us.
Just staying in front of your customers in some way or another is everything especially with short life cycle products. The market for food and beverage is so saturated that you really have to stand apart for people to notice and interact with you online. I think that is where Roll Up really gets to shine with our talented staff and seemingly cult-like customer base.
If I could bottle up one piece of advice it would be to not be afraid to invest in yourself. Sponsor and boost posts, go the extra mile and take public relation opportunities like news and radio exposure seriously. Learning to put me out there was really hard but something I got used to very quickly.
How are you doing today and what does the future look like?
Since launching Roll Up we have been very profitable. We got to take advantage of parking at breweries and various city events that really got our name out there. From that point, we decided to stay put at our own spot, and after doing that we really caught our stride on things.
We ended up finding an old gas station that was for rent and it even had all of the sinks, plug-ins, and a walk-in fridge to function as our first reallocation. Just recently we made it through the process of becoming fully licensed and can now seat customers inside and let them enjoy our new space.
Unfortunately this year due to covid our profit margins and costs have been all over the place but we are still doing well. It is hard to track things now because one day our product will be priced as expected and other days it could be twice the price or completely out of stock.
Learning to adapt to adversity and keep things going in a positive direction is going to pay off in the long run.
Another thing keeping us thriving is our online presence to order food for pickup. This gives people a virtual menu with reviews and breakdowns of what comes on each order to keep looking at and eventually lands us a sale. Being able to plug in a link that generates sales into every post and physical marketing method is doing extremely well. It's another thing that you have to pay for upfront in hopes and trust that the result will be better than the initial cost.
For us specifically, I try not to think of a customer acquisition cost as a cost that directly leads to a sale. I want to gain lifetime customers so if we have to try or pay a bit more to make that happen I know it will have a much higher return on investment than trying to quickly sell a product that the market may not like.
Learning how to read metrics on social media posts and then comparing them to the results of other posts has definitely kept the cost of marketing down. Rather than blasting posts out to anyone and everyone we now have specific customer profiles that we are confident will respond well to posts.
In the short term, I just want to Roll Up to become a community hangout and place to get great food while still growing and having great morale within our staff.
Long term I want our current staff to set the standard for the management and go on to launch either a second Roll Up location or fully invest in making our location a full-service restaurant with a bar that we can put everything into.
Through starting the business, have you learned anything particularly helpful or advantageous?
My biggest mistake in my career so far is not knowing how to say no. From an early stage, I wanted Roll Up to succeed so much that I was saying yes to any and every opportunity. Some of the things I took as an opportunity ended up coming back to bite me.
Learning to contain my passion and really think about the big picture has improved my skills in politely saying no and has given me a lot of mental freedom as I am not spread so thin and overwhelmed about pleasing too many people. Some people genuinely want to help you, and some see you as naive and have hidden motives outside of what they are actually presenting to you.
I got into this business so young that a few things have definitely taken me by surprise and backfired on me. I would say my biggest thing is putting growth ahead of the personal sanity and sanity of my team. Especially during summer months, we would go so hard for long periods of time that it would lead to personal burnout, faulty equipment, and overall low morale.
Learning when and where to hit the gas pedal so to speak gives us a lot of confidence moving forward. My overall non-willingness to fail has really pulled us out of some bad situations and looking back those bad days are the days that gave us the skills to survive on a bigger scale.
Strangely, I am grateful for this year of covid chaos because it has made me understand and accept that everything cannot be in my hands. I had to learn to take things as they are and move on from there rather than fabricating my own reality at times. Learning how to adapt to things outside of my control has given me and the team away from a more big picture understanding of what we are doing and the steps needed to keep moving forward.
The partnerships that we made with other food trucks, restaurants, and food activists in town have also been huge. There is an entire foodies community in the Springs that is doing a tremendous job of creating buzz and exposure for small businesses. Being a part of the food scene while also having the skill set to do more for others and help them out in ways they didn't know was possible such as creating online stores or marketing online is extremely satisfying and in time has honed in my skills and overall attitude towards what I want in the future.
What platform/tools do you use for your business?
For our point of sale, we use Square. It is an extremely in-depth point of sale system with great physical hardware as well as invaluable tracking for daily sales, top-selling items, etc. It has given us insight on how much to prepare for specific days, what items aren't selling well and need to go, and which items we could market a bit more to make it a hit.
Square is also partnered with Weebly which hosts our online ordering platform. Our customers love the site as they can see pictures, descriptions, and reviews of all of the products beforehand and then know we are already working on their order while they are driving to the location.
Sometimes things happen and people don't fully submit their order. Weebly gently nudges the empty carts with a reminder text or email that they didn't submit the order and we have about a 30% empty cart success rate, meaning that amount of customers ends up purchasing the order that they may not have without the reminder. Knowing to put these things in place without being too pushy has been great and our customer base really appreciates the additional effort.
Other than direct sales to our customers we do take advantage of Doordash for delivery however they take a huge percentage of every order so we offer our high-profit items on there in hopes of attracting the customer to come to see us in person.
Advice for other entrepreneurs who want to get started or are just starting?
My biggest piece of advice is that if you are thinking about it all day and it is something you truly want, it is your duty to the world to go chase it. A goal left unchased may cost the public from ever tasting their favorite food, having you cut their hair, do their nails, give a rejuvenating massage, etc.
When you have a skill that you are passionate about, do anything and everything you can to reach success. Start with tools that you have and then get better tools as you go. I mean this mentally and with physical items. If you aren't confident now you might, and more than likely will find that confidence later.
If you spend your time in self-doubt or wait for someone else's approval your goals will never come to fruition. Chase what you want for selfish reasons but never forget WHY you wanted to chase that goal and pay appreciation and give back to everyone who helped you get there.
Shoutout Widefield Colorado, Colorado Springs, and all of the food trucks and people who helped us along the way.
Are you looking to hire for certain positions right now?
At this time we are not hiring however as the spring season approaches and we settle into our new location. The possibility for growth is endless. Keep an eye on our social media if you want to join the team!
Where can we go to learn more?
-
Bryce Dillingham, Founder of Roll Up Food Truck
Discover the best strategies of successful business owners
Join our newsletter and receive our handcrafted recap with the best insights shared by founders in Starter Story each week.
Useful, convenient, and free:
PROMOTED
Did you know that brands using Klaviyo average a 95x ROI?
Email, SMS, and more — Klaviyo brings your marketing all together, fueling growth without burning through time and resources.
Deliver more relevant email and text messages — powered by your data. Klaviyo helps you turn one-time buyers into repeat customers with all the power of an enterprise solution and none of the complexity.
Join Brumate, Beardbrand, and the 265,000 other businesses using Klaviyo to grow their online sales.
Starter Story
Wanna see 52 business ideas you can start with less than $1,000?
Join our free weekly newsletter and get them right now.