How I Started A $120K/Month Modern Flower And Plant Shop
•
Published: July 8th, 2021
Hello! Who are you and what business did you start?
My name is Carlos Franco, and I am the owner and creative director at Green Fresh Florals + Plants, San Diego's premier modern flower and plant shop located in Hillcrest.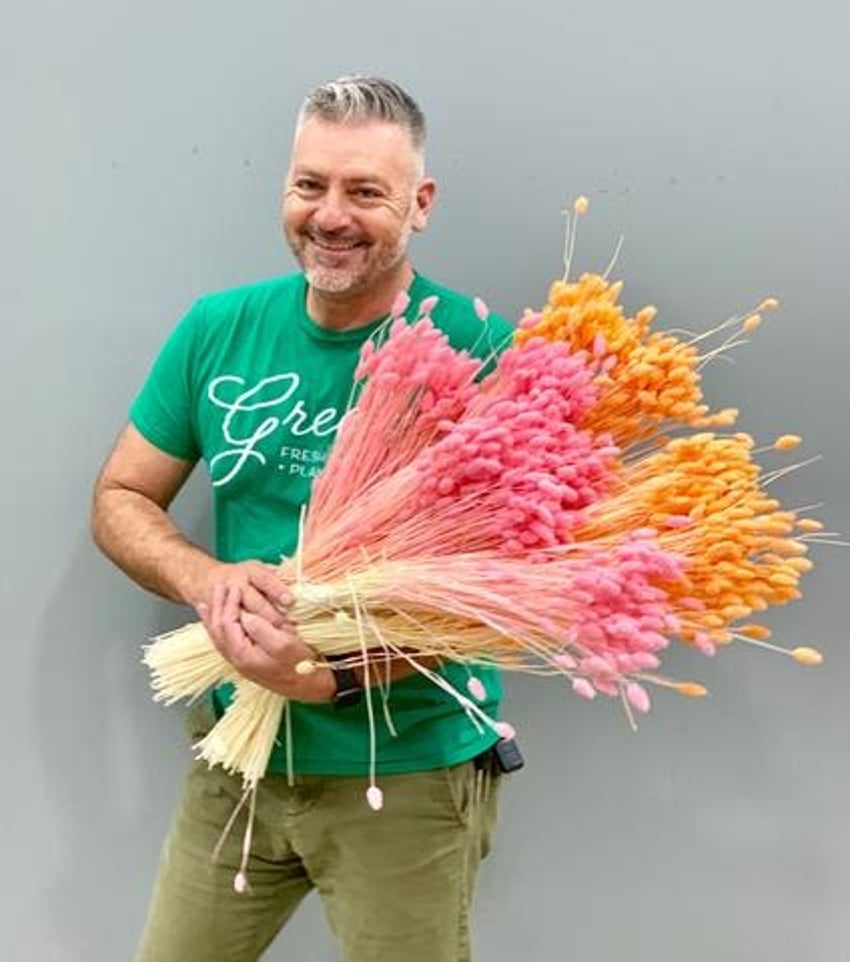 I've been connected to Mother Earth my entire life and became a professional florist in my early 20's. I opened Green in its current location in July 2009. Before that, I had a shop located in the East Village neighborhood in downtown San Diego.
What's your backstory and how did you come up with the idea?
I was inspired by my beloved grandmother Flora, who surrounded me with plants and flowers from her earliest days. She had a very close connection to nature and loved trees and plants. She was beside me always as I grew up. She loved her grandchildren deeply and had a passion for nature, rock collecting, gardening, and plants.
We would often travel together to parks across California and those trips instilled in me a deep and abiding connection to nature. A tattoo on my forearm is a permanent tribute to my grandmother whose love and devotion to me, and nature planted the seeds of what would become Green Fresh Florals + Plants. My tattoo occasionally appears in the product photography shown on our store website.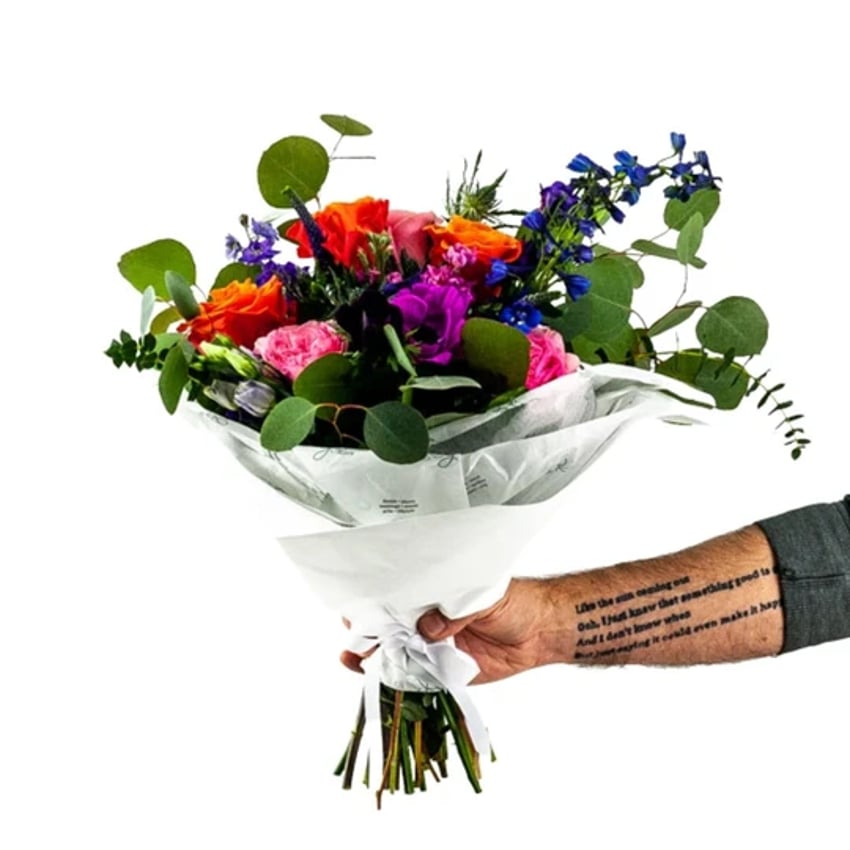 Describe the process of launching the business.
I traveled to Europe after I graduated and found work in a London flower shop where I worked and was able to participate in crafting an arrangement for the Queen of England. I was exposed to talented florists in London and Paris who helped train me and show me the ropes.
Believe in your vision but recognize it isn't about you. It is about your customer. Design for them, buy for them, merchandise, and above all else, make it right by them.
My European adventure provided the inspiration, training, and a roadmap for the next chapter in my life. When I returned to San Diego, I began working at a local flower shop in Hillcrest. When the shop was sold, I left and began Green from a small storefront in downtown San Diego known as East Village. We decided in 2009 to move out of downtown and I used the transition to become the sole owner of the new shop in its current location in July 2009.
We opened on July 5, 2009, with one employee in addition to me. In the first months, we did our best to build our inventory, establish our presence in the neighborhood, and build our retail business. We had a strong event business but operating a retail storefront, and managing inventory, staffing, etc. was all new.
We made mistakes, fixed them, and learned how to get better as we grew our business.
In 2012, we launched our online shop. It was a small percentage of our business but it became a cornerstone of our operations when the pandemic hit in 2020. By then, we had transitioned our website and invested in professional photography, design, etc. In 2019, we did a complete remodel of the store and rebranded. From there, our online shop, retail store, and event business were all doing very well.
When the pandemic hit in March 2020, we were required to close our retail shop for six weeks before reopening in early May. With masks, physical distancing, and navigating supply issues, we managed to experience incredible growth both online and in our Hillcrest store. That growth has continued and we are beginning to see the return of private events now that people are vaccinated. The months ahead will be exciting to see things return to a new normal.
Green has really been a story of creating something from nothing. The current store reflects the re-investment in the shop, which is reflected in the inventory, design, marketing, etc. which has all been self-funded from operating revenues. It has taken me years to create a shop that is unique, authentic, profitable, and something I am extremely proud of every day. It is all-consuming, but I cannot imagine doing anything else with my life.
Since launch, what has worked to attract and retain customers?
I have worked very hard to build relationships with my customers, many of who are now friends. I ask a lot of questions, listen to what they say, and shape solutions to address their needs. It is all about making the experience for our customers one that is outstanding and delivering a unique, high-quality product and one-of-a-kind.
All of our arrangements are designed by me or a member of our design team. We have an outdoor patio in the back of our store and we stock a large variety of plants, unique and popular. Our staff includes experts in plants and plant care which we provide to our customers. Everything we do is geared to make our customers experience one they will remember and tell their friends and family about.
If there is one thing I would say is the magic to our success is the focus we put on our customer service. If we drop the ball, we fix it immediately. If the flowers died fast, we replace them without question. We pride ourselves on our service and that makes us memorable and our customers loyal. I put a premium on customer service and all of the employees do as well. It is in our culture to be of service to our customers.
The other advice I would offer is to use technology to improve your customer's experience, removing friction so they have a seamless experience buying online, picking up in the store, or having it delivered. Remember you are there to address their needs so make sure you shape your response as a solution to what they are seeking.
How are you doing today and what does the future look like?
Our primary focus is the restoration of our event floral business which was eliminated during the pandemic. We are busy preparing for the San Diego Museum of Art's Art Alive, the San Diego Symphony, and more large events that are starting back up. We are also continuing our focus on our brand evolution and our focus on creating a seamless customer experience in our retail and event/wedding business.
Speaking of weddings, we are re-launching our wedding product line, creating a more user-friendly menu of options that consolidate all the many varieties into a more manageable selection for our customers. A curated wedding selection. We will still be doing large custom-designed weddings but we wanted to provide an easier-to-shop option for the economical side.
Through starting the business, have you learned anything particularly helpful or advantageous?
I'm going 24/7 and always focused on my business so if that is not your game plan then starting or purchasing your own business is probably not a good option. Staffing is a difficult challenge and I think paying people more, investing in their training, making them a valued members of the team is central to success.
What platform/tools do you use for your business?
We use Shopify, Shopify POS, and a range of apps to provide a smooth and frictionless customer experience in our shop and online. We have apps for all sorts of needs that help us create a wonderful customer experience.
What have been the most influential books, podcasts, or other resources?
I consume a large volume of design, creative and news. I try to use my free time to clear my head, let go of the day, allow new ideas and inspiration to hit me. I love popular culture and particularly the incredible variety of new queer-friendly shows like Pose, Rupauls Drag Race, and Legendary. I am always looking for something different, interesting, and off the beaten path. It fuels my designs and inspires my merchandise mix.
For example, I have a line of products we classify as Ritual. It includes everything from Palo Santos bundles, books on meditation, custom succulent gardens with crystals, and tarot cards. It speaks to the need in all of us to do a better job of taking care of ourselves, especially in times like we have been going through with the pandemic.
Advice for other entrepreneurs who want to get started or are just starting?
Believe in your vision but recognize it isn't about you. It is about your customer. Design for them, buy for them, merchandise, and above all else, make it right by them.
Are you looking to hire for certain positions right now?
I am always looking for talent. We are a small diverse family at Green. We pride ourselves in our diversity, our service and love our customers.
Where can we go to learn more?
We are always excited to learn from new people so reach out to us and say hello!
If you have any questions or comments, drop a comment below!
-
Carlos Franco, Founder of Green Fresh Florals + Plants
Want to find more ideas that make money?
Hey! 👋 I'm Pat Walls, the founder of Starter Story.
Get our 5-minute email newsletter packed with business ideas and money-making opportunities, backed by real-life case studies.