How We Started A $50K/Month Business Manufacturing Clothing For Other Brands
Hello! Who are you and what business did you start?
We are Rob Williams and Tom Lovelace, Directors and Founders of Hawthorn, clothing manufacturers, based in the UK. Hawthorn was founded in 2014, however, we have personally been in the fashion industry for around 9 years now, having started clothing brands before starting Hawthorn.
As a clothing manufacturer, our main focus is on start-up brands and assisting small and emerging designers to market with totally custom goods. We don't sell any stock or pre-made clothing, everything is produced completely bespoke to the brief of our clients, and we offer this at the lowest minimum order quantity in the industry, from 50pcs per design. We specialize in men's casual wear but can produce some women's wear, as well as accessories such as caps.
Although we don't design any clothing ourselves, we love being immersed in the fashion industry, seeing first-hand new trends as they come about, and helping our clients to start their brands in the most effective way possible. Having been in the industry for a long time now, and having worked with over 350 different brands, we've come to learn almost all there is to know about starting a clothing brand.
With that being said, we don't just work with clothing brands. They make up around 80% of our customer base but we also do work for PR, Advertising, and Marketing agencies, as well as companies in a multitude of other industries like Banking, Construction, Food, and Beverages, producing everything from merchandise to uniforms.
Hawthorn has come a very long way from the first iteration. We initially set out to be an "all things to all people" business, offering every conceivable thing imaginable that a clothing brand might eventually want, including eyewear, footwear, and leather goods. We quickly realized that although we had the capability to produce these items, our time was best spent honing the service that is central to our business; men's casual clothing. Our website has been through around 8 versions, and we've learned a lot during our entrepreneurial journey.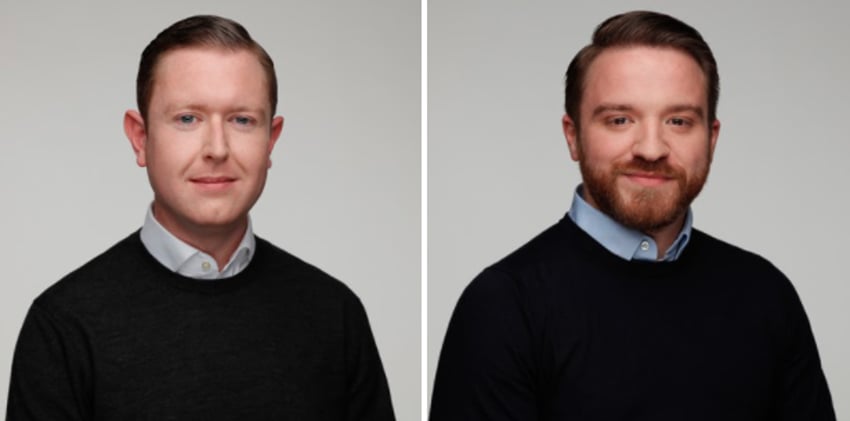 What's your backstory and how did you come up with the idea?
Tom and I have rather different backgrounds, although we're childhood friends who grew up together and have known each other since we were 6 years old. After we finished school, I went into a career as a Designer for a manufacturing company. Tom on the other hand pursued a career in Fitness, building a business as a Personal Trainer at the age of 19. Both Tom and I were successful in our respective careers, however have always been entrepreneurial during our early lives, we decided that we should start a business together alongside our jobs.
As a part of Tom's fitness journey, he struggled to find tee shirts that would fit him in the torso and shoulders - if he bought the right size for his shoulders the torso would be too baggy. He decided to tailor one of his own tee shirts at home, which was a surprising success! We then had a chat whilst playing PlayStation one night and decided it would actually be possible to market muscle fit tee shirts on a large scale; although this is now very common, back in 2011 it was very hard to find muscle fit tees!
We started getting some ideas together immediately; I still have the notebooks from our very first days of business and honestly, some of the ideas we had were pretty awful, but it was a start!
We started 2 clothing brands initially and found the first problem very quickly. There were no manufacturers in the UK who could help us to start small. Minimum Order Quantities were generally around 300-500pcs per style and per size, meaning that to get a good range of products we'd be looking at a huge investment; something which wasn't viable for us at the time and we weren't keen to go down the route of on a risk basis.
Our first products were stock, pre-made tee-shirts which we had embroidered with our own logo, and although we spent a long time trying to perfect the fit of them, going through as many suppliers as we could, we were unable to find anything that would be suitable. That was when we realized that if we went direct to factories overseas, we'd be able to fully customize our items.
That wasn't the simple end to the story, however. We had a great deal of trouble with overseas manufacturers, from the time differences involved with working in the Far East to language barriers, to specifications being misunderstood and even some suppliers failing to deliver the products at all. We then made contact with a friend in Turkey who had, along with a family member recently finished University and had the capability to start a small clothing workshop. This was great for us because we finally had the trust and confidence that comes with having full control over the manufacturing of our products.
Shortly after this, we started taking commissions from other brands who we knew personally, and we realized that producing clothing for other people was a great business opportunity. That's when we decided to start Hawthorn as, at the time, a side business. The time and investment needed in making Hawthorn a success however was something that eventually needed our full focus, so we decided to close our brands and work on Hawthorn full time. We didn't set out to have a clothing manufacturing business, but we ended up gaining enough industry experience through our own mistakes, and we had the contacts and ability to make it work, so we decided to give it a go!
Describe the process of launching the business.
After starting to produce clothing for other brands, we started to look at marketing options. The first was to decide who we wanted to target, what items we'd be producing, and then creating a website and social media channels to effectively promote our capabilities. The first thing we did was create a website, ourselves, using an online builder which was a great start, but didn't give us the flexibility to fully make the design our own.
It took us a long time to create the first version of the website, on our own in our spare time; around 6 months in total to get to where we wanted it to be and to be ready to be viewed by customers. This was in part due to our perfectionism, we weren't and are still never prepared for something to be put out to market unless we're 100% happy that it can't be any better.
The initial version of the website worked for the first year or so of the business since a lot of our time was spent manually outreaching to potential customers, convincing them to give our services a try rather than using their current methods, which were usually Print on Demand suppliers. Our early user experience was much more disjointed than it is today, and we've spent a lot of time working to improve our website, along with a lot of photoshoots of our own product samples to show our capabilities.
We started the business essentially with no money, but we were personally paying for things like website hosting and domain emails, etc. We realized that although this was working, we needed to have some investment to get our own products on the website. A customer can always tell a stock image, and we didn't want any potential clients to think we were displaying products we hadn't made.
We applied for a Government-backed Start Up Loan, for a figure of £4,000. This was all we needed at the time to make a full suite of samples to show our capabilities. We didn't need a huge investment as we were in partnership with our workshop in Turkey, so our only real start-up costs were custom products, photography, and as we realized after the first iteration of our website, building a new site that was more custom and less generic than the first.
The loan was designed to help businesses in their early stages, so had a very low interest and we had a long time to pay it off. For anyone looking to start a business in the UK, we would absolutely recommend the scheme, which is still running today.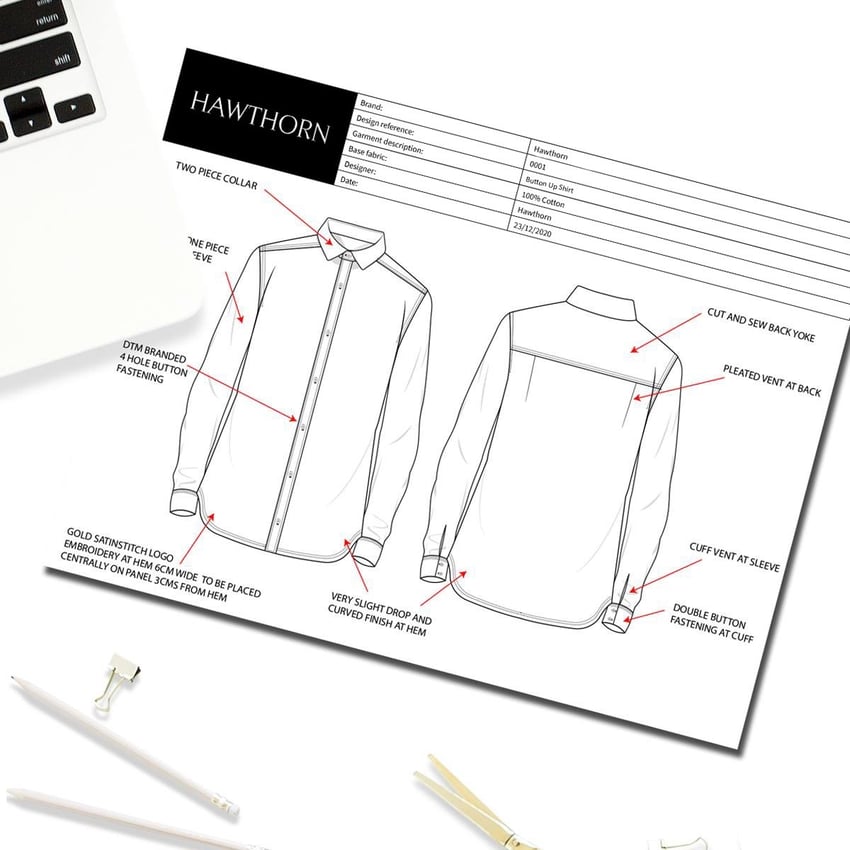 Take us through the process of designing, prototyping, and manufacturing your first product.
After we'd created our website, and finally had a way to show our capabilities to the world, we started looking for more customers.
Our very first customer post-launch was a YouTuber based in the USA who mentioned in one of their videos that they wanted to start a clothing brand. Tom was a subscriber to them and thought this was a great opportunity for us to reach out and see if we could help.
They were over the moon to hear from a company that was able to offer low quantity, fully custom products and we quickly realized that Hawthorn could be a great success story not only in the UK but Internationally too. The first products we made were button-up shirts, customized using fabrics selected by the client, and in the dimensions, they wanted to so that they could have their own fit which was unique to their brand.
Our very first order was for one sample, and we made the eye-watering sum of £14 profit on that item! These days we are far more profitable than that, but we were very happy to gain our first client.
Our initial setup in Turkey gave us access to fabric markets and additional contract workers if needed. This meant that we could be agile, bringing in temporary staff if we had more orders to fulfill.
Since launch, what has worked to attract and retain customers?
There have been two main things that we've used to drive our growth, the first has been researching and investing in finding out what our customers want to know and ensuring it's covered on the website, but the other has been long term investment in outreach marketing and making the best use of tools available to us, such as social media and PPC advertising.
You absolutely can't try and save on professional services. As the old saying goes, if you think a professional is expensive, wait until you hire an amateur!
One of the things we did during the early days of the business was to find databases that we could add ourselves to as these were all ways of reaching more potential customers. One database in particular we paid for a premium membership which meant we showed up at the top of the listing. The investment in the premium listing was a great help and we quickly saw an increase in inquiries, from around 6 a week, up to 10 or so a day.
Returning customers are also a huge part of our business, and we focus greatly on making sure that our customers are happy with our products and services to gain further orders from them. Word of mouth is also hugely important in our industry and a lot of our customers have been referred to us in some way by others we have worked with within the past.
How are you doing today and what does the future look like?
We're doing great today! The business is going from strength to strength however we have been somewhat impacted by the Covid-19 pandemic in that we've had to put some of our growth plans on hold for the time being. We had plans to market to a totally new type of customer, but as with many things with Covid, we've had to place these plans on pause until they're more marketable. We are and always have been a profitable business. We have expanded our worldwide supply chain and now operate in Turkey, Pakistan, and China.
We currently work with over 350 different brands, all over the world. One of the main things we want to do is expand our customer base further to deal with more countries, which involves opening bases in different countries, such as the USA and Europe. This is a long-term goal of ours.
Through starting the business, have you learned anything particularly helpful or advantageous?
One of the main things we have learned is that something that's truly going to be successful can't be rushed. Perfection doesn't happen overnight, and a lot of the time you need to go away and bounce ideas around until you have the "eureka" moment that finally makes it all pull into place. We have learned that Tom and I work very well together but in different ways, and we believe it's vital that different people within an organization have different skills that can be leveraged for maximum productivity.
We've also learned that you absolutely can't try and save on professional services. Things as accountants, lawyers, photographers, and videographers for example. As the old saying goes, if you think a professional is expensive, wait until you hire an amateur! We now have a fantastic set of people behind the business, and operations are much smoother than they were back in the early days when we thought things like using a friend for photography would cut it.
What have been the most influential books, podcasts, or other resources?
To be completely honest, running a business takes up a lot of time for us, and we haven't been influenced by books, podcasts, or other resources. I don't have much spare time in my life, and that which I do I like to spend on hobbies or with friends and family. The only reading I tend to do is fiction, which I enjoy more than reading books related to business.
Advice for other entrepreneurs who want to get started or are just starting?
If you're just starting in business the main thing we can say is that you should take your initial time frame and treble it. If you give yourself too little time to do a project you'll be setting yourself up for disappointment when things don't fall into place as you'd like them to, which they sadly often don't. Giving yourself enough time to complete every element of your business is in our mind, a no-brainer as it's a long-term investment in yourself.
If you need to work a side job for a couple of months, or even years longer to build your business to where you want it to be to not just survive but to thrive, that's the best option in the long term.
Don't get disheartened or discouraged when things go wrong also; things will inevitably go wrong along the way on your journey, but these things can always be taken as a learning experience. If you make sure you put things in the process to avoid disappointment for the same reason in the future, you've succeeded in that respect.
Where can we go to learn more?
If you have any questions or comments, drop a comment below!
-
Rob Williams, Founder of Hawthorn
Hawthorn has provided an update on their business!
3 months ago, we followed up with Hawthorn to see how they've been doing since we published this article.
Want to start your own business?
Hey! 👋I'm Pat Walls, the founder of Starter Story.
We interview successful business owners and share the stories behind their business. By sharing these stories, we want to help you get started.
Interested in starting your own business? Join Starter Story Premium to get the greatest companion to starting and growing your business:
Connect + get advice from successful entrepreneurs
Step by step guides on how to start and grow
Exclusive and early access to the best case studies on the web
And much more!