How To Make A Living As A Body Positive Nutritionist And Dietitian
•
Published: March 9th, 2021
Start A Health And Wellness Consulting Business
Hello! Who are you and what business did you start?
Hello! I am a body positive nutritionist and registered dietitian.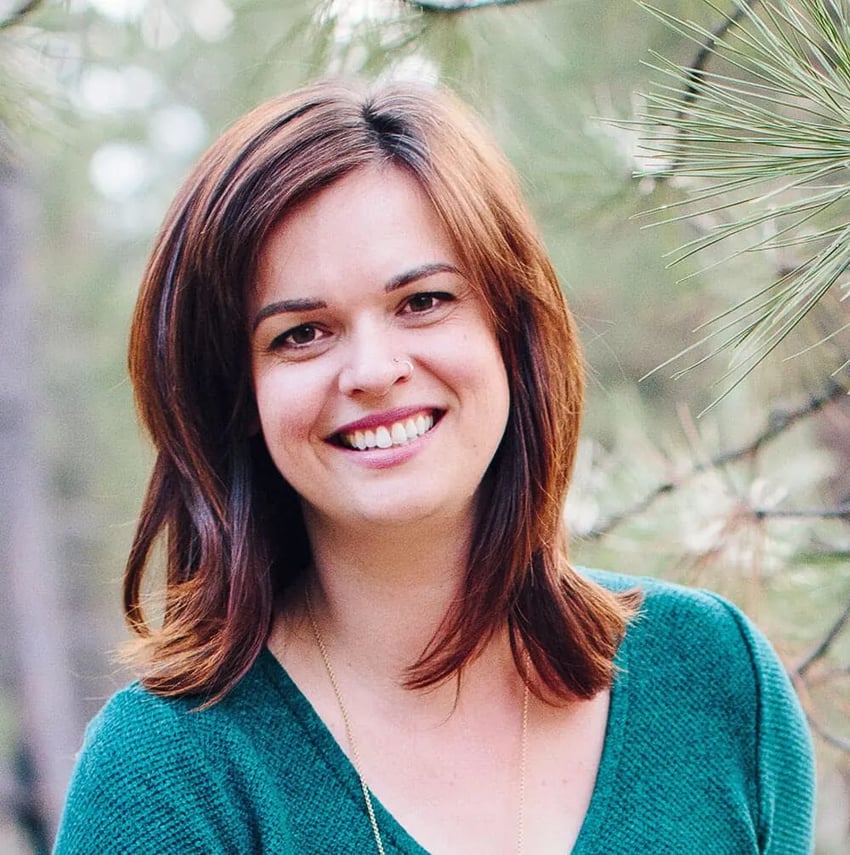 About me: I got my start in 2014. I decided at age 30 it was time to start my own business.
At that time I had been a dietitian in the Portland community for several years. I was working full-time as a wellness coordinator for Oregon Department of Transportation and had a part-time job teaching nutrition classes at Kaiser Permanente. I started my practice on nights/weekends part-time and grew from there. I transitioned only to a part-time job in a treatment center for eating disorders with hopes it would allow me to grow my private practice. In the process, I fell in love with the new role and sharpened my skills in a new specialty. As an eating disorder dietitian I was challenged to build expertise in behavioral health to help clients navigate the complexities of the food-mood connection and heal their relationship with food.
About a year and a half later I had worked with a business mentor from SCORE, a network of volunteer, expert business mentors, and was ready to leap to do private practice full-time. It was a BIG leap of faith since I only had $500 in savings, and the new job only offered 10hrs/week but I went for it. Working with someone from SCORE who had a wealth of business experience helped me assess my skill set, review my business plan, run the numbers, and assess what areas I would encounter risk or expect a great ROI.
The first 3 months I worked 50-60hrs/week but only saw a small handful of clients per week so I could set up all the inner workings of running the practice: putting in place standards of practice, the minutia of marketing, networking to establish a strong professional network. I started a networking group for others like me called "Nutrition Entrepreneur Registered Dietitians" or NERDs.
This Facebook Group is thriving and active, with 66 members today!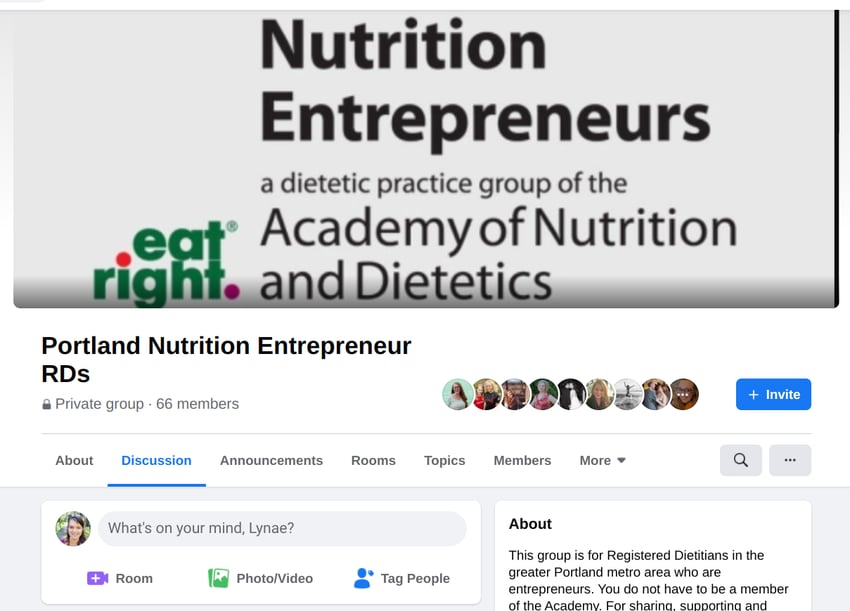 It didn't take long until I was full-time in my role, and I had a wait list. Since I had previously build professional connections in the community, I had plenty of referrals from therapists, doctors, treatment centers, and other providers in the eating disorder community.
By my first year as a full-time dietitian, I was making $56k/year when my previous full-time job paid $36k/yr (gross). My goal was to make at least $40/yr, and I was thrilled!
What's your backstory and how did you come up with the idea?
My journey was a winding road. When I studied dietetics I loved that the field offers a huge array of options for career paths. I knew there were several that called to me, but I swore I would NEVER (1) work with eating disorders and (2) launch a private practice. Haha! Life had a different plan!
Give yourself a cushion because no matter how well things are going, there will be bumps in the road. Reach out to get the support you need professionally and personally.
A big influence in how I came to this was being very sick as a teenager. From age 14-21 I struggled with my health, and for the first 3 of those years was extremely ill, dealing with what looked like mono but the doctors labeled "Chronic Fatigue Syndrome". I knew I wanted to help others enjoy the best health they could have, and prevent them from suffering from chronic disease.
Another key ingredient was my family of origin. I come from a family of entrepreneurs. From side hustles to real estate, to running a full-time business, I have entrepreneurs on both sides of my family. I grew up with a "can do" mentality, and strong work ethic, knowing that if you can dream it up and work hard, you can make it happen.
My biggest reason for NOT wanting to work in the field of eating disorders or launch a private practice is life balance, self-care, and stress management. I'm extremely A-type, driven, and fiercely independent so I also have a natural temperament to be an entrepreneur. BUT I'm also an introvert, empath, and highly sensitive. So I wasn't sure I could take care of myself in the midst of that kind of career path.
The factors that drove me to launch the business were mostly practical: (a) I love being independent and self-directed, (b) after coming to a deep resonance with a body positive approach called *Health at Every Size, I knew I could never work in within a hospital or medical office where I was asked to follow traditional expectations about weight management teaching weight loss.
Thus, to have a job, I needed to make one for myself. The ingredient that assured me to take the plunge was running numbers with my SCORE coach. Once we looked at it, it was clear that this was a viable career option.
You can hear me talk more about the Health at Every Size (HAES) approach in my video interview, here's part 1and part 2. Or, you can read more on the HAES website.
About 3 years into full-time private practice, I was at a NERDs networking meeting and looked around the room and had a very stark realization I was the ONLY one present who was supporting myself exclusively from my own work. The others present at the meeting that day all had husbands who made a significant income, so I knew the pressure for me was much different than for them as a single woman.
I was both proud of myself and felt a bit of reassurance for the level of stress one carries when living with instability with income from month-to-month. Some months were strong, but others I didn't make much or even lost money. By the end of a year, I always had enough but still, there was uncertainly and that is exhausting. Even so, I loved my job.
Take us through the process of designing, prototyping, and manufacturing your first product.
For me it was finding charting software, HIPAA compliant standards of practice, learn bookkeeping, marketing, and design educational handouts, and set up an office. Really, it's a low-overhead type of business.
I really loved the process of choosing the name, logo, designing business cards, setting up a website, and seeing it come together. Outside of renting an office, start-up costs were under $500.
My website
Describe the process of launching the business.
Being a big-time researcher, I started asking questions and reading resources in early 2013, before I was ready to decide to start my business in 2014.
I quickly learned which things I wanted to do myself and what I wanted to delegate. I hired a bookkeeper to help me stay organized and keep a pulse on my numbers; I hired a website developer to help build SEO and offer a more professional website, and a credentialing manager who took care of getting me paneled with insurances so I can bill clients' health insurance.
Since launch, what has worked to attract and retain customers?
Once I build up my client base, I had the momentum to keep it going. Because nutrition consulting for eating disorders is such a specialized field, I started getting clients calling because their provider referred them, and at times it was a provider who heard my name from someone else, not someone I knew personally. Networking laid the groundwork, and then word passed through the grapevine.
I didn't do much with email campaigns, Facebook ads, or flyers. I did send off a yearly holiday card to anyone who had referred clients or shared a client to make sure to keep the human connection and remind them of my updated offerings and current insurance information for future referrals.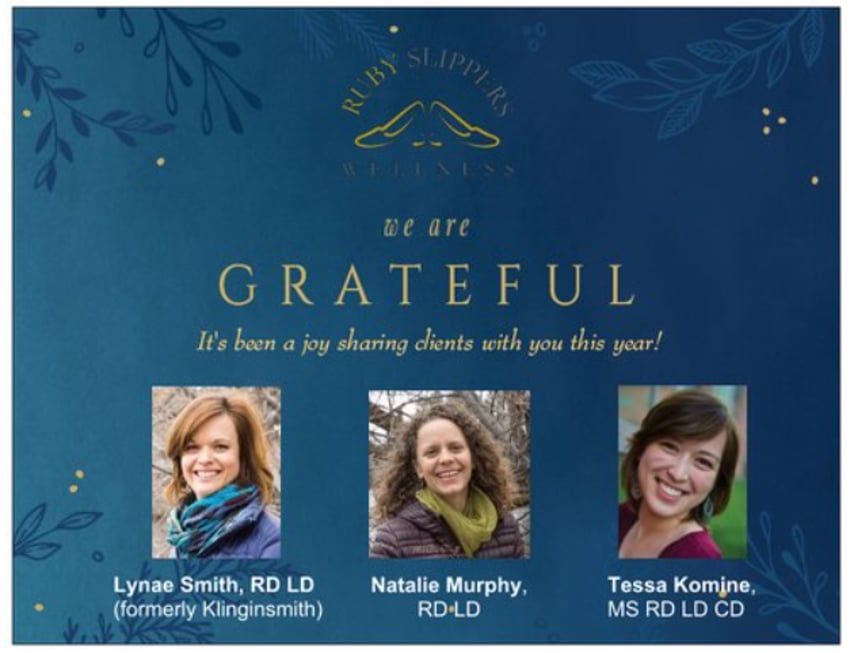 Holiday Postcard
I re-branded a couple of times before I really figured out what to call myself. In private practice, referrals mostly come based on reputation, but as I hired employees, I wanted a strong name for the group practice and chose "Ruby Slippers Wellness". I quickly learned that millennials aren't as familiar with the reference from the Wizard of Oz, and changed it to Ruby Health and Wellness.
More than the website, marketing materials or anything else, the most important tool for me has been NETWORKING!
Here's my networking strategy:
Identify who will be in front of my ideal client before they come to me. For me, this is eating disorder therapists, medical providers, gastroenterologists, and eating disorder treatment centers. I also reached out to other dietitians in the community because I knew that anyone who doesn't want to work with that demographic would likely refer clients to me.

Get to know more about the person you're networking with. What makes them unique? What do they have to offer the community? What's their favorite hobby? Take a genuine interest in what they're doing and who they are.

Reach out! I cold-called folks I didn't know, fired off emails to yoga instructors, personal trainers, massage therapists, acupuncturists, and anyone who might be interested in what I offer, and who might have time with their client to encourage them to seek nutrition counseling from me.

Be human. During networking meetings, I am myself. I tell funny stories about my dog, swapped stories about the most boring/tedious parts of private practice, and asked them about their hobbies and kids. Then I asked them what kind of referral I can keep in mind as their ideal client, and share with them what mine would be.

Offer them something. Any time I had a networking meeting, whether, over lunch, a coffee, or a beer, I tried to make sure I left them with something valuable they could use. Because I'm such an avid networker, this was often putting them in touch with someone else in the community who might be a good connection. Other times, I bought them a gift card and sent it with a card to thank them for their time and make sure they had a stack of my business cards.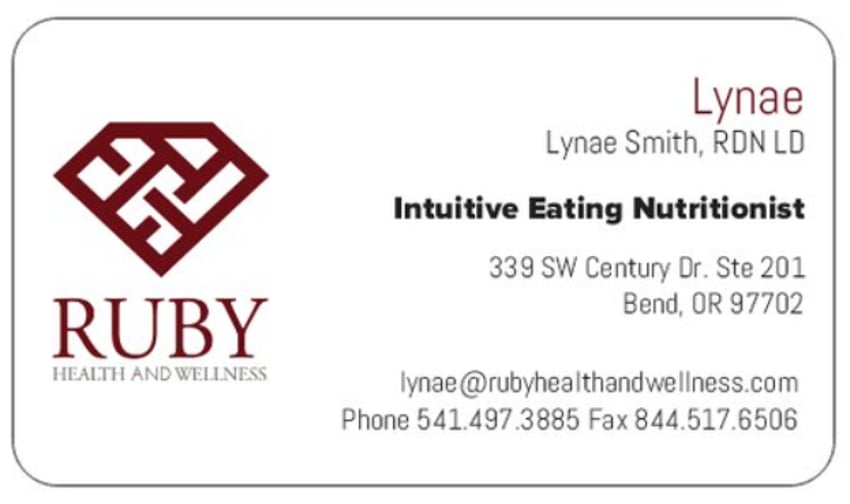 Business cards
Another spin-off I did apart from networking was offering lunch-and-learn events to medical providers at their offices. Sometimes this was a group of primary care providers, other times a group of naturopathic doctors or mental health therapists. I offered an overview of screening for eating disorders, an introduction to the team approach to effectively support those with disordered eating, continuing education opportunities, and ways they can refer to my practice.
How are you doing today and what does the future look like?
2020 was a dumpster fire, as you know. My business was growing in 2018 and in 2019, I took on a bigger office. Finances were a bit precarious at the end of 2019, so when covid and quarantine hit, I had to let go of my group practice and simplify to keep afloat. The practice suffered a net loss in 2020, even with the PPP.
In 2021, I'm back to being a solo private practice and have a full client load. If all goes to plan, I can bring in $70k this year. I've done a new certification as a life coach, and have incorporated that into my work as well.
Through starting the business, have you learned anything particularly helpful or advantageous?
Stay humble, keep learning, be resilient, always, always stay tapped into your numbers and stay true to yourself. Be scrupulous with spending the first 3 years.
My lofty hopes and goals at times resulted in spending more than I should have. Growing pains are tough since it's true "you have to spend money to make money" but that can easily become an excuse to overspend.
Take advantage of others' wisdom, but don't be afraid to blaze your own path. I had a couple of business mentors who were older men who had been extremely successful in their business, but I knew I wouldn't have the same advantages of a boys' club, and I needed to balance being heart-centered with making it a viable business. I ignored a lot of their advice, and I stayed true to myself.
I learned that the start-up phase is my favorite part of running a business. So, one of the dietitians I hired went through a start-up, and within a year had a strong reputation and was ready to take over and run her own private practice. This is pretty unprecedented since most owners will ask employees to sign a non-compete rather than facilitate a transition into their own business. She paid me $22,500 to make the leap and be independent of my company.
She's an amazing dietitian, and has her own successful practice. Her name is Tessa Komine, and you can learn more about her practice here.
What platform/tools do you use for your business?
I use small, women-owned businesses to support me in my business as much as possible. I use All In One Accounting to manage my bookkeeping for me. TKD Design manages my amazing website. Alchemy Credentialing got me set up so I can bill insurance. For secure patient charting, I use Kalix Health.
For people to find me on Google, I use Google My Business, and I use Gsuite for my business email and documents. I am mildly active on social media on LinkedIn, Facebook, and Instagram, but my primary marketing tool is still networking. I have come to use Google reviews more and have gotten new clients who choose to call simply because of the reviews.
What have been the most influential books, podcasts, or other resources?
Through networking, I had a great deal of support from colleagues and peers rather than books or podcasts. Many women had already started their private practice and generously supported me with mentoring, support, and resources. Just to name a few: Tobi Page, Nikki Strealy, Zanita Zody, Jordan Kearns, Michelle Teagankamp, Jane Grace, Julia Hanfling, Rebecca Bitzer, and many friends who cheered me on and allowed me to be a workaholic at times while still sustaining the relationships.
A SCORE business mentor is a must-have as well!
Advice for other entrepreneurs who want to get started or are just starting?
Don't wait. If you want to do it, make the decision and move forward. Then network your ass off, talk to those who have done things you want to do (or something similar), talk to a SCORE mentor, and get going!
Give yourself a cushion because no matter how well things are going, there will be bumps in the road. Reach out to get the support you need professionally and personally. Build a professional network, start a group, and surround yourself with others who have similar goals. It's not easy sustaining friendships when you're dedicated to your dream, so it helps to have others around you who understand that being a business owner takes its toll on friendships at times.
Are you looking to hire for certain positions right now?
Not at the moment. Right now my website includes 2 other dietitians who work from a similar philosophy and in return, they pay me to appear on my "directory" website. I may hire again in the future once we find out what "normal" will be like in a post-quarantine world.
Where can we go to learn more?
If you have any questions or comments, drop a comment below!
-
Lynae Smith, Founder of Ruby Health and Wellness
Want to find more ideas that make money?
Hey! 👋 I'm Pat Walls, the founder of Starter Story.
Get our 5-minute email newsletter packed with business ideas and money-making opportunities, backed by real-life case studies.