How I Created a Proven Franchise Growth System
Start A Franchise Specialist Business
Hello! Who are you and what business did you start?
Hey there! My name is Angela Coté and I am the founder and CEO of Angela Coté Inc. Also known as AC Inc. Also known as the brand that improves franchise system performance.
Our main focus at AC Inc. is providing franchisors the tools, resources, and expertise that leads to a more profitable, successful franchise system. We do this through our signature strategy: The AC Method, a clear, actionable framework for franchise success.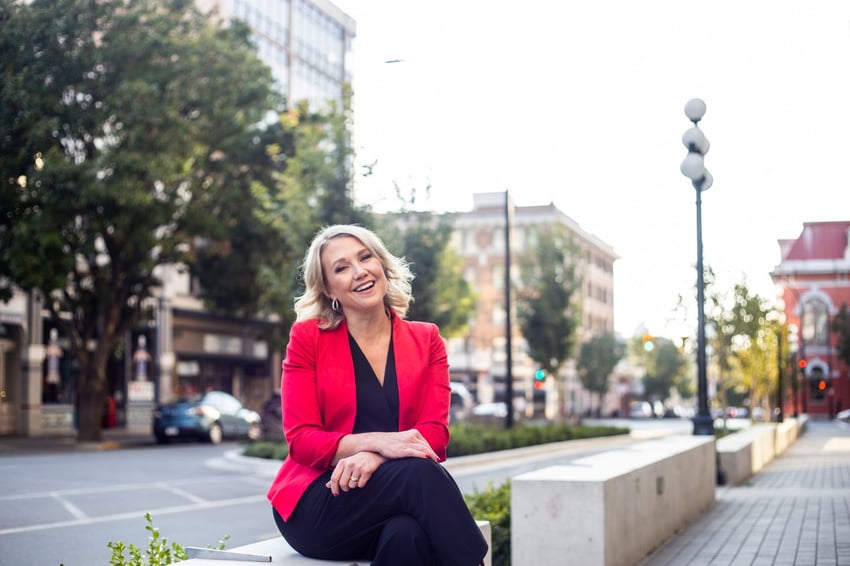 After more than 25 years in the franchise space, I slowly and strategically created the AC Method without even realizing it. After witnessing what worked and didn't work for creating franchise growth, I created this step-by-step guide that we now use to create each of our advising packages and project-based offerings.
Having a proven method has taken time, experience, and some long nights. But ultimately the method, along with our team's can-do positive attitude, is what sets AC Inc. apart when it comes to franchise system improvement.
In just 3 short years of working with franchisors using the AC method in our advising sessions, we are on track to work with, and positively impact more than 5500 franchisors in our first 10 years in business.
What's your backstory and how did you come up with the idea?
AC Inc. is a mission-driven brand that emerged after I spent more than 25 years in the franchise industry - even more if you count dressing up as my dad's company mascot, Kelly Kabob when I was just a kid!
People want to buy from those they trust. You build trust by showing empathy, expertise, and authenticity.
I was raised in a very entrepreneurial family and grew up working odd jobs at the iconic Canadian franchise company, M&M Food Markets (formerly M&M Meat Shops) that I helped grow to almost 500 locations.
As the 20-year-old daughter of the founder, I had big shoes to fill and I received many eye rolls in my first few years in franchise field support. But the lessons I learned in those years were essential to the work I do with clients today.
My husband and I in our early days bring M&M Food Market to Vancouver Island BC
After many years on the franchisor and field support side of the franchise relationship, I successfully brought the M&M Food Market brand to Vancouver Island, BC in Canada, opening the first 3 franchises in less than 1.5 years and building them into a combined asset valued at more than $1.5 million.
I like to pretend that the reason for this success is because I am so passionate and awesome, but a big part of the success of these franchise locations was actually due to the market being ready for this brand.
Years later I was both a mom and a wife, and to be honest I felt restless. I knew being a mom is such an incredible role - and I loved it. But I also felt this deep desire to face a new challenge and make a meaningful contribution to the world through my work.
After so many years in the industry, I suspected there must be a space for a business that could support franchisors as they navigate this unique journey called franchising. I had watched for years as franchisors received vague, confusing advice and I knew I could disrupt this coaching industry with a fresh, progressive, unconventional approach.
And after being on three different sides of the franchise relationships (franchisor, franchisee, and field support) I knew I had the expertise and empathy to provide real, actionable advice that would actually help franchise systems grow.
But it wasn't as easy as just starting up an advising business for coaching franchisors! For a few years, I really doubted myself and ignored my gut instinct. I felt lost and not like myself. This led to several years working for other brands, feeling insecure, and not chasing my vision. But one day back in 2019 I just leaped and started, and I am grateful every day that I finally went after what I knew was needed in the industry.
Take us through the process of designing, prototyping, and manufacturing your first product.
The first service we created at AC Inc. was general advising sessions with me. This was how I built a loyal and engaged group of clients. It was painful and scary at first trying to figure out how to deliver the content and experiences in a way that would provide value to my clients. But what really catapulted our offerings was our first-ever virtual roundtables for franchisors.
After 6 months of advising clients on my own, I had just decided to expand my team to have an assistant, marketing director, and a COO, and then, COVID-19 hit.
This was obviously a rough blow. My potential clients were now worried about supporting their hundreds of panicked franchisees and navigating something we had never prepared for. So my small team and I started offering something off the cuff, messy, never been done before...a weekly zoom call to support franchisors through a pandemic.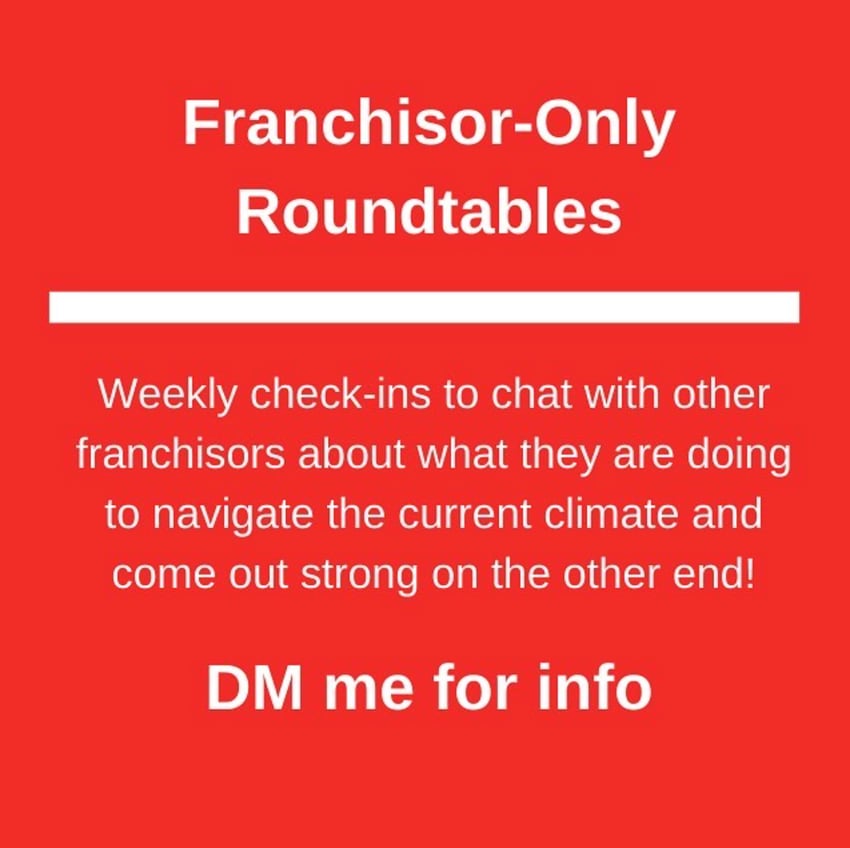 One of our first-ever social media posts we shared to gather franchisors for the AC Roundtables
Franchisors from all different industries and of all shapes and sizes showed up ready to collaborate, learn from and help each other, and get talked off a ledge. It was incredible to see how quickly a community could be built around a common cause (or, around a crisis).
This free offering was never meant to last longer than a couple of months. It was really just my team and I's way of sharing value and trying to help the franchise community.
But from taking action without fear of making the offering perfect (action = growth is another company value) we ended up creating the AC Roundtables, a staple service that we still offer today!
Creating that offering was as simple as starting a zoom call and inviting as many franchisors as possible through social media and email campaigns. But because we launched it fast and messy, we were able to capitalize on a huge need in our industry and from there we have monetized and refined the service.
Describe the process of launching the business.
The launch of AC Inc. was largely thanks to a big scary investment - a career coach. I was aware that I had all of this valuable experience in franchising but I wasn't sure exactly how to apply my experience and skill set in a business.
Investing in coaching is really scary. I wasn't sure I was going to get results and it was, frankly, terrifying to invest in myself like that. After several days of brainstorming with my coach, we had pinpointed exactly what I had to offer the world, what kind of difference I could make, and what made me passionate. This is the day that AC Inc. was born.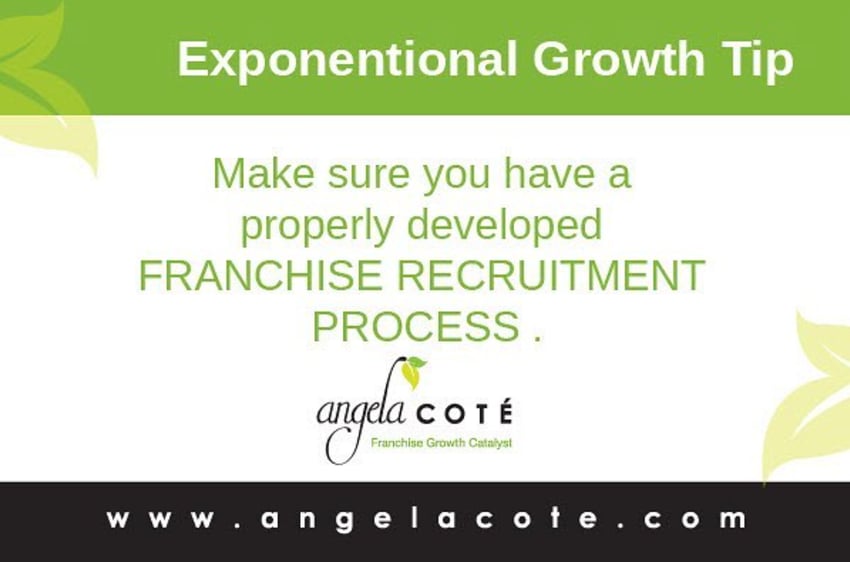 From there came a whirlwind of action including hiring a graphic designer to create a logo, website, and a few business cards, financing these tools with a line of credit, and registering for all kinds of networking and conference events so I could go get my name out there.
I networked my HEART out. Seriously, I talked to anyone that would listen about franchising, profitability, system improvement, and whether I could help them with any pro bono work.
The biggest lesson in that whole crazy launch time was just how important it is to start before you are ready. I didn't have a team or a big portfolio, I just knew I could help and I started helping. Looking back, the branding was so not me and you could tell I was just starting, but if you can offer value to your clients, the rest will come with time and practice.
Since launch, what has worked to attract and retain customers?
Focus on building trust and credibility with your ideal clients
People want to buy from those they trust. You build trust by showing empathy, expertise, and authenticity. So, our marketing plan has pretty much revolved around these three pillars! We have a big focus on organic social media, networking, referrals, weekly newsletters packed with value, and sharing our story and expertise in online publications to drive SEO to our brand.
Taking imperfect action.
When I first started everyone told me I had to write a blog. I tried. I really did. But I am not a writer and I found it extremely difficult to sit down and write a blog post every week. I still wanted to share value so I started sharing a simple "Exponential Growth Tip" each week on my social media. I would film myself in the car when I picked up my kids from school or on my morning walks. These helped me build a loyal and engaged audience and taught me that taking action, however imperfect, is always worth it.
Do not spend months refining a perfectly fine service. Launch. Take action. Then learn how to improve.
Leverage content and content opportunities
Once I became comfortable creating content (like my car videos) I knew I had to leverage it. I hired a digital marketing specialist to repurpose content and share it on as many platforms as possible. This is how our podcast, newsletter, social media calendar, and free PR opportunities were built. For example, we used messaging from a podcast episode in social media posts, and an article for a magazine became a loose outline for a newsletter.
Client loyalty and retention
One thing that has really helped us over the last year specifically is our focus on attracting clients as ambassadors. People who align with the AC culture and are keen to share posts, provide testimonials, and support the team.
In terms of retaining and attracting these clients and ambassadors, we do this by...
Being sticklers for measuring results
Celebrating every win
Continuously getting feedback so we can improve our offerings
Regularly going above and beyond what we promise.
How are you doing today and what does the future look like?
This company started as just me, my laptop, a big dream, and decades of experience in a specific industry. Today I have a team of 8, an advisory council of high-profile franchise leaders, a community of clients that I adore, and a profitable business on track to hit our 10-year goals (and those goals are very big, hairy, and audacious!)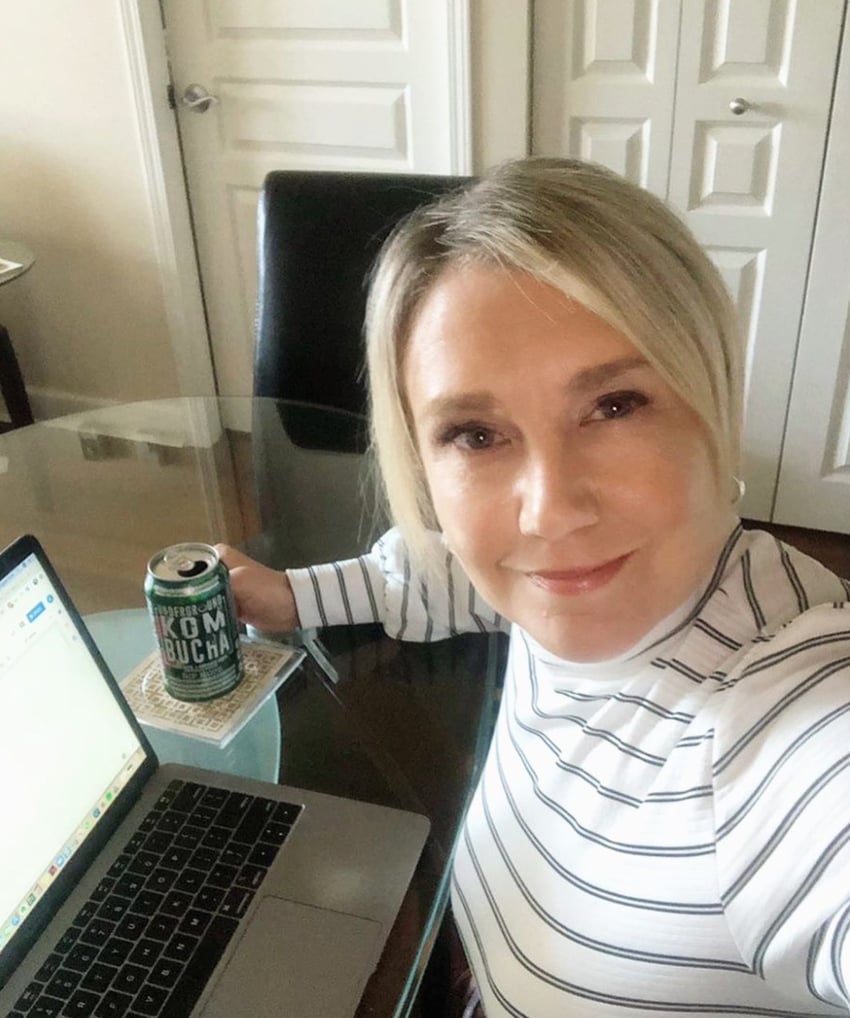 The early days of AC Inc. building a company with just a laptop and a big vision
We are a cohesive and dynamic team that lives and breathes our core values daily. The team is on fire to continue making a massive impact in franchising. Our focus today is to continue bringing in clients who align with our culture and mission and support their growth goals in the best way possible. We have a solid lineup of services that we will be continuing to refine and improve - always!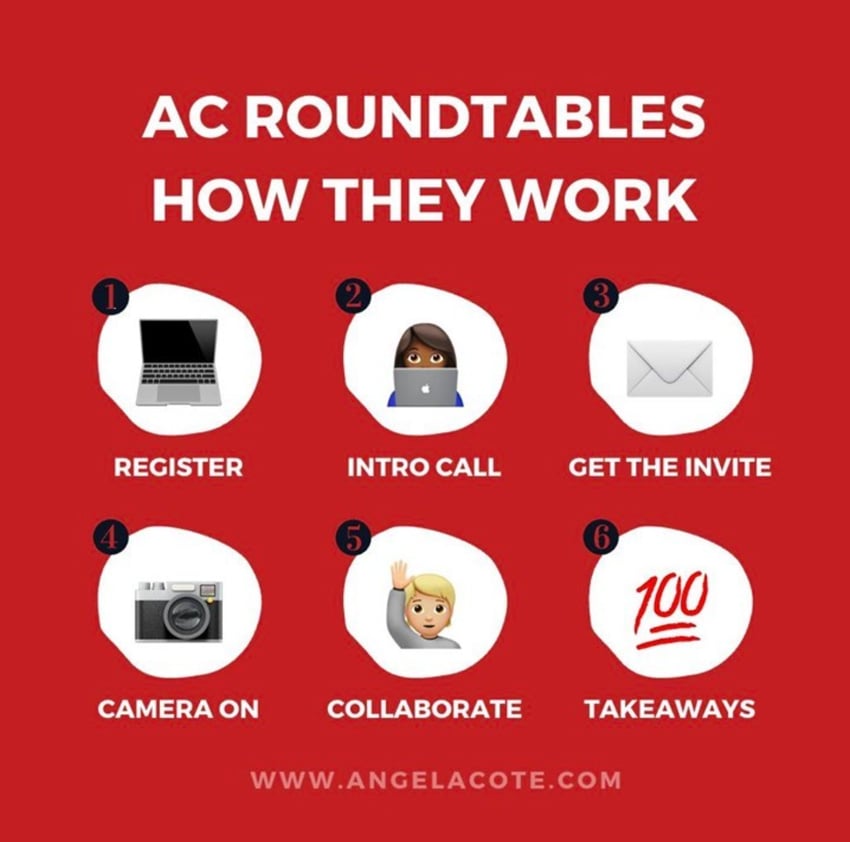 The AC Roundtable Onboarding Process
The operations today continue to focus on virtual advising and projects for our clients, and our now industry famous AC Roundtables, but we are excited to go back to attending in-person events and conferences (and even hosting our own!) when we are permitted.
The future looks like expanding and improving our current lineup of services, growing our community, and venturing further into the keynote speaking space to inspire and energize even more franchise industry professionals.
Through starting the business, have you learned anything particularly helpful or advantageous?
The best decision I have ever made is hands down building a rockstar team. Creating a team that has an aligned vision and an incredible work ethic was one of the scariest leaps in this process and also the best decision I could have made.
When you start a team you feel a bit protective of your vision and business and maybe you'll wonder like I did, whether these people could ever love this business the way you do. But hiring people who are smarter than you in certain areas, and those who love the mission and the company culture is the best thing you can do for your brand. It will open up your mind, challenge your vision, and ultimately create the most impact for those you serve.
On the other hand… the biggest mistake I have made in this process is not trusting my abilities. I brought in a potential partner in the first year of starting this company because I thought I needed someone with their expertise. But what I was really doing was doubting my own abilities. This was a big lesson and it is something I carry with me through every decision.
This partner was not a fit for the company and I had to acknowledge that I had made a mistake bringing them in that caused even further challenges. But by going through that experience I learned to trust my gut and to focus on those that really understand and align with AC Inc.'s culture.
What platform/tools do you use for your business?
LinkedIn | B2B Marketing
Organic social media and B2B networking using LinkedIn have been an invaluable tool for us in growing AC Inc. This tool allows us to reach our ideal clients, share value, network virtually, and launch new programs.
ZoHo | Social Media Scheduling, Email Campaigns, CRM, Forms, Workflows, and more.
We use ZoHo for a big chunk of our business and we continue to discover more ways to utilize this tool! Although it is an investment, we really value the convenience of having so many tools in one place.
Voxer | Team Communication.
I am arguably Voxer's biggest fan. It is a voice note service that allows our team to connect in different chats (similar to slack) but with voice notes as well as text. For team meetings we love Zoom but for day-to-day communication, we are all about Voxer.
Proposify | Proposals, Contracts, and Billing
An easy-to-use interface that allows us to include our own branding and visuals in our proposals and contracts. Has proven invaluable to have our clients from across the globe be able to sign digitally.
YouCanBookMe | Booking Software for Advising Calls
We love having easy booking capabilities for initial strategy calls, advising sessions, and more. Especially as a virtual business having this kind of booking capability is super important.
Asana | Organization and Project Management
Asana tracks our projects like website updates, onboarding processes, any group projects that require us all to be on the same page. This is a great tool to track projects in both calendar and list form.
What have been the most influential books, podcasts, or resources?
I am a big fan of Marie Forleo and her YouTube series - I watch them almost daily! Her famous quote, "Everything is Figureoutable" has even become one of the core values at AC Inc. Her influence as a founder and face of her brand, while also focusing so heavily on serving her audience is a big inspiration to me and what I am trying to do in my own business.
Another great inspiration of mine is Gary Vee. I discovered him after I had already started organically and authentically putting myself out there with my candid videos. When I discovered him, I found it extremely validating to hear those same philosophies about starting before you're ready and how to optimize organic social media.
I'm a big believer in the importance of being a lifelong learner. When I want to learn more about health, the psychology of people, investing, negotiating, and anything to expand my mind, I turn to Tom Bilyeau and Lewis Howes. These guys bring some fantastic guests to their shows. When I'm looking for performance hacks, I turn to Brendan Burchard's book High Performance Habits.
And lastly, hands down the best resource for helping me with scaling AC Inc. has been Traction by Gino Wickman. The Entrepreneurial Operating System he lays out helps us know we have the right people on the team working strategically together on an aligned mission with clear goals to get there.
Advice for entrepreneurs who want to get started/are just starting?
Action equals growth - launch fast and adjust.
Do not spend months refining a perfectly fine service. Launch. Take action. Then learn how to improve. One of our core values that continues to serve us well is that action equals growth. If you are looking to launch a program or service, test the waters with a pilot project or some discounted services and learn what you can refine and improve to create the best possible offering for your audience.
Hire leaders who share your passion and core values.
Hire people who aren't afraid to take accountability and solve a challenge themselves. Leadership isn't about being the loudest in the room, it's about taking initiative! Having an amazing team full of experts in their unique areas (I call them superpowers) is what has helped both my company and my client's companies achieve success.
But please - do not hire a team of experts that don't share your core values. Part of working together on a shared mission is having an aligned set of values. For example, I made sure everyone on my team wants to have fun while doing business and has an "everything is figureoutable" attitude. These are non-negotiable because they bond us as a team as we work on our mission.
Are you looking to hire for certain positions right now?
We are not currently recruiting for any positions. However, at AC Inc. we have an "always hiring" mentality. We know that the perfect new teammate could come along at any moment. If you align with our core values and mission and would be of value to the AC team, send us an email.
Where can we go to learn more?
-
Angela Cote, Founder of Angela Cote Inc
Angela Cote Inc has provided an update on their business!
About 1 month ago, we followed up with Angela Cote Inc to see how they've been doing since we published this article.
Want to start your own business?
Hey! 👋I'm Pat Walls, the founder of Starter Story.
We interview successful business owners and share the stories behind their business. By sharing these stories, we want to help you get started.
Interested in starting your own business? Join Starter Story Premium to get the greatest companion to starting and growing your business:
Connect + get advice from successful entrepreneurs
Step by step guides on how to start and grow
Exclusive and early access to the best case studies on the web
And much more!
Starter Story
Wanna see 52 business ideas you can start with less than $1,000?
Join our free weekly newsletter and get them right now.