On Starting A Fitness Equipment Business With 130% Sales Growth
Start A Fitness Equipment Company
Hey, I'm Freddy Seoud - the CEO & Co-Founder of World Fitness Australia.
World Fitness is a leading Australian brand, providing a diverse range of fitness and sports equipment, suited to both the home and commercial market. We sell everything from yoga mats & power bands to squat racks & home gym machines.
Since starting the business as a side-hustle back in 2008 (an idea sparked from my own home gym needs), we're now located in a 3500m2 warehouse with one physical retail store, along with a national reach through our e-commerce business. In the past financial year, we've grown 10x, we've increased our number of orders by 80%, our conversion rate is up 46% and our retail store alone has grown by 13%.
Showing no signs of slowing down, we currently have plans for the expansion of physical retail stores across Australia, with numerous distribution points spread throughout the country as well.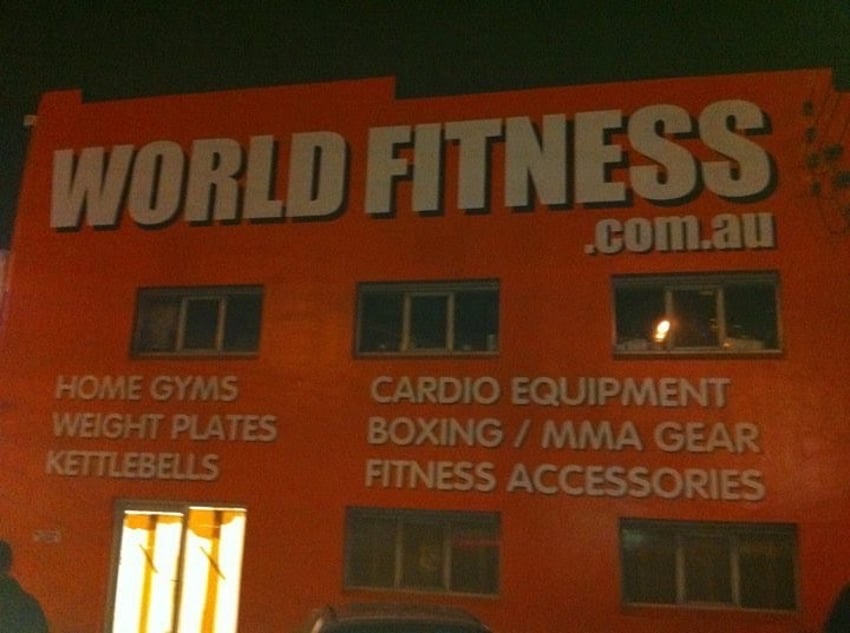 What's your backstory and how did you get into entrepreneurship?
Before I became an entrepreneur, I was just a regular high-school student with many ambitions. I always enjoyed sports, particularly rugby, and I also was extremely interested in the arts, especially music. Not knowing what I really wanted to do with myself post-high school, I did the typical thing and just went to university. I worked as a project manager in the commercial construction industry as well as a procurement manager. Good safe jobs, nice pay, though pretty stressful at times, being in charge of spending millions is definitely an acquired taste.
Make mistakes, work it out, and be better.
Since I've always been heavily into music (both playing and writing), if I wasn't doing what I'm doing now, I'd probably still be trying to be a hack bass player in a bad indie band.
Take us through your entrepreneurial journey. How did you go from day 1 to today?
So, this all began when I was 18 and I was trying to set up my very own home gym. When I was searching for equipment, I found there were limited options when it came to finding places to purchase the equipment from, so the stores that did have the equipment, were in fact selling at very high price points.
My uncles & I always had an interest in importing/exporting, so instead of purchasing the overpriced items on the market, we decided to purchase some products from overseas manufacturers. Because of the gap in the market, we purchased extra products to also try selling to friends, family, and acquaintances. ** **
We started with the most popular/easy items, including boxing bags, dumbbells, and weights. We sold it all quite quickly, which encouraged us to continue purchasing even more products. We created the website ourselves and began with selling the products online and within 3 months, we opened up our first bricks-and-mortar store in Cheltenham, which was 220m2.
Our competitors could see we were growing quite quickly, so we had a few setbacks and challenges from several industry competitors trying to do everything they could to bring us down, but we fought hard every time to continue and strive for success.
As we expanded our product range and the demand for our products increased, we moved to 5 different warehouses/showrooms, until we moved into the one where we reside today.
Since I started the business when I was only 18, I still felt like I had to follow the social norms of going to uni, get a degree, work for a big organization and earn as much as I could the "traditional" way.
So as I studied through uni, I would work at World Fitness during the week when I could and on the weekends. Once I finished my degree, I then felt obligated to take on a role in the field that I studied… which entailed me to become a Junior Project Manager for a construction company.
After 4 years of working in the construction industry (and still building up to World Fitness on the side), I came to a crossroads in my career. I was being offered a promotion to become a procurement manager - an almost too good to be true offer with quite a hefty remuneration package. It was an incredible opportunity… IF it was one I really wanted. I called up a close friend of mine to tell her the good news of the promotion I had been offered and she blatantly blurted out that I would be "selling my soul" if I accepted the offer because deep down both she & I knew, it wasn't my dream job. But - I accepted it because that's what I thought was the right thing to do. I silenced that little voice in my head saying "this isn't you", but you can only keep it quiet for so long.
After some time - only working nights and weekends at World Fitness, my uncles brought up the idea, "do you want to really make a move on the industry or what?".
I remember telling my manager at the time, "I'm leaving" and he just smiled at me, he knew eventually my ambitions would leak out and pull me away. As my resignation drew closer and closer, he pulled me into his offer and said "Give me a number". He didn't want to lose me and it was really shocking, I had this opportunity to get exactly what I wanted in terms of dollars. I left and thought about it. It was so hard to say what I did next. I told him, I wouldn't give him a number, because while it may have made me happy for a few months, my heart wasn't there. I wouldn't be working with my whole being and eventually, we would be at the same crossroads over and over again. I knew at this point that I was going all-in on World Fitness, and going for broke, but it didn't matter.
After thinking long and hard about it, I decided to move back into a role that made me truly happy. A role where I could put my entire heart and soul into building up a business. This is when I decided to begin working on World Fitness Australia again, however full-time.
Four years later and the World Fitness brand has taken off as I would never even have imagined. I work extremely hard, always thinking of new products, new ideas on how to elevate the brand, and how we can be the absolute best in the industry. This is our moment in time, and I'm going to take it with both hands. ** **
How are you doing today and what does the future look like?
Today we are absolutely smashing goals.
We've had to close our retail store temporarily due to Covid lockdown restrictions, however, our e-commerce business is thriving. On average we're receiving approximately 80 - 120 orders per day.
In comparison to last year, we're up by a whopping 130% in sales.
The short term goals for the business are to further increase brand awareness and be nationally recognized as a reliable supplier within the fitness equipment industry.
Our long term goal is to have physical retail stores and distribution points, all across Australia.
The future, speaking honestly, is looking scary. How could it not be? There is so much uncertainty in the current market, but I wouldn't dare stop. Moment matters and right now...the fuse is lit. I don't know what the future looks like. But what I do know is that we are doing everything possible to ensure we become the first holistic fitness equipment company, that not only provides our customers with equipment but also provides them the support network to back it up.
I mean, it's in the name - we as a company have the audacity to call ourselves World Fitness because that's the end goal here. Continuous innovation and always trying to be the best is the only way to get there.
Through starting the business, have you learned anything particularly helpful or advantageous?
Since the very beginning, I have learned so many things and I continue to learn more and more every day.
Some of the biggest challenges I have faced and overcome are:
Let the kids play in the sandbox. Don't get dragged into what he said/ she said, as that can plague a lot of industries. When they are talking about you, good. If you have the time to engage in gossip then you are not working hard enough on your business. Keep focused and just work.
Planning only gets you so far, but sometimes you just need to do it. You can spend all the time in the world planning, but in the end, if you keep doing so, you'll just be in the same place. Plan quickly and execute quicker.
Look ahead 6-12 months, base your decisions on what you think your market will look like then. Sometimes you just want to be first. It's always a gamble but almost always worth the risk. The benefit greatly outweighs the possible negative.
This above all: to thine own self be true. Never lose sight of this. Fake fades away, and it's obvious.
What platform/tools do you use for your business?
My favorite business tool is my Rhodia Notebook. Write everything down, no matter how stupid the idea is, or how small the detail is, you're better off having it than not.
Shopify - hands down the best eCommerce platform for growth.
Klaviyo - the best, most intuitive email tool. Great data sets to better understand your customers and how to engage them.
Slack (internal communication) keeping in touch with everyone is an essential and good use of this tool for managers is just the high-level overview to see all the moving parts and making sure that your vision is being executed without interfering with the process.
What have been the most influential books, podcasts, or other resources?
Crushing It - Gary Vee. This guy knows what's up. Listen to him once and go execute what he says. Do not use this as an excuse just to plan. Or the rabbit hole that is his youtube video. The message is clear, just execute.
The Dip - Seth Godin. The idea is simple, be the best in the world, nothing short. Anything by Seth Godin is marketing gold. If you aren't reading this guy's work, you aren't in the game.
The Gulag Archipelago - Alexander Solzhenitsyn. Keep perspective of the world. A tough read but I think necessary.
Shoe Dog - Phil Night. This book, this story gives a new meaning to "Just Do It". You only have to talk to any business owner to be inspired. I can almost guarantee you, go to your local family run takeaway and ask them how they came to be. You will get real lessons that apply to real life, from real people. Go talk to a business owner who has seen 20% interest rates, or what happens when you go through a real-life recession. That's the greatest resource.
Advice for other entrepreneurs who want to get started or are just starting?
Forget about the social norms and what you think you're 'supposed' to be doing.
Standing still doesn't work. If you want to do it, then do it - but don't half do it. What's the point of half starting something? Look, I don't know what advice I could really give, it's all or bust. I didn't see real growth until I threw myself into the deep end, nothing to keep me afloat, learn to swim or drown.
And I know that seems pretty harsh.
I'm not about preaching my values or beliefs to anyone or giving unfound advice.
I am about shutting my mouth, putting my head down, and working.
I do not know how to do a lot of shit. I constantly make mistakes, so I've got no right to tell you the "rules".
Make mistakes, work it out, and be better.
The number one mistake I see others make, or even people coming to me with a new product, etc, is they don't believe in themselves, or the idea. You can tell when someone is only in it for the money. If you don't want this from the core of your being, I'm talking about from the parts of your soul only you have access to, then that's going to come into everyday life and you won't have the longevity to do this.
This is a marathon, not a sprint. Be in it for the long haul.
Where can we go to learn more?
If you'd like to learn more about World Fitness, head to the website, or our social media pages (Instagram, Facebook).
If you'd have any questions or would like to get in touch with me personally, feel free to reach me through my LinkedIn profile.
-
Freddy Seoud, Founder of World Fitness
Want to start your own business?
Hey! 👋I'm Pat Walls, the founder of Starter Story.
We interview successful business owners and share the stories behind their business. By sharing these stories, we want to help you get started.
Interested in starting your own business? Join Starter Story Premium to get the greatest companion to starting and growing your business:
Connect + get advice from successful entrepreneurs
Step by step guides on how to start and grow
Exclusive and early access to the best case studies on the web
And much more!
Together With Semrush
If You Don't Rank In Google, You Don't Exist.
In order to be successful, you need to be visible online. If you're not, then your competitors might be stealing customers from you.
Semrush lets you quickly create content that ranks, and compete with the biggest brands in your niche.
Try Semrush Free Today ➜