Thank you Klaviyo for sponsoring Starter Story ❤️
Turn one-time buyers into repeat customers. Try the platform loved by 265,000 brands
150 Green Instagram Bios For Your Eco-Friendly & Sustainable Business
•
Updated: December 28th, 2021
150 Green Instagram Bios For Your Eco-Friendly & Sustainable Business
If you're looking to up your Instagram game, it's imperative that you have a great Instagram bio.
Your Instagram bio is the first thing your followers will see - it should be unique and tell users exactly what you do and who you are.
We understand how difficult it can be to craft a compelling Instagram bio, which is why we curated a list of the best eco-friendly retail business Instagram bios.
Additionally, we provide you with examples of the best eco-friendly retail business bios on Instagram and a step-by-step guide to get you started.
Looking to generate your own bio? Check out our free Instagram bio generator here.
Creative Eco-Friendly & Sustainable Business Instagram Bios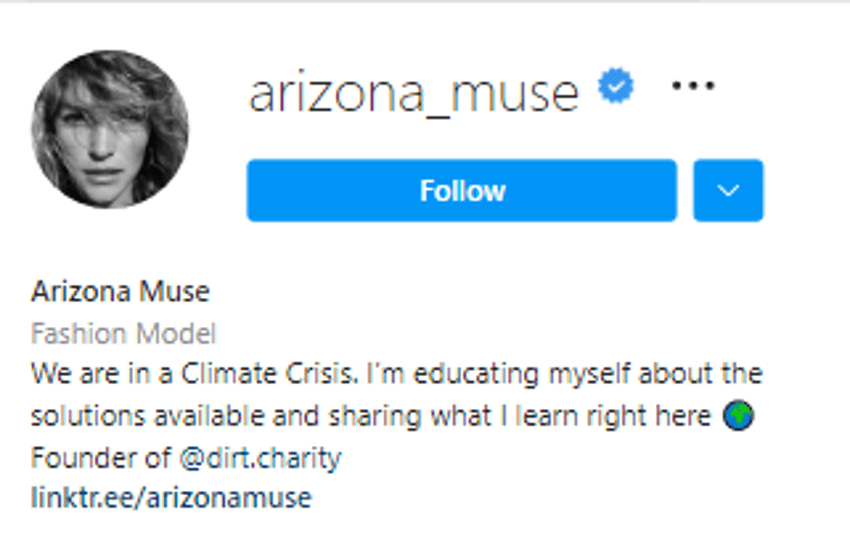 There is no such thing as 'away'. When we throw anything away it must go somewhere.
We cannot solve our problems with the same thinking we used when we created them
We never know the worth of water till the well is dry.
Sustainability is no longer about doing less harm. It's about doing more good.
Sustainability has to be a way of life to be a way of business
The best way to predict the future is to create it
Sustainable development is the development that meets the needs of the present without compromising the ability of future generations to meet their own needs
Shout out to the planet — you keep me grounded.
For what it's 'Earth,' here's how I'm helping the environment today.
I hate to talk trash, but it's really a waste if you don't recycle.
The Earth is a really space-ial place to be.
Please keep the Earth clean. It's not Uranus.
Hey Earth, you rock.
May the forest be with you.
I love the Earth. It's so well-rounded.
The internet is cool, but trees give us so much more than Instagram ever has.
Love your mother (Earth).
Save the Earth. It's the only place where chocolate exists.
A clean ocean is a happy ocean.
Be-leaf it or not, today is a great day to do your part.
Go short tree, it's your Earth Day!
Let's clean up our act — and while we're at it, the planet.
Zero-waste, zero guilt.
Saving nature is never a bad idea.
Keep calm and save the planet.
Let's nurture nature.
Good planets are hard to come by. Please do your part.
Heal the Earth, heal our future.
Be a force of nature.
Cute Eco-Friendly & Sustainable Business Instagram Bios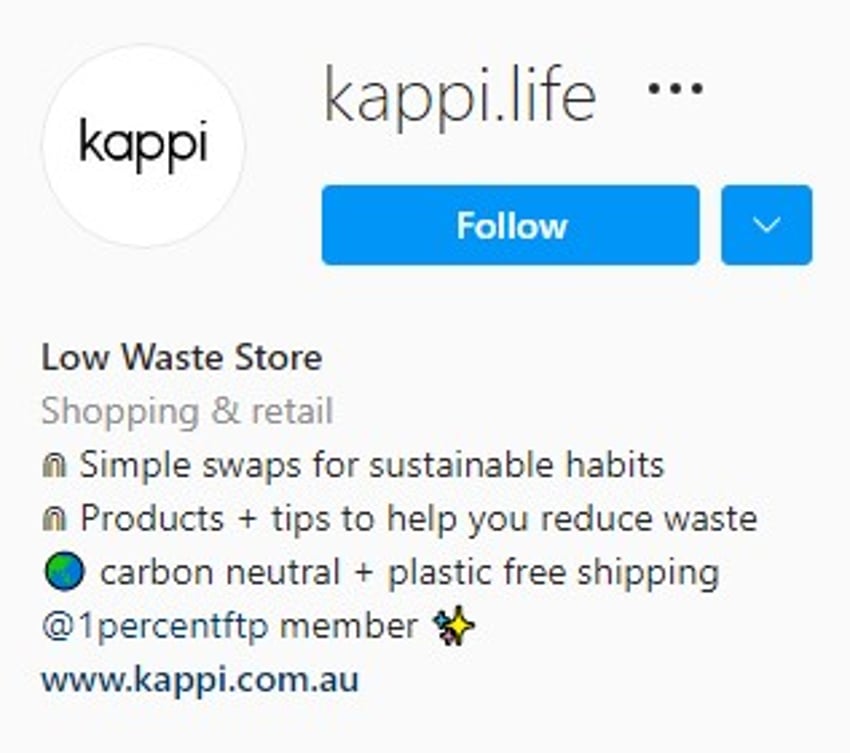 More pollution is not the solution.
Save water — every drop counts!
Treat every day like Earth Day.
This planet takes care of us, so let's return the favor.
Have an attitude of gratitude this Earth Day.
Stand for what you stand on.
Reduce, reuse, recycle.
"The Earth has music for those who listen." — William Shakespeare
"Only if we understand, will we care. Only if we care, will we help. Only if we help, shall all be saved." — Jane Goodall
"I really wonder what gives us the right to wreck this poor planet of ours." — Kurt Vonnegut
"Love the earth as you would love yourself." — John Denver
"The good man is the friend of all living things." — Gandhi
"The greatest threat to our planet is the belief that someone else will save it." — Robert Swan
"Everyone must do their part, and as long as we unite to protect the one planet we have, we can leave it in better shape for future generations." — Barack Obama
"Unless someone like you cares an awful lot, nothing is going to get better. It's not." — The Lorax
"There is something of the marvelous in all things of nature." — Aristotle
"Look deep into nature, and then you will understand everything better." — Albert Einstein
"Earth Day should encourage us to reflect on what we are doing to make our planet a more sustainable and livable place." — Scott Peters
"I'm not an environmentalist. I'm an Earth warrior." — Darryl Cherney
"The environment is where we all meet; where all have a mutual interest; it is the one thing all of us share." — Lady Bird Johnson
"The most patriotic thing you can do is to take care of the environment and try to live sustainably." — Robert F. Kennedy
"A nation that destroys its soils destroys itself. Forests are the lungs of our land, purifying the air and giving fresh strength to our people." — Franklin D. Roosevelt
"To leave the world better than you found it, sometimes you have to pick up other people's trash." — Bill Nye
Keep the Earth clean, it's not Uranus
May the forest be with you.
Chasing waterfalls
Good clean fun in the dirt
Every mountain high, every valley low insert mountain emoji
Another day, another sunrise
Psithurism: the sound of wind in trees insert wind and falling leaves emoji
Cool Eco-Friendly & Sustainable Business Instagram Bios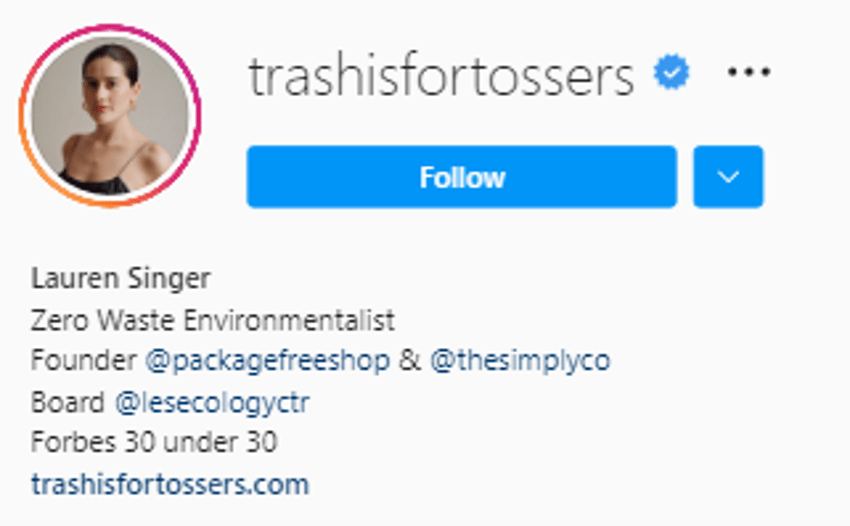 The view from the top insert mountain emoji
Call of the wild!
As free as a bird insert bird emoji
Where the wild things are
(For your picnic) Dining al fresco
Over the moon!
When life gives you mountains, put on your boots and hike insert mountain emoji
A rolling stone gathers no moss
Forest bathing insert tree and bathtub emoji
The early bird catches the worm
The best view comes after the hardest climb
Young and wild and free
Starry skies and fireflies
The great, wild somewhere
Find me beneath the trees insert tree emoji
Child of nature
From sea to shining sea
It's always worth taking the scenic route
Heaven on Earth
Sunshine and roses
Just another day in paradise
The poetry of earth is never dead
There's no time to be bored in a world as beautiful as this
"From California to the New York Island, this land was made for you and me." ― Woody Guthrie
"If the sight of the blue skies fills you with joy, rejoice, for your soul is alive." ― Eleanora Duse
"Spring is nature's way of saying 'let's party!'" ― Robin Williams
"Live in the sunshine, swim the sea, drink the wild air." — Ralph Waldo Emerson
"The Sea, once it casts its spell, holds one in its net of wonder forever." ― Jacques-Yves Cousteau
"I felt my lungs inflate with the onrush of scenery — air, mountains, trees, people. I thought, 'This is what it is to be happy.'" ― Sylvia Plath
"The mountains are calling, and I must go." ― John Muir
Unique Eco-Friendly & Sustainable Business Instagram Bios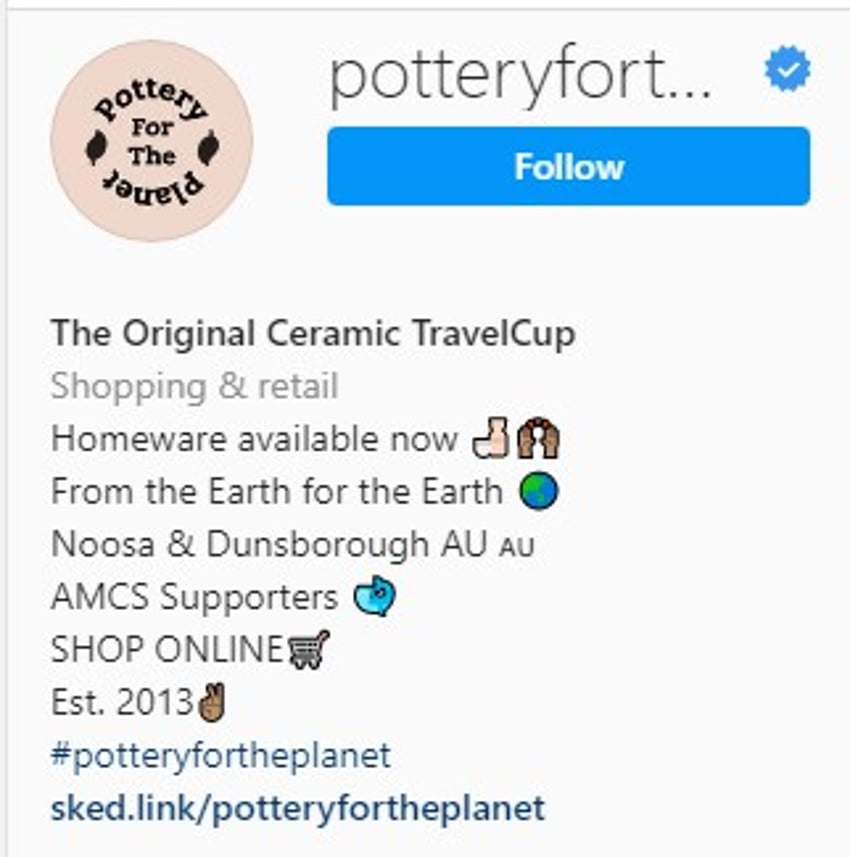 "Should you shield the canyons from the windstorms, you would never see the true beauty of their carvings." ― Elisabeth Kübler-Ross
"There is no exquisite beauty…without some strangeness in the proportion." ― Edgar Allen Poe
"All the trees are losing their leaves, and not one of them is worried." — Donald Miller
"In the spring, at the end of the day, you should smell like dirt."― Margaret Atwood
"I like this place and could willingly waste my time in it." ― William Shakespeare
"The earth laughs in flowers." — Ralph Waldo Emerson
"By discovering nature, you discover yourself." — Maxime Lagacé
"I took a walk in the woods and came out taller than the trees." — Henry David Thoreau
"Leave the roads; take the trails." — Pythagoras
"The Earth is what we all have in common." — Wendell Berry
"If you truly love nature, you will find beauty everywhere." — Vincent Van Gogh
"Adopt the pace of nature: her secret is patience." — Ralph Waldo Emerson
"All good things are wild and free." — Henry David Thoreau
Go short tree. It's your Earth Day!
This planet means the world to me,
Keep the Earth clean. It's not Uranus.
What did Earth say to the other planets? "You Guys have no life." Keep the Earth clean.
Peas on Earth.
I'll always root for you
Fashion is temporary, but nature never goes out of style
"If we surrendered to earth's intelligence we could rise up rooted, like trees." – Rainer Maria Rilke
Trailblazin' through the weekend
Nature called – I said "I'm omw"
The difference between "hill" and "hell" isn't a fine line
It's all downhill from here!
Go to the place you feel alive.
Getting back to my roots
Nature is the closest place to Heaven on Earth
Another day, another grand adventure
Hiking hair, don't care.
Think outside – no box required
Always down to take the scenic route.
Just mossin' around
Funny Eco-Friendly & Sustainable Business Instagram Bios
Let me branch out a little
A heaping slice of perfection, please
No better way to reset
Finally home
Beautiful things don't ask for attention
Here's my lumber. Call me maybe
Another day, another sunrise
#Nofilter needed
Try to be a rainbow in someone's cloud
Trails before ales, pines before wines
Tree cheers for the weekend!
Every mountain top is within reach if you just keep climbing
Call of the wild!
Life is either a great adventure or nothing
Nature never goes out of style
You leaf me breathless
Mother Nature is my kind of girl
Tree-t yo'self
The view is tree-mendous!
For fox sake!
One touch of nature makes the whole world kin
Where the wild things are
Don't stop be-leafing
I lichen you very moss
Difficult roads often lead to beautiful destinations
It is always worth taking the scenic route
Nature – cheaper than therapy
May the forest be with you
Branching out
I pine for you
The mountains are calling, and I must go
I'm waterfalling for you
Feeling good-natured
Colours are the smiles of nature
Letting nature take its course
4-Step Guide: How To Create The Perfect Instagram Bio For Your Business
Instagram gives you 150 characters to tell your followers what your business is about.
This is where you are given the opportunity to summarize your company, engage your audience, and leave a great first impression.
We will break down the qualities and aspects of Later's Instagram bio, as a template for you to use.
Step 1: Highlight Exactly What You Do
Your Instagram bio should be a place where you tell your readers exactly who you are.
This should be brief, clear, and to the point. Explain what makes you unique and what you can do for your audience.
In the Later example, they do this in two different ways:
In their profile name, they showcase their company name with a clear description of what they do
They provide even more explanation and boost their brand up, saying they are the #1 marketing platform for Instagram

Step 2: Pitch Your Service [And Use Relevant Keywords]
While it's important to explain what type of company you are, it's also critical to pitch your product or service.
When creating a website, this is often the first thing people see on your site to really understand what you are offering and what makes you stand out from the rest.
Later does this using one line on their bio, and 8 relevant keywords:

Step 3: Provide A Clear Call To Action
Your call to action should be something you are encouraging your audience to do.
This could be in the form of a recent promotion you are offering, a link to a specific article you want eyes on, or just a way for users to get directed to your website.
In any case, you should always provide the user with easy access to whatever it is you'd like them to do. You can do this by providing a direct, embedded link on your bio.
For the Later example, they encourage users to check out their blog where they showcase tips and guides. This is a common strategy that brands use to get more traffic to their blog, and eventually, turn leads into customers.
Step 4: Use Emojis
Lastly, emojis are a great way to break up any text-heavy sections in your Instagram bio.
Be sure to use emojis that are relevant to your brand or to highlight the items you are discussing in your bio.
Later adds emojis to draw the readers eyes to certain aspects of their bio, such as what they do and their call to action:

Want to start your own business?
Hey! 👋I'm Pat Walls, the founder of Starter Story.
We interview successful business owners and share the stories behind their business. By sharing these stories, we want to help you get started.
Interested in starting your own business? Join Starter Story Premium to get the greatest companion to starting and growing your business:
Connect + get advice from successful entrepreneurs
Step by step guides on how to start and grow
Exclusive and early access to the best case studies on the web
And much more!
PROMOTED
Did you know that brands using Klaviyo average a 95x ROI?
Email, SMS, and more — Klaviyo brings your marketing all together, fueling growth without burning through time and resources.
Deliver more relevant email and text messages — powered by your data. Klaviyo helps you turn one-time buyers into repeat customers with all the power of an enterprise solution and none of the complexity.
Join Brumate, Beardbrand, and the 265,000 other businesses using Klaviyo to grow their online sales.
Starter Story
Wanna see 52 business ideas you can start with less than $1,000?
Join our free weekly newsletter and get them right now.