How We Launched A $2M/Month CRM Software
•
Published: April 25th, 2020
Hello! Who are you and what business did you start?
Hey! My name's Cédric Pierrard and I'm the founder of Efficy, the European CRM champion. We are a serious challenger for our American competitors because we provide our customers with the very same features, but with openness, efficiency, and care.
We are a software publisher. Our flagship products are our extended CRM solutions. We offer sales automation, digital marketing, customer service, reporting as many CRMs. On top of that, we also have project management and document management modules. That's why we talk about extended CRM solutions.
As our solutions are fully customizable, they suit each company in each industry. We have key banks with more than 10 000 users like Belfius or BNP Paribas. We're present in public service, manufacturing, utility, social housing and we participate in digitalizing lawyers' jobs too.
I founded the company 15 years ago. I began my external growth strategy in 2011. And after 8 take-overs on different European companies, I'm proud to present a €24M for 2019.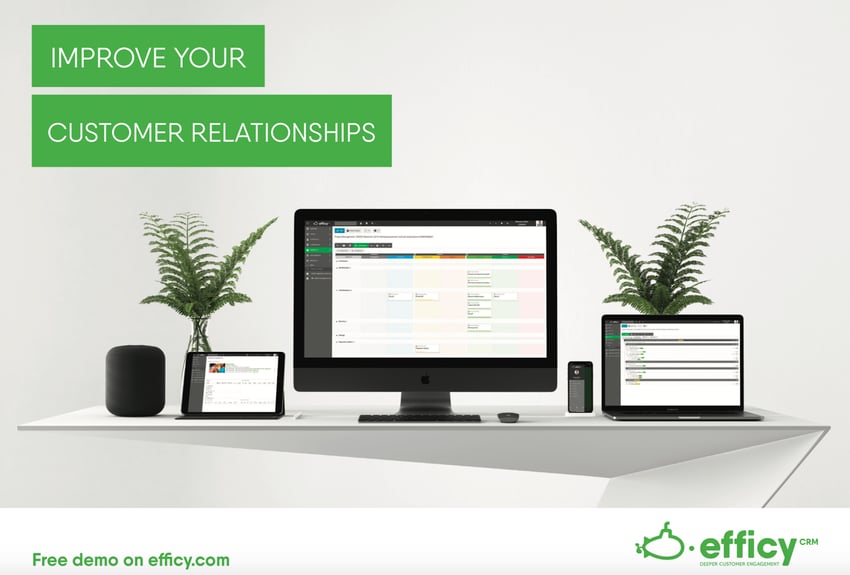 What's your backstory and how did you come up with the idea?
After high school in Belgium, I started a course in engineering at Polytech in Brussels. Then I turned 360° and started studying cinema. I wanted to become a filmmaker but after one year, I realized the difference between my dreams and the reality of the film industry and I finished an industrial engineering degree after 3 years (using the Polytech years a jump) with the jury congratulations!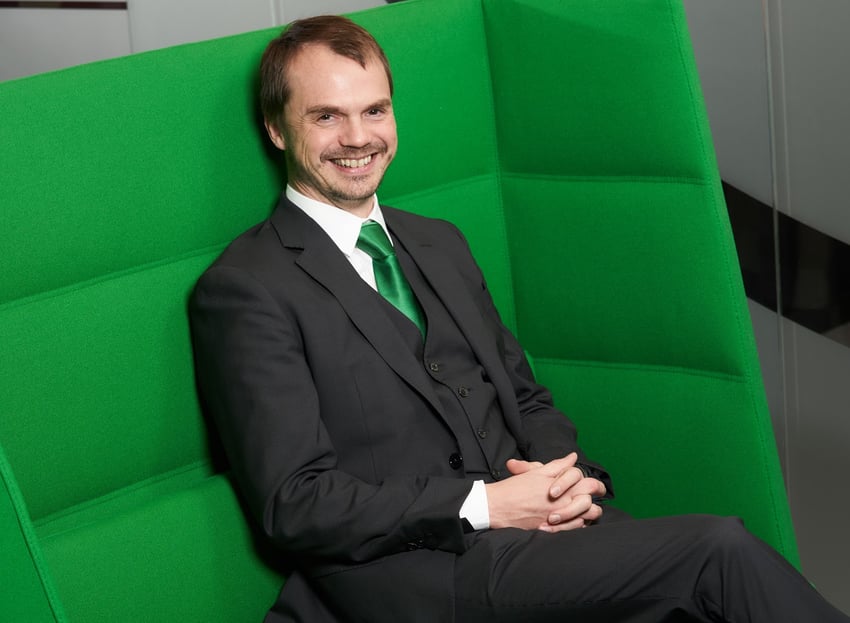 In 1999, I worked in a software company as a trainee which I joined as an employee until 2002. It was a collaborative software editor. Then the company went bankrupt (since the beginning I had the impression the company wasn't well managed and history made me right). So it was my very first occasion to feed my entrepreneur fiber and that's what I did.
With one colleague, Robert Houdart, we offered to buy our former company and we were supported by a business angel. We kept learning about CRM (we repositioned the marketing messages of the company from collaborative software to CRM) for 3 other years. We realized that the software we were working on was highly customizable but upgrades with all those customizations were quite heavy. In 2005, we sold this first company and left with some money and the idea to create a new company just afterward. We wanted a European CRM solution highly customizable, easily upgradable and 100% SaaS-based. Here we had our specifications! We just had to do it…
Concerning our financial situation, as I wrote, we had some money in our pocket after the first exit. That's an important point in my opinion. On my side, I chose not to get paid during several months but this might not be possible in every situation: in my opinion, financial comfort (=not having to worry about paying the mortgage or food, nothing too fancy!!!) is important when you create your own business. You have to be able to focus and dedicate yourself to your business completely not worrying about other stuff. And how can independence be present? You're helped by a business angel or you already have your first exit behind.
Keep your mind open. It's not important to commit mistakes. What is important is to learn from your mistakes.
Take us through the process of designing, prototyping, and manufacturing your first product.
When we created Efficy, the new company, we had 3 or even 4 specifications for our solution: 100% SaaS-based solution, highly customizable, easily upgradable and as of last important specification: a mobile (off-line) database. So we had a very precise idea of what our product should be like.
This time, we made the decision to launch this second battle with a new strategy. Robert and I bought a company which had already got around 100 customers, headcount was 6 employees and 3 associates. All together we organized workshops in order to think about our ideal CRM. We knew our customers' pains and in front of each pain, we worked on a solution. After 8 or 10 months, we had a Minimum Viable Product.
Concerning our way to manage administration, well… it wasn't one of our strengths. We were IT developers and administration was not one of our assets. We had only 0,5 full-time equivalent to managing administration for a 1€M company. As an example, we could organize a recruitment meeting and sign the contract with the candidate the same day. Our decision cycle was extremely short and direct.
At the same time, we paid much attention to our costs. We tried to keep our costs very low in certain domains. In other domains that seem fundamental for us, we never hesitated to invest: computers for developers, comfortable chairs, etc. Another example, some of the associates decided not to be paid during the first months of activity. Another example to keep our expenses very low, our offices as you can see in the image below. It's crazy how many people can work in 12 square meters!!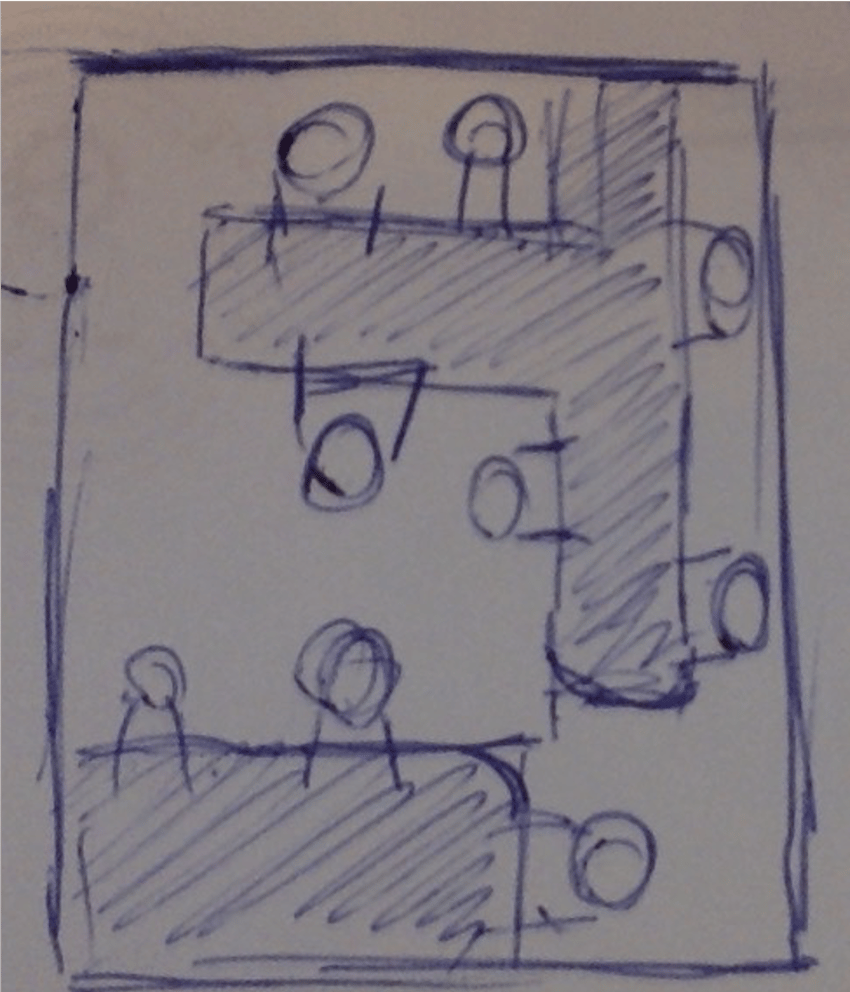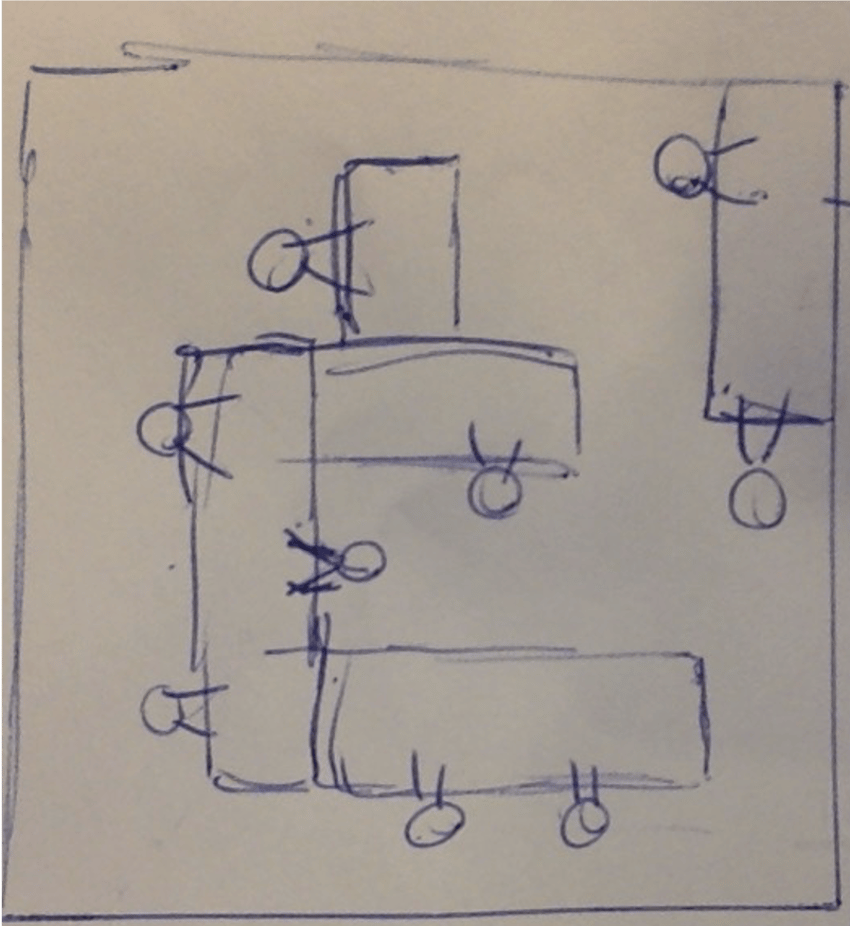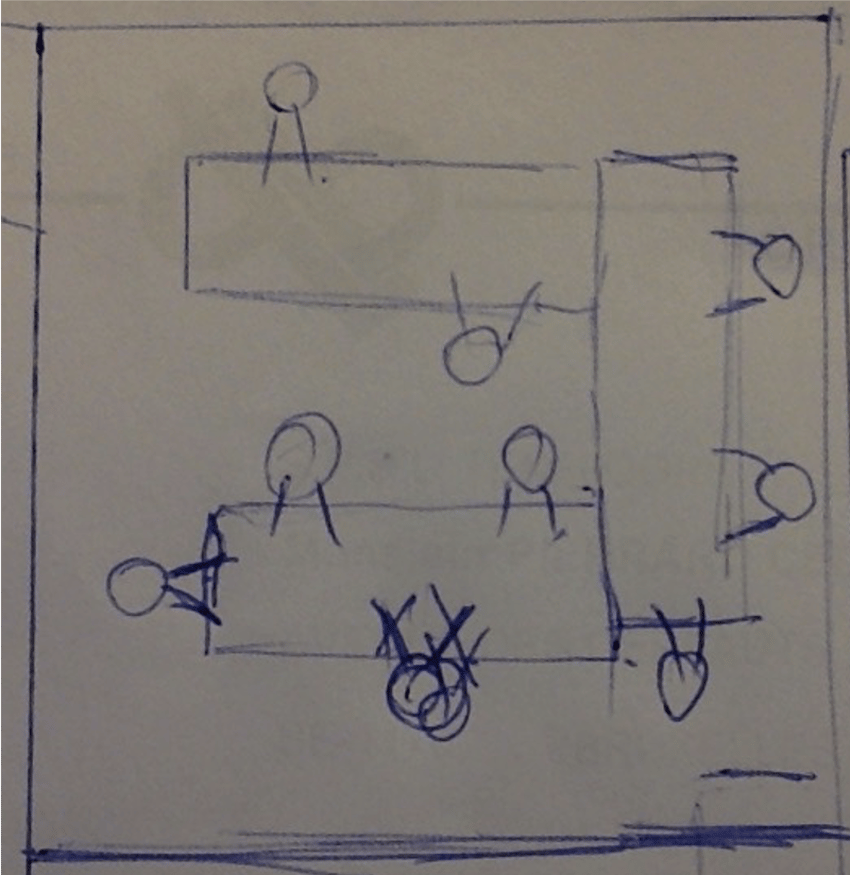 Our first office design
Describe the process of launching the business.
As I wrote, we began business with a former company, existing customers on a certain CRM. So the launch was quite simple. We had to make our customers migrate to one solution to our brand new CRM solution. And that's what we did!
We worked on a special launching offer "Move to Efficy!" and we proposed it to our existing customers. In the offer, we had x months free for subscription, data imports for free or even the project (parameterizing and developments) for free. The promise we made to our customers was a more modern CRM, no data loss and the assurance to benefit from a platform that will be up to date.
The lessons I learned from the beginning of Efficy are these ones:
Be careful with your resources. In the software industry, your resources make the value of your product. If you want to have the best product, then you should be able to get the best resources.

Even though we had none, it's not a bad thing to have a fund on your side. It's better to have a fund than having a financial pressure on your shoulders.

Try to finance your business with customers' money. They better know which value your solution and your company can bring them.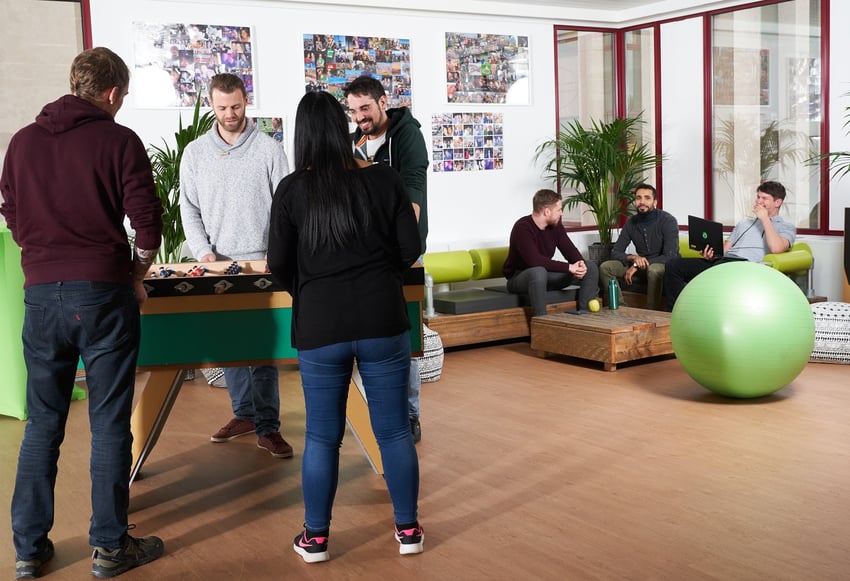 Since launch, what has worked to attract and retain customers?
In order to attract and retain customers, you need some ingredients:
1 good sales team,
1 good product,
1 good customer service.
The first sales rep your company should have is your CEO. Indeed, your CEO must be able to sell his idea, the product, the future of your company, etc. Your first customers have to be crazy enough to buy your solution. The first part of your CEO is to find and convince these craziest customers. And these crazy customers will attract more reasonable ones.
Don't be afraid of your own decisions. Some decisions are more difficult to make but if they're important for your business than you shouldn't wait too much.
Your product has to be good too. Your first customers will be co-building your product. With their field experience, you will improve your product. And you have to work on that! Do not hesitate to commit them in getting your product better.
Your customer service will be another sales argument. Customers can be indulgent with defaults on your product but they won't be indulgent if you don't deliver the best service. So be careful with the requests, solve your customers' issues as soon as you can.
Concerning marketing, you have to find a balance between attracting new customers and retaining them. Mix the marketing actions with both objectives. At Efficy, our customers are companies. Our main actions are working on SEO, attending to market fairs, creating content for our inbound marketing actions. Another aspect is on Channel & Alliances. We have a specific approach to this.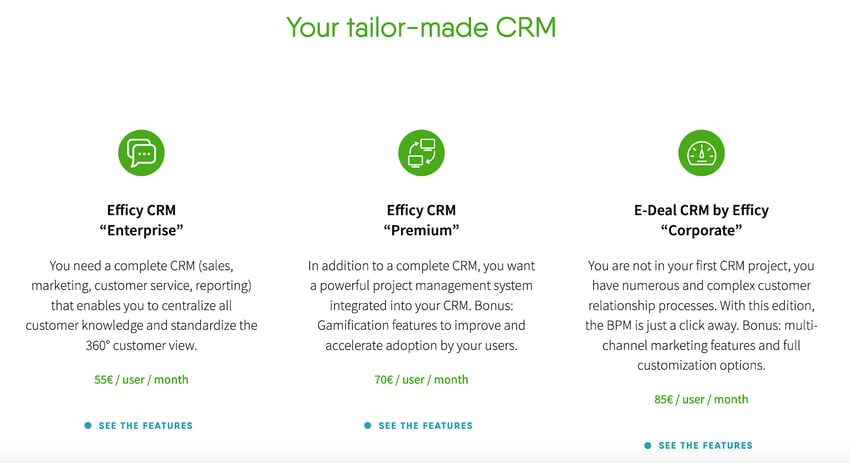 How are you doing today and what does the future look like?
Today, we are more than profitable. We are almost 200 people and our turnover in 2019 was 22,4 €M. Our ambition is 53: in 5 years, be 5 times bigger and represent 5% of the European CRM market.
Our growth ambitions are pretty high but we can achieve that! This growth will be based on organic growth and external growth too. We've always reinvested our benefits in our growth. In 4 years (we launched the 53 one year ago), 55 €M will come from external growth and 45 €M from organic growth.
Through starting the business, have you learned anything particularly helpful or advantageous?
Focus on your core business. It's tempting when you begin to accept every contract you see but it could be very time-consuming and loss-making. So be careful with that.

Don't be afraid of your own decisions. Some decisions are more difficult to make but if they're important for your business than you shouldn't wait too much.

Invest for the long term and if you're in the software business, concentrate your efforts on recurring.
One decision I'm really proud of is investing very soon (from day-one) in a multi-tenant cloud. It gave us a 5-year advance on many competitors.
What platform/tools do you use for your business?
Today our favorite tool is our CRM of course. We are "eating our own dog food" at an extreme level. Not only our whole customer knowledge is stored here but all accounting invoices, all company documents, all board minutes,... It gives us extra feedback from the field about our tool.
At Efficy's beginning, we were quite big fans of Blackberry. We could work anywhere with these devices. Every employee had one and was a Crackberry (=completely addicted): we were working literally all the time!
And I don't know if it's a good thing or not but… after 15 years in business, we still do not have any accounting tools.
What have been the most influential books, podcasts, or other resources?
I would recommend Crossing the Chasm: Marketing and Selling Disruptive Products to Mainstream Customers. It's a must in the software industry concerning sales & marketing. I also read "Getting to Yes", a book on negotiation.
And I heard some conferences with an inspiring speaker Magnus Lindkvist. He's a futurologist and breaks some preconceived ideas.
Advice for other entrepreneurs who want to get started or are just starting out?
Keep doing sports! It's really important to maintain a balance between your business and your family. A good executive is an executive in good shape.
Keep balance in your relationships, between customers and employees. It's important to have feedback from the field.
Keep doors open. When you have to make a decision, make it fast even if you have to change your decision. Sometimes, your survival depends on your fast decisions. And current times won't disagree!
Keep your mind open. It's not important to commit mistakes. What is important is to learn from your mistakes.
Keep a strong management team around. If things go well, you'll need them very soon. Your business will grow and you couldn't keep an eye on everything. It' not in your own interest
Are you looking to hire for certain positions right now?
We're always searching for developers, project managers, consultants, sales reps. As we're growing, we're searching in every domain of expertise. And I promise you, you'll have more space in our offices now ;-)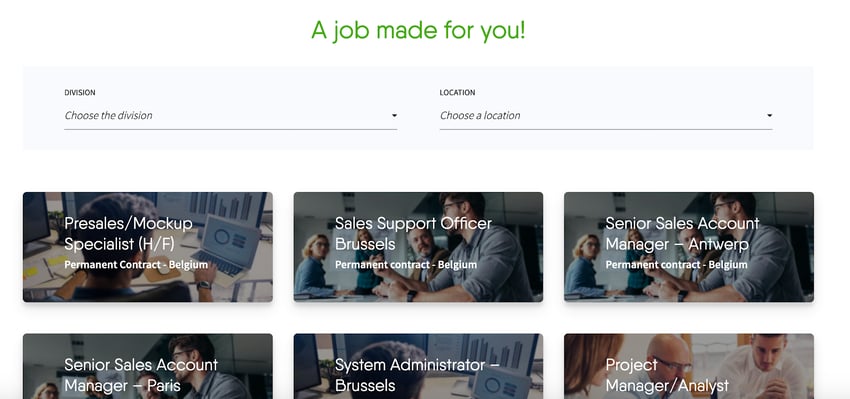 Where can we go to learn more?
If you have any questions or comments, drop a comment below or contact me on LinkedIn!
-
Pierrard, Founder of Efficy
Efficy has provided an update on their business!
4 months ago, we followed up with Efficy to see how they've been doing since we published this article.
Want to find more ideas that make money?
Hey! 👋 I'm Pat Walls, the founder of Starter Story.
Get our 5-minute email newsletter packed with business ideas and money-making opportunities, backed by real-life case studies.
Together With Hired
You'd like to grow your engineering team, now what?
Having open roles is one thing, but getting qualified candidates to apply is another. That's where Hired can help.
Get instant access to a curated pool of responsive top tech and sales talent
Filter by what you need (skills, experience) and what they want (WFH, equity)
Trial Hired and pay nothing until you make a hire
See candidates now.