112+ Best Quotes For Your Child Care Business [2022]
•
Updated: January 20th, 2022
112+ Best Quotes For Your Child Care Business [2022]
Looking for inspirational quotes for your child care business?
Whether you're looking for motivation, a witty instagram caption, or something to win over your team and customers, we have you covered.
We put together a list of 112+ best quotes for your child care business [2022].
Here they are: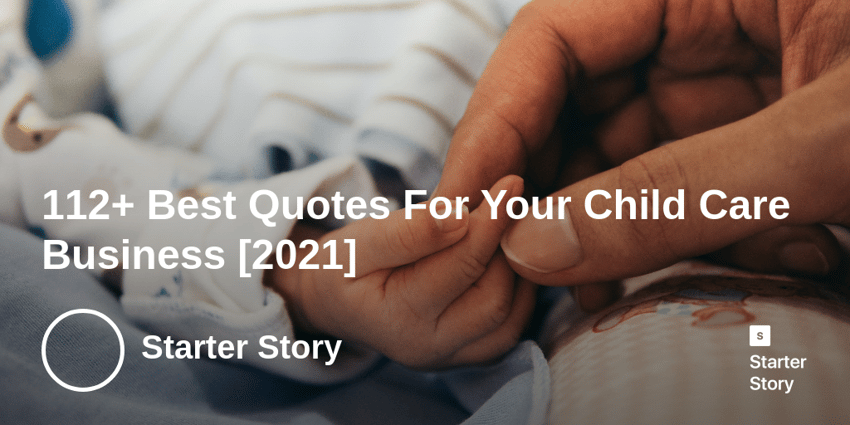 Inspirational Quotes
"As you journey forward in your own business ventures, remember that your passions are critical for the longevity of your business, but equally as important is your ability to be flexible and move with whatever curve ball life may throw." – Becka Klauber Richter, founder of Helpr

"A child must know that he is a miracle, that since the beginning of the world there hasn't been, and until the end of the world there will not be, another child like him." — Pablo Casals

"If politicians were serious about day care for children, instead of just sloganizing about it, nothing they could do would improve the quality of child care more than by lifting the heavy burden of taxation that forces so many families to have both parents working." - Thomas Sowell

"Parents deserve the peace of mind of knowing their children are in good hands. By investing in early childhood educators, we are supporting nurturing child care environments where children can thrive." - Kathleen Wynne

"The legacy I want to leave is a child-care system that says that no kid is going to be left alone or left unsafe." - Marian Wright Edelman

"I'm particularly fortunate to be in a position where I can bring my child to work and be able to get good child care. Not a lot of women have that." - Julia Louis-Dreyfus

"Putting babies as young as two weeks into child care for the first year of their life, for 60 hours a week, will cause their brains damage." - Mem Fox

"The lack of affordable, quality child care is a ticking time bomb." - Melanne Verveer

"Whether it's making sure that families have access to quality health care and child care, or making sure that our children receive the best educational opportunities we can give them, we must remain committed to these needs because our children are our future." - Blanche Lincoln

"Sweeter even than to have had the joy of caring for children of my own has it been to me to help bring about a better state of things for mothers generally, so their unborn little ones could not be willed away from them." - Susan B. Anthony

"As a child, I was raised by native Hawaiian elders - three old women who took care of me while my parents worked." - Elizabeth Kapu'uwailani Lindsey

"Child care is an invisible part of the economy." - Ellen Galinsky

"Child care can almost bankrupt a family, even a two-parent household in which both parents are working. That keeps a parent from being at ease and it really stifles the social and economic growth of a family. Women are hit hard across the board, but particularly in homes where the mother is the head of the household and the only wage-earner. It hurts her, and it hurts her children." - Nina Turner

"I think men should be able to veto women's abortions if they're willing to care for the child after it's born." - Keith Ablow

"I took my kids everywhere. I didn't have money for child care, so I took them to college with me and they sat in the hallway." - Iyanla Vanzant

"A parking lot attendant who's a guy makes a lot more money than a child-care attendant who's a woman." - Gloria Steinem

"If every Christian family brought in a child who needed a family we would put the foster care system out of business." - Shane Claiborne

"It's not a nice-to-have - it's a must-have. It's time we stop treating child care as a side issue, or a women's issue, and treat it like the national economic priority that it is for all of us." - Barack Obama

"Raising or caring for children requires sacrifice and service, which, I believe, heals us from the destructive forces of self-centeredness." - Richard Paul Evans

"Reading is important. Books are important. Librarians are important. (Also, libraries are not child-care facilities, but sometimes feral children raise themselves among the stacks.)" - Neil Gaiman

"The child supplies the power but the parents have to do the steering." - Benjamin Spock

"Most things are good, and they are the strongest things; but there are evil things too, and you are not doing a child a favor by trying to shield him from reality. The important thing is to teach a child that good can always triumph over evil." — Walt Disney

"We need to invest in job training programs, especially those that include child care, transit stipends and paid apprenticeships and internships." - Van Jones

"There is no evidence that suggests women are naturally better at caring for children... with the fact of child-bearing out of the centre of attention, there is even more reason for treating girls first as human beings, then as women." - Margaret Mead

"I love myself for I am a beloved child of the universe and the universe lovingly takes care of me now." - Louise Hay

"Making the decision to have a child—it's momentous. It is to decide forever to have your heart go walking outside your body." — Elizabeth Stone

"Quality child care, health insurance coverage, and training make it possible for former welfare recipients to get, and keep, jobs." - Mel Carnahan

"Just because my kids are in child care, doesn't mean anyone else is raising them." — Unknown
Professional Quotes
"Child-care costs are now the largest family expenditure in much of America, even exceeding the cost of housing." - Donald Trump

"To teach is to touch a life forever." — Unknown

"Only the educated are free." — Epictetus

"The kids that need the most love will ask for it in the most unloving ways" — Unknown

"Who dares to teach must never cease to learn." — John Cotton Dana

"Before hurting anyone, especially those who cannot protect themselves, feel their pain with your heart. Take care of them as your little child." — Debasish Mridha

"The job of an educator is to teach students to see the vitality in themselves." — Joseph Campbell

"Teaching is the one profession that creates all other professions." — Unknown

"Union members not only earn higher median wages; they are more likely to have paid sick leave, short-term disability, and employer-provided child care. Giving people a voice at work - the ability to organize and negotiate for their fair share of the value they helped create - is absolutely essential to a growing, vibrant middle class." - Thomas Perez

"I believe we need affordable child care. I believe we need flexibility. I believe we need institutional reform and public policy reform." - Sheryl Sandberg

"It's more pressure on women to - if they marry or partner with someone, to partner with the right person. Because you cannot have a full career and a full life at home with your children if you are also doing all of the housework and child care." - Sheryl Sandberg

"What I remember as a child is that other kids didn't care about suffering. I always did." - Vivienne Westwood

"I have to stop harming children in child care. I'm trying to make us stop. I wouldn't know what to do otherwise." - Edward Zigler

"Having kids—the responsibility of rearing good, kind, ethical, responsible human beings—is the biggest job anyone can embark on." — Maria Shriver

"Don't just teach your kids to read, teach them to question what they read. Teach them to question everything." — George Carlin

"In my soul, I am still that small child who did not care about anything else but the beautiful colours of a rainbow. " - Papiya Ghosh

"Growth can also involve producing services instead of goods. In particular, a major expansion of public and caring services (like child care, education, elder care, and other life-affirming programs) would generate huge increases in GDP and incomes, with virtually no impact on the environment." - Jim Stanford

"Tell me and I'll forget; Show me and I may remember; involve me and I'll understand." — Chinese Proverb

"Before any great things are accomplished, a memorable change must be made in the system of education…to raise the lower ranks of society nearer to the higher." — John Adams

"I cannot teach anybody anything; I can only make them think." — Socrates

"Most mothers and fathers will shop more for a TV set than they will for a child care center for their child." - Edward Zigler

"If you want your children to be intelligent, read them fairy tales. If you want them to be more intelligent, read them more fairy tales." — Albert Einstein

"To take children seriously is to value them for who they are right now rather than adults-in-the-making." — Alfie Kohn

"If you are planning for a year, sow rice; if you are planning for a decade, plant trees; if you are planning for a lifetime, educate people." — Chinese Proverb

"If you can teach a child, then her family and her future is taken care of." - Sunil Mittal

"God could not be everywhere, and therefore he made mothers." — Jewish Proverb

"As President, my father will change the labor laws that were put into place at a time when women were not a significant portion of the workforce. And he will focus on making quality child care affordable and accessible for all." - Ivanka Trump

"The true creator-self is a light-at-heart and care-free child, who accesses destiny as a simple act of joyful play." - Bryant McGill
Life Quotes
"You may, or may not, have better child care instincts than your husband; but his can certainly be developed. If you don't respectthe natural parenting talents that each of you has, you may inadvertently cast the two of you into the skewed but complementary roles of the Expert and the Dumb Apprentice." - Jean Marzollo

"My plan will also help reduce the cost of child care by allowing parents to fully deduct the average cost of child care spending from their taxes." - Donald Trump

"Generally speaking, historically in this country, the care of a child has been thought of as female business." - Eddie Bernice Johnson

"Women with minimal access to resources and no access to child care have limited choices that too often mean low-wage and part-time labor. In rural communities in the developing world, when women farmers have unequal access to fertilizers or training, their farm productivity lags behind men." - Lael Brainard

"Just as men must give up economic control when their wives share the responsibility for the family's financial well-being, women must give up exclusive parental control when their husbands assume more responsibility for child care." - Augustus

"More broadly, we are going to have to examine the safety net programs to make sure they are poised to catch the families before they fall even more, especially in the areas of unemployment benefits, child care assistance, and foster care." - Richard Neal

"Teachers have three loves: love of learning, love of learners, and the love of bringing the first two loves together." — Scott Hayden

"Biologically and temperamentally... women were made to be concerned firt and foremost with child care, husband care and home care." - Benjamin Spock

"Just as men must give up economic control when their wives share the responsibility for the family's financial well-being, women must give up exclusive parental control when their husbands assume more responsibility for child care." - Augustus Y. Napier

"Perhaps one reason that many working parents do not agitate for collective reform, such as more governmental or corporate child care, is that the parents fear, deep down, that to share responsibility for child rearing is to abdicate it." - Faye J Crosby

"As our cities have developed, they've built sometimes small villages or communities that were in place. And we've taken for granted all of that child care, the neighbourliness, the help that you get from people nearby." - Susan Oliver

"Meditation is doing what you are doing - whether you are doing formal meditation or child care." - Norman Fischer

"As for a fantasy life, working women are more likely to fantasize about finding the perfect child care provider who she can both trust and afford. She might also fantasize that tonight her husband will both shop for and cook dinner." - Madeleine M. Kunin

"Children are unpredictable. You never know what inconsistency they're going to catch you in next." — Franklin P. Jones

"I don't think child care is ever going to be much of a federal effort. Just like education. Six or 7 percent - that's all I want from the government. Pay that piece of it for poor or developmentally disabled children." - Edward Zigler

"Most people assume that women are responsible for households and child care. Most couples operate that way - not all. That fundamental assumption holds women back." - Sheryl Sandberg

"Women leading means that Congress is working to create jobs, make quality child care more affordable and strengthen the middle class because we understand that America grows the economy and opportunity from the middle out, not the top down." - Barbara Mikulski

"The main problem of America is that you're seeing people working all over this country two jobs, they're working three jobs, and they're getting nowhere in a hurry. They're working hard. They can't afford to send their kids to college in many instances. They can't afford child care for their little babies. They're worried to death about retirement." - Bernie Sanders

"O thou child of many prayers! Life hath quicksands, Life hath snares! Care and age come unawares!" - Henry Wadsworth Longfellow

"I am not a teacher, but an awakener." — Robert Frost

"If kids come to us from strong, healthy, functioning families, it makes our job easier. If they do not come to us from strong, healthy, functioning families, it makes our job more important." — Barbara Colorose

"A story is a burden which must be carried with as much care as we carry a sleeping child." - Joseph Bruchac

"Research has shown time and time again that infants who receive the high-quality child care and early education programs do better in school, have more developed social skills, and display fewer behavior problems." - Judy Biggert

"I found a nanny/child care position in Beverly Hills taking care of a 3-year-old and a 17-year-old. They had a large, wealthy house. I learned that I liked the way rich people lived. I learned that they were not smarter than me." - Mark Burnett

"Play is the highest form of research." — Albert Einstein

"I'm particularly fortunate to be in a position where I can bring my child to work and be able to get good child care. Not a lot of women have that." - Julia Louis-Dreyfus

"Any child soldier has to go through a lot of love, care and understanding to become normal." - Emmanuel Jal

"I have a robust plan to help make quality child care more affordable. It will include an exclusion from taxes of the average amount paid for child care, including a long-overdue recognition of the contributions of parents who stay home to provide care." - Donald Trump
Positive Quotes
"Before I got married I had six theories about bringing up children; now I have six children, and no theories." — John Wilmot

"The reason child care is such a loaded issue is that when we talk about it, we are always tacitly talking about motherhood. And when we're talking about motherhood we're always tacitly assuming that child care must be a very dim second to full-time mother care." - Anna Quindlen

"Even when freshly washed and relieved of all obvious confections, children tend to be sticky." — Fran Lebowitz

"Good guilt is a product of love and responsibility. It is a natural, positive instinct that parents and good child care providers have. If bad guilt is a monster, good guilt is a friendly fairy godmother, yakking away in your head to keep you alert to the needs of your baby." - Jean Marzollo

"Be sure that in your educating you are not manufacturing obedient citizens, but rather unleashing powerful, creative souls." — Vince Gowmon

"Let the child be the scriptwriter, the director and the actor in his own play." — Magda Gerber

"Cooking is at once child's play and adult joy. And cooking done with care is an act of love." - Craig Claiborne

"I don't care if it doesn't make a nickel. I just want every man, woman, and child in America to see it." - Samuel Goldwyn

"In response to our fast-food culture, a 'slow food' movement appeared. Out of hurried parenthood, a move toward slow parenting could be growing. With vital government supports for state-of-the-art public child care and paid parental leave, maybe we would be ready to try slow love and marriage." - Arlie Russell Hochschild

"Along with a livable wage, many parents are desperate for quality affordable child care." - Kirsten Gillibrand

"Commit a child to the care of a worthless, ignorant woman, and no culture in after-life will remedy the evil you have done." - Samuel Smiles

"Day care poses no risk for children, provided that it is high quality…. Poor quality day care is risky for children everywhere.. .. The cost of poor quality day care is measured in children's lives. High quality day care costs only money." — Sandra Scarr

"The best teachers teach from the heart, not from the book." — Unknown

"I believe the choice to become a mother is the choice to become one of the greatest spiritual teachers there is." — Oprah Winfrey

"It is easier to build strong children than to repair broken men." — Frederick Douglass

"The problem in child care, which really all of us are going to have to think hard on, is that there is no really great solution that we can come up with for ages zero to three." - Edward Zigler

"There are many women with children under five who want to work and who lack affordable, high-quality child care." - Harriet Harman

"I am anxious to fix welfare. There has to be more training and child care." - Janet Yellen

"A great teacher takes a hand, opens a mind, and touches a heart." — Unknown

"Children have never been very good at listening to their elders, but they have never failed to imitate them." — James Baldwin

"Stand aside for a while and leave room for learning, observe carefully what children do, and then, if you have understood well, perhaps teaching will be different from before." — Loris Malaguzzi

"Defining child care primarily as women's sphere reinforces the devaluing of women and prevents their equal access to power." - Mary Frances Berry

"They may forget what you said, but they will never forget how you made them FEEL." — Carol Buchner

"A person's a person, no matter how small." — Dr. Seuss

"My entire history with the Navy have been trying to get the Navy to focus on families and child care and all the things that they were way behind in - housing, all of those things." - Patricia Schroeder

"I could lie down like a tired child, And weep away the life of care Which I have borne, and yet must bear." - Percy Bysshe Shelley

"Being able to help someone learn something is a talent." — Margaret Riel

"The child's personality is a product of slow gradual growth. His nervous system matures by stages and natural sequences. He sits before he stands; he babbles before he talks; he fabricates before he tells the truth; he draws a circle before he draws a square; he is selfish before he is altruistic; he is dependent on others before he achieves dependence on self. All of his abilities, including his morals, are subject to laws of growth. The task of child care is not to force him into a predetermined pattern but to guide his growth." - Arnold Gesell
Want to find more ideas that make money?
Hey! 👋 I'm Pat Walls, the founder of Starter Story.
Get our 5-minute email newsletter packed with business ideas and money-making opportunities, backed by real-life case studies.