Thank you Klaviyo for sponsoring Starter Story ❤️
Turn one-time buyers into repeat customers. Try the platform loved by 265,000 brands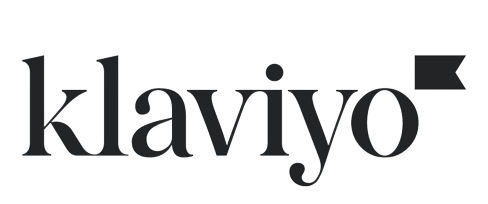 How The Need Of Changing Habits Led To Starting A Nutrition Brand
Hello! Who are you and what business did you start?
Hey hey - I'm Billy Bosch, the Founder & CVO of ICONIC, a nutrition brand that crafts tasty mini-meal shakes that fill you up without a ton of calories. Our flagship product is our ICONIC Protein line of ready-to-drink products, with 20 grams of grass-fed protein + 4g of fiber to fill you up, and 0 grams of sugar.
Our Chocolate Truffle Protein Drink is our #1 seller, with our Cafe Latte Protein Coffee (aka "proffee") coming in at a close #2. That one has a full cup of Colombian Coffee in it. Most of our customers use these drinks for a grab-and-go breakfast or snack during the day to help maintain a healthy weight or lose weight. Protein & fiber work together to fill you up and suppress appetite. Protein also increases your metabolism!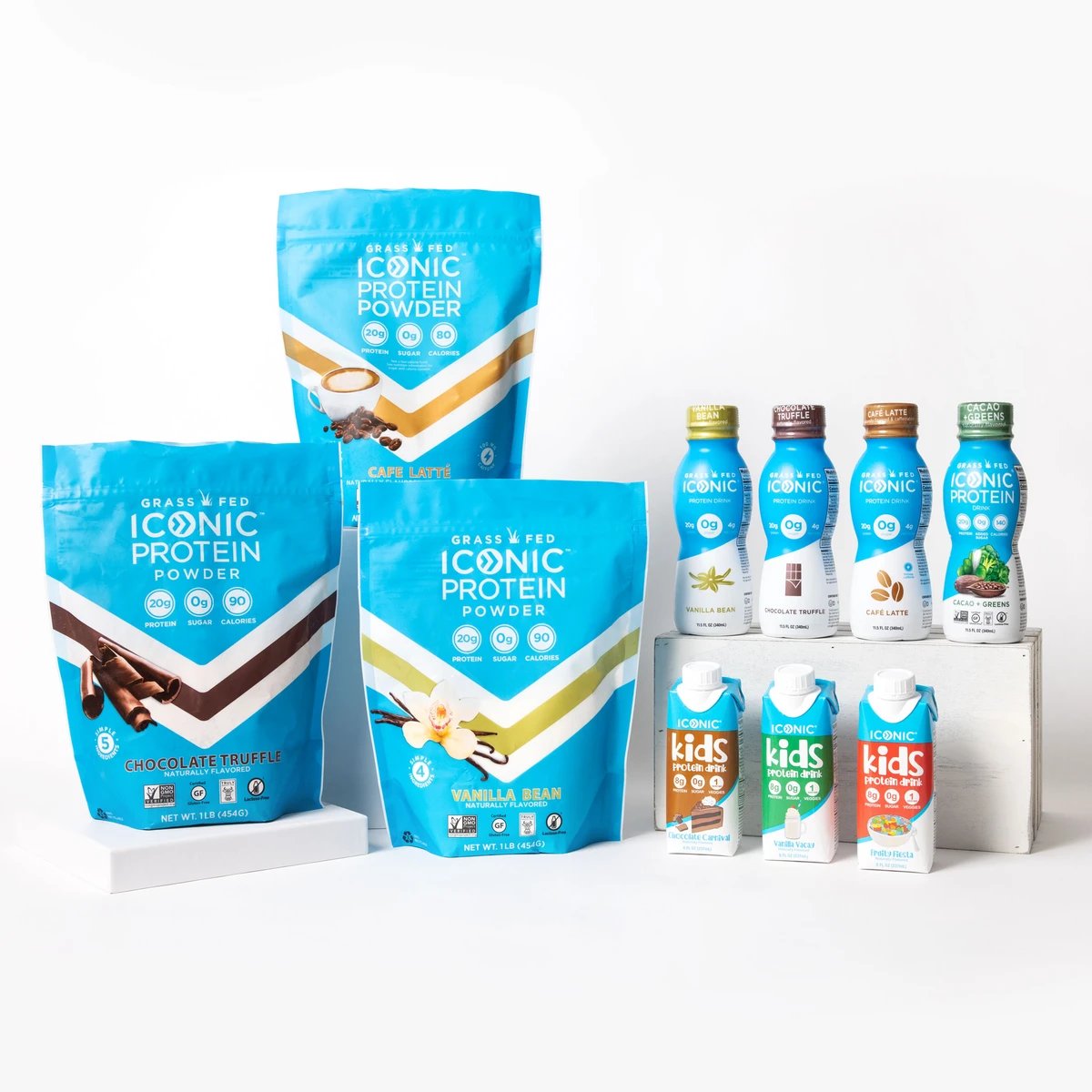 I'm really pumped for our upcoming product launches. One of the pain points our customers have is having to mix their Coffee, Collagen, MCT Oil, & Adaptogens, etc. We decided to turn that into a delicious all-in-one mocha coffee powder that we call ICONIC Keto Collagen Coffee. We're also aware that immunity will remain top of mind for quite some time, and that plant protein consumption is on the rise. We crafted a line of Immunity Coffee beverages and powders that contain plant protein, Fair Trade Colombian Coffee, Zinc, Vitamin C, Vitamin D, MCT Oil, and of course 0 sugar. We'll have three flavors of this coffee line - Vanilla, Mocha, and Dark Roast.
Today our products are sold in stores like Whole Foods, Walmart, Sprouts, as well as online via Drinkiconic.com & Amazon. It's still exciting to see our products on shelves like these, and to speak with our customers to hear why they love our products and how we can improve them.
What's your backstory and how did you come up with the idea?
I don't know about you, but I had most of the fast-food value menus memorized in my late teens and early 20's. I knew I could get two double cheeseburgers, fries, chicken nuggets, and a frosty for $5 - what a steal! What else are you supposed to do when you're short on money, time, and don't know how to cook? I also lived in New Orleans. If you've been, you know that no city in the US can touch their food. It's insane… beignets, fried seafood, broiled seafood, boiled seafood, PO-boys, hurricanes, etc. How can you pass on that? Look, everyone knows that type of food isn't exactly "good for you", but it's delicious and if you work out it basically offsets that, or so I thought.
By the time I was in my mid 20's, I found out the hard way that working out doesn't entitle you to a daily menu of donuts, double cheeseburgers, large pizzas, etc.! By the time I hit my mid-twenties, I found myself in a physician's office as the numerous health issues were finally coming to a head. My doctor informed me that I would need to take pills every day for my acid reflux and high cholesterol, which scared me since all of my grandparents had heart issues with a few deaths from heart-related issues. Something about taking a pill every day at that age just didn't seem right though.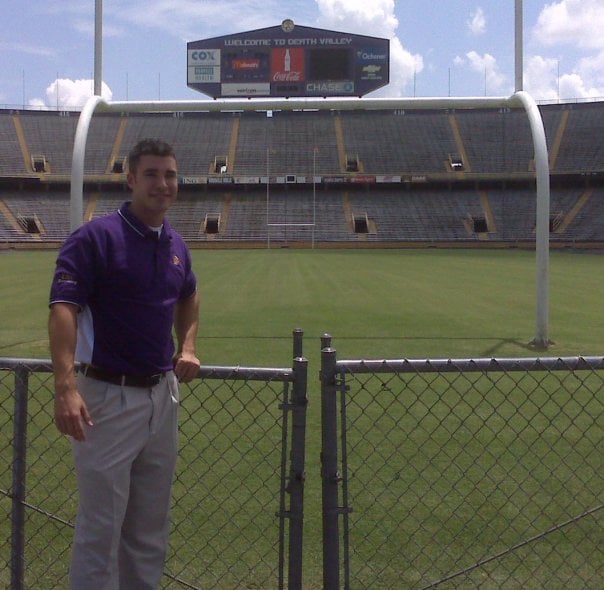 Me ~2010: There was no cheeseburger I didn't eat, and no weight I did not lift
I decided to seek advice from a Registered Dietitian (Molly Kimball). She informed me that I had another option – clean up my diet! It seemed simple: more protein and fiber to fill me up during the day, and fewer calories and sugar. I said, "Sign me up! Now, what do I buy?" She gave me a list of ingredients to mix up each day and sent me on my way.
The thing with grocery stores (and most other retailers) is that their shelves are already full, so they're not looking for new products to fill their shelves in most cases. Sales experience really comes in handy here!
Now while this may make total sense for a lot of people, I know myself and know that I usually keep myself too busy to take the time to shop for ingredients, measure everything out and then clean up the mess afterward. Realizing that she wouldn't recommend any drink on the market, I asked what it would take to make the PERFECT protein drink.
Take us through the process of designing, prototyping, and manufacturing your first product.
When I met with the R.D. I hired, we discussed the absolute must-have qualities in a dream protein drink: low sugar, high-quality protein source, no artificial ingredients or sugar alcohols. It had to be shelf-stable, convenient in a ready-to-drink format, but most importantly it had to taste delicious! Our recipe for ICONIC delivered on all of our requirements and more: non-GMO ingredients, grass-fed milk protein isolate that's high in casein to keep you fuller longer without any lactose, and only a few grams of sugar for a lightly sweetened taste. We took the traditional chalky protein shake that tastes like cement mix and reinvented it, and best of all, it tastes absolutely amazing!
I worked for a large company in the consumer products space leading up to this, which came in handy. I also benefited from a non-profit business incubator program in New Orleans called The Idea Village and the New Orleans BioInnovation Center. From there I test-marketed the product in the city and surrounding areas while fine-tuning the packaging and ingredients.
The first few production run attempts were complete disasters. Initially, I located a manufacturing facility (aka co-packer or co-man) on the east coast that said they could produce my product in small quantities with what's known as a pilot run. I sent all of the ingredients there in preparation, but shortly before the production run, I found out from someone in the facility that they just had a recall on two other products that were soon to be competitors of mine.
I realized there were some competency issues at the plant, so I then found a different facility halfway across the country and had to ship all of my ingredients. A few months later, I was lined up ready to run again. This time they were able to run the pilot into plain white drink carton packages. I was there for the run, and it was really gratifying to see my dream product come to life.
What do you do with 10,000 drinks in white cartons? You figure out how to label and sell them. I got to work on a shrink sleeve design and had enough printed to cover all the products I had on hand. Then I recruited a mix of friends and interns to come and hand label 10,000 of these bottles. We actually used a clothes steamer I had on hand to get wrinkles out of clothes to steam every one of the shrink sleeves onto the cartons. The process took months! Along the way, I was driving freshly labeled products in the back of my truck to local grocery stores and selling them through the back door.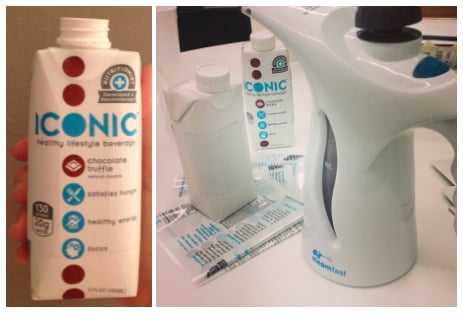 Iteration 1 of Iconic, hand labeled
Describe the process of launching the business.
I wasn't totally sure what types of stores this would sell well in, so I sold it to every store imaginable. That included grocery stores, gyms, coffee shops, delis, military bases, convenience stores, cafeterias, etc. If they had drinks, I would sell them. Why take a shotgun approach you might ask? It gave me a feel for which channel of retail business to focus on once I expanded outside of New Orleans. I also sold it on our website, and Amazon. Remember this was around 2012, so still early days for DTC products.
After a few months, I found that grocery stores and the internet were by far the leaders in sales. From there I honed in on working my way into grocery store chains in Louisiana and Texas. The thing with grocery stores (and most other retailers) is that their shelves are already full, so they're not looking for new products to fill their shelves in most cases. Sales experience really comes in handy here!
It turns out manufacturing beverages isn't the cheapest of ventures to enter into. I knew this would take some cash, but I wasn't sure how much. Initially I put some of my own money into the business. I also entered several business plan competitions where I was able to win over $200K in cash and services.
In addition to that, I took out a short-term loan with the BioFund in New Orleans and personally guaranteed that $250K (a sobering moment). Those funds helped cover early production runs.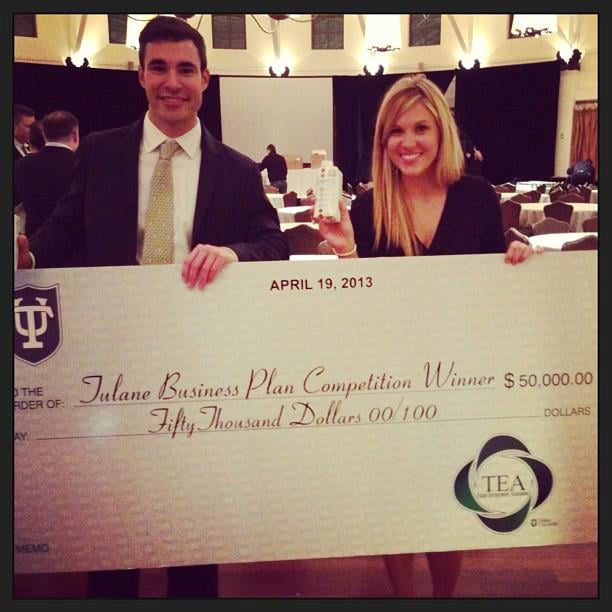 Winning the Tulane Business Plan Competition, 2013
A few of the lessons learned:
Move fast, get feedback, pivot.
Cash is your oxygen. Figure out how to be profitable.
Marketing matters. No one will buy it if they don't know about it!
Find people smarter than you and convince them to join your team.
Word of mouth has been by far the most powerful way to attract new customers. I did a ton of in-store sampling at grocery stores, races, and other events early on as well. Customer service is a huge part of customer retention. We teach our team to go above and beyond for our customers, which you usually don't get with the big brands.
What platform/tools do you use for your business?
A few of my favorite tools are my productivity planner, Macbook air that's 8 yrs old and counting, Timbuktu backpack (great for travel, meetings, or a day hike), Headspace meditation app to keep my sanity, Audible & Duolingo so I can keep learning new things, and a Fitbit watch that tracks my sleep & daily activity.
Our website is on Shopify.
What have been the most influential books, podcasts, or other resources?
So many. Tim Ferriss has a podcast and a few great reads. The E-Myth, The Power of Habit, Finding My Virginity, Bold, and Play Bigger to name a few.
I also enjoy history, so Genghis Khan & the Making of the Modern World is up there for me as well.
Advice for other entrepreneurs who want to get started or are just starting?
See the learnings above! I'll add a few more here:
Stay thirsty for knowledge. Don't ever stop reading and finding ways to learn.
Build out your tribe of mentors.
Test your ideas out before you quit your day job. Something like Kickstarter could be a great way to do this.
Common mistakes:
Launching products with little to no margin.
Attempting to do it all alone. I'm not saying it can't be done, but it'll go much faster if you have the right people!
Spending too much timing focussed on product/brand details. Just get something to market ASAP! You can revise and make changes from there.
Thinking you have to raise money. While this is an option, it's not always a necessity. Get creative & find a way to profit.
Are you looking to hire for certain positions right now?
We're always open to hiring smart people who are passionate about nutrition and leaving a positive impact on the human diet & planet. We're actively interviewing and looking for an Inventory & Order Fulfillment Manager and a VP of Sales. Both of these are salaried full-time positions.
Where can we go to learn more?
If you have any questions or comments, drop a comment below!
-
Billy Bosch , Founder of ICONIC Protein
Discover the best strategies of successful business owners
Join our newsletter and receive our handcrafted recap with the best insights shared by founders in Starter Story each week.
Useful, convenient, and free:
PROMOTED
Did you know that brands using Klaviyo average a 95x ROI?
Email, SMS, and more — Klaviyo brings your marketing all together, fueling growth without burning through time and resources.
Deliver more relevant email and text messages — powered by your data. Klaviyo helps you turn one-time buyers into repeat customers with all the power of an enterprise solution and none of the complexity.
Join Brumate, Beardbrand, and the 265,000 other businesses using Klaviyo to grow their online sales.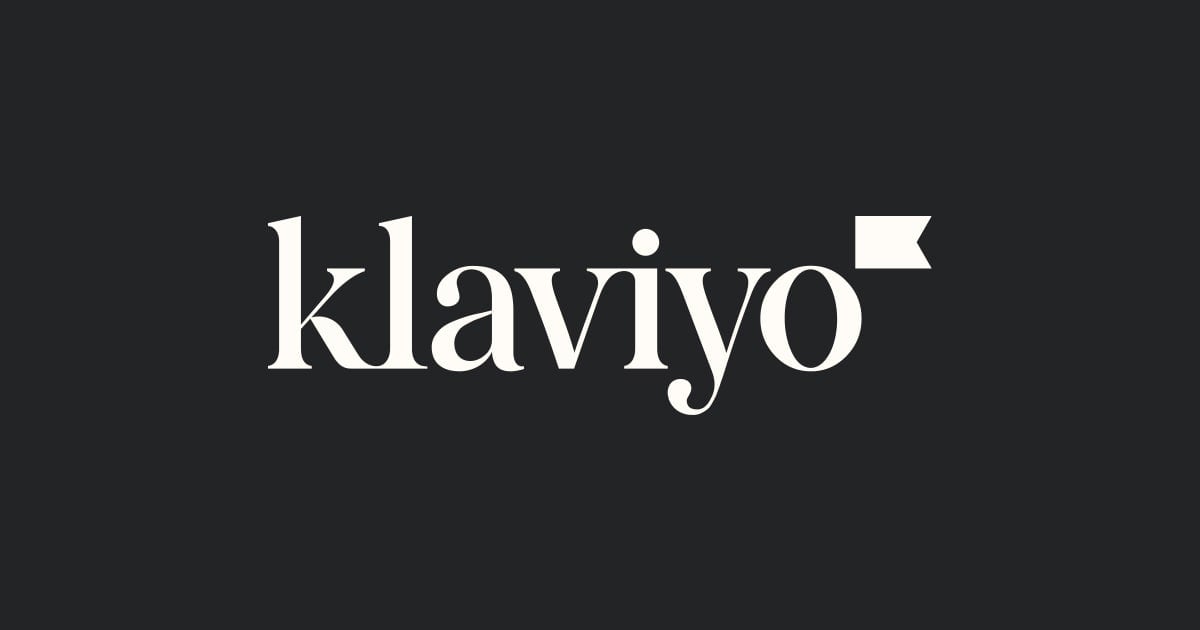 Together With Klaviyo
Companies using Klaviyo see a 95x ROI (yes, 95x)
Use Klaviyo to turn hard-earned customer data into hard-working emails and texts.
Try the platform that 265,000 brands use to grow their business.
Try it now (it's free) ➜