85+ Best Webinar Invitation Email Subject Lines & Templates [2022]
•
Updated: March 7th, 2022
85+ Best Webinar Invitation Email Subject Lines & Templates [2022]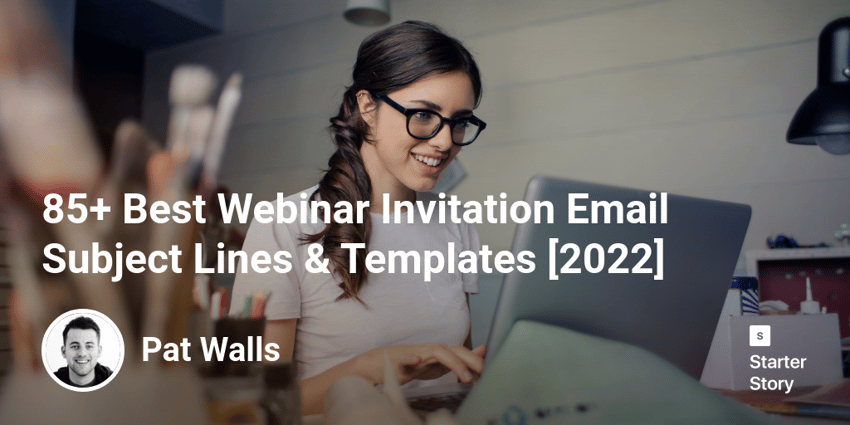 If you're looking to boost your email open rates and increase sales, your email subject line is the first (and most important) step in achieving those goals.
Did you know that 33% of email recipients open emails because of an engaging subject line?
That's why it's critical to craft a catchy email subject line that will get you the traffic and conversions you deserve.
Crafting the perfect email subject lines or creating email newsletter templates can seem like a daunting and time-consuming task. If you are worried about coming up with catchy invitation phrases for your webinar announcement that will boost your open rates then stress no more.
We've put together a list of 85+ best webinar invitation email subject lines & templates [2022].
Some are proven examples from other successful campaigns, and some are creative ideas to inspire you.
Webinar Invitation Email Subject Lines
Not A Marketing Email.
"All the shows"
Join us for a session on email marketing best practices.
Your Attendance is Mandatory
"Turn in on date"
Christmas Party 2016
Almost out of free places
Did you know? Learn this and more on Sept. 28th at 11
Livefront Open House + Augmented Reality Demo
Upcoming shows near Greenville: Aziz Ansari, East Forest, and more
Have a 1-on-1 with [speaker]
Don't miss out on this month's webinar
All the shows. All week. All free.
Psst… do you really know enough about [event topic]?
Are you joining us at [event name]? You should be…
[Webinar Name] is selling out!
Join the Webinar
First out: [speakers' names]
Hey [name], see you at [event name]?
"See who's speaking at event name "
Meetups this week with: Marketing Technologists, Web Developers
"event name passes are here!"
GDPR: Are You Ready…? The Countdown Begins!
Are you ready for [event name]?
"See how you can verb+adj at event name"
"Coming soon "
Join us! A festive workshop @ Hideaway Boston
Watford vs Saints: Your preview ⚽️
Webinar Confirmation Email Subject Lines
Join all major influencers of [topic]
Grab your VIP ticket and watch the official
See you in Denver next month? ⛰
Early Bird ENDS Dec. 31st!
Registration is now open for Next '19.
Reserve your seat for [webinar name]
Your Instagram feed will be full of this in X days
Bit Bash Tickets On Sale In 2 Days ?
[Webinar] Our Webinar Tomorrow: [Topic]
You are invited!
Thanks for coming to Design+ Ethics! Check out professional shots from the event
"The event name excitement is coming for you"
"What's new at event name"
Register Now!
[name], you won't want to miss these speakers…
Did [performer] just put [performer B] to rest?
[Last Call] Zoom Webinar Basics
Fitbit is 10: A note from our founders
"Our annual 2019 meeting"
Confirmation for: [Event Name]
Reminder, join us at [webinar name]
5 things to prepare for [webinar name]
"See you in [month]"
Don't get lost on [date]
Click Here for Your Confirmation Email
EiQ: Thank You
Meet the speakers of [some really desired subject]
Mark your calendar
Webinar Notice Email Subject Lines
"The countdown is on!"
[Webinar name] [webinar date]
"Let's meet at event name"
All the Dreamforce excitement is coming right to you.
Save the Date… literally [Video]
Important Webinar!
?️ Save the Date! Graduate Exhibition in December
Get in-person support at Shopify in LA
The full BVE 2018 Seminar Programme is LIVE
They smashed it last time, want to be part of something great
"Coming to a city near you"
Postcards From Your Adventurous Lives
Smiles Davis, you've been invited.
Meet us at [webinar name]
"The event name programme is live"
Free Webinar: [insert webinar name]
Save your Seat
Join us for our first ever Growth Strategies webinar...
Countdown to Synapse: last week to save on tickets
Don't miss out this [month]
Last day to register for our free webinar!
"The event name is back!"
It's Here — Our Full Loupe Conference Lineup
Almost sold out
"Get ready for event name"
Free Webinar: How to Nurture Entrepreneurship
Want to learn more about [event topic]? Join us at [event name]
It's not too late—Google Science Fair is still taking ideas!
Webinar Follow-up & Reminder Subject Lines
Last chance:
This webinar will have your LinkedIn circles talking
You're one in a million
Got a minute for our webinar follow-up?
"Announcing event name"
Find out all of [speaker]'s secrets!
Follow Up To Our Webinar Yesterday
Thanks for participating in the webinar on [X]. Here is a recap
Interesting details you weren't aware of in the webinar
"event name, Are you ready?"
"Don't miss out event name"
Reminder: Live Q&A starts soon
Struggling with [event topic]? You should read this…
Tune In: Speaker Nancy Pelosi at The Wing!
Quick reminder: Online Course Webinar tomorrow
Watch the Replay Video Now
Free Email Templates for Sending Webinar Invitations
Inviting To Attend A Tech Webinar
title=Presentation you won't want to miss Dear ,
I hope you found the ebook helpful.
I'd like to invite you to a webinar for Tech leaders that I believe will also be interesting to you since it's closely connected to what's in the ebook. During the "Why Agile?" webinar we'll be talking about the latest developments in the Agile space.
Don't miss it! Here's the registration link: [link]
[[ INSERT TYPE OF EMAIL TEMPLATE HERE ]]
title= You are invited! Dear [Candidate_Name],
[Company_Name] is organizing a webinar about [webinar subject] on [Date] at [Time].
The purpose of this webinar is to [explain the purpose]. So we would be glad if you could join and participate.
To save your seat, please register [here- insert link], and feel free to share it with your friends.
I hope to see you there!
Have a great rest of the day,
[Your_name]
[Signature] Source
Best Email Marketing Automation Tools
Below we detail a top email marketing tool that helps you automate your email sending process and speed up your system to make the most of your valuable time.
Klaviyo
Klaviyo's the ultimate ecommerce marketing platform trusted by 50,000+ brands, like Chubbies, Living Proof, and Hint. Deliver higher-value, personalized marketing experiences across email, mobile, and web.
Up to 250 contacts: Free!
Up to 1,000 subscribers: $30 per month
Up to 2,500 subscribers: $60 per month
Up to 5,000 subscribers: $100 per month
Up to 10,000 subscribers: $150 per month

Up to 20,000 subscribers: $375 per month

Pricing: Freemium

Twitter: @klaviyo

Website: klaviyo.com
Businesses using Klaviyo:
286 successful businesses are using Klaviyo ➜
GUIDE: How To Write A Great Subject Line
As we mentioned above, crafting a catchy subject line is critical to the performance of your email campaign.
While just a few words may seem like a small piece of your overall message, this is the first impression your audience will have before they decide whether to open your email.
If your subject line isn't engaging or appealing enough, there's a chance it could get buried in your reader's inbox.
Let's go over the proven tips on how to craft a subject line for an email/Gmail template that boosts engagement:
What makes a great subject line for a cold email template?
First, let's discuss the fundamentals of creating a great subject line:
Spark interest and curiosity
A clear and urgent call to action
An offer/intriguing discount
Personalization (this can be done by sending out different versions of emails to subscribers based on their preferences)
Relevance - make sure your subject line covers the current trends and topics within your industry
5 Tips To Crafting a Great Subject Line
Now, let's dive into the specifics of how to create a great subject line for your next campaign:
1. Use a familiar sender name
Although this may seem obvious, it's a piece many marketers miss the ball on.
Your readers want to feel like your email is coming from a human and not a corporation or automated system.
One of the easiest and most effective ways to do this is by changing the sender's name to YOUR name or someone in the company that is well known.
Here's a great example of this from Marketing Examples

Pro Tip
Avoid the "no-reply" sender name at all costs. This makes your email feel unfamiliar, unapproachable, and less personable.
2. Keep your subject short and to the point
If your subject line is too long, it will get cut off, which could impact your reader's chances of opening your email.
The rule of thumb (for both mobile and desktop) is to keep your subject line under 50 characters.
3. Add personal touches to your subject line
If you have access to information about your subscriber (ie. name, location, etc), you can use this to benefit your subject line and catch your readers attention.
It's important not to go overboard here, but adding even the simplest touch such as their name can build trust and rapport.
Here's a great example of a personalized email + offer I received from BarkBox with my dog's name in the subject line: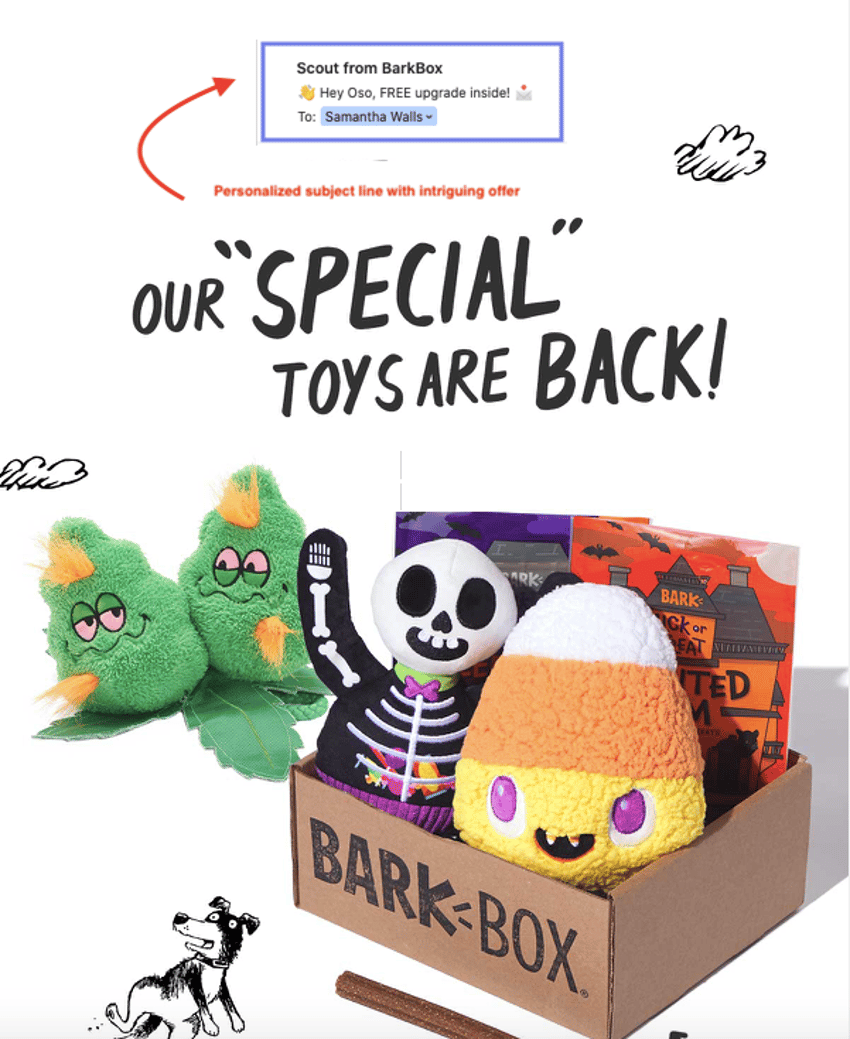 4. Avoid making any false promises
Your subject line makes a commitment to your reader, so it's important you don't stretch the truth just to simply get more opens and clicks.
In the grand scheme of things, making false promises will end up hurting your open rate as your readers will lose trust in you.
5. Give them a sneak peek of what's inside
Telling your subscriber what is inside helps with open and clicks.
For example, if you're providing your reader with a free guide or e-book, consider making your subject line something along the lines of:
"Your FREE marketing e-book awaits!"
Conclusion
If you want your email campaign to perform well, it all starts with your subject line.
Think about the emails you receive in your inbox and what makes you click vs what gets buried - odds are, the same habits go for your customer.
We expect that these professional email subject line examples will be of great help when you want to send an invitation message for webinar.
Hopefully, you enjoyed our guide + list of 85+ best webinar invitation email subject lines & templates [2022].
Want to start your own business?
Hey! 👋I'm Pat Walls, the founder of Starter Story.
We interview successful business owners and share the stories behind their business. By sharing these stories, we want to help you get started.
Interested in starting your own business? Join Starter Story Premium to get the greatest companion to starting and growing your business:
Connect + get advice from successful entrepreneurs
Step by step guides on how to start and grow
Exclusive and early access to the best case studies on the web
And much more!
If You Don't Rank In Google, You Don't Exist.
In order to be successful, you need to be visible online. If you're not, then your competitors might be stealing customers from you.
Semrush lets you quickly create content that ranks, and compete with the biggest brands in your niche.
Try Semrush Free Today ➜