14 Side Jobs To Make Extra Money In Los Angeles, CA (2022)
•
Updated: August 31st, 2022
14 Side Jobs To Make Extra Money In Los Angeles, CA (2022)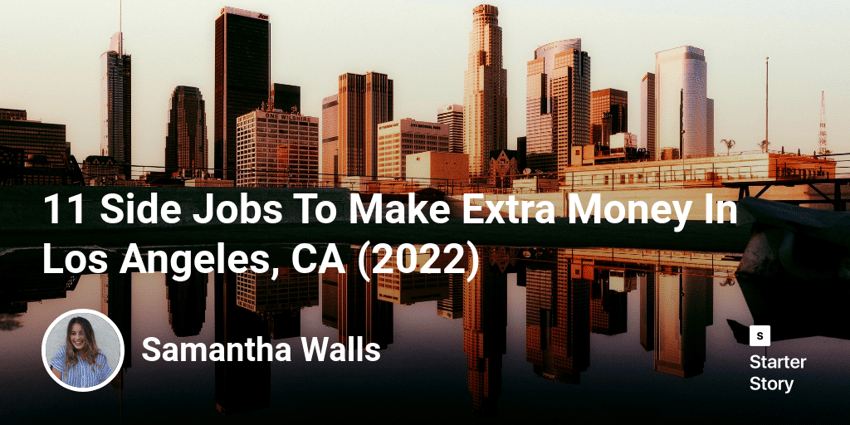 Are you looking for some quick ways to make easy money in Los Angeles, CA? Side hustles can be a great way to earn extra cash and supplement your income. And who knows, maybe your side-hustle could result in a long-term profitable business.
Lauren Constanza, founder Bluminary, realized that she wanted to do more than just sit in front of her computer all day in her 9-5 job. Inspired by her love for outdoors & adventure she started selling nature-inspired candles in Los Angeles as a side-hustle. Today her side-hustle helps her earn upto $500k/month in revenue.
Whether you're trying to make rent or just want some extra money to spend, there are several side jobs you can quickly start in your free time.
What is the average cost of living and income in Los Angeles anyway?
Cost of living: $3,948 per month for a single person, $6,417 for a family of four
Average income: $81,000 per year
Considering this, it makes sense if you want to make some extra money.
If you are looking for ways to make money in Los Angeles, then here are 10 great side gig options for you:
How To Make Money In Los Angeles, California
Anything from driving for Lyft to walking a dog can make you money in Los Angeles. Several apps like Wag, Survey Junkie, and Task Rabbit let you work on your own time doing fun things!
1. Drive For Uber Or Lyft
If you've got a car and time on a Saturday, you could be making some cash driving people around. Instead of wasting your time sitting through traffic when you sign off from work, you can drive an Uber or Lyft and earn some extra cash in Los Angeles by the time you reach home!
Ridesharing apps are one of the most lucrative ways to make extra cash. Not just because of the flexible schedule, but the revenue you generate!
Earning Potential: Up to $26/hour
Requirements: Meet the minimum age to drive in your city, have at least one year of driving experience, and clear a background check. See all requirements
Investment needed: $0 upfront if you already have a car!
How To Get Started: Apply to be a driver at Uber here, or Lyft driver here.
Don't have a car? Rent a car for ridesharing or deliveries with HyreCar.
2. List Your Spare Bedroom On Airbnb
If you have space available, you can rent it out on sites like Airbnb and Home Away for some extra cash!
Whether it's a room, floor, or house - somebody out there will likely give you money to use it. You'll have a steady stream of people who want your space - tourists and locals alike!
It also works on your availability; if you're not comfortable with renting out your space that month - then don't! If you're going on holiday, rent out your room and enjoy some extra cash to splurge!
Potential: Average $924 annually
Benefits: Flexible scheduling, and you can set your terms!
How To Get Started: You can start by registering your room/house or even couch on sites like Airbnb.
Learn how this couple makes over $250k/month with their vacation rentals business
3. Deliver Green Or CBD
If you're looking for more unconventional ways of earning money, then what can be better than delivering cannabis! Marijuana delivery is legal in Los Angeles and people use it for medicinal purposes and is in high demand. The best part about this job is you get to choose your own working hours.
Green Light Delivery and Eaze let you supply the locals of LA with some much-needed green and get paid for it!
Earning Potential: Average of $17/hour
Requirements: You'll have to be over 21 years of age and have a valid driving license with a clean driving record. Having prior experience as a delivery guy will be a plus.
Investment needed: $0 investment is required for this job if you have your own vehicle.
How To Get Started: You can start by directly registering yourself at Eaze or you can also look for cannabis delivery jobs on Indeed.
4. Sell Unwanted Items In Your Closet
One man's junk is another man's perfect outfit. If you've been meaning to throw out those old clothes, jewelry, or accessories, or have some makeup products you didn't like and never used, then get ready to make money from it.
Sites like Poshmark, Glambot, eBay, and Tradesy let you sell old clothes and accessories. So, you'll have more space in the closet and more money in the bank! You also won't be wasting perfectly good clothing by letting it rot at the back of your cupboard.
Earning Potential: These sites might recommend prices, but ultimately it's up to you! As long as you make it competitive and people like what you have - you can make some good profit from it!
Benefit: You set the price and make your own money - like an entrepreneur.
How To Get Started: You can start by setting up accounts on Ebay or Poshmark and listing the items you want to sell.
5. Become a Dog Walker
If you have a couple of hours and need an exercise buddy, consider taking a stranger's dog for a walk. There are tons of people in the area that can't walk their dogs and will pay you to have a fun hour or two with their bundle of fur. Can it get any better?
Apps like Wag let you work on a flexible schedule and choose when you want to work. However, if you're open to doggy sitting/boarding - you're on call 24/7. Still, you're doing a service to your neighborhood and getting paid handsomely for it!
Earning Potential: up to $25/hour
Benefits: You get to play with a furball, get some exercise and explore the area!
How To Get Started: You can apply to be a dog walker through apps like Rover, Walkatxpets, Wag.
Dog walking can bring in some serious money. Learn how Melodi makes $54k/month walking dogs.
6. Become A Part-Time Photographer
Have you had a passion for photography? Are you the designated photographer for your friend group? You can put those photography skills to use by working as a part-time photographer. Start by clicking pictures at events & ceremonies hosted in your close circle or neighborhood and then once you have a portfolio to show you can expand that business further and even make it a full-time job.
Earning Potential: As a freelance part-time photographer you can earn up to $23/hour
Requirements: There's no minimum education required, but having a high school diploma would help. You have to have knowledge of photography, have an eye for detail, have an understanding of different angles & lenses, and be tech-savvy, and know the use of basic photography tools. As for the equipment you'll need - a camera with a good quality lens, tripod, flashlight, and editing software.
Investment needed: Depends on the camera & lens quality but you can get started at around less than $1000.
** How To Get Started:** You can start with spreading the word in your close group and on all your social media pages to land your first clients. Other than that, you can use platforms like SimlyHired or Indeed to search for freelance photography jobs in your area.
7. Take Online Surveys
Although these aren't the favorite side hustle of almost everyone, they are convenient and easy ways to do so. While you can doze off when watching a movie, why not click some buttons and do some work to make the money you want?
Several survey sites allow you to get paid while you share your opinion. You can fill in your opinions for endless surveys and earn extra bucks for filling up the survey forms. Some platforms even offer a bonus for completing the first five rounds of the survey.
Potential: If you're smart, you can earn up to $10 per survey!
Benefit: You can do these surveys anywhere, anytime, and however you'd like!
How To Get Started: You can start filling out surveys at Inboxdollars, Survey Junkie and many more.
8. Start Dropshipping Online
Another easy way to make extra money irrespective of your location is to start a dropshipping business. You can set up an online store & start earning money with minimal effort.
All you need to do is select the items you want to sell, add them to your online store & start selling. The supplier is responsible for packing & shipping the product directly to your customer. All you need to do is market.
Earning Potential: Depending on your skills and effort, you can make up to $100,000/year
Benefits: You will be your own boss, gain entrepreneurial skills & operate the store from anywhere in the world
Requirements: You will need to have a business license to sell at a dropshipping store.
Investment Needed: You will need as low as $100 to start a dropshipping business.
How to Get Started: You can start by setting up a free online storefront via Wix or Weebly
Learn how Amanda makes $12k per month dropshipping these tiny products.
10. Run errands for people
Aptly named, the app Favor lets you drive around doing personal delivery assistance tasks for strangers! From picking up their dry cleaning to food, you'll go out on the run and collect the tips afterward.
Unlike Uber or Lyft, you'll only be doing the strangers a favor (and you won't have to deal with them in your car).
Potential: Earn anywhere between $10 - $11 per hour, and keep all the tips you make!
Benefit: You can get some of your own errands done while making some extra cash on the side!
How To Get Started: You can get started through apps like Task Rabbit & Favor.
Learn how William made $130,000 in one year on Task Rabbit.
11. Become An Upwork Freelancer
Do you have knowledge in content writing, digital media marketing, keywords & SEO, inventory management, web development, and graphic designing? Then you can use your knowledge to start as a freelancer on Upwork. All you gotta do is fill in your details, sign up and get your account approved and you can start searching for jobs right away.
The best part about working as a freelancer on Upwork is you get to be your own boss, decide your working hours, and get to choose your hourly rate.
Earning Potential: As an entry-level freelancer you can charge anywhere between $20 to $40 per hour
Requirements: The primary requirement is to have a good laptop with a fast internet connection. Other than that you'll need to have a PayPal or a bank account that you will link with your Upwork account to receive money from your clients.
Investment needed: $0 upfront if you already have a laptop and internet service.
How To Get Started: Sign up using your work email > add personal information > fill in details about what services you are offering > put in your educational information > add previous work experience if they are related > set hourly rate > provide contact information > add a clear profile picture > submit your profile and start looking for work on Upwork.
12. Deliver Packages With Amazon Flex
Whether it's delivering food or your packages, Amazon's been expanding its businesses, and you can help them do it while you earn some extra cash.
Amazon Flex has partnered with part-time drivers as service providers to help with on-time delivery services. You can participate in this initiative and earn a good income yourself. If you find out that you really enjoy doing this, then maybe you can even start your own logistics & delivery company in the future.
Earning Potential: Earn anywhere between $18 to $20
Requirements: Minimum age has to be 21 years old, will need a social security number, have to go through a background check, have a valid driver's license and a four-wheeler (preferably a pickup truck or van), and a smartphone.
Benefit: Earn some money, deliver some packages, and decide your schedule!
How To Get Started: You can apply for being an Amazon flex driver here.
13. Become A User Experience Tester
User testing is a method for evaluating and improving products by having real users perform tasks while they offer feedback and experiences. If something does not go as planned for the business, the user experience reports help analyze them and make the changes in the system. To fix the issue, businesses bring in user experience testers!
You can be one of the user experience testers and earn extra money from helping the businesses learn about the people's requirements and expectations!
Earning Potential: The hourly rate can vary from $12 to $21 per hour.
Requirements: No minimum educational qualification is required but it is good to have a high school degree or diploma certificate. To be a user tester you must be above 18 years. Good command of the English language can be helpful in writing down the reports. To become a user experience tested you will need to have good organization skills, and observation power, plus it will also need you to be impartial, and be able to note down a detailed report.
Investment needed: $0 investment needed to become a user tester
How To Get Started: You can start earning as a user tester simply by registering on websites like Usertesting.com
Not looking for extra income, but rather a better job? Find a new job in Los Angeles:
Resources:
Want to start your own business?
Hey! 👋I'm Pat Walls, the founder of Starter Story.
We interview successful business owners and share the stories behind their business. By sharing these stories, we want to help you get started.
Interested in starting your own business? Join Starter Story Premium to get the greatest companion to starting and growing your business:
Connect + get advice from successful entrepreneurs
Step by step guides on how to start and grow
Exclusive and early access to the best case studies on the web
And much more!
If You Don't Rank In Google, You Don't Exist.
In order to be successful, you need to be visible online. If you're not, then your competitors might be stealing customers from you.
Semrush lets you quickly create content that ranks, and compete with the biggest brands in your niche.
Try Semrush Free Today ➜