What Are Topic Clusters And How Can They Boost Your Traffic?
•
Updated: October 8th, 2022
What Are Topic Clusters And How Can They Boost Your Traffic?
What Is A Topic Cluster?
A topic cluster is a collection of interlinked articles or pages covering a defined umbrella topic. The ultimate goal for topic clustering is greater visibility for search engines to identify your content.
According to HubSpot, Google has changed its algorithm to favor topic-based content.
The move makes pillar pages a requirement for content marketers who want to maintain a high SERP ranking.
Cost Details
~$100 to write the content for a five-page website (including the homepage).
Topic Clustering Key Takeaways
Topic clusters provide contextual support for other pages within the group.
Content clustering focuses on creating a strong internal linking framework to help the users find your content
Through topic clustering, you can cover broader subjects and dominate keyword categories in organic search.
If done effectively, topic clustering could help establish your brand as an expert in your industry.
Topic clustering aids site management. This means visitors, will have a much easier time navigating through your website.
As your website appears more modern and professional, you gain web traffic and SERP ranking improves
Understanding How Topic Clustering Works
The topic clustering model is built on a hub and spoke framework. The three essential components are:
A broadly focused pillar page
multiple in-depth cluster pages
strategically placed internal links

Let us say you are a digital marketing agency, and you want to specialize in social media marketing.
You can decide to build a pillar page focusing on the keyword "YouTube Marketing".
Under the umbrella, you could introduce multiple in-depth cluster pages around keywords like:
How to create a YouTube channel
Optimize your videos to get views heading
Optimize your channel to attract followers
Upload and schedule your videos
Research competition.
Audience Research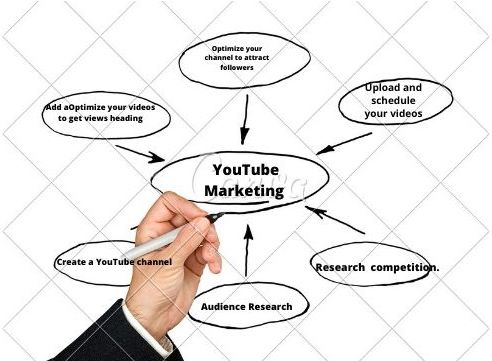 Each of these topic clusters link to the pillar content.
Therefore, the pillar content lays the foundation for how you present your website to users and search engines. The supporting clusters show users and the search engine that you know the subject.
If visitors are interested in exploring the topic, they click respective links and land on the topic clusters.
Ultimately, topic clustering helps you to gain search traffic when searchers use highly focused keywords or phrases with smaller search volumes.
Examples of Successful Websites Based On Topic Clustering Model
Interested in seeing this in the real world? Here are some topic cluster examples and ideas for you:
1. How HubSpot Used Topic Clustering Model To Transform Their Blog
HubSpot is arguably the top dog of the topic clustering model.
This is illustrated in the blog Ultimate Guide to the Best Productivity Apps.
The blog starts with an image, which is an important aspect of connecting to the audience, and keep them on the page. Further down, the blog features a handy table of contents that links to each of the cluster pages.
The approach helps to hook the audience to the website, as they click the interlinked pages to gain more knowledge on the topic. Ultimately, the reader gets the feeling that Hubspot is really the topic master.
2. How Mailshake Attains Top SERP Ranking Through Topic Clustering
Mailshake, an email outreach tool focusing on cold emailing, employs the topic clustering approach to ensure proper site management and provide an easy website navigation experience.
In this post, readers have up to 8 internal links to the topic clusters. This proves that the page is built based on the topic clustering model.
Each of the links on the pillar page leads the website visitors to a particular cluster page, related to the topic at hand. The topic clustering approach has helped the website to rank high on Google's search results.
How To Get Started With topic clustering
Decide on the core topic based on what fits into your business
Perform keyword research on your core topic
Outline pillar and topic cluster structure for the core topic
Produce high-quality content making sure you meet the expectations of your target audience
Publish your content and add internal links to the supporting topic clusters
Measure topic cluster results and use the data to improve your ranks and content quality
The topic clustering model is helpful to businesses that want to use content marketing to gain customers. HubSpot CMS Hub can help you to come up with a content strategy:
Alternatively, you can hire a content expert on Upwork for assistance with topic clustering:
Hubspot
Marketing, sales and CRM products.
Businesses using Hubspot:
347 successful businesses are using Hubspot ➜
Upwork
The largest freelancing website, where businesses connect with talented freelancers.
Businesses using Upwork:
385 successful businesses are using Upwork ➜
Want to find more ideas that make money?
Hey! 👋 I'm Pat Walls, the founder of Starter Story.
Get our 5-minute email newsletter packed with business ideas and money-making opportunities, backed by real-life case studies.