Thank you Klaviyo for sponsoring Starter Story ❤️
Turn one-time buyers into repeat customers. Try the platform loved by 265,000 brands
From Overseeing Obama's Engineering Team To Starting A Fitness App [With Over $400K Raised]
From Overseeing Obama's Engineering Team To Starting A Fitness App [With Over $400K Raised]
Hey—I'm Arnab, founder of Zomo.
As a fitness nut, my latest company is in fitness digitization. During the pandemic I founded Zomo - A fitness app empowering the fitness creator economy to run super engaging live workouts, and build a fitness community with just a phone. This means allowing anybody to pursue their passion in fitness with the tech tools they need.
The biggest differentiators of Zomo from competitions is the fact that our tech helps creators build their own brand (vs commidize them in a marketplace), and Zomo is the easiest to use mobile app on the market (it passed the mom test).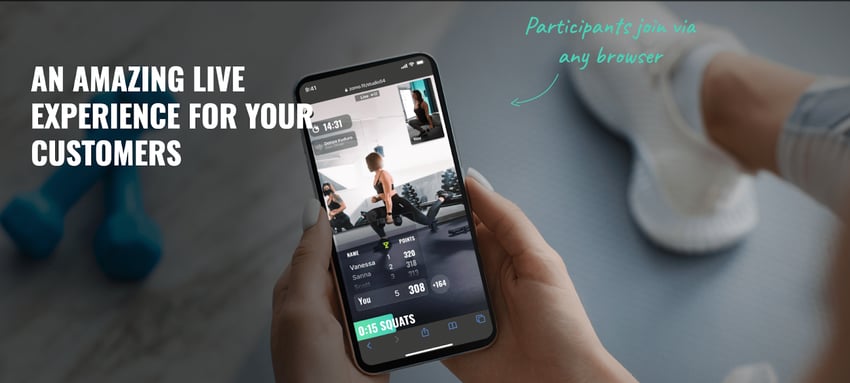 What's your backstory and how did you come up with the idea?
I've got a bit of an interesting back story.
I was working as a Mechanical Engineer in NYC, creating ventilation systems for sky-scrapers. It was a lot of boring AutoCAD day in and out! Out of the blue, a friend started working for Senator Obama's Presidential campaign and suggested that I also work for the team.
I thought it was a long shot, I didn't believe the US was ready for a black president. But I believed in Obama's platform and I wanted a gig that wasn't chained to a desk. So I packed my things and moved to Ohio to become a Field Organizer. Tons of interesting stories, but I think I learned my hustle knocking on doors and organizing grassroots support.
After the campaign, I thought it would be amazing to work for the President but my mom told me, "You think Obama will hire an inexperienced 22-year-old? Go back to your old job."
I took that as a challenge, and I hustled to get a job. I cold-called, emailed, and networked until I got a call back from the White House.
I was appointed by President Obama with a Top Secret Clearance to oversee a team of 10K engineers at the Pentagon. I felt like James Bond, but it was more like The Office meets the West Wing.
I decided to get my hands dirty and get back to building. So I sold my house and took the $100k profit as an investment for my first startup - and slept on couches. After two years of failures and pivots, I convinced Techstars to invest. We built Apollo which we sold a Siri-like AI voice assistant to car companies Jaguar and Land Rover.
During the pandemic, at-home -fitness began feeling like groundhogs day - I would use the same Youtube videos and just felt unmotivated.
Then I stumbled upon local NYC gyms using Zoom to run live group fitness classes. The experience felt human and personal, but the tech was duct-taped together. Often gyms would have a 90s-style website to book a class, and I'd get the Zoom link after the class.
At the time, I was working at a venture studio in Manhattan, so I had experience rapidly testing, building, and scaling products. So I put my skills to the test.
To validate that digital conversion was an industry-wide issue, I reached out to 300 gyms in the NYC area. I also ran A/B/C tests on the outreach emails. The goal was to understand the problems local gyms and trainers were facing. User surveys kept pointing out that gyms were struggling to get online.
Typical NYC virtual experience: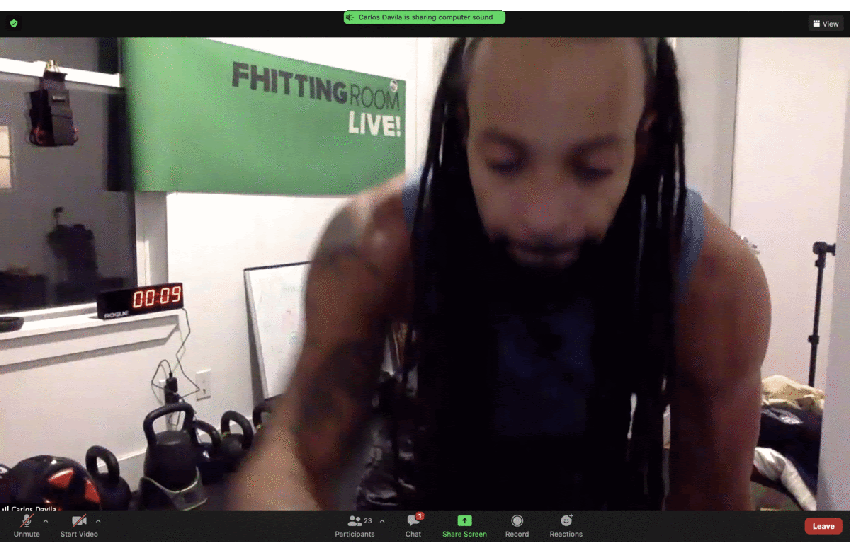 Take us through the process of designing and prototyping your first product.
I selfishly wanted a really good live, at-home workout experience to exist. So I became obsessed with making a really good experience for end users/ myself and making it super simple for fitness creators to create content. I threw in $25k and gave myself a timeline to get traction.
The issue was that prototyping all the features that a fitness creator would need to run a business online was impossible. So I focused on speed and constant user feedback to guide development. The initial goal was to replace Zoom + Venmo for seamless live classes and payments.
The MVP was a total dumpster fire, and I built it using open source tools for video conferencing. Bugs and 404s aside, I was looking for indicators that we were solving problems that virtual fitness creators were facing.
Once we started getting superusers, I started to expand my team and bring on developers that are far better than me!
The biggest takeaways were fitness creators need an extremely simple software to use - everything in the market requires a software engineer degree! On top of creators have the latest phones, but laptops that are far from modern. So web apps would crash and laptop cameras are really poor. So we focused on a mobile app approach.
It took a lot of iteration and understanding and testing onboarding flows to see where we go wrong.
For the last year, we've iteratively improved features to help creators make more money.
Describe the process of launching the business.
We were constantly testing out Zomo with different customer segments. We A/B tested a bunch of landing pages. Our goal was to get 3 superusers, and then target those personas.
Pricing our tech took a lot of user interviews and testing. Since we are the pick axe tools for creators and this is a totally new sector, we had to make up pricing and get feedback. Now our pricing is $29 / monthly + a 10% transaction fee ( end users pay). Which many creators still think is very low, but our goal helping the industry as fast as possible and scale.
To be honest, it was difficult since fitness creators had no idea what they needed and the market was the wild west - tech was rudimentary and there were tons of getting rich quick influencers. The only thing creators knew is that they wanted to make money virtually.
We were creative and lean in finding users via cold emails to local gyms. We reached our milestone of 3 superusers, and I tapped into my Techstars alumni network to raise funds. We quickly raised another $50k to keep going.
Initial landing page: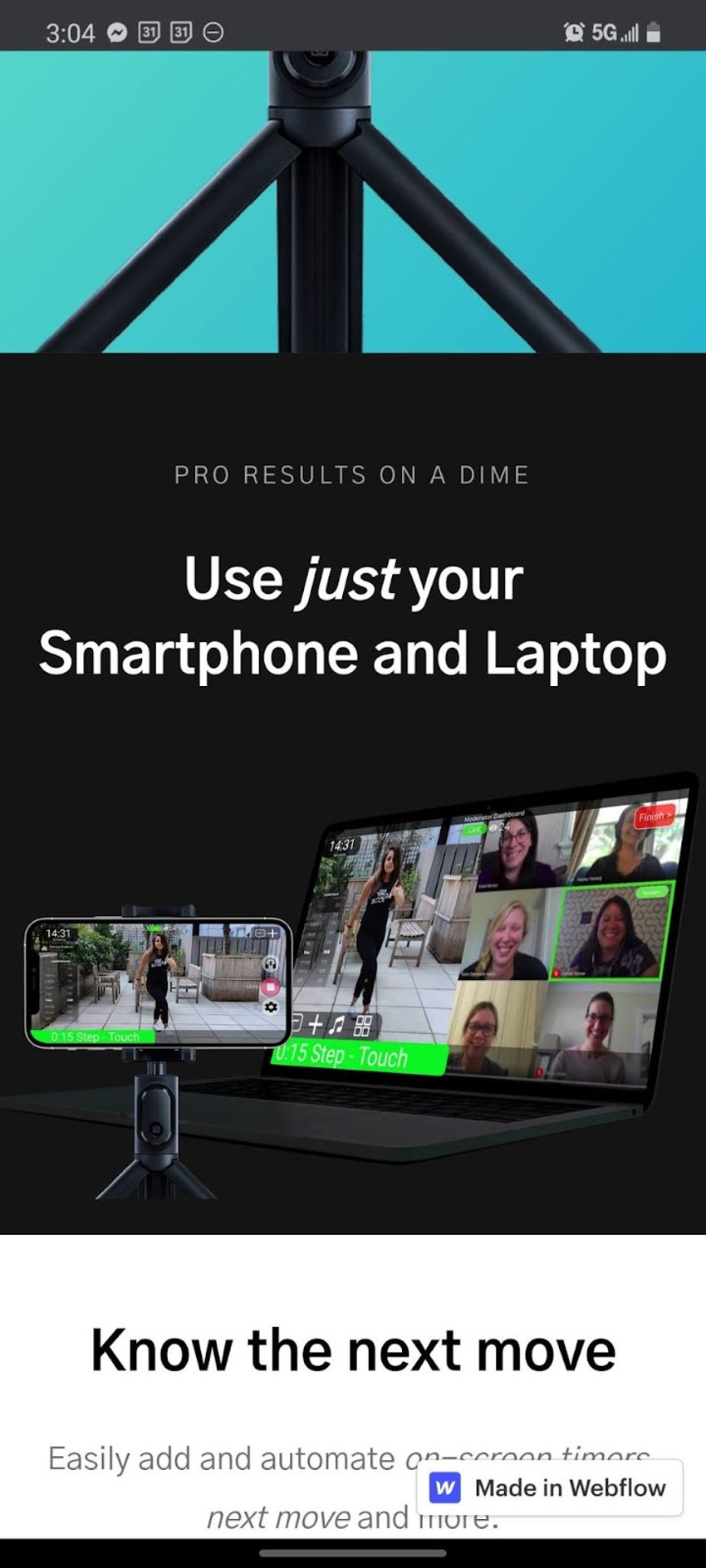 Since launch, what has worked to attract and retain customers?
Many of our competitors are focused on making a marketplace. As a consumer, I never saw an appeal to scrolling through 100s of trainers - it was overwhelming and intimidating. Also, fitness creators want to build and own their brand instead of working for a marketplace.
The creator economy is so important and powerful. At Zomo we've been obsessed with helping creators to work for themselves and build their businesses. This is the same model as Patreon and Shopify.
Only work on something you love and be obsessed with customer data/ interviews and helping customers.
As an initial growth hack, we scrapped indirect marketplace competitors since we knew that they weren't growing as creators. We also looked at the ads and messaging that our competitors were running and which ones were the most effective and underserved.
Our goal is to have all our creators make $120k / year, all that takes 100 consumers.
How are you doing today and what does the future look like?
We've had awesome investors who've shared our vision in bring virtual fitness to the masses. The way we pitched investors is to ask them to try a competing product and then Zomo - that always worked! We raised $400K+ in a few months.
We just launched a new crowdfunding round through WeFunder. In our first 3 hours (before going public), we've raised <$106K+.
While traditional VCs gawk at crowdfunding, I believe it's the future of startups. The public markets are great at picking what they want. Another big reason that we choose crowdfunding is that fitness creators love our tech and want to invest in their own future. We're on track to hit huge milestones of $1M in crowdfunding within months.
Through starting the business, have you learned anything particularly helpful or advantageous?
Even after being in tech, it's always eye-opening to see that it takes twice as long to build tech as expected.
We are focused on building a product that helps fitness creators, and we do that with tons of data! That means at least three user interviews a week, trainer forums, constant communication, andhHotjar to see customer interactions.
It's clear that users don't know what they need to grow a successful business, they are good at their craft but not the business. So we use user feedback to see trends in feature demand.
What platform/tools do you use for your business?
We built our own all-in-one platform for fitness creators, and there are a few notable tools that we use.
Analytics is super important to understand where we suck and do well. We rely on UXcam to understand mobile app usage and where we need to improve. It's cool to see screen recordings of users – imagine what Apple and Google get.

On top of that, we use Hotjar for web usage.

Finally, we use Firebase for A/B testing and running rapid experiments.
What have been the most influential books, podcasts, or other resources?
Instead of using social media, I do my best to read on my phone. The top inspiring book of the last year for me has been Phil Knights, Shoe Dog. It's the only book that I've read that is vulnerable and authentic about the struggles of being an entrepreneur. It's not a straight path. I highly recommend it for some motivation.
Advice for other entrepreneurs who want to get started or are just starting out?
Only work on something you love, and be obsessed with customer data/ interviews and helping customers.
I think a lot of stories make founding a company sound easy, it's not easy. The winners are resilient and agile.
Are you looking to hire for certain positions right now?
Senior mobile app developers,
Sales and business development
Where can we go to learn more?
If you have any questions or comments, drop a comment below!
-
Arnab Raychaudhuri, Founder of Zomo.Fit
Want to start your own business?
Hey! 👋I'm Pat Walls, the founder of Starter Story.
We interview successful business owners and share the stories behind their business. By sharing these stories, we want to help you get started.
Interested in starting your own business? Join Starter Story Premium to get the greatest companion to starting and growing your business:
Connect + get advice from successful entrepreneurs
Step by step guides on how to start and grow
Exclusive and early access to the best case studies on the web
And much more!
PROMOTED
Did you know that brands using Klaviyo average a 95x ROI?
Email, SMS, and more — Klaviyo brings your marketing all together, fueling growth without burning through time and resources.
Deliver more relevant email and text messages — powered by your data. Klaviyo helps you turn one-time buyers into repeat customers with all the power of an enterprise solution and none of the complexity.
Join Brumate, Beardbrand, and the 265,000 other businesses using Klaviyo to grow their online sales.
Starter Story
Wanna see 52 business ideas you can start with less than $1,000?
Join our free weekly newsletter and get them right now.