We Grew Our Digital Marketing Agency To $9.6M/Year [70 Employees]
•
Published: June 27th, 2022
Start A Web Design & Online Marketing Business
Hello! Who are you and what business did you start?
My name is Chris Uzzo and I am the CEO and Founder of Zero Gravity Marketing (ZGM). Founded in 2012, ZGM is a digital marketing agency specializing in SEO, paid media management, social media marketing, email marketing, website design Conversion Rate Optimization (CRO), content marketing, and creative services. We service customers in all industries focusing primarily on medium to large-sized businesses in need of ongoing growth and support.
ZGM is a five-star rated digital marketing agency, a Premier Google Partner, and has been recognized by Inc for the last three years as one of its Inc5000 fastest-growing privately-owned companies. For 2022, ZGM is on track to increase revenue by over 20% and to gross over $10M for the year.
Our process puts analysis and strategy before design and implementation, ensuring we attract the right audience with the right message at the right time. From developing an all-encompassing marketing strategy to implementing every detail with precision, the ZGM team works together to reach your goals.
Our strategies are not different for the sake of being different. They are unique and driven by what works. We stay ahead of the digital technology curve, test ideas before recommending them to clients, and continually strive to provide marketing strategies that produce results.
We offer the best digital marketing services because of our data-driven approach and our commitment to recruiting the best team members and providing them with ongoing training and support. We were proud that last October (2021), ZGM received a top workplace award based on quantitative employee feedback.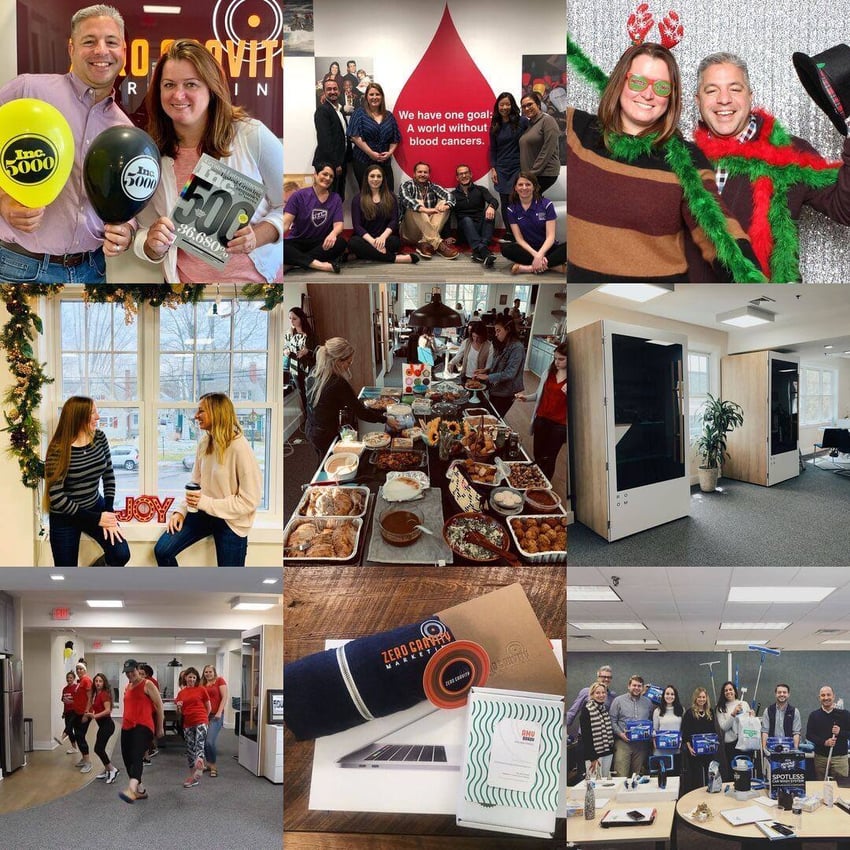 What's your backstory and how did you come up with the idea?
Building and overseeing the SEO and PPC departments for multiple agencies for many years and watching our client companies have a huge success, I started ZGM.
My experience in paid media and SEO is why ZGM is "backboned" in digital strategy. I have experience in building custom Data Studio dashboards and modeling data for meaningful insights. I believe in hard work, honesty, listening, being open to new ideas, playing the long game, and owning up to your mistakes. I believe in the ZGM team, and most importantly will do everything I can to ensure their success.
My wife Annie is our COO but also handles recruiting, HR, operations and so I really can't tell the story of ZGM without talking about her. She joined ZGM as soon as we could afford to pay both of our salaries via what was then a startup. The agency would not be where it is today if it were not for her! She is everything to me and the business.
We have two other partners at the agency, Michela Solanch (CSO) and Keith Atchinson (CMO) who I know from my first agency and who joined the ZGM in 2016. I am happy to give them much credit for our growth over the last 6 years in addition to giving a huge shout-out to others who joined ZGM in the early days (Josh Comen, Tim Dugan, Katie Marrotte, Dave Panfili, Liza Adelberg, Lauren Fall, Lindsay Alexander), our department leaders and everyone at ZGM who contributes to our amazing company culture and trajectory.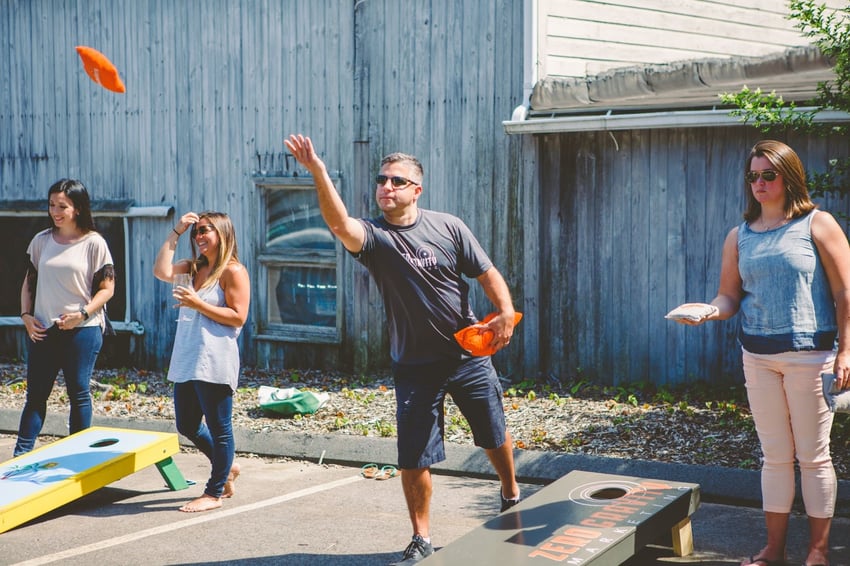 Take us through the process of designing, prototyping, and developing your services.
I consider SEO and Google Ad campaign management to be the first services sold by the agency. Our process includes:
Asking every potential client questions to understand their goals, their ideal customer personas, past successes, budget, timing, etc. We research the size of the market and demand for the product to get a sense of how successful our marketing campaigns will be before we get more deeply invested. It has to be a fit for the client and ZGM to proceed to the next step.

In most instances we provide a potential client with an analysis of their past marketing efforts and their Google Analytics website performance. This analysis opens the dialogue with the client about what is working and what we would need to change to be successful in our new campaigns.

We work with our teams to determine the best approach and to develop a scope of work. Upon signing the SOW/agreement, we begin with a kickoff call where the client meets any remaining team members not already introduced and where the ZGM team asks the client any additional questions necessary to formulate a plan for their channel.

Every channel (SEO, paid media, organic social, email, etc) begins with an analysis and a plan. Our strategies leverage research and data to ensure we have a plan that will best suit our clients and their goals. This data-driven approach is a real differentiator.

Once we present the plan, discuss and achieve client buying, we execute our plan and begin ongoing digital marketing campaign management.

Every month (more frequently in some cases) we meet with our clients (in person or via zoom) to go over the results, discuss insights and trends, and to review the recommended next steps. If the results aren't where we want them to be we tackle that head-on, highlighting all results (good or not so good) and discussing what we plan to do to improve them. Honesty and transparency have been key to developing long-standing relationships with our clients based on trust and respect.
Describe the process of launching the business.
Given that I have a background in marketing including building websites, starting the business wasn't as difficult as for most. The first iteration of the logo was created by Josh Comen - currently VP at ZGM (early drawings and brainstorming are shown below).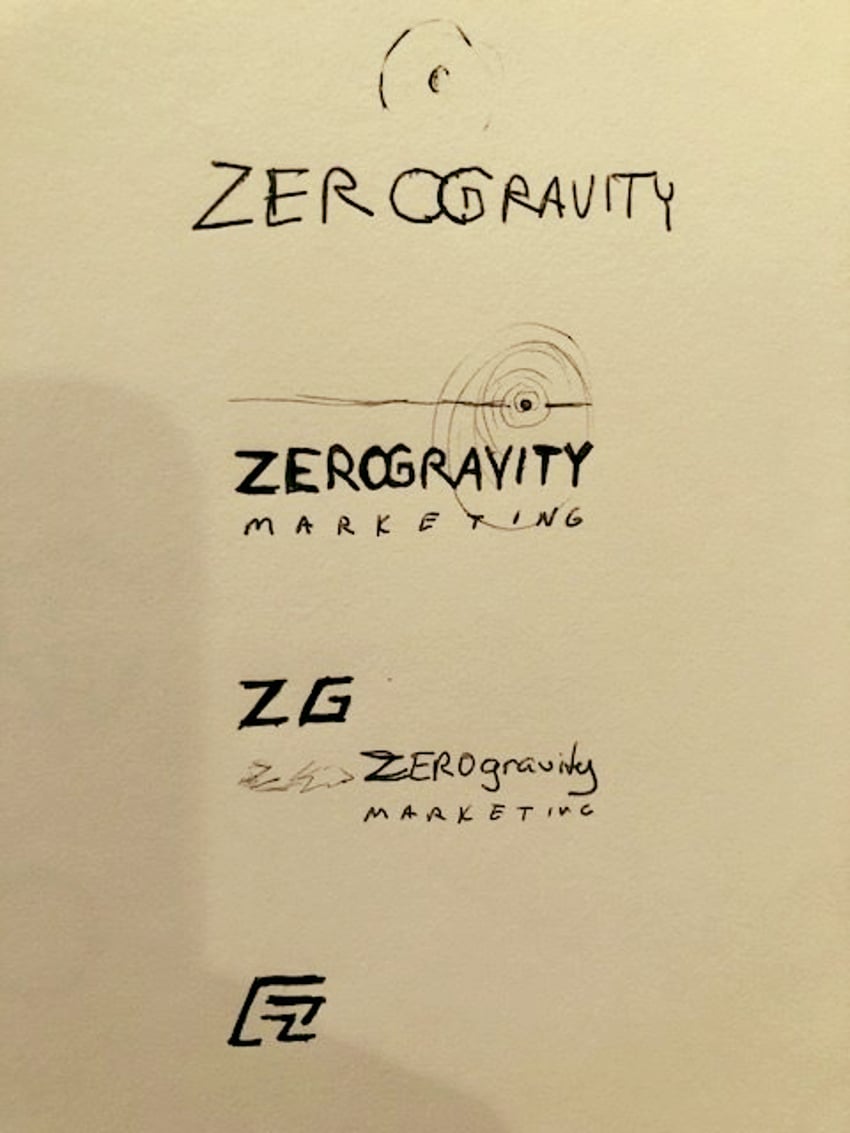 The company name had to have the word "marketing" because this word's important for SEO purposes. The words "Zero Gravity" were originally picked with SEO in mind with the thought that we can increase rankings for clients as if the websites have zero gravity. It's also meant to symbolize a departure from some of the bad practices that can give agencies a bad name.
10 years ago, agencies got a bad reputation for dishonest reporting, overselling, overbilling, and just not having the clients' best interest at heart. ZERO GRAVITY = ZERO BULLSHIT. Also, we were able to purchase the domain name which can be a challenge when you want a domain with correctly spelled words and to have a .com TLD.
In 2020, to showcase our expertise in providing digital marketing for eCommerce businesses, ZGM launched a sub-brand CAKE Commerce. Same team, same EIN/P&L, but a different website and approach to marketing to attract eCommerce businesses in need of an agency that specializes in marketing for eCommerce.
The agency is entirely self-funded (bootstrapped) and has never received outside funding. We've been profitable all along the way to fund our growth. One important lesson we learned is that we should only work with clients that will be a fit for the agency and with whom we believe we will be able to have a long and successful relationship. Early on, we were eager to take on any client that came our way, but in doing so, we spent a lot of time spinning our wheels and expending tremendous mental energy in the wrong places.
My advice is to focus on what you do best and focus on working with the clients where you'll have that kind of long and mutually beneficial relationship.
First Website (screenshot):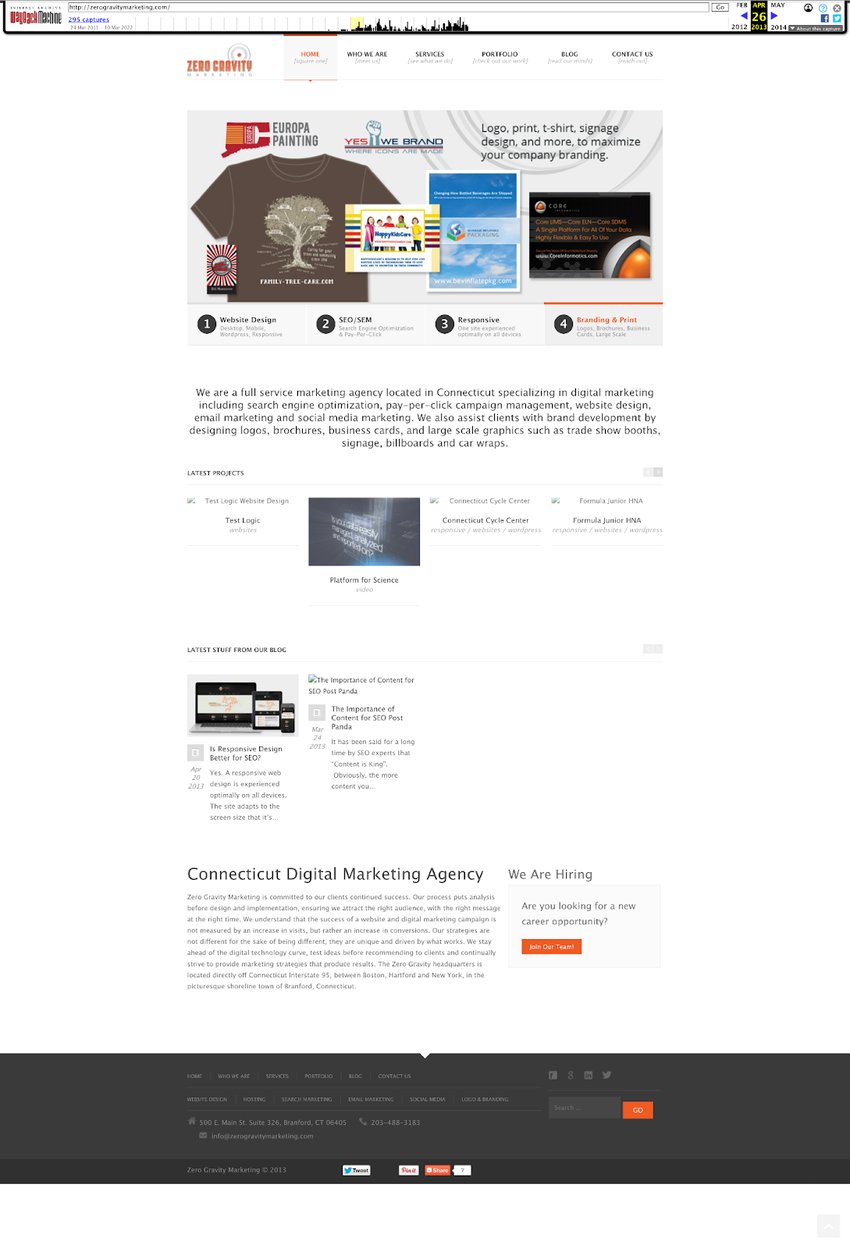 Team photo from 2015 (early days);
Since launch, what has worked to attract and retain customers?
We have put great emphasis on being transparent with our clients, providing them with real-time dashboards so they can see how we are performing at any given moment. We review the reports with our clients regularly, delivering our insights, reviewing work completed, and recommending the next steps.
Before our work can begin, developing an overarching marketing strategy is paramount. Our team meets with you to understand your business. Then, we perform in-depth research, gathering and interpreting data about your target market to develop an integrated marketing campaign that will position your brand right where you want it.
We started aggressive ongoing SEO for the zerogravitymarketing.com website both websites (ZGM & CAKE) were launched, and each monthly meeting was to review various initiatives and add several blog articles on digital marketing topics. We have expanded the sites over the years with many more search-engine-optimized service pages and also industry pages.
We have been running Google Ads for both since each launch. In addition, we do lots of social media marketing, and email marketing, and leverage many other marketing tactics (we can't give away all our secrets). Happy clients have also gone a long way in terms of providing great reviews and referring us to other businesses.
Blog screenshot:

Google Ads screenshot:
Their answers are saved in the questionnaires for future reference. Understanding what has worked best in the past and potentially what has not is especially important. If they have worked with agencies in the past and have not been happy, it's important to understand why the relationship failed. Setting goals at the beginning of the relationship is also very important.
From there, retention is mainly about two things; the results and the relationship If the results are great and you have a good working relationship with the client that is based upon trust, transparency, fairness, etc then it should last a long time. Our team at ZGM does a great job of building real relationships with our clients and delivering amazing results. If you don't believe me, read our reviews and check out our case studies.
How are you doing today and what does the future look like?
We are growing revenue by about 20% per year and expect to hit $10M/yr in 2022. To do so we are ramping up our internal marketing efforts within SEO, Google Ads, social media, and via email marketing to our list of past customers and prospects who have signed up to receive our emails. We also have a referral program which rewards team members, clients, and anyone else for referring business to the agency.
We believe that ZGM is well-positioned for success. While there are many marketing agency competitors in the space, we are experiencing soaring demand for our services and we differentiate ourselves very well with our core values of being prepared, proactive, transparent, and hard working. We believe in long-term client relationships built on trust, mutual respect, and shared success.
Through starting the business, have you learned anything particularly helpful or advantageous?
It's our team that's made us great. Hiring the right people, training them, supporting them, and keeping them happy and motivated is key. Also showing them the path that they can have within the agency and what it will take to get there, is very important in terms of retaining top talent. Being upfront and honest when a team member is not performing well is equally important so that together with the team member we can get them back on track. It's up to the leaders within every company to position team members for success.
Also, it's important to be open to feedback from team members and clients. Being open and implementing changes regularly will evolve your business and make it more successful. When considering changes it's important to consider if a change is in the best interest of the team members, in the best interest of the clients and if the change will impact agency health (profitability).
We regularly survey our teams and also listen to feedback from the team members and team leaders. We have communicated with the team our goals each year and how we will achieve them.
It's very important especially as a company gets bigger to follow the scope of work carefully and to watch out for projects that are going over on hours. Scope creep and spending unplanned unbilled hours on projects really can hurt a business.
What platform/tools do you use for your business?
We use:
Google docs
Google Analytics
Google Ads
Facebook Ads
LinkedIn Ads
Amazon Ads
Hubspot to name a few (there are many more)
One of our favorite tools is Slack. From the beginning, we have always offered the option to work from home or our office. Since the pandemic, more and more people choose to work from home. Also, ZGM is expanding with team members now living in states all over the country. To foster relationships and a sense of community, we use Slack.
We celebrate birthdays, anniversaries, and welcome new team members on Slack. We also have special Slack channels for celebrating wins, for sharing news, trivia, recipes (foodie channel), pet photos, and many others. We integrated bonus and fund everyone's bonus account each month so that they can give each other bonus points which they then redeem for gift cards or use to make donations to charity.
Asana is also very important to the agency. Account Executives take great notes and translate those notes into tasks for our team members to compete. Every task starts with a task template where there are fields for all of the necessary information including the task description, deadline, resource, hours allocated, etc. Asana is integrated with Everhour so that time that is tracked can be attributed back to the tasks so that we can see what tasks are over or under on-hours.
Advice for other entrepreneurs who want to get started or are just starting out?
My advice for new founders is to figure out what is unique about your business and use those differentiators to set your business apart from the competition. It is important to position your business as unique but also with authenticity.
Understanding your customers and their business goals is also very important obviously. We have developed a series of questions to ask when we have our first conversations with potential clients and also questions to ask when we kick off a project.
Are you looking to hire for certain positions right now?
We are always growing so we are always hiring! We have roles open in several departments including SEO, paid media, development, accounts (account executive roles), etc.
For more information, please visit our careers section on the ZGM website.
All of the roles are paid full-time roles.
Descriptions of the roles and tasks are available on the ZGM website. For those looking for a career in digital marketing, you can read our blog How to Get a Marketing Job.
Where can we go to learn more?
Website:
Blogs:
Instagram:
Google Ads (Premier Google Partner Profile)
Reviews:
Email:
If you have any questions or comments, drop a comment below!
-
Chris Uzzo, Founder of Zero Gravity Marketing
Want to find more ideas that make money?
Hey! 👋 I'm Pat Walls, the founder of Starter Story.
Get our 5-minute email newsletter packed with business ideas and money-making opportunities, backed by real-life case studies.
Together With BigCommerce
The simplest way to start selling online
With BigCommerce, you can build, run and grow a better online business in less time, with less cost.
Start a trial: Build a store that caters to your unique needs. Get 15 days free when you pick your plan, no strings attached.
Launch your store: Customize your storefront with powerful features. No design skills needed.
Convert more sales: Build buzz, find your target customers, and drive even more online traffic.
Start your free 15-day free trial today ➜ (no credit card required)