We Lost 99% Of Our Customers. Then We Pivoted & Hit $300K ARR In 12 Months
•
Published: September 1st, 2021
We Lost 99% Of Our Customers. Then We Pivoted & Hit $300K ARR In 12 Months
Hello! Who are you and what business did you start?
Hello. I am Nishith Patnaik. I have been entrepreneurial for 15 years and this is my 3rd company. As an engineer first, I took the jump to management and startups during my second venture, Vonnex, which was selling enterprise software solutions and contact center services to Mandarin-speaking China and French-speaking West Africa.
After an 8-year-old stint (and an exit), I started NHANCE NOW with my friends and colleagues Alok, Praveen, and Manab. NHANCE NOW is 4 years old and we help D2C ventures (in retail, electronics, FMCG, insurance, financial services, and education) shift from human-first enterprises to digital-first-growth machines. Our Conversational Automation Platform helps businesses build and deploy fully automated Digital Stores and Contact centers using messaging apps like WhatsApp, Messenger, and Instagram.
However, we didn't start with this! We started the NHANCE NOW journey with an aspirational product called Digital Experience Card or DX Card. It was designed for the Retail and Electronics segment to help them put all post-purchase interaction touchpoints on a digital card accessible over our proprietary android and iOS apps. Almost 3 years into the journey, we were hit with the Covid pandemic in Mar 2020. We lost 95% of our customers and 99% of our revenue! And nearly a 3rd of our 45 strong teams.
We scrapped, pivoted, and within 4 months had turned our product into a Conversational Automation Platform. 10 months later we worked with some marquee customers in the lower enterprise and SMB segments in Africa and India. And spread our wings soon to the USA. Our monthly revenues have grown, from $0 MRR in July 2020 to $25,000 MRR in mid-2021.
What's your backstory and how did you come up with the idea?
We have always been digital-first believers. Uber had a huge impact on our idea. When we started using it regularly (I have personally taken more than 3000 uber rides) we saw how age-old notions were being shattered with new-age technology. Cab booking had been a frustrating and traditional process and apps with location services have completely overhauled the booking, riding, and payment experience. We saw a bigger picture ahead of us. We strongly believed that apps and social messaging apps had the power to uplift the quality of life if we tapped into them to deliver digital offerings. And with people virtually living their lives on social and messaging apps, we knew that the next generation of stores and contact centers had to be built on them.
We had little belief that we could pull it off. But we also didn't have a choice. With lockdown and all our customers are gone, we had to give it everything we had.
We have believed for quite some time now that digital is the new human. Digital is replacing the need for humans in our everyday life and people are accepting it more than ever. And everything we do or build is around this theme.
Our product remained in the aspirational category until Covid hit. And then two things happened:
The whole world moved to an Online, Digital-First mode.

And messaging and social apps became the lifeline of society.
Within a few months, we saw a massive rise in the usage of apps like WhatsApp for running our daily office work, ordering food items from local vendors, sharing health information, connecting with support executives of brands who did not have the luxury of working out of call centers. This was the biggest Aha moment for us. We saw this huge shift in the way consumer behavior changed and the convenience it brought to them. We doubled down on our efforts of helping businesses shift their shops and contact centers to messaging apps.
While we worked on developing this idea we also observed another peculiar consumer behavior shift. For a long time, business-consumer interactions had been limited to phone calls, emails, IVRs, browsing websites, and apps. These involved some level of digital literacy and a good amount of time to be spent to reach the desired goals. But with messaging apps becoming the medium of service delivery there was a paradigm shift. People could have short, snappy conversations to get the desired results, they could converse in multiple languages, it required ZERO digital literacy and it just blended into their natural daily life. Businesses started sharing the space that was reserved for friends and family.
We as founders had varied experiences. We come from financial services, luxury retail, enterprise business, and customer experience backgrounds. One common thread in all of these was the end-users shift from obsolete channels like IVR, Web Portals, Emails, SMS, etc to new age messaging and social channels. We knew what the cost of service was for each operational department. And this gave us a huge advantage in terms of building our ROI chart.
For example, we knew that for a D2C brand with more than 50K customers and growing at an MoM rate of 20% a minimum of 50 member support teams would be needed. Working in 2 shifts, with an expensive office setup, the software would cost them anywhere between $60k - $75k per month. We had one such company with whom we were already engaged for a POC, pre covid. During Covid, this brand saw a 100% spike in orders and a nearly 75% spike in inbound queries. Due to Covid protocols, their 5 member support team couldn't work out of their office setup and they didn't have the tools to effectively support from home. We assisted them and within a week we had a WhatsApp-based contact center, integrated into their core commerce backend. In 2 weeks 80% of their inbound queries were handled with self-service, they had only 10 agents supporting from the backend the platform had the scale to accommodate a spike of up to 500%. It brought down their cost of customer service to under $20K. This was the validation that we were looking for and we have continued building on top of it.
So you lost all of your customers in the pandemic. What happened?
I will talk about our pandemic-induced post-pivot scenario here.
Here is a screenshot of the product we used to sell before the pre-covid era.
This is what a DX Card looks like. So as soon as you made a purchase, in this case, a water purifier, our system would issue a "DX Card" to the buyer from the brand's account. It would have all the post-purchase interaction touchpoints like invoice copies, manuals, how-to-use videos, service ticketing modules, add-on purchases, extended warranty renewals, etc. When we pivoted we had to re-engineer this visually appealing, made-for-mobile app product into a made for messaging app (WhatsApp/Messenger) product. This was challenging.
In fact, when I proposed the idea to the team during the height of the pandemic they looked lost. I was too! We had little belief that we could pull it off. But we also did not have a choice. With the lockdown and all our customers gone, we had it give everything a go. We set aside a small team to work on this. The first month was disastrous. We prototyped and killed 3-4 versions before they even reached the QA environment. But the never-say-die attitude of the team bailed us out. We finally had a working version of WhatsApp and we built it with the aim of not just converting a DX Card from an APP mode to WhatsApp mode but with a much bigger objective. What if we could bring the entire product line, the brand's support team, and the contact operations into one messaging channel? We ended up with something like this.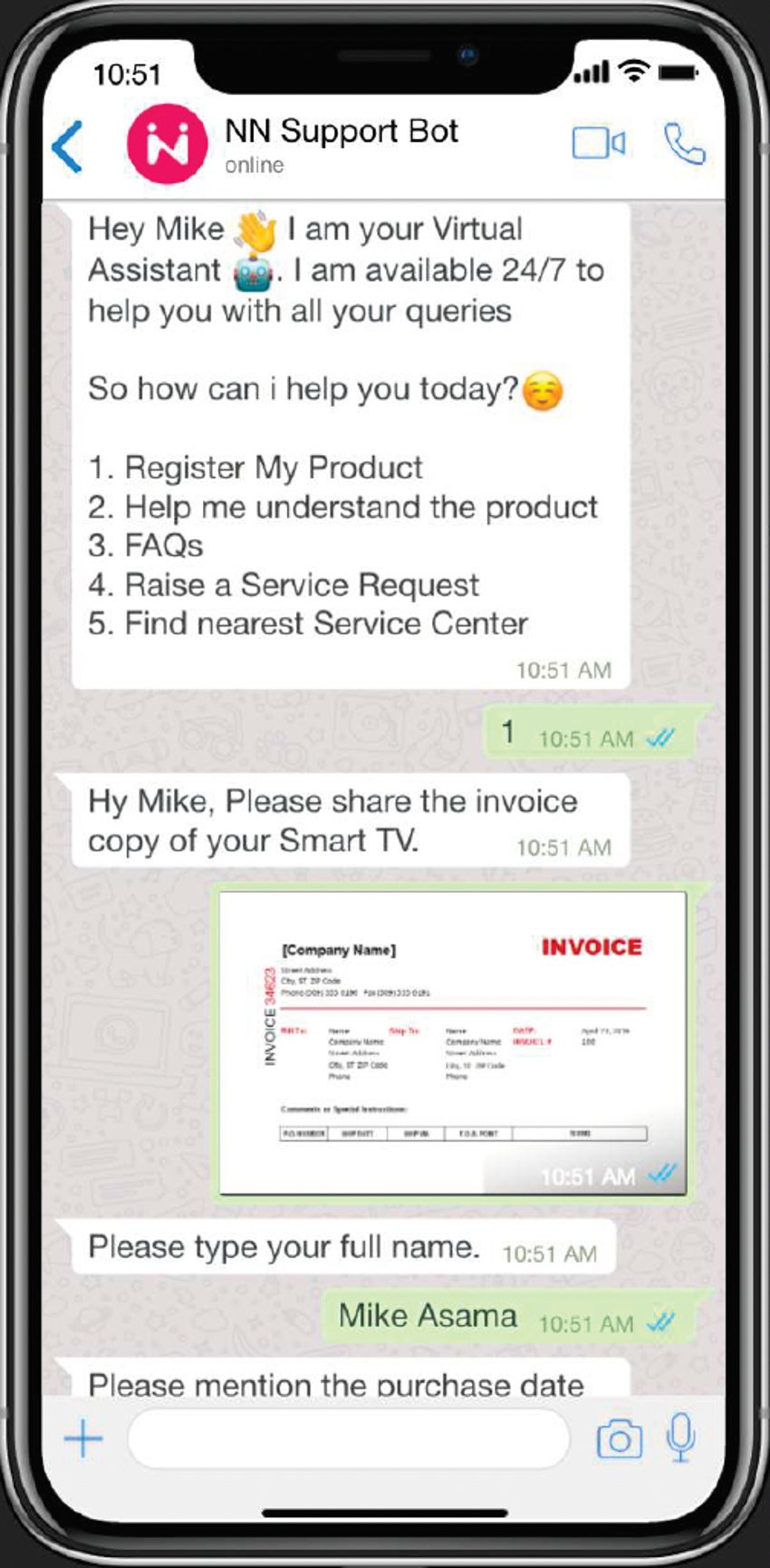 This is a WhatsApp-based digital contact center for an Electronics brand based in Africa. Each consumer has their own private channel, their purchased product details, access to a plethora of information, in some cases even talk to human support agents. And the best part for the business was it is fully automated, with minimal staff required to operate it.
The biggest challenge for us during the production process was compliance. WhatsApp and Facebook Messenger have strict compliance concerning account setup, data privacy, and communication. And to just have a basic understanding of these took us a good 3 months. Each time we would discover something, share the information with our development team and they would end up making changes (and attracting their suspicion and anger!).
Describe the process of launching the business.
Once we were ready with a working version, around July 2020 we worked hard to get our initial set of customers. Some geographies were opening up and others were closed. We first targeted the closed one! The executive staff in these companies had loads of free time and were receptive to trying out new stuff. We identified 5 such companies and gave an early cut of the product. 3 of them really liked the solution and saw significant ROI. With depleted cash reserves, staff undercutting, and general economic uncertainty they saw our automation solution as an option. Towards the end of the second quarter of 2020, we started seeing a lot of focussed inbound queries. And around that time we stepped up our direct and outbound efforts.
We started a rebranding exercise and that was tough. We had to let go of all our sales and marketing assets and create everything from scratch. We spent 2 whole months and made the most use of weekends to get this done.
We revamped our website with fresh messaging, rewrote our strategic narrative, created 12 new sales decks using Canva, and used a prototyping tool, Bot Society, to create 25+ detailed workflows of Conversational Commerce, Customer Service, and Lead Generation. It was perhaps the 2 most grueling months with sleep and family getting completely discarded for most of us, even though we were in WFH mode.
The other big challenge we had to face was the lack of financial resources. With all revenue and funding channels temporarily dry we had to go back to friends, family, dip into government funds, take personal loans, and even a dose of bank loans to keep afloat. We mitigated a lot of the challenges by innovating on our GTM strategy and forging partnerships which helped us re-start the traction mechanism.
Looking back, however, we feel we should have spent a little more time on research and refining our GTM strategy. We were still doing too many channels, too many strategies, outbound, ads, and without a cohesive positioning, narrative, and messaging.
We should ideally have stuck to 1-2 strategies and doubled down on it. This was a big learning experience. Another problem we had was we were overwhelmed with inbound queries and we just assumed that Covid had fast-tracked digitization and every lead seemed urgent and full of potential. In reality, a lot of people were still at home, businesses yet to open and hey we're just fishing around to find new solutions but without a concrete plan to implement them. We could have eliminated a lot of these casual queries had we defined clear qualification criteria.
Since launch, what has worked to attract and retain customers?
The biggest learning for us during this period has been to get the GTM right and a continuous feedback loop for the product and development team. We also learned that a lot of companies have been forced to go digital. However, they don't have the expertise to operate and win in the digital space.
Focus on 1 or max 2 campaigns at a time. Refine the copy, distribution channels, and tactics to the point of saturation before starting a new campaign.
Here are my key learnings when it comes to acquiring and retaining customers:
Focus, Focus, Focus.
Every industry is hungry for digitization. But every industry has its own unique characteristics, workflows, and challenges. And unless you have a large team (we only had a 23 member team) focus on just 1-2 industries, use cases and go deep. For us, it was Insurance and D2C ventures. We work with others but these two are our prime focus areas. D2C companies are built by founders with a lean and digital-first mindset. A digital contact center on WhatsApp is a powerful offering for them. It services their digital customers, helps them deploy a support channel without too much human workforce, and is lightweight and cheap. In the insurance segment we saw a shift towards D2C operations and massive use of messaging apps for KYC, selling, claims, and salvage auctions. We focussed hard on these sectors.
Sell Benefits.
Even today no one cares about solutions and features. Outcomes sell. And to sell outcomes one has to have a simple, clear, and compelling storytelling ability. For us, we do not talk about any of the tools we offer: Bots, automation, analytics, reporting, etc. Our messaging is focused on the digital-first transformation. Our narrative borrows heavily from Andy Raskin's 5-point framework where we talk about the change in the world and why one should take action to stay relevant. In our case, we talk about how human first businesses are dead, and unless one shifts to the digital-first mode they will fade out soon.
Our website and landing page header copies speak about benefits without much technical jargon. This has worked well for us.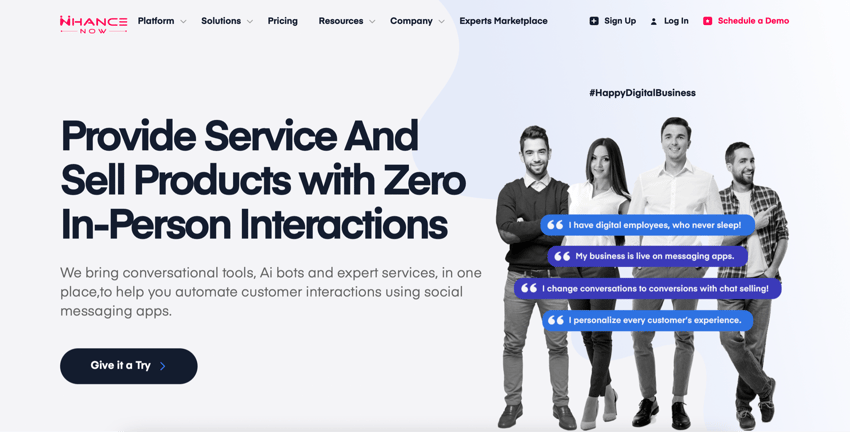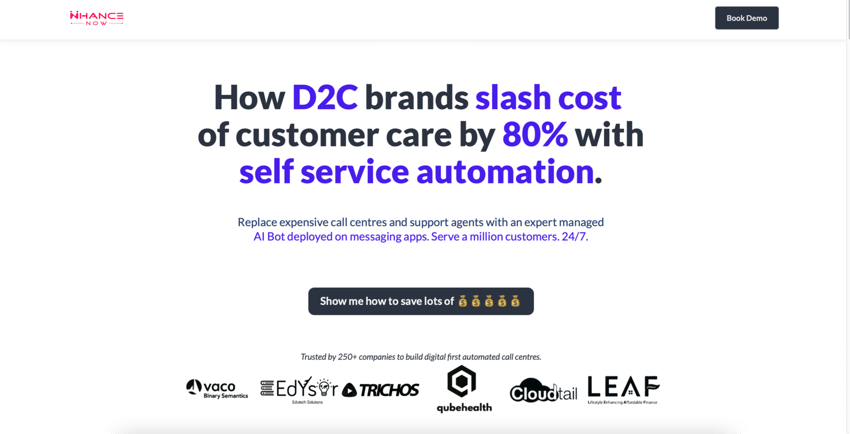 Targeted inbound or outbound campaign
Focus on 1 or max 2 campaigns at a time. Refine the copy, distribution channels, and tactics to the point of saturation before starting a new campaign. For us the most successful, although a touch expensive, the campaign was a google ad campaign which we ran in 2020. We had just got the first cut of the product out, done a few pilots, and wanted more feedback. We planned a focussed 3 monthly campaign to give us a kick start. In 3 months we generated close to 50k visits to our site and converted 25 paying customers. During this time we put all our energies into this campaign, tweaked our copy every week with feedback, and were razor-focused till we achieved our goals.
Here is a summary of our google ads account activity from April - July 2020.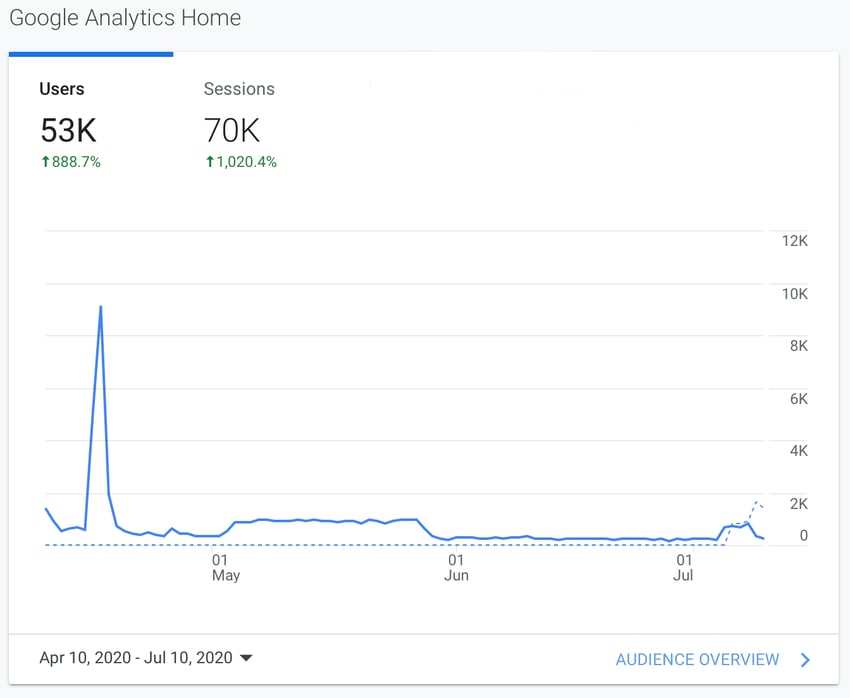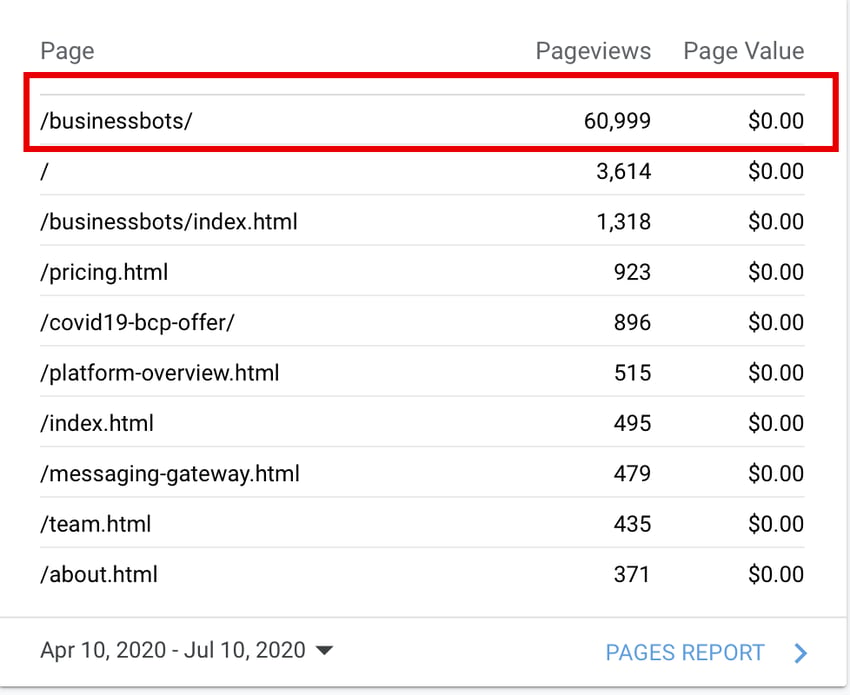 Identify "Unglamourous" Use Cases / Sub-Segments
One of the key differentiators we have is working in traditional industries but working on non-traditional uses cases. Let me share an example.
Most Conversational AI or solution providers are working in the Insurance segment. The traditional uses cases serviced are selling insurance, customer service, and claims processing. We do them as well. However, our number one use in the insurance segment is Conversational Salvage Auction! Not many would know what a salvage auction is. Salvage yards pile up all the recovered stolen vehicles or damaged ones for which full insurance has been paid for. They then auction these items to scrap dealers who bid on them. The normal process used to be primitive. Use of notice boards, registers, scrap dealers having to visit actual sites to find items for sale, etc.
Here is how it used to be done.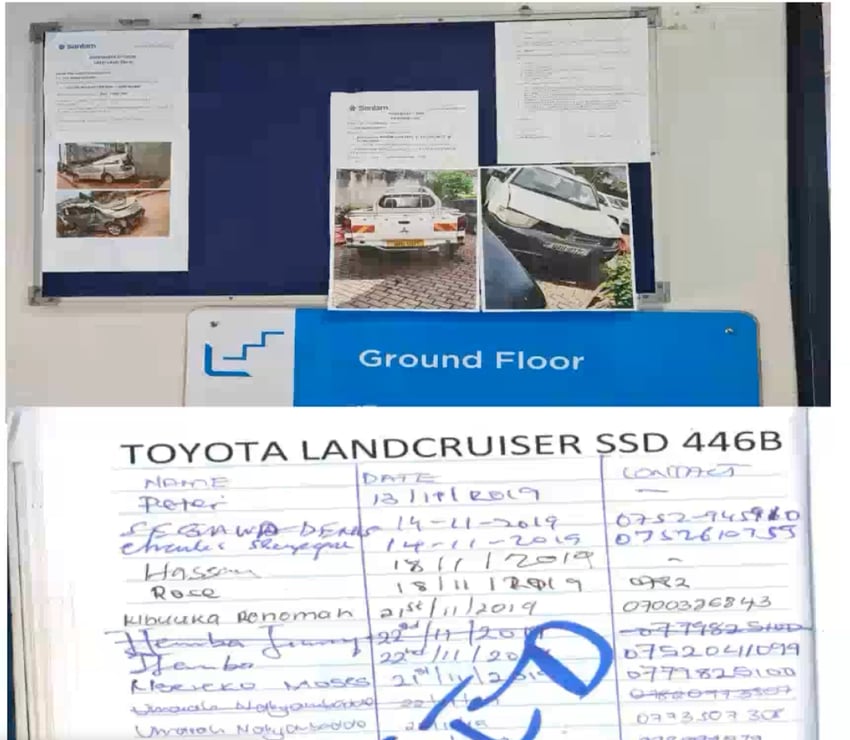 Here is the new way of salvage auction using WhatsApp: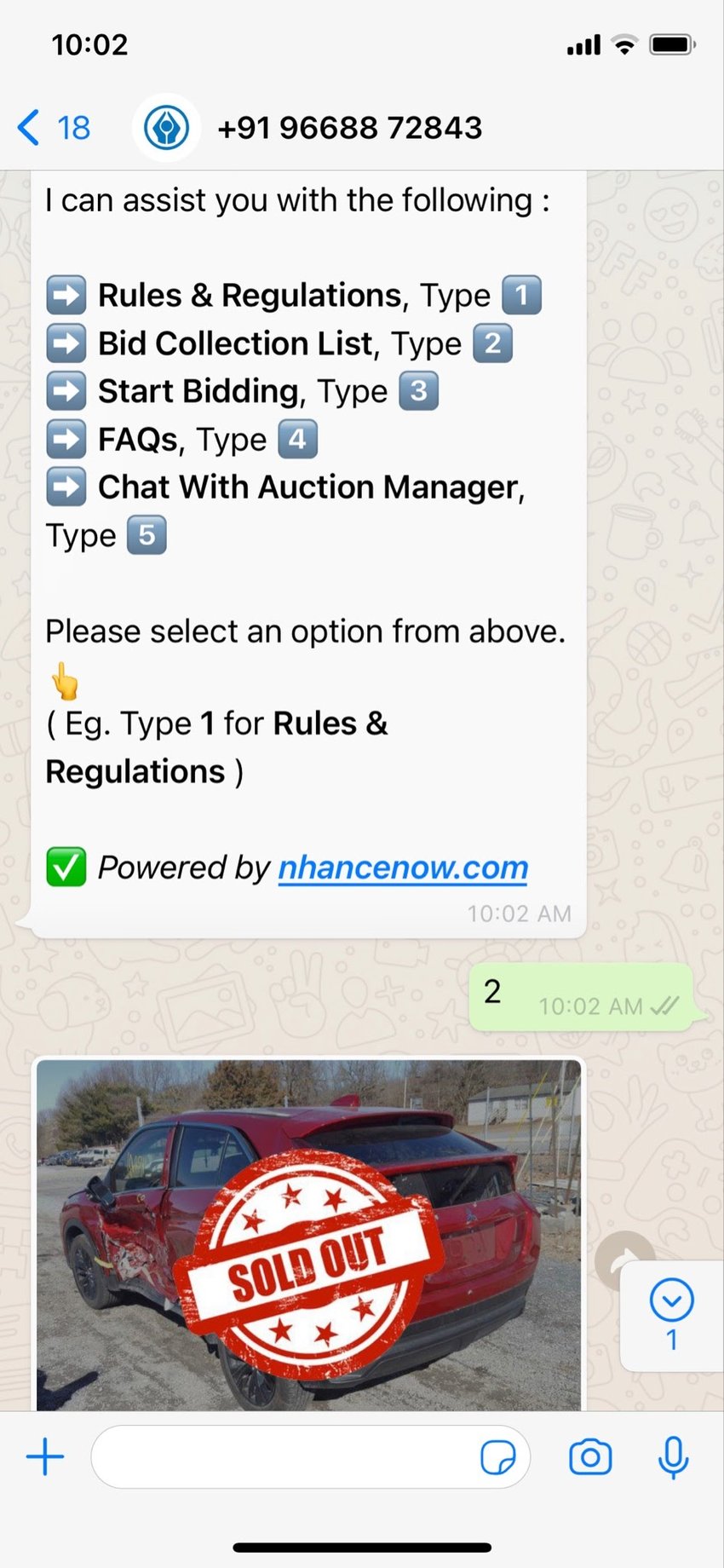 Find the hidden use cases. You face less competition and can rule these sub-categories.
In terms of customer retention, we had two big learnings and we continue to double down on them:
(1) Education based Customer Success Programs:
We realized many of our customers did not have the requisite expertise to manage conversational systems, understand the compliances or find the right strategies to win in the digital space. They also had very little in terms of references or playbooks to go by. So our entire Customer Success program has been about constant and continuous teaching exercises.
We hold weekly workshops where we share the best practices, we offer conversational business experts on an hourly basis to help them craft attractive workflows, and proactively hold ad-hoc sessions whenever new features are released. This has helped them to focus on their business and see us as digital partners and not just as a solution provider.
(2) Empathy:
Empathy towards our customers is a responsibility that every team member has to swear by. We have to understand that every business is in pain. The economic scars of Covid will take years to heal. And customers need a friend and guide. They don't want emotionless solution providers who will give them a tool and remind them of timely payments.
When India was locked down during the second wave from April to June 2021, many of our customers had to temporarily halt their business. We voluntarily waived their subscription fees for 2 months. We took a big hit but deepened our relationship with our customers. Remember a relationship is always a 2-way exercise. Each should know when to take a step back so that the other doesn't suffer. Customer empathy is a very powerful tool for retention.
How are you doing today and what does the future look like?
In terms of our business, we are not out of the woods, yet. We are seeing lockdowns, new variants and we have had temporary disruptions to our business both in India and Africa. We are soon entering the USA region.
To summarise our business:
Africa - Lower Enterprise
India (and soon the USA) - SMB
Our monthly burn: $35K
Our MRR: $21K - $27K (lockdowns are impacting revenues)
Our LTV: CAC ratio is around 3.12:1
Our average monthly subscription from SMB: $499
Our average monthly subscription from Lower Enterprise: $3000+
MoM growth: 15-20%
Gross Margins: 55%
Our team structure today is divided into the GTM team (marketing agency /sales), CSM, and Product (Development, Design, QA, Product). All founders are in sales. I look at the sales and product side being at the center of all activities.
The lower enterprise segment in Africa is driven through strong partnerships and is founder-led. India and the newly launched APAC SMB segment are managed through email outreach and content promotion. We will unleash SEO, however, we do not anticipate quick results with SEO.
Currently, 75% of our revenues come from the Lower Enterprise segment with only 25% of the total customer base. We do not do freemium. All our customers are paying customers.
In the short term, we are razor focussed on consolidating our target segments and stabilizing our MRR. We would go for a Pre-Series growth fund to expand to the USA market sometime later in the year.
In terms of the product, we have 3 key objectives.
Upgrade ourselves from a Conversational Automation platform to a Digital Workforce Platform(Monster for Digital Workforce).
Build an Expert's Marketplace to help our customers get to ROI faster and achieve increased operational efficiency with our tools.
Build a community and productize it, so that customers can share and learn from peers, within the platform.
Through starting the business, have you learned anything particularly helpful or advantageous?
The last year and a bit have been the biggest learning experience. It's been epic. Covid has ushered in a completely new way of living, working, and doing business. I have unlearned and re-tooled myself with a new mindset.
Building a company is hard. You are fighting a hundred battles at the same time. And having come to the distance, there is no point giving up. Scrap, pivot, unlearn, re-tool, beg, borrow, do whatever you have to. But keep at it. Reach that tipping point. And you will have the world to conquer.
The biggest lesson learned is for founders to keep some time aside to read about what's happening, what's trending. Without deep insights into consumer behaviors and customer conversations, it's hard to build a sustainable business. Too often we get swayed by articles written by so-called experts who have never built businesses. And we have too few customer conversations. Even a random customer conversation can give you the best insights into your business and how you should plan the roadmap. Prospects and customers tell you what's trending. Bring this learning to your product. They also tell you how they like to buy, and build your GTM strategy around it.
One of the big mistakes we made was to chase some temporary nirvana. Early on during the lockdown phase, we had inbound queries from several industry segments. We didn't do our due diligence or market research and simply onboarded however came calling. It turned out that many businesses were only in there for a few months and once the lockdowns were lifted, they vanished. In hindsight, we should have focussed on the ones where a permanent shift towards digital was happening. We used this knowledge to re-design our ICP and GTM.
Partnerships, with the aim of Host/Parasite Marketing, was probably our best decision. We had limited resources, we're unable to hire staff, and did not have a sizeable marketing budget. We reached out to our old partners, customers and built a strong strategic, but focussed partnership network to get our enterprise track going. For example, our 3 key partners currently help us in 3 different domains, SAP for customer experience, insurance, and financial services. In each of these segments, we are the messaging solutions provider.
What platform/tools do you use for your business?
We have made significant use of software and digital tools for our business.
For GTM (sales / marketing / content promotion) we use:
For our Technology and Product Teams we use:
Angular 2.0
Neo4j Database
Cassandra - No SQL DB
eCharts
Amazon Web Services - For hosting, analytics engine.
Draw.io - Flowcharts
JIRA - Product Management
Shopify - Commerce Backend
Adobe Creative Cloud
For Resources:
Upwork - Freelancers
Upwork, Convertkit, and Mailshake are our favorite tools from the lot.
Upwork helps us manage our financial resources in a lean manner by making strategic short-term, project-specific hires.
Convertkit is a dead-simple tool to create and deploy email gathering forms.
Mailshake takes the pain out of drip email sequences and multi-channel sales engagement.
What have been the most influential books, podcasts, or other resources?
I love storytelling and there is none better than Andy Raskin to learn from. His 5-point framework of strategic narrative has been immensely inspiring. I firmly believe that it is impossible to differentiate products or features today. Good ideas get copied in days. Great ones in hours! But storytelling has the power to inspire customers.
You can read about Andy's framework here.
The other channel which truly inspires me is that of TK Kader. In fact, I start every day with one youtube video from his collection. It's practical, actionable, and packed with values. And he shares his knowledge with crisp 10-15min videos in easy everyday language with immense authority.
Dip into TK's collection here.
For marketing and SEO, there is no one better than Brian Dean. His exclusive blogs, at Backlinko, are packed with real-life examples and step-by-step guides on marketing tactics and SEO.
Read more about Brian Dean here.
For tactical, everyday marketing tips I also follow Harry Dry. Harry is the master of the short form. Precise, value-laden tips on marketing are his forte.
You can dive into Harry's work.
Advice for other entrepreneurs who want to get started or are just starting?
One of my most favorite parts of any interview is to share tips with fellow founders/entrepreneurs. We have always had so much to share :) (And learn)
My top tips for entrepreneurs are:
Keep at it. Building a company is hard. You are fighting a hundred battles at the same time. And having come to a distance, there is no point giving up. Scrap, pivot, unlearn, re-tool, beg, borrow, do whatever you have to. But keep at it. Reach that tipping point. And you will have the world to conquer.
Value your people. Your people are your only assets. Your customers, partners, and investors come and go. Your people live your life. They are there during your biggest highs and your deepest lows. Remember they believed in you when not many did. Took a risk, came to learn and support you. Do everything that you can for them. With empathy.
Prioritise Short/Small Goals. Too often we get lost in 2-year roadmaps, 3 years runways, etc. It's easier and better to have 3-month goals. Sure the long-term vision is important but shorter goals are critical. Remember startups are volatile. We are always chasing product-market fit, tweaking our plans, may see sudden dips in revenue, and investors may back out. It's better to build for the near term, ensure 6-9 months runways and plan the next 3-5 hires. In the early stage, these are important metrics. As you mature, plan for a longer-term.
Learn to Say No. This is non-negotiable for any startup founder. You have to learn to say No to yourself, colleagues, investors, partners, customers, and anyone else that matters. Customers always want new features, say No, focus on the most impactful ones. You yourself would want to try 2 more marketing channels, say No to yourself. Focus on getting one channel buzzing before starting a new one. There are many situations where you have to perfect the art of saying No. The more NOs you say the better your chances of success.
Believe in yourself. You started your venture because you believed strongly in it. You will have lots of people saying why it won't work. Remember they have never built anything themselves! Listen to your instinct, your customers. They are the best critics.
Get a Command on Storytelling. Numbers, tools, growth plans, hiring hacks, investment plans, etc are all important. But the most important role you have is to have a relevant story and keep talking about it in your sales pitches, investment pitches, interviews, hiring sessions, team talks, etc. Stories give relevance to everything else. For example in our case, we have a simple story: the world has shifted from a human-first mode to a digital-first mode. How do you stay relevant in it? What do you need to stay relevant? Then suddenly our tools assume significance in this altered word. Businesses don't want our conversational automation platform! They need to shift to a digital-first business model and our software happens to help them achieve it. That's the power of storytelling.
Are you looking to hire for certain positions right now?
We have never had success with in-house marketing. We are completely re-looking this department. Our primary goal is to hire a content specialist and an SEO specialist. These are two areas that we believe will help build a sustainable revenue pipeline.
Where can we go to learn more?
If you have any questions or comments, drop a comment below!
-
Nishith Patnaik, Founder of NHANCE NOW
Want to find more ideas that make money?
Hey! 👋 I'm Pat Walls, the founder of Starter Story.
Get our 5-minute email newsletter packed with business ideas and money-making opportunities, backed by real-life case studies.