We Developed A $18K/Year Patented Ayurvedic Alkaline Water [India]
•
Published: March 26th, 2022
We Developed A $18K/Year Patented Ayurvedic Alkaline Water [India]
Hello! Who are you and what business did you start?
Hello! My name is Naveen Kumar and I am the CEO of Pyotam. I am an alumnus of IIT (BHU), Varanasi, and have various patents in the field of water conservation techniques and solutions.
At Pyotam, we create water technologies for purification, management, and conservation. We provide solutions to your water problems through expertise and innovation. Our vision is simple - clean potable water for all. We aim to turn problems into potential - contributing to society and improving health, especially of women, children, and rural families. We are India's first ayurvedic alkaline beverage brand.
Our flagship products include copper-powered alkaline thirst quencher and panch tulsi alkaline thirst quencher. Our products bring the essence of Ayurveda to water with the power of Copper and Panch Tulsi. We enhance the quality, flavor, and consistency of the water with natural ingredients induced with ayurvedic herbs.
Pyotam's Ayurvedic Alkaline water with a pH level of 8.5, TDS of 190 ppm, mineral concentrations provides faster detoxification, acid neutralization in the body helps with weight loss, skin benefits, stronger bones, healthy heart, and many more cooperating qualities.
We Maintain pH in the range of 8-9 and preserve the quality of your beverage. We also maintain TDS levels of 150-250ppm and water quality as per Indian Standards 10500:2012.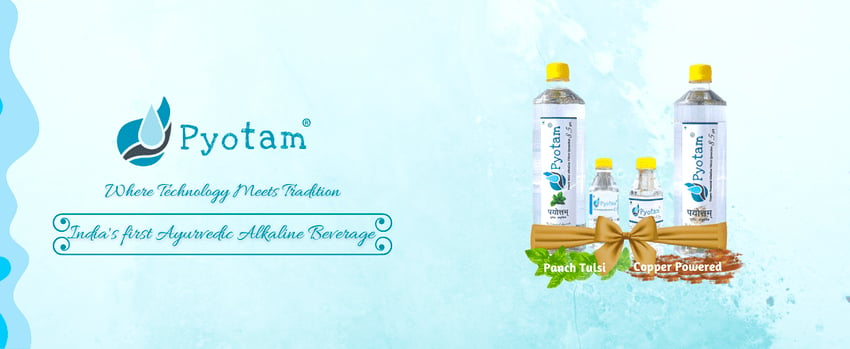 I am an environmentalist and make sure to do my bit for the environment. With our patented technology, we have zero wastage of water in manufacturing, and with our optimized processes, we are reducing the energy consumption by 50-60% as compared to traditional methods. All this helps us reduce our carbon footprint.
Today we have recurring customers who not only love our product but also recommend it to their friends and family. Currently our monthly revenue averages around Rs. 1,00,000/- ($13K) from a customer base of around 250 customers having sold 1,400 bottles so far.
What's your backstory and how did you come up with the idea?
Water, as we all know, is an essential component of our daily lives. Since childhood, we've been urged to drink plenty of water for the myriad health advantages it brings, but we've practically never been told to check the pH of the water. Based on my experience from my previous start-up which also worked on water technology, specifically reverse osmosis technology, wherein I realized that the water thus obtained was acidic. We worked to resolve the issue on the customer side for our customers, but we realized that many people must be drinking water with a lower pH level.
When I realized that a lot of people have been consuming partly acidic water, which is not good for the body and may have potential ill effects on the body is when I decided to look for a solution to this problem. That's when I decided to work with alkaline water and came up with the concept for our products: alkaline water with ayurvedic properties.
Only if you know your market will you be able to design and sell the product. To appeal to the customer one must first know what they want.
A large number of people suffer from acidity and related problems, and I had to intensify my search for solutions to help them and a cost-effective way to provide them. I've always been the type to look for portable solutions and come up with better alternatives to pre-existing ones. I patented the technology to manufacture our product after conducting research and receiving assistance from our incubators.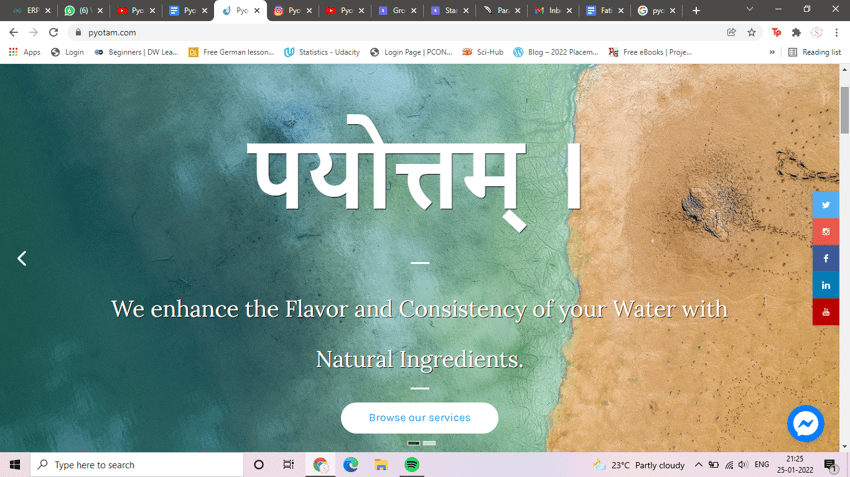 Take us through the process of designing, prototyping, and manufacturing your first product.
With help from our incubators, AIC-JKLU, JK Laxhmipat University, Jaipur, Rajasthan; ICAR Naarm, Hyderabad; and our mentors we came up with the design, form, and target audience for the product. This stage took a lot of time and discussion, about 3 months from the planning to the initiation. It also required a lot of research work and knowledge building.
We had to understand our customer base, their requirements, and preferences to come up with a well-defined product and its sales strategy. To find the target audience we first experimented by giving samples of our product within our network. Initially, we did not profile our audience but over time after analyzing our sales, we found that our products were used mostly by fitness enthusiasts and those with diabetes, cancer, or gastrointestinal concerns. Thus with experimentation, analysis, and networking, we arrived at our desired customer segment, who are now our target audience.
We decided to go the D2C way as we realized due to Covid and the restrictions imposed a lot of customers wanted to directly purchase products from online platforms. It also helped that people were now more than ever conscious of their lifestyle and health choices. Thus we decided to launch our product on eCommerce channels and then navigate our way to other retail channels.
After designing and defining the product we went ahead to decide the manufacturing strategy and procedure. Here I drew knowledge from my previous enterprise. We designed the plant, filed patents, got the required trademarks and licenses, and completed other required legal formalities. For the same, we raised Rs.30,00,000/- from angel investors. This helped us start the manufacturing and sales process.
Post which we started manufacturing of our products. One important detail I always kept in mind while planning the manufacturing process was methods to make sure that there was no wastage of water and that our manufacturing process was as sustainable as possible.
Describe the process of launching the business.
After designing and manufacturing the product we were finally ready to launch it. We first developed our website making it as user-friendly as possible using Zoho Commerce as our primary platform for building the website. We also started our own YouTube channel which was a source of information for our products and their benefits. We also distributed a few products to family and friends and asked for their reviews.
We had further discussions with our mentors on the marketing strategy. We ran our own Facebook ads and used Instagram as a medium to reach our customers. This did help us gain more traction and reach more people who were interested in our products. We did web scraping using tools available online for free like Beautiful Soup and Octoparse to find the most relevant keywords for our website to increase our reach. We edited the content of the website time and again.
We listed our product on all major eCommerce websites including Amazon and Flipkart. Worked tirelessly to come up with the most accurate product description for our product. We had to after all increase our searches organically as we bootstrapped the entire launching and marketing process initially.
Finally, after a lot of backend work, we launched our website and product in June 2021 with the hope to help customers and have them come back to us. We trusted our product and its intentions and the hard work paid off in the form of happy customers.
Since launch, what has worked to attract and retain customers?
Since the launch, we have believed in our product. 30% of our monthly sales are from recurring customers. We've received positive feedback from our customers. A few of them who are battling cancer have claimed that our water has made them feel better (although we do not have any scientific backing for the same). People with acidity have told us how helpful our product was. These customers have gone on to recommend our products to their friends, family, and acquaintances.
We do not have a devoted marketing team as of now and most of our sales are organic. As I have told earlier, we started by distributing our products within our network who then recommended our products to others. Positive word of mouth, good reviews, and a lot of effort to help with search engine optimization are what have helped us maintain our sales. We realized that people are keenly taking interest in alkaline water, especially after the Covid-19 crisis. Searches for alkaline water providers and healthy beverages have risen in the past months. People are also searching for products to help with their acidity. Since our products solve these problems, we positioned our product in such a manner, to reach these customers.
We have recently started running ads on Facebook and that too has added to our sales. It has helped us increase our reach and expand our customer base.
Our products listed on Amazon and Flipkart also add important figures to our sales. Although we have not run any ads there yet, our product description and backend work has worked in our favor to help in sales. 40% of our sales happen via Amazon, 20% via Flipkart, and 40% from our website.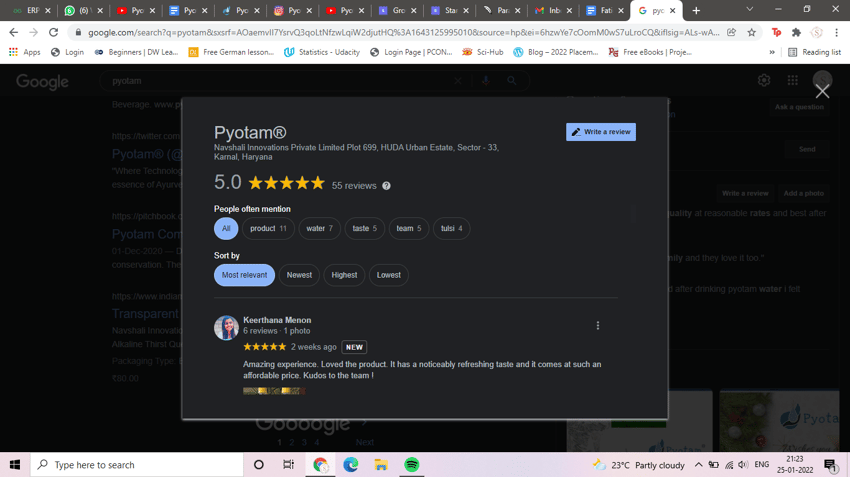 This is a picture from Google reviews that shows how satisfied our customers have been with our product and that it indeed was helpful.
How are you doing today and what does the future look like?
We started back in June and spent the first few months in customer profiling and requirements. Identified the challenges we might face, found solutions and in October we launched our products on Amazon and Flipkart. We are in continuous touch with our customers, take their suggestions, and work on the feedback given.
Today our monthly revenue averages at Rs.1,00,000. Our customer base is expanding. We are working towards growing and marketing the business. We aim at establishing a good digital presence soon. Branding and marketing are our key areas of focus at the moment. We have seen increased traffic on our website and have as said before, customers who come back to us. We have become a part of their lifestyle now. This is something that motivates us to keep working harder to reach and become a habit for more people across the nation. We are gaining traction and are now doing good in the market.
We learned the importance of having trust in your product and how to have a friendly customer relationship. Branding is something we learned and are still learning.
Currently, our sales are direct to consumers via our website and other eCommerce platforms. In the future, we look to expand to retail stores and supermarket chains. We aim to do so by the end of this year, starting with the north of India since we are based on Haryana. Currently, we are looking at the logistics and other requirements for the same. We are in touch with distributors and store owners.
The goal of our business was to help people by providing them with water that has a balanced pH along with additional properties of Ayurveda. In the future, there will be an increase in our range of products.
Through starting the business, have you learned anything particularly helpful or advantageous?
Oh, there have been a lot of learnings throughout this journey starting from my first venture up until Pyotam. We know about the various resources available in the market, we know the source of funds, we know how to attract investors and get investments. We've learned how we can start and run a business in India.
From experience, we've figured out that Amazon onboarding, 3rd party integrations, and shipping handling are one of the best in the business. Flipkart on the other hand due to their self shipping partner e-kart makes shipping a tedious process sometimes.
We learned the importance of having trust in your product and how to have a friendly customer relationship. Branding is something we learned and are still learning. Oh, there is so much that we've learned, I think the list will be inexhaustible.
What platform/tools do you use for your business?
Currently, we are a D2C company. Our products can be ordered via our website. You can also purchase our products on Amazon and Flipkart. We use Zoho-Securepay integrated with ICICI for payments.
What have been the most influential books, podcasts, or other resources?
Resources listed on the start-up India website have proven to be very insightful to us. It has helped us understand a lot of things. Also, resources were provided to us by our incubation cells at AIC-JKLU and ICAR-NAARM.
Resources are available on the internet and YouTube. There is so much knowledge and information that is now available at our fingertips.
Advice for other entrepreneurs who want to get started or are just starting out?
I would ask new entrepreneurs to initially learn about their customers. It is important to know where your target market is, who your customers will be and what they need. You should know the ins and outs of your consumer base and its requirements. Only if you know your market will you be able to design and sell the product. To appeal to the customer one must first know what they want.
Another learning of mine that I would like to share does not to run behind investments. Investments are important and they will come your way once you back your business with substantial figures and sales. This can only be done by having a good client base. Starting small is okay. Make sure to retain your customers. Yeah, by now you would have guessed that I firmly believe that it is the customer who makes the business and for your business to be successful you need to have a healthy, friendly relationship with your consumers.
Are you looking to hire for certain positions right now?
Currently, we are looking for a digital marketing head who can help us reach a wider audience and can come up with quirky marketing strategies, and help us increase our online presence.
Where can we go to learn more?
If you have any questions or comments, drop a comment below!
-
Naveen Kumar, Founder of Pyotam
Want to find more ideas that make money?
Hey! 👋 I'm Pat Walls, the founder of Starter Story.
Get our 5-minute email newsletter packed with business ideas and money-making opportunities, backed by real-life case studies.