We Built A $720K/Year Travel Activities And Tours Search Engine
•
Published: January 11th, 2022
We Built A $720K/Year Travel Activities And Tours Search Engine
Hello! Who are you and what business did you start?
I'm Simone Semprini, CEO, and Co-Founder of TourScanner. I graduated with a degree in engineering and then entered the world of tech - an industry in which I stayed for several years. After that, I went on to establish TourScanner alongside our current founding team, Guillaume Picard and Joseph Dimucci.
Tourscanner was the first meta-search engine created that focuses on tours and activities. Our app works very similarly to Kayak, Trivago or Skyscanner, but focuses on tours, attraction tickets, and outdoor activities.
Using the TourScanner website or app, tourists can search and compare through the entire catalog of products worldwide and choose the best price which leads them to the booking site. In addition, since 2017, we have connected around 20 online travel agencies specializing in tours and activities, like Viator, GetYourGuide, Musement, Groupon, etc. The profile of our customers consists mostly of Americans and Europeans, aged between 30 and 50.
The COVID-19 pandemic has hammered our business very hard, like most of the travel industry. However, we have recovered, and now our metrics are better than before the pandemic. Our current monthly net revenue is about $60k and we are planning to reach $1M ARR in 2022.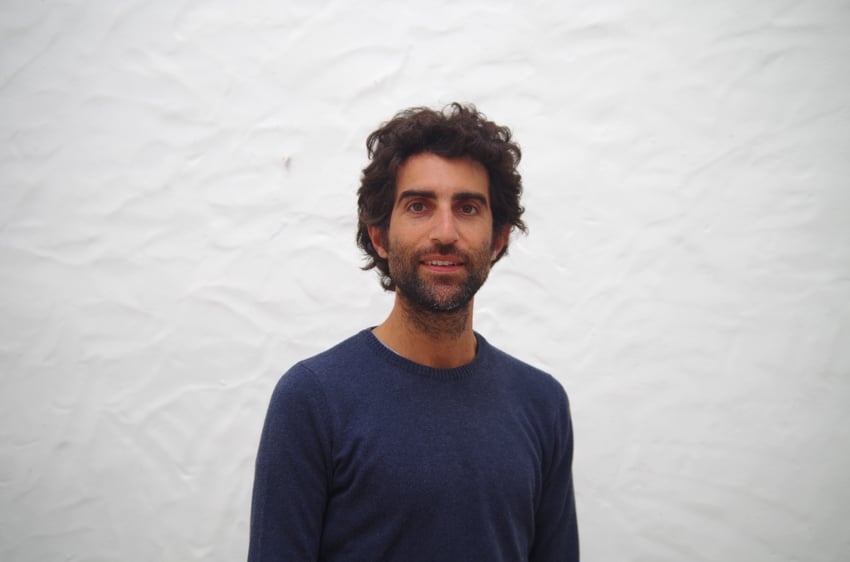 What's your backstory and how did you come up with the idea?
Before establishing TourScanner, I worked in Germany in a totally different field (Thermal Energy Storages at the University of Stuttgart). During that time, I had spent some time traveling in Brazil and had realized how difficult it was to find some activities online or just have a better understanding of where to visit and what to do while in a foreign country.
While it's easy to compare and book online when it comes to flights and hotels, for tours, tickets, and activities in general, there is a myriad of different websites. Therefore, I started investigating the idea of creating a search engine specialized in tours and activities, similar to the sectors of transport and accommodation.
I saw an opportunity in this field with this business model. The segment was growing fast and being digitized quickly (in 2017, over 80% of the market was offline). I studied the market, created a business plan, contacted potential suppliers, and developed the high-level architecture of the website.
While I was working on the concept, I met the current co-founders Guillaume Picard and Joseph Dimucci, who also shared my vision. Guillaume, in particular, had previous experience in the same sector and is extremely knowledgeable about the market conditions. Joseph was a very promising web developer.
In 2017, we worked on our first version of the website, and shortly after we quit our jobs to work full-time on the development of the startup. None of us knew if it was going to work or not but when it comes to starting your own business, a leap of faith is always required.
We didn't have much money to invest and we kept our personal savings to cover living expenses and live without a steady income for over a year.
I think you always learn a lot by starting a business. You learn how hard it is and how much you must believe in yourself, your team, and your ideas.
In April 2018, we joined the Next Commerce Accelerator program that provided us with small pre-seed funding. The funding was very helpful, especially to cover recurring expenses and invest in marketing. However, the validation that the business was working only happened at the beginning of 2019, when the revenue grew over 100 percent per month for five months in a row and the business became profitable.
Take us through the process of designing, prototyping, and manufacturing your first product.
When it came to designing TourScanner, I tried to think about the different components of our idea and how we would turn it into reality. We needed a product, of course, but also a business model.
We could have a simple business model based on affiliate programs of existing companies selling tours and activities, earning a commission from the referrals sent to them. Indeed, there were already several large websites selling tours and activities that were offering affiliate programs such as Viator, GetYourGuide, Tiqets, Musement, etc. and they had application programming interfaces (APIs) to integrate with their catalog and populate our website.
In 2017, we developed the first MVP in about 3 months - it was a website with limited functionalities, but already had five APIs integrated to populate our website with offers and update the prices dynamically. During this time, we were only covering one city and things were not automatic. However, it set the ground to build more features on top of that.
Fortunately, our business model is very lightweight (it doesn't require heavy operations). Therefore, we could keep the website live while we were working on the marketing and the continuous quality improvement of the tech.
Below is a screenshot of a part of our landing page in the MVP.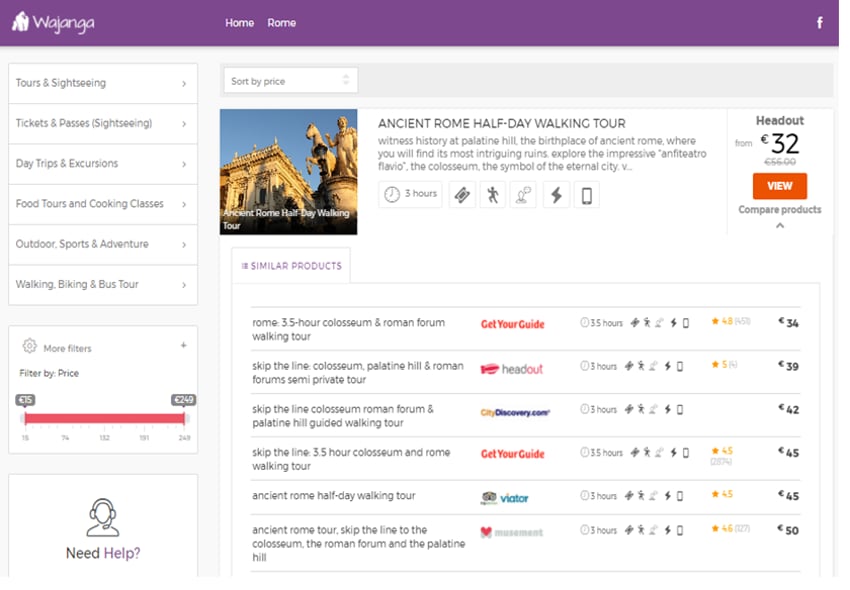 Describe the process of launching the business.
We tried to follow the Lean Startup methodology, as described by Eric Ries. However, we found that it didn't apply to our product. In our case, it wasn't easy to test our assumptions because we needed a large number of customers. Acquiring customers via paid ads can quickly become very expensive and, therefore, we had to wait for several months before we started seeing results.
When we launched the website, we created a PR campaign (two publications here and here) and a listing onProduct Hunt. However, our product is that kind of website that you only need when you travel. Therefore, the launch itself didn't provide many customers and we had to build our customer base little by little.
We didn't invest much time and resources in the launch of the website and it wasn't successful in reality. Afterward, we learned that we should have done much more preparation for the launch (contacting more journalists, setting a launch date, etc.).
Creating a successful PR campaign is quite difficult without many resources. However, it is possible to get a few publications contacting the right journalists and publishers (in the specific sector - for us, tours and startups).
After launching, we kept monitoring the visitors that we had, to learn what they were doing on our website. We used Hotjar a lot (it's a tool to record videos of the users using the website). From the videos, we could improve the product, solve many bugs that were visible only under certain conditions and improve the features.
Since launch, what has worked to attract and retain customers?
Since the launch, we have tested several marketing strategies, including social media, video, Facebook ads, Google ads, PR, SEO, etc.
Contrarily to the situation of several years ago, the current prices for direct advertising (Google Ads, Facebook Ads, etc.) are very high. Therefore, we decided to invest in direct ads only if we could be profitable on the first transaction, without assuming any retention.
Among all the marketing strategies, we found that the investment in SEO and content marketing had the best metrics. PR campaigns can also work very well since there is a direct correlation with SEO. Right now, almost our entire marketing budget is allocated to content marketing, SEO, and PR campaigns.
How are you doing today and what does the future look like?
Despite the COVID-19 setback, TourScanner has recovered in the past six months and we are performing very well. The business has returned to profit having had a volume of sales that exceeded 2019 levels. At present, we get roughly 600,000 visitors per month to our website, with the majority of traffic coming from organic search.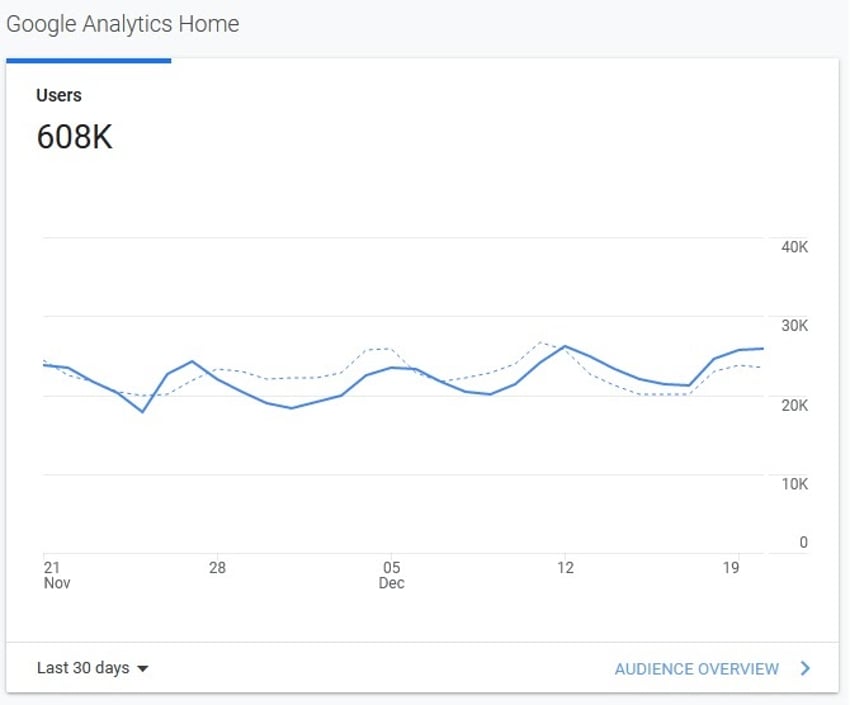 In the short term, we plan to continue with our current marketing strategy, while in the long term, we will focus more on improving our integration with partners and retaining our customers.
Through starting the business, have you learned anything particularly helpful or advantageous?
I think you always learn a lot by starting a business. You learn how hard it is and how much you must believe in yourself, your team, and your ideas.
I think it's also important to not get fooled by the news that startups are continuously raising funds. As in many fields, we always hear about the 0.1 percent of startups raising large amounts of money (considered very successful), but we seldom hear about the 99.9 percent of the businesses that don't raise such funding and either become profitable or shut down.
It's easier to abandon an idea if it doesn't work at all or continue with it if it's very successful. However, it isn't easy to continue working and commit to something that is just partially working. Just be prepared for that situation.
It's easy to see that odds are not on the founder's side. Therefore, it's important to consider that the possibility of raising money might not come true. This means that a startup needs a "plan B" to survive and grow without external support.
What platform/tools do you use for your business?
Our platform is mostly custom made and we don't use any external services.
We use WordPressfor our blog, Google Analytics and Google Suite, and some productivity tools to manage tasks.
What have been the most influential books, podcasts, or other resources?
As mentioned above, I've read Lean Startup by Eric Ries. The book is very good for helping startups start from scratch and develop sustainable business models, with validation, MVP, and metrics.
Advice for other entrepreneurs who want to get started or are just starting out?
My advice would be to really think about marketing and sales before considering the product. Quite often, founders will have an idea and start to develop the product and its main features. However, the product rarely sells itself.
It may be that, while financially, you don't raise enough money at the beginning, you are still getting some successes even if small. That's a difficult period.
It's easier to abandon an idea if it doesn't work at all or continue with it if it's very successful. However, it isn't easy to continue working and commit to something that is just partially working. Just be prepared for that situation.
Are you looking to hire for certain positions right now?
We don't have open positions at the moment, but we are always looking for:
Native English content writers
Web developers (PHP, Javascript, SQL)
If you are interested, you can send us an email at [email protected].
Where can we go to learn more?
If you have any questions or comments, drop a comment below!
-
Simone Semprini, Founder of TourScanner
Want to find more ideas that make money?
Hey! 👋 I'm Pat Walls, the founder of Starter Story.
Get our 5-minute email newsletter packed with business ideas and money-making opportunities, backed by real-life case studies.