How A First-Time Entrepreneur Launched An Online Tool To Sign NDAs
How A First-Time Entrepreneur Launched An Online Tool To Sign NDAs
Hello, I'm Arthur Swanson, the founder of VirtualTerms.com. VirtualTerms standardizes and streamlines common business agreements to make it easy for two parties to agree quickly and move on with doing business together.
We just launched our initial agreement - our streamlined and standardized NDA (or non-disclosure agreement). If you want to have a discussion about your business with another party (let's say to engage them as a customer, client, or vendor, or to make a pitch to a potential investor), and will be providing or discussing confidential information about your business, it's wise to put a non-disclosure agreement in place. It prohibits them from providing the information to someone else or using it for their purposes.
Most NDAs are several pages of dense text and sending your unique form ends up requiring your potential business partner to review it all over again and slowing you both down. But we've standardized and streamlined the process.
Our NDA is free and takes just minutes for both parties to review and sign all online in one simple tool. It's so easy you can do it all on your phone (see our easy dashboard below)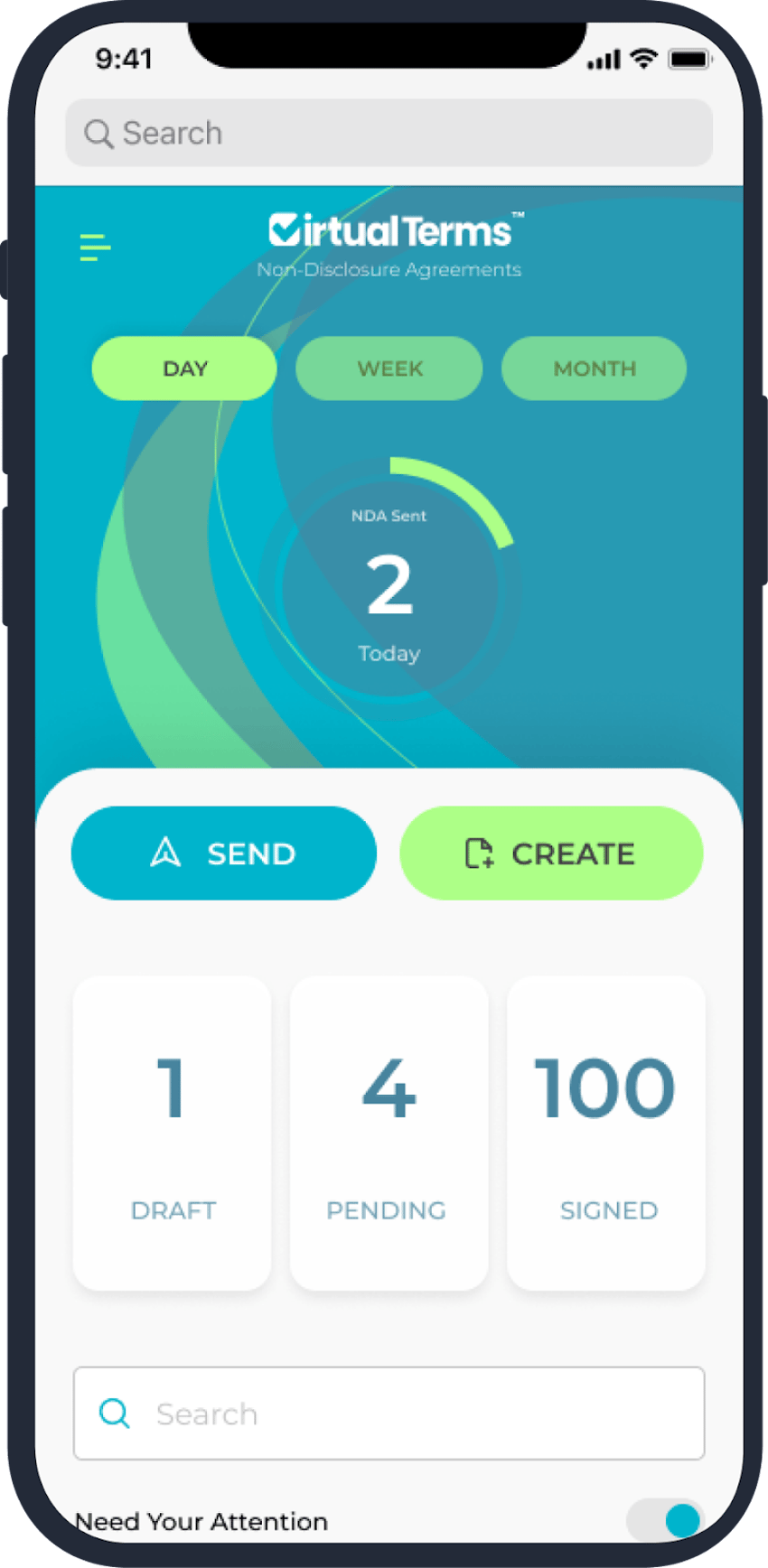 We are in very early growth stages. User growth is growing steadily - up to about 150 users as of mid-July continuing the growth you see in the chart below. Unique site traffic has been about 1,500 visitors, so that's about a 10% conversion rate which is very strong compared to benchmarks.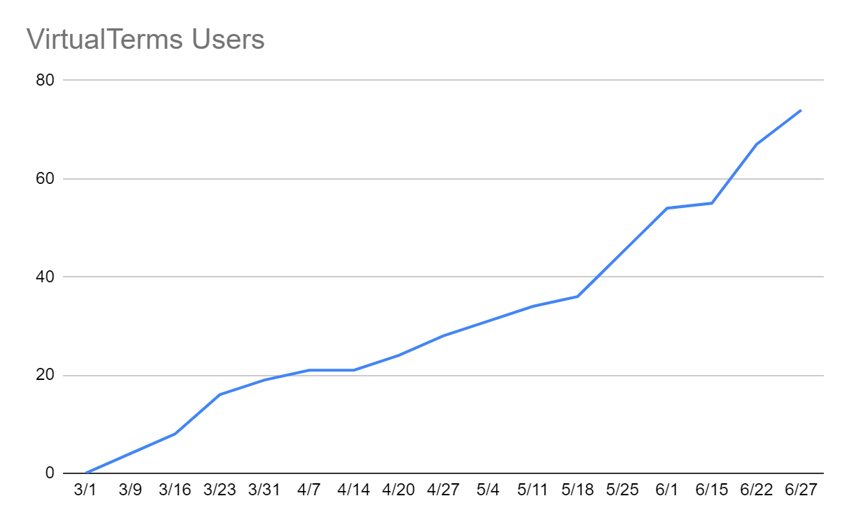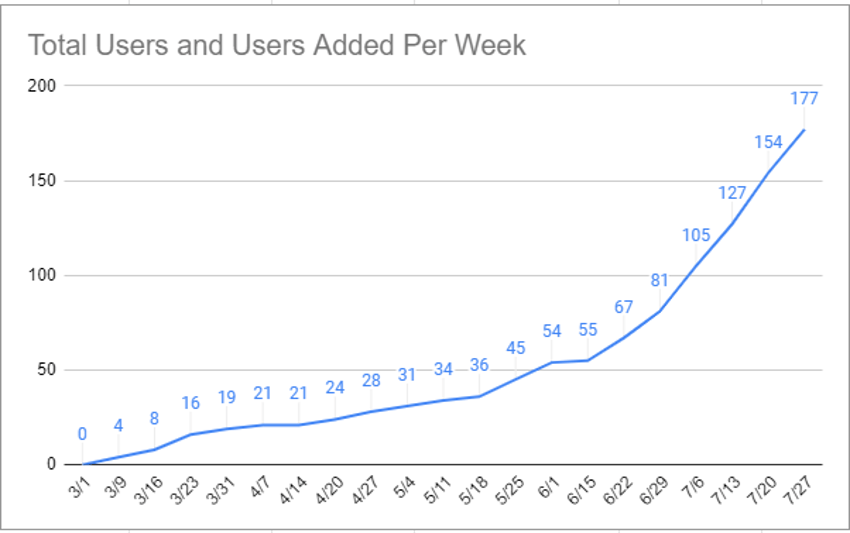 What's your backstory and how did you come up with the idea?
So, I'm a long-time corporate and commercial lawyer and first-time entrepreneur. I've worked with many famous brands and all sizes of companies and all types of agreements, and have seen how legal agreements, even if necessary, can slow down getting on with business. Whether it's a NDA to start a business discussion or a services or consulting agreement to start an engagement, the traditional way of doing common business agreements has not kept up with the speed of business.
But I recognized that both lawyers and business people were reviewing similar long, dense agreements over and over again, covering much of the same ground each time. I also realized that many people had lost sight of the fact that the purpose of agreements is to reach agreement - and that involves two parties, not just the person sending the agreement.
That led me to two core principles on which we built VirtualTerms: (1) we would standardize legal provisions across agreements, so you don't re-invent the wheel each time with your business partner, and (2) we would streamline the process for both parties to make it easier and faster to agree with an enhanced sense of trust and transparency between them.
Finding the right partner is super important for someone like me that is not technical.
Recommendations and interviews were key to finding the right partners.
So, even for an NDA, a relatively simple agreement, instead of getting bogged down waiting for the other party to spend an hour reviewing your agreement, and several days or weeks passing while it sits on their or their attorney's desk, you should feel confident about getting our streamlined, standardized NDA done and signed in minutes while dramatically minimizing time and efforts spent by both sides.
Take us through the process of designing, prototyping, and manufacturing your first product.
The evolution of those ideas into our first product went through many phases. First, it started with putting ideas onto paper - simply writing out the ideas. That evolved into putting them into presentation form - so I could better see how they might present to others. Without a design or technical background, I then created simple sketches and later slightly nicer-looking wireframes in Word. Nothing fancy, but it was really important to evolve the ideas and make them more concrete using simple tools. Eventually, I hired a development team to help take those further.
Finding the right partner is super important for someone like me that is not technical. I also wanted someone that does not just bring technical skills, but also design skills and had an appreciation for the legal space, so they understood what I was trying to do. Recommendations and interviews were key to finding the right partners.
We started with UI/UX and created a pretty comprehensive clickable prototype in Figma. That prototyping in Figma, where you can see the actual graphic design and get a sense of the flow by actually clicking buttons, was incredibly valuable. We shared that prototype with many people and got their feedback in various ways - everything from surveys to interviews. We've changed many details since, but the core of the clean, easy-to-use UI/UX comes straight from that prototype. After that prototyping and feedback, we started building.
Describe the process of launching the business.
Launching should feel uncomfortable. You feel excited and anxious to get going, but not fully prepared. As a lawyer, I was trained to get everything just right before hitting "send." But I realized that would never work and I'd be stuck perfecting the application forever.
Instead, I likened the process to trying something new, something physical that takes some level of practice and skill, but with an element of danger and risk - like riding a bike for the first time as a kid, skiing a steep slope, or me, taking up mountain biking later in life as an adult - eventually, you need to point yourself down that slope or rocky descent and go.
You may fall, maybe scrape yourself up, maybe even break a bone, but you know what - you'll survive it, and if you don't just go despite the risk and some fear, you'll never accomplish that goal.
You don't have to make a giant leap out of the gate. But if you don't take those small steps forward, you will never start and never get there. Then take another step. Then another small leap.
Since launch, what has worked to attract and retain customers?
Since launching our initial product, our free streamlined, standardized non-disclosure agreement, we are working from every angle to see what works well. That started with personally reaching out to people I thought would be interested and having one on one discussions and demos.
That's continued but has expanded to broader social media posting, posting on various new product sites/newsletters, etc., and other free and paid channels.
I've also started experimenting with paid advertising and search at a low level to manage costs while figuring out what works for different types of customers. For example, paid search has shown to directly result not only in traffic but signup conversions, since those users are generally looking to fill a current need (a non-disclosure agreement) and we offer exactly that - so there is a tight fit between the customer need and how we fill it.
How are you doing today and what does the future look like?
We are early and continuing to test the product and its marketing and build users. Down the line, we will add other types of agreements and premium features like team accounts, further editing capabilities, etc. Ultimately, we want to build a platform with a wide range of streamlined legal agreements and a large network of users sharing the same desire to make it easy to agree. We want to be known as being the clearest, fastest, easiest, and most trusted way to get legal agreements done for your business.
Through starting the business, have you learned anything particularly helpful or advantageous?
Prototype in Figma as much as you can. It is way faster and cheaper. You may slow yourself down since you want to get building right away, but it is very worth it. Then demo/test that prototype with potential users before you beta test your MVP.
Actually, the more you do upfront in Figma and think through it in advance, the faster your build will be. I built a prior version with just wireframes, then had it built, without being able to demo a clickable prototype. I later realized people would not intuitively understand how to use it. So, I went back to the literal drawing board to create a Figma UI/UX prototype.
What platform/tools do you use for your business?
Vercel, Firebase, Stripe, Google Analytics, Zoho Sale IQ for interactive chat and monitoring site visits, Canva for ad/social post designs.
My favorites are Crazy Egg for recording and visualizing user behavior on the site and Figma for UI/UX and graphics design and prototyping.
What have been the most influential books, podcasts, or other resources?
Easy, Tim Ferriss's podcast was an early and continuing influence. Tim's great himself, but the best about his podcast is the wide variety of incredible guests and topics. They cover so many great subjects for entrepreneurs (or anyone) - creating and building business, investing, the creative process, science, personal growth, health, and fitness. It's a one-stop shop of great content.
Advice for other entrepreneurs who want to get started or are just starting out?
My best advice: start. Take a small step or leap forward. You don't have to make a giant leap out of the gate. But if you don't take those small steps forward, you will never start and never get there. Then take another step. Then another small leap. etc. At some point, you'll have to make bigger leaps, but you've been conditioning yourself along the way to get more comfortable.
Where can we go to learn more?
If you have any questions or comments, drop a comment below!
-
Arthur Swanson, Founder of VirtualTerms
Want to start your own business?
Hey! 👋I'm Pat Walls, the founder of Starter Story.
We interview successful business owners and share the stories behind their business. By sharing these stories, we want to help you get started.
Interested in starting your own business? Join Starter Story Premium to get the greatest companion to starting and growing your business:
Connect + get advice from successful entrepreneurs
Step by step guides on how to start and grow
Exclusive and early access to the best case studies on the web
And much more!