The Cause Update: How We Bounced Back From COVID-19 & Built Something Even Bigger
•
Published: September 6th, 2022
Start A Screen Printing Business
This is a follow up story for The Cause. If you're interested in reading how they got started, published over 3 years ago, check it out here.
---
Hello again! Remind us who you are and what business you started.
I'm Antoine Taylor, founder of The Cause International, a non-profit organization that creates and designs streetwear and offers custom professional outerwear for students all over the nation.
For the last 5 years, The Cause has worked and partnered with numerous colleges, universities, and with over 30% of the high schools in the Los Angeles Unified School District. Our mission has always been to give a percentage of these profits to those in need and make an impact in the world. In fact, in our latest give-back, we were able to donate $40,000 to a village in Nairobi, Kenya.
This included installing a water filtration system in a nearby village, donating school and art supplies to after-school programs, and supplying one of their hospitals with a new hospital bed. To date, we've had the privilege of donating over $80,000 to underprivileged communities.
You can find more details about my background and personal story here.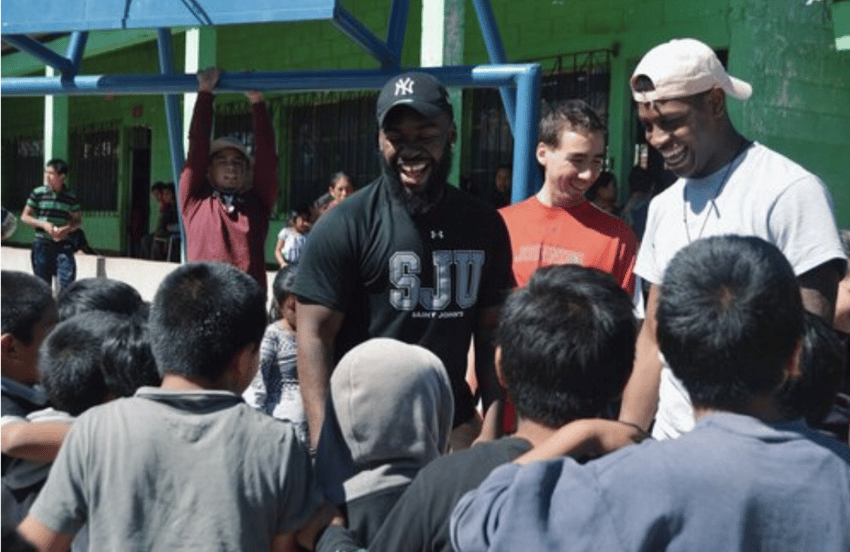 Tell us about what you've been up to. Has the business been growing?
The Cause has gone through major changes in the last year. Right before the COVID-19 pandemic hit, we were geared towards our biggest year yet. We had roughly 180 contracts signed with different sports teams around California, and a team of six entrepreneurs working hard towards the growth of the company. Unfortunately, with the shutdown of all schools and sports, The Cause faced its first big blow. We lost all of our contracts, and my entire team fell apart.
I know that so anyone could relate to the way the COVID-19 pandemic changed the world, and business owners everywhere can relate to how it affected their livelihood. I was in despair, I was nervous, especially because with COVID came so much unknown- nobody knew what the future held for our personal lives, let alone our life as a society. I started to have doubts about my ability to keep the business running. I thought to myself 'is it even worth the fight?'. It felt like every time we made progress, something got in the way. Even so, something in my heart told me to keep moving, to keep pursuing this dream, because I knew that it would be worth it. It already was worth it with all the give-backs we've done up to that date; which in turn sparked new ideas for me.
I started to think about how I could help my people. I wanted to create something that would continue to spread the voice of The Cause and keep the brand relevant. This led to me creating a t-shirt design which I started printing and giving out for free across Los Angeles. Crazy enough, the t-shirt ended up going viral, and I was asked to be at the BET awards. This was a huge opportunity for me and the company, and it was a huge confirmation of my decision in keeping The Cause alive.
I have to say, as hard as it was to see The Cause lose all of its contracts and to watch my team split up, it was one of the best things to happen to me and the growth of the company. Because the schools were shut down and there wasn't a need for sports apparel, I had more time to focus on the streetwear side of things, resulting in the viral t-shirt. In succession, the viral t-shirt led to me selling more streetwear, giving me the means and the momentum to get the business up and running again.
Not only did the pandemic give me time to focus on my streetwear designs, but it also gave me the time to focus on the backend of the business. I was able to put my time and energy into things like our website, operations, product designs, employment details, etc. This is how my business turned from an in-person company to an online company. With this, I was able to connect with the teams and schools that I had previous contracts with because we were operating virtually. I was in a position to set up phone calls, and virtual meetings, and send my clients a brand new website that made ordering their gear efficient and simple. I was also then prepared to build up my team again, and now have a total of 7 employees working for The Cause International. This huge turnaround benefited The Cause monetarily, as well as manifested a massive breakthrough moment in my development as a businessman.
As for marketing, I've started creating testimonials on social media using platforms like Tik Tok, Instagram, and Youtube. I realized that creating content of me in front of the camera talking about how great my company is wasn't going to give me the growth I wanted, so I started getting coaches and players to talk. I thought that if they were the ones to promote our products, more people would want to be a part of the movement. I started looking at things through more of a birds-ey view. What makes The Cause so great? Why do people choose us? They choose us because for one, The Cause is a black-owned business operating out of LA, and because of the work we're doing in the world. We don't just give back to outside communities, we also give back to our clients. We offer them things like free dry-fits for all coaches, free backpacks for every student-athlete, free professional team photos, and we even go as far as offering free vacation stays to college students. This is a significant segment of our marketing strategy.
I got to thinking of potential partnerships and ways I could expand my marketing plan. I ended up reaching out to different hotels and sharing my story, knowing that hospitality might need partnerships and publicity after the pandemic hit. I asked if they would want a partnership with The Cause and if they would be willing to offer free vacation stays for students and student-athletes that help me do my work in the world. I also thought about it this way, the clients that purchase their merchandise through The Cause are helping me change the world, so why not allow them to see the world? Because of this, I was able to partner with hotels in over 35 different countries, leading to even more contract deals, and keeping my existing clients happy.
I believe that the thing that sets me apart from other competing companies is the fact that I genuinely care about the quality of the products my clients are receiving as well as the quality of the experience they get when they order through us. I want to make sure they are taken care of and that I do my best to serve every one of my customers. I also deeply care about the lives of those we donate to. I do what I do so that I can give to those in need. I have given over $80,000 to communities that need it before I'm giving to myself. I know that my time will come, but my top priority is serving my clients and serving the world.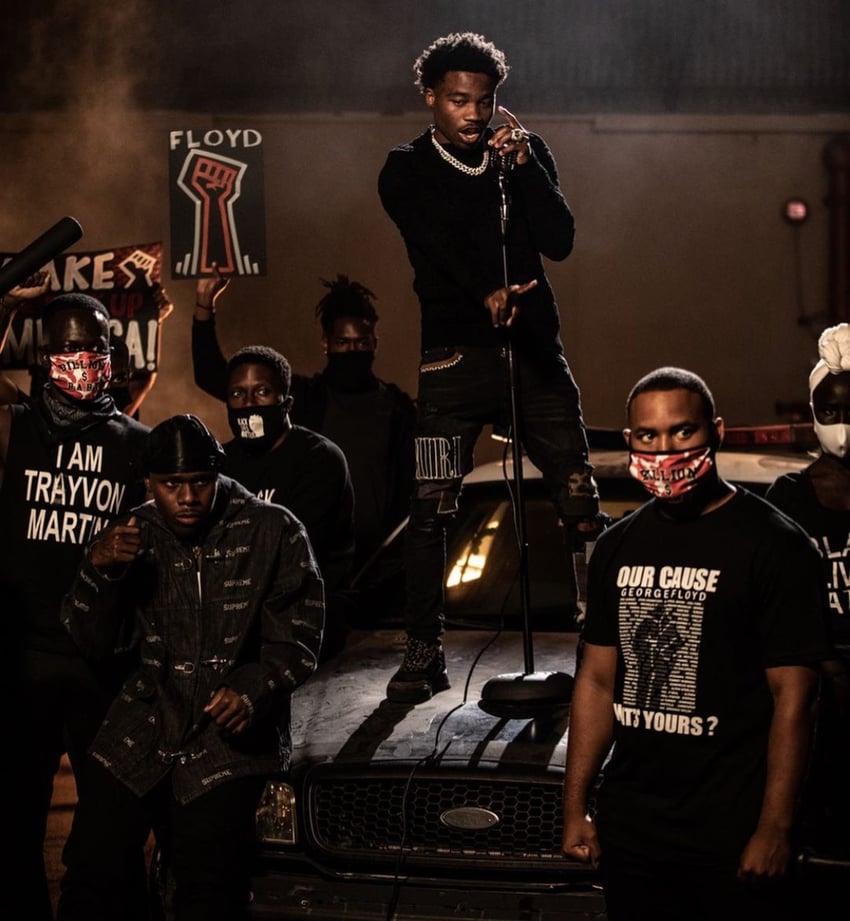 An image of the viral t-shirt featured where I appeared at the BET awards
What have been your biggest challenges in the last year?
My biggest challenge in all of this is something outside of what one would think. My battle wasn't with business details, it wasn't about finding employees or stagnation, or burnout. The greatest challenge was when I realized that I was willing to put everything on the table to make this work. I thought to myself, 'are you ready to give your whole life to something that might not even come to fruition? How long are you willing to do this? Are you ready to lose your entire team and take this on alone? You just lost 180 contracts, nearly a quarter of a million dollars, you still want to keep going? You're 25 and you still live at home with your mom. Is this really what you want to do? Are you The Cause?'
Ultimately, my decision was yes, I'm ready to dedicate my life to something without knowing or even caring what the outcome would be. I'm okay with struggling to break through; even if that means it doesn't happen for another 10, even 20 years from now. For me, the most difficult part of this journey has been the understanding that it was me versus me. I came to the conclusion that me being me, standing in my authenticity, and fighting for not only my dream but for the dreams of those around the world, was the embodiment of our mission.
Being open to constructive criticism allows you to focus on the things that need fixing while building on the things that are working.
What have been your biggest lessons learned in the last year?
In the last year, I've learned a lot, but the thing that has made me grow the most was when my entire team fell apart. I think it was extremely hard for me in general because these were the people I started the company with. We not only created The Cause together, but we grew up together. It was special to be a part of this group because we had nothing, we were a group of broke college students that took the only money we had, and the first thing we did was give to those in need. I never had to worry about money getting in the way of our mission. So when they left, I was scared that I wouldn't be able to find more people willing to serve in that way. Looking back now, I've realized that it all happened for my greatest good, and it has forced me to step into that leadership role. What I thought was the worst thing to happen, actually manifested into my biggest building block yet.
At first, I didn't have enough courage to take ownership of the company. I was nervous to do it on my own, and that's why I held onto the idea of making this happen as a team. In reality, it was leading me to face myself and reevaluate the way I was operating as a business owner. It helped me to take my fearful thoughts and emotions and start turning them into knowledge to make more business-oriented decisions. It allowed me to find balance and through this, I learned the power of boundary setting. If they didn't embark on their journeys, I would have never had the opportunity to embark on mine.
What's in the plans for the upcoming year, and the next 5 years?
In the next year, the goal is to commence The Cause's world tour. We plan to raise 3.5 million dollars which will allow us to travel to 7 different countries; giving us the means to install water filtration systems and give back to the communities in need. To raise this money, we plan on writing for grants, selling more streetwear, and of course, through our partnerships with high schools and colleges. As of now, the tour is scheduled to start in 2024, but I believe we can kick off by next year. Not only do I plan on starting our world tour in the next year, but I also have plans for helping high school seniors from a graduating class by gifting them with free laptops as they embark on their college journeys. We also want to help the seniors with the process of sports recruitment and gaining scholarships from colleges, all for free. If they're not playing sports in college, the plan is to offer them guidance in figuring out what path they should take according to their interests and passions.
In the next 5 years, the goal is to have The Cause not only accomplish the World Tour, but I also see us having an established system in place that allows us to go back to these countries every single year. I envision us organizing clubs at different college campuses around the United States where we help students raise enough money to travel back to these countries and expand The Cause by giving to different communities. In regards to the business end of things, I see The Cause growing into a company with over 50 employees, and having business with high schools and colleges in every state across America. Another huge goal for the company is to have all of our materials sourced in-house and have our factory where all of our apparel gets manufactured and distributed.
Overall, the biggest part of the 5-year plan is to stay true to our mission statement. We must continue to prioritize making a difference, to continue making the impossible, possible. The most important thing for me is that we stay true to who we are and what we do; which is helping people. The legacy I want to leave is one where I change the world through giving, and inspiring people to pursue and give back to their cause.
What's the best thing you read in the last year?
The best book I've read recently is Rich Dad Poor Dad by Robert Kiyosaki. This book has helped me immensely when it comes to managing my money. In the last 6 months, I've saved more money than I ever have in my entire life. I've never been a huge spender, but I've been a huge giver, and reading this book has completely shifted my mindset on how I can give to others.
Additionally, it has helped me learn the importance of time management and why having a team is so essential to success. It made me realize that investing my money can also look like spending it on support and hiring people to help me run the company. It has been a huge stepping stone in me becoming more business-minded and making better decisions financially for both myself and The Cause.
Advice for other entrepreneurs who might be struggling to grow their business?
My advice to other entrepreneurs would be, to go invest and lose some money. I know it might not be what an entrepreneur struggling to get by wants to hear, but it works. This doesn't mean throwing your money into an empty investment, but doing something like a jump-start marketing campaign. I designed, printed, and handed out thousands of free t-shirts across LA which led to my design going viral. I gave out 100 free t-shirts, found 100 people I didn't know, and gave them all a free photoshoot. Staying relevant and making connections are necessary to grow your business. I would also advise that you don't continuously ask what people like about your company, but rather, ask what they don't like about your company or product. Being open to constructive criticism allows you to focus on the things that need fixing while building on the things that are working.
I've also learned that relationships are highly valuable than money is when building a business. Relationships are what lead to money. Meet people, collaborate, be open to new ideas, and work with people you see potential in. Not everything is about the dollar, but about the connections, you make along the way.
Are you looking to hire for certain positions right now?
Yes, I am currently hiring sales representatives. This position is in charge of contacting local high schools, colleges, or small businesses and pitching them our services. Our sales team is all commission based, and can be either full-time or part-time; I leave it up to the individual.
If making money on your own time while you help change the world sounds like something you're interested in, send me an email at: [email protected].
Where can we go to learn more?
Website:
Instagram:
If you have any questions or comments, drop a comment below!
-
Antoine Taylor, Founder of The Cause
Want to find more ideas that make money?
Hey! 👋 I'm Pat Walls, the founder of Starter Story.
Get our 5-minute email newsletter packed with business ideas and money-making opportunities, backed by real-life case studies.