Starter Story Sunday Breakfast #9
Starter Story Sunday Breakfast #9
This is an archive of the Starter Story newsletter, which is read by 87.2K people every week.
In each issue, we share the biggest business ideas that are working today, along with case studies of founders who are making millions every month. Sign up today ➜
---
Sponsored by Semrush
How this website went from side project to 5M visits and $200K/year
They took these 3 key steps:
#1. Used Semrush Backlink Audit to remove links from spammy websites. 
#2. Targeted relevant low-competition keywords; to quickly grow traffic and build site authority.
#3. Achieved a 2.5X increase in page views using Semrush's SEO Writing Assistant.
>> Try these Semrush tools FREE for 14 days and start growing your website.
1. The orange juice
🍊
Why I love this story:
(a) Spotted how the owner of the facility where he trained kept complaining about how much work it was to manage it.
(b) Lean approach. Showed a mockup and gathered feedback before building the whole thing.
(c) Not afraid of cold calling. Besides being tech people, they each call 30+ people per day.
--
2. The coffee  ☕️
With two travel deals websites that at some point were generating $140K/month but were hit hard by COVID, this founder decided to build a portfolio of websites that made money with ads.
Not every entrepreneur has to start from scratch. In the past, we've talked about the benefits of buying a business instead of starting it.
And despite what you may think, is not necessarily as expensive as it may seem.
Why you should read this? The guy provides incredible insights on where to buy a business and what to look for to avoid getting scammed or ending up disappointed.
--
3. The eggs 🍳
It's exciting to see how a business that started 5 years ago in a dining room using a Windows '95 engraving machine is now a multi-million dollar company.
The craziest thing is that they hadn't posted a single pic on Instagram until a year ago.
How did they grow so much? Finding early success on Google Ads kinda made them neglect other channels. Now they've different dedicated websites, presence on marketplaces, etc. And they still have so much unlocked potential to keep growing!
--
4. The toast 🥪
After a life of working on side projects, this one it's going so well that it made the founder leave his full-time job despite not generating enough money to make a living.
I love these niche online tools that do one thing only and they focus on growing them using also one channel only. Focus always wins.
The best thing about this story? With a history of a seemingly never-ending stream of half-finished projects (Sounds familiar?). This guy decided that in order to succeed, he needed to pick something and stick with it. To do so, wrote down criteria and evaluated all the ideas based on them.
--
5. The pancakes 🥞
He started ignited by a passion for photography, but after speaking to lots of businesses desperately trying to sell a photo shoot, he understood what were the business owners' content creation problems.
This guy literally emailed thousands of businesses before landing a customer. He would pick a street on Google Maps and email every business there.
What can you learn from him? The power of perseverance. How someone with zero experience in the business / corporate world has been able to pursue his passion and hustle until he's able to make a living with it.
--
Thanks for reading!
Want to start your own business?
Hey! 👋I'm Pat Walls, the founder of Starter Story.
We interview successful business owners and share the stories behind their business. By sharing these stories, we want to help you get started.
Interested in starting your own business? Join Starter Story Premium to get the greatest companion to starting and growing your business:
Connect + get advice from successful entrepreneurs
Step by step guides on how to start and grow
Exclusive and early access to the best case studies on the web
And much more!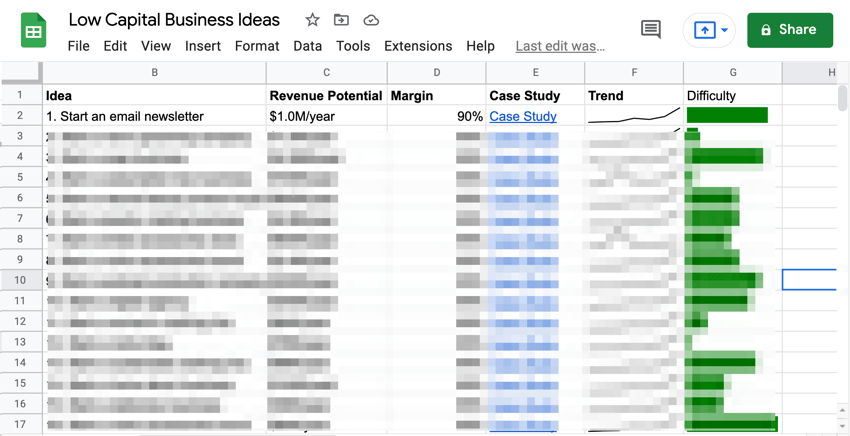 Wanna see 52 business ideas you can start with less than $1,000?
Join our free weekly newsletter and get them right now.
meet the author
David Bustos
Hey there! 👋 I'm David, and if you ever got an email from Starter Story, I probably wrote it. With a background in working with startups and writing, being part of this team is kind of a perfect fit for me.