Starter Story Sunday Breakfast #8
Starter Story Sunday Breakfast #8
This is an archive of the Starter Story newsletter, which is read by 87.2K people every week.
In each issue, we share the biggest business ideas that are working today, along with case studies of founders who are making millions every month. Sign up today ➜
---
What is the Sunday Breakfast?
It's 5 bite-sized case studies to get you motivated for the week ahead. You can read it in 2 minutes or less.
Enjoy it!
--
1. The orange juice 🍊
And the best thing is that he's been able to quit his day job.
Started using no-code tools to optimize some processes at work. Did it so well that people started asking for help. A side hustle was born.
Soon, the $200 gigs turned into $2,000 contracts and eventually reached a position where he consistently earned more money with a customer than what the day job paid in a month.
What's good about this? It's a great case study on how to start a side project that eventually replaces your full-time job. Basically a blueprint anyone can follow.
--
2. The coffee  ☕️
After the Uber rejection, signed up as a freelancer on Upwork to generate some income by working QA jobs for small companies.
Landing a bigger client made him search for other people to delegate some tasks. That's when he realized he was more skilled in finding clients and delegating tasks than doing the technical part of the job.
If you're a freelancer who wants to grow the business, this is a great case study for you.
--
3. The eggs 🍳
I love to see every kind of entrepreneur hustle and pursue his idea.
Despite being a quite technical product, that didn't stop these founders to go around NYC showing it to all kinds of businesses and gathering feedback to improve it.
That commitment paid off and they eventually found a niche that was perfect for it.
The biggest takeaway? No entrepreneur should be afraid of rolling up the sleeves and going out there to get customers.
--
4. The toast 🥪
The initial investment to launch the company was a $12 stock icon, a hosting plan, and a one-page website. That's all they needed.
In the first year, they were already making more money than with their 9 to 5 jobs.
Why should you read it? To see real hard-working people grinding their way to success. Creating content, preparing proposals for potential customers, attending seminars at 2 am,... they have done it all.
--
5. The pancakes 🥞
It's great to start seeing these applications of NFTs in the business world.
This particular NFT has an approximate value of $12K currently, so it seems like a good idea to put it to work and start generating some income thanks to it.
Besides the NFT, this is a great story for anyone working on launching a drink or a DTC brand of any kind. This founder has a very interesting vision of the space and how to approach it.
--
Thanks for reading!
Want to start your own business?
Hey! 👋I'm Pat Walls, the founder of Starter Story.
We interview successful business owners and share the stories behind their business. By sharing these stories, we want to help you get started.
Interested in starting your own business? Join Starter Story Premium to get the greatest companion to starting and growing your business:
Connect + get advice from successful entrepreneurs
Step by step guides on how to start and grow
Exclusive and early access to the best case studies on the web
And much more!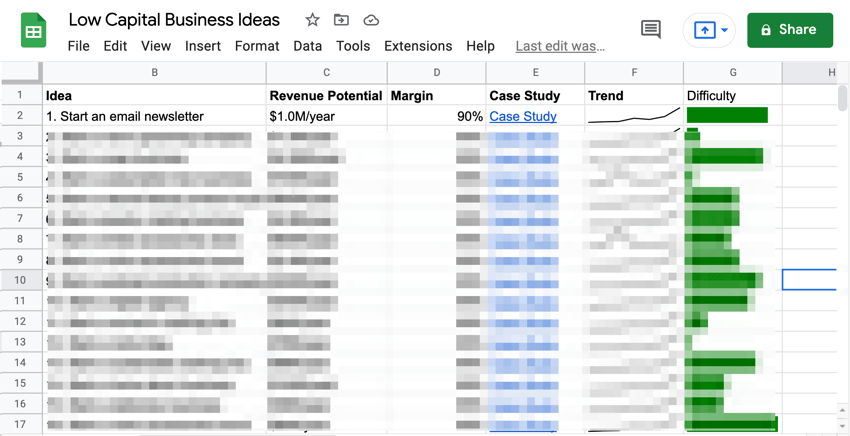 Wanna see 52 business ideas you can start with less than $1,000?
Join our free weekly newsletter and get them right now.
meet the author
David Bustos
Hey there! 👋 I'm David, and if you ever got an email from Starter Story, I probably wrote it. With a background in working with startups and writing, being part of this team is kind of a perfect fit for me.