Starter Story Sunday Breakfast #10
Starter Story Sunday Breakfast #10
This is an archive of the Starter Story newsletter, which is read by 87.2K people every week.
In each issue, we share the biggest business ideas that are working today, along with case studies of founders who are making millions every month. Sign up today ➜
---
What is the Sunday Breakfast?
It's 5 bite-sized case studies to get you motivated for the week ahead. You can read it in 2 minutes or less.
--
1. The orange juice 🍊
A founder that made his first dollar online at 16 and that hasn't stopped building products ever since.
With a portfolio of several online tools already making money for the last couple of years, his experience certainly helped to shorten the path to generating revenue.
The best part of this case study? His Twitter strategy is just great. Searched for high intent tweets and then cold emailed those users. If you're bootstrapping, you really need to see how he does it.
--
2. The coffee  ☕️
Due to a health condition, she took adaptogens and other herbs to improve her health and energy levels.
However, she felt like there should be a more convenient way to take them.
After many rejections from manufacturers, some even laughed at her, she decided to hire a couple of experts and start making them in a commercial kitchen.
Today, her products are sold in 150 major retailers across the US.
Why do I love this? Because this case study greatly represents how a motivated founder can overcome every possible obstacle. She even measured different retailers' shelves to design packaging that would fit anywhere!
--
3. The eggs 🍳
This is one of my favorite products: a reusable notebook designed to reduce waste. Genius.
But as good as the product is, this was still just a side project. Until a few months ago. They decided to invest in a business consultancy agency to better understand her e-commerce business. 
This helped her update and optimize the website to be more search friendly; added more automated email flows and understood better how to improve social media ads to optimize conversions.
The results? In the last 6 months, they've experienced a sales increase of 469%, and the website conversion rate is also up by 126%.
If you're in the e-commerce space, make sure you don't miss this one. If you're not, I wouldn't skip it either.
--
Sponsored by Semrush
SEMRush is the tool I use to grow Starter Story. We grew our traffic to 1.4M/month thanks to it.
Whether you're just starting out or you're already getting some decent amount of traffic, this tool will unlock lots of growth opportunities.
Try it free for 14 days with this link.
--
4. The toast 🥪
After 50 rejections from startups who wouldn't even let him work for free. He ended up going from intern to VP.
When a startup he was working at went out of business, he wondered what was he good at. And the answer was pretty clear: Landing great & hard-to-get jobs.
After all, someone who's landed every dream job without ever filling out an online application certainly has a talent.
And how is he growing 50% QoQ? Well, there's one very popular website where people like to talk about work: Linkedin. He's writing a lot of posts there and it's paying off.
--
5. The pancakes 🥞
With a successful past as a concert promoter, he wanted to put all that knowledge about the youth culture into a business.
The problem? Nobody was buying it.
He even got banned from Linkedin 3 times after insisting so much that people started reporting him as spam.
Landing a small contract with Superdry thanks to a friend's intro was the boost he needed.
Today they have worked with Beats by Dre, Converse, Puma, Timberland, and more.
What you'll learn from this case study: How to channel all the knowledge and experience from your hobbies into a successful business. These guys even developed their own big data tool to process all their cultural intelligence.
--
Thanks for reading!
Want to start your own business?
Hey! 👋I'm Pat Walls, the founder of Starter Story.
We interview successful business owners and share the stories behind their business. By sharing these stories, we want to help you get started.
Interested in starting your own business? Join Starter Story Premium to get the greatest companion to starting and growing your business:
Connect + get advice from successful entrepreneurs
Step by step guides on how to start and grow
Exclusive and early access to the best case studies on the web
And much more!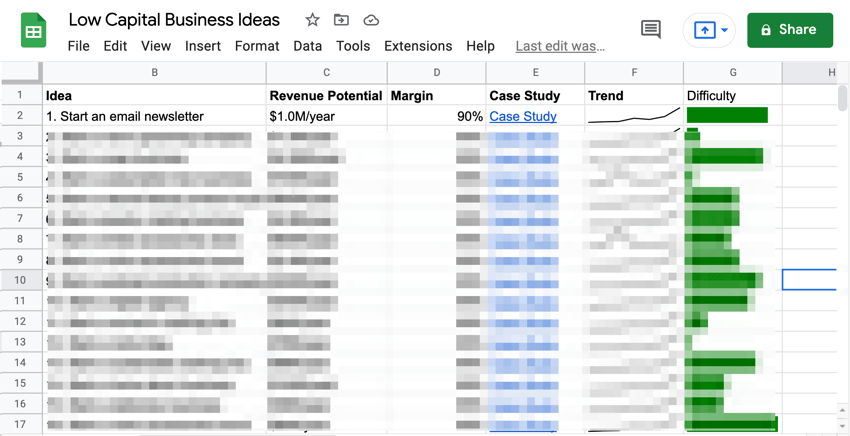 Wanna see 52 business ideas you can start with less than $1,000?
Join our free weekly newsletter and get them right now.
meet the author
David Bustos
Hey there! 👋 I'm David, and if you ever got an email from Starter Story, I probably wrote it. With a background in working with startups and writing, being part of this team is kind of a perfect fit for me.