How We Grew Our Customer Base With Email Marketing [Update]
•
Published: September 9th, 2022
Start A Skin Care Product Line
This is a follow up story for ScrubzBody Skin Care Products. If you're interested in reading how they got started, published over 4 years ago, check it out here.
---
Hello again! Remind us who you are and what business you started.
I'm Roberta Perry, founder, and president of ScrubzBody Skin Care Products.
Scrubz began as a hobby, in my kitchen, because I was on a quest to make a better scrub after purchasing no less than 20 and not being satisfied with any of them.
Believe it or not, the one brand I liked I found at Marshall's of all places and never found it again. I have joked that I never would have started the company if I found that scrub a second time.
My skin was chapped and dry and needed help! Gentle, natural sugar scrubs were the answer so I was hooked! After perfecting the formulation, my later sister, Michelle Tucker, came in to help with her retail sales background.
We grew from my kitchen in 2006 to a modern storefront and production facility in one of the hottest towns on Long Island, NY. We love being in Farmingdale, right in the heart of the action.

Tell us about what you've been up to. Has the business been growing?
Our walk-in customer base and email list have grown since January '22 by over 275 on our regular list and 197 on our birthday list. It is my favorite way to reach out to our customers, so I love watching the "family" grow one new customer at a time.
I send a different email every week. Some are more like stories. Some are product and "Duo of the Month" type announcements. Some are tips and tricks and information I have learned along the way. Everything is geared toward the customer experience. I make sure to create the email in a very casual and embracing tone.
This growth is a happy plus because our monthly sales are down a bit. 2022 has been more challenging than 2020-2021 for most people because there is less money being given out and there has been rising inflation on just about everything.
ScrubzBody products are pampering, and we believe they are a necessary part of self-love and self-care, however, we understand that food, water, family, gas, and shelter come first. Our customers are still coming in, but they are spending a bit less. For example, someone who would buy 3 jars at a time is now buying 2. We are so grateful they are still coming in.
It takes patience. And time. And more patience. It's the best job in the world being an entrepreneur, however, it also can drag you down and be very lonely and frustrating.
Our birthday sale in June and our BOGO sale in November are always our "whew" times which help us balance out the year.
We don't market our sales to anyone except our existing customers.
I see both sales as a thank you for being there for us and staying loyal more than a way to get new customers. We do get new ones too since people bring friends and family along, but the initial sale is only advertised to our email list.
So make sure you get on it!
Our latest product is Cubez Cubed Sugar Scrub. We love how colorful they are in the jars behind the sales desk, and more importantly, we love giving people a better option to wash hands when on the go. Just break off a piece and wash with Cubez instead of commercial soap.
What have been your biggest challenges in the last year?
The biggest challenges for us are the biggest challenges many small businesses are going through. People have uncertainty and general "not sure what's going on" type of issues, so they are hunkering down more and spending less.
We have cut back on a few items we used to carry in the store as gift items, like earrings and neck pillows, and are only concentrating on true bath and body. I don't want to have money on items like that anymore.
Because my business is about taking care and pampering my customers, I have to be both kind and nurturing and remind them that self-care is necessary for head-clearing and self-love, yet I have to be courteous to their budget. It's a fine line.
What have been your biggest lessons learned in the last year?
Not to take anything for granted.
I have real gratitude for my family, friends, and my customers.
I remember that people have choices and when they choose to spend money here that is a big deal.
If it's not working, shift it or shelve it. This goes for business and life.
What's in the plans for the upcoming year, and the next 5 years?
Much of the same at the shop with more customers and more experiences and more private label/wholesale clients.
I just signed another lease for the space my store inhabits so I am excited to grow with the community for at least another 5 years.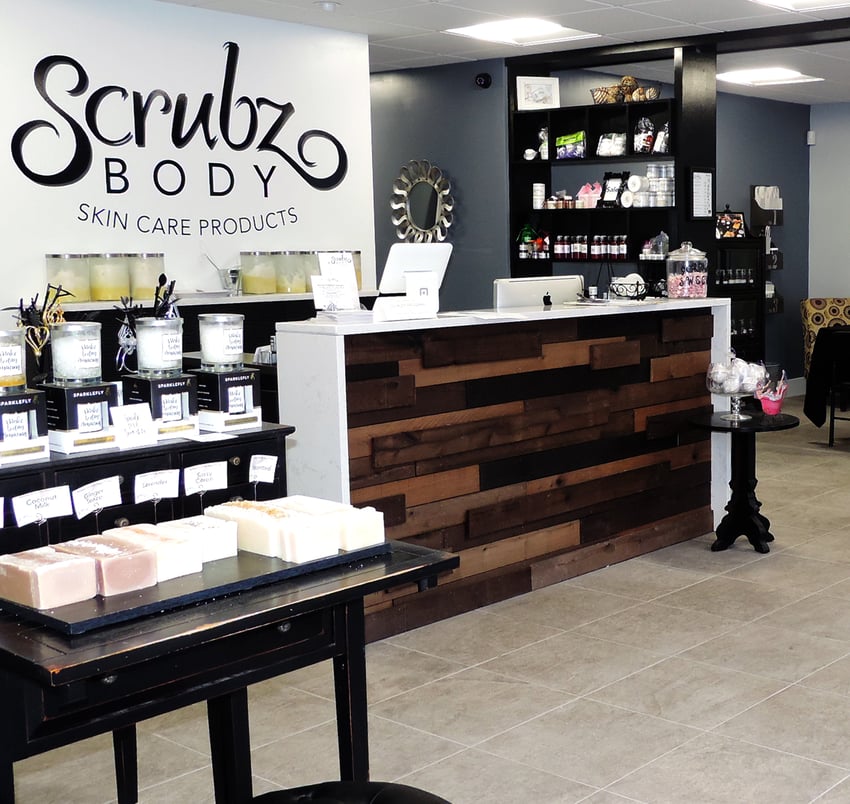 What's the best thing you read in the last year?
There are so many because I am always listening and reading.
I love the journalists and writers: Bari Weiss of Common Sense, Matt Taibbi of TK news, Andrew Sullivan of The Weekly Dish, Ash Ambirge of The Vivette, etc., etc.
To Paradise by Hanya Yanagihara, Cloud Cuckoo Land by Anthony Doerr, Daisy Jones and the Six by Taylor Jenkins Reid, and Stolen Focus by Johann Hari were recent books that I adored and found fascinating at the same time.
Advice for other entrepreneurs who might be struggling to grow their business?
It takes patience. And time. And more patience. It's the best job in the world being an entrepreneur, however, it also can drag you down and be very lonely and frustrating.
It has highs and lows. So my advice is to stick with it. Because if you do, you will succeed.
It doesn't mean you might not have to shift your gears and change things as you grow, but it means you will never let it get the better of you, so you'll always make it better. And you'll be successful in your version of success.
Collect emails and connect with your list once a week or at a minimum 2x a month. It will keep you fresh in their minds and they will love the interesting information you are sure to send them. Don't always make it about selling. Make it about them.
Are you looking to hire for certain positions right now?
Not at the moment. We just recently hired another production and front person. We interviewed 8 people, most of them between 16-20, and hired the greatest 65-year-old woman. She had experience and a desire to work hard. It's been amazing.
Where can we go to learn more?
-
Roberta Perry, Founder of ScrubzBody Skin Care Products
ScrubzBody Skin Care Products has provided an update on their business!
9 months ago, we followed up with ScrubzBody Skin Care Products to see how they've been doing since we published this article.
Over 2 years ago, we followed up with ScrubzBody Skin Care Products to see how they've been doing since we published this article.
Want to find more ideas that make money?
Hey! 👋 I'm Pat Walls, the founder of Starter Story.
Get our 5-minute email newsletter packed with business ideas and money-making opportunities, backed by real-life case studies.