Our CRM Suite Just Hit $3M ARR
•
Published: September 26th, 2022
Hello! Who are you and what business did you start?
I am a serial entrepreneur in the Information Technology industry. I founded UNIS LUMIN Inc., a systems integration company that grew to 5 offices across Canada and $85m in revenue before I sold the company in 2011. In 2008 I founded Promys, a software company that developed a comprehensive CRM/PSA/Helpdesk software package. The product is sold internationally.
I became a member of the Information Technology Association of Canada in 1998. I joined the Board of ITAC Ontario in 2003. In 2005 John was elected as Chair of ITAC Ontario, serving 2 years in that position. During my tenure as Chair, I assisted in ITAC's integration of its Ontario and Canadian financials, worked closely with the Ontario Government to improve their procurement contracts, and participated in the birth of ITAC Health.
In 2005 I cofounded Sutton Medical Systems, an online player injury management system to track injuries and recovery of athletes. Among its customers were the NHL, MLB, and World Tennis. This was a significant move forward by the sports industry to better manage the business and medical aspects of player availability. I sold his interest in 2012.
In 2012 I founded Fivel Systems Corporation, online learning for corporations specializing in the effective adoption of technology and processes we use every day.
Today, I oversee the growth of companies, invest in emerging companies, and serve as an advisor and consultant to growth companies. I have been a speaker at industry trade shows and webinars and contributed topical articles for publication in trade journals.
I have served on the Board of several community and industry associations including:
· Past Chair, 1nservice, an Association of technology integrators in North America
· Past Chair, Haltech, a Regional Innovation Centre for emerging companies
· Past Chair, Oakville Chamber of Commerce
· Past Director, Canadian Healthcare Information Technology Trade Association (CHITTA).
· Past Chair, Innovators Alliance, an association of Ontario's fastest-growing companies
· Past Director, SuttonMed Technologies (professional sports EHR)
· Past Director, Medical Confidence (online specialist service)
· Advisory Board, Lassonde School's Bergeron Entrepreneurs Science & Technology program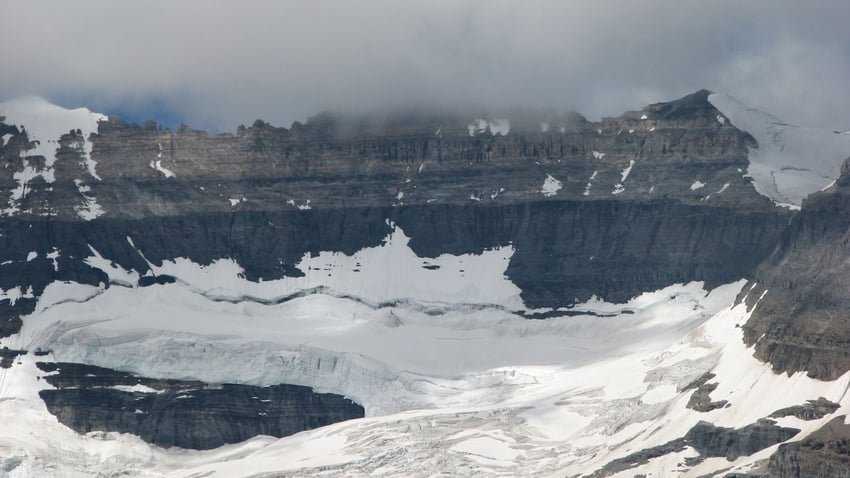 What's your backstory and how did you come up with the idea?
We owned a technology integration company and as we grew we needed a workflow system to offset the complexity of a growing company. We couldn't find a reasonable solution in the market so we had our development team build the first version. We quickly realized that we had a solution for a whole market so we spun the unit out as a focused business.
Never wait until your solution is perfect to go to market. It will never be perfect. Get an early version of a few customers to learn what they liked or disliked so you can adjust your solution.
We had deep insight into the processes and workflows of our customers because we were one of them. We were also fortunate that the integration business had a software development practice so we already understood software product development.
Take us through the process of designing, prototyping, and manufacturing your first product.
As our sister company grew it needed to improve its workflow process to offset the complexity of a growing business. It was using multiple software products for sales, order admin, ticketing, and maintenance contracts. Our first step was to create a schematic of the various functions and how they would flow between each function. We then had to choose the technologies and architecture (cloud vs on-premise) we would use to build the system. Next, we developed each module according to the chronological workflow (CRM, Sales, Order Processing, etc). Our sister company then became the pilot customer to test and work out the kinks. It's common for software products to start out as a commissioned engagement to build a custom solution for a customer. In our case, the customer happened to be our sister company.
Once we had core or basic functions working and tested we then started our marketing/sales campaigns to the target market.
All solutions should start with the problem that customers are experiencing. Why does the problem exist? Why hasn't somebody already solved it? Can we create a simple, affordable solution that solves the problem? Each question should cause you to analyze the opportunity and target customers. Several companies have been led by a customer who asks them for a specific solution that you realize can help a whole marketplace so look at existing customers for clues about growth opportunities.
Avoid the mistake of trying to build a perfect or complete solution. You will never get there. We suggest you build a minimum version of your product (enough that it is viable) to get it into that early customer. There are 2 benefits: one you generate cash flow early and 2nd you get the benefit of customer input into what you might have missed.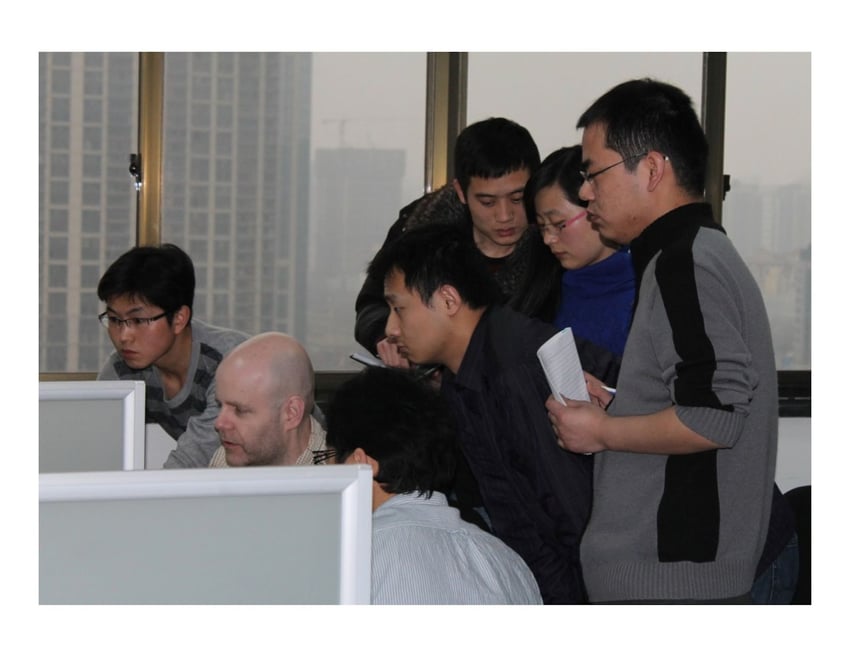 Describe the process of launching the business.
We were fortunate in that we were our customers so we understood many of the problems, challenges, and best practices. However, once you start acquiring customers you learn a lot of what you didn't know or anticipate. Pivoting from your original idea goes a long way in developing the product you want to end up with. There is a saying in the manufacturing sector that says, "It is the 4th version of the product that you intended to build in the 1st place but you needed the other 3 to get there."
At the stage where we had a viable product we then hired our first sales rep whose role it was to start cold calling customers. All of the sales are remote so we took advantage of web conferencing to do discovery calls and demos. We used partner lists that were posted on the websites or their suppliers to identify our leads. We also promoted and received some referrals from our customers. As we built out our list of prospects we then generated useful blogs every 6-8 weeks that were emailed to the prospects to keep our solution top-of-mind when they were ready to buy.
Having been an adviser in incubator centers we broke our clients into 3 stages and structured the services according to the stage the client was at. Pre-product development; Early stage reference customers and Growth stage. Each stage will require different mentors or advisors so you need to think of what skills you need around you at each stage. A fun book on this evolution is called "Selling the Wheel" and illustrates the need to adapt at each stage.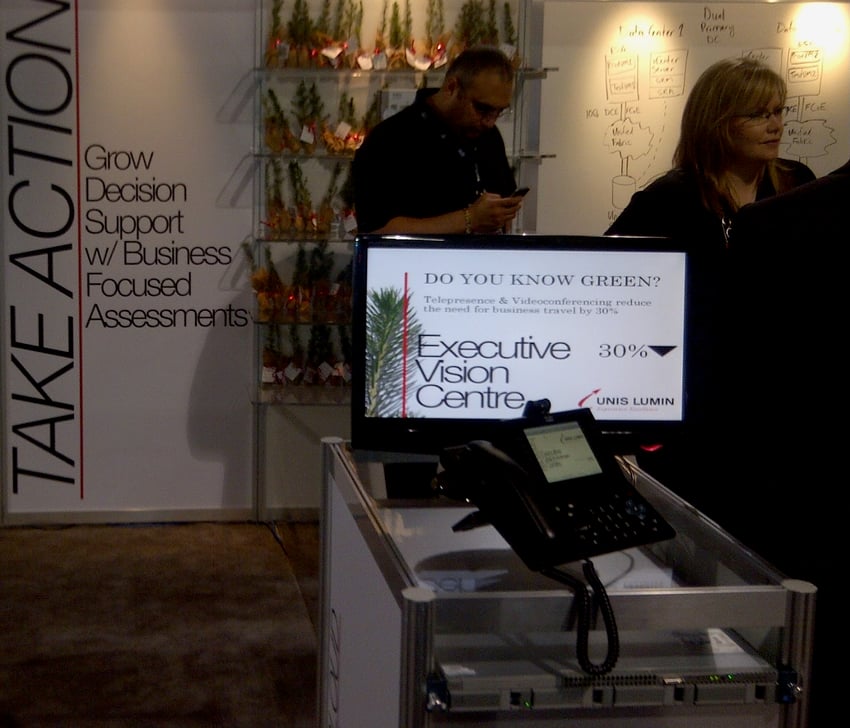 Since launch, what has worked to attract and retain customers?
Persistence and repeated reach out to prospects are key. A well knows marketing adage is that a prospect will only recognize or remember your brand after 7 impressions. A prospect may not be in place to want to consider your solution today but things may change for them in a couple of years so repeated contact is necessary. Keep your messages short. If you have 4 points to make then break them up and do it over 2-3 reach-outs. Being top-of-mind is key when a prospect decides they are ready to solve their business problem. Our marketing touch points use a combination of helpful articles on how to optimize a business and in others, we highlight new functions we have introduced into our solution. You gain trust and credibility when prospects get useful value from reading your blogs.
The frequency of your touchpoints may vary with the length of your typical sales cycle. We find 1-2 month intervals work without irritating the prospect. Once a customer buys your solution (we are a subscription) then ongoing service excellence is important in keeping them. How we respond to every service request is as important as the product itself. We generate a flow of new customers from competitors who don't respond and don't view every customer as important. By having better post-install service we use this as a competitive selling message to help distinguish us from others.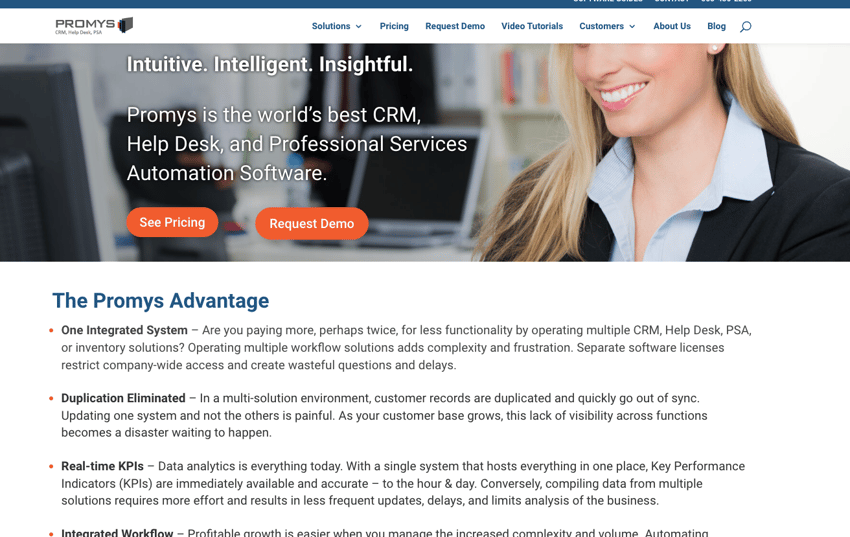 How are you doing today and what does the future look like?
Our target market is very defined as our solution is vertical and specific to service-based businesses. We use direct email targeting a defined list of prospects. The market and competition are continually changing so it is important to see the trends and adjust the product and the messaging. Our customers will always need an efficient workflow system to run the business.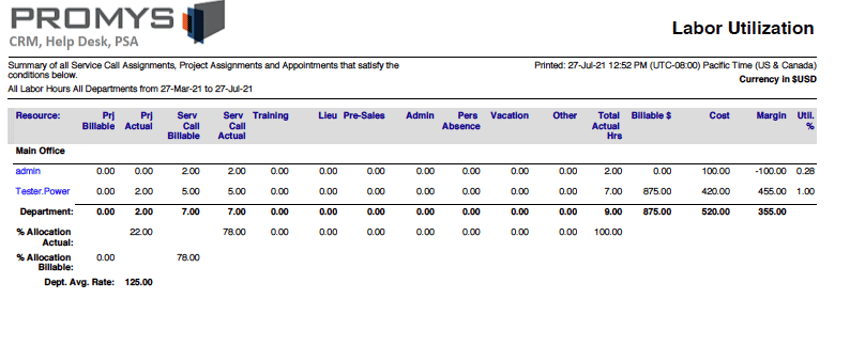 Through starting the business, have you learned anything particularly helpful or advantageous?
While you may have a clearly defined plan to start and grow a business, be conscious of circumstantial opportunities that pop up. For example, a competitor may be failing which can be an unplanned opportunity to gain employees or market share. Boom and bust economies can be both a derailleur unless you see the opportunity and adjust your plans accordingly.
Mistakes and incredibly important as long as you learn the lesson. "Life is a wonderful teacher but it gives you the test before the lesson".
What platform/tools do you use for your business?
I am not sure I have a favorite - they change over time as some tools or products leapfrog forward. It is what is comfortable for the individual.
What have been the most influential books, podcasts, or other resources?
The Innovators Dilemma by Christensen - this is the first in a series he co-wrote and is an excellent understanding of disruptive innovation. Leading Change by John Kotter- is an insightful and tips-filled book on how to create change in an organization.
Advice for other entrepreneurs who want to get started or are just starting out?
Whatever you think you understand about your market or prospects, it will change over the first 1-2 years. Some of your early assumptions will be misguided so you must be open to learning and adjusting.
Never wait until your solution is perfect to go to market. It will never be perfect. Get an early version of a few customers to learn what they liked or disliked so you can adjust your solution. A business axion in manufacturing states that it is the 4th version of a product that you intended to create and the first 3 were part of the journey to get there.
Are you looking to hire for certain positions right now?
Commissioned sales rep - phone sales
Where can we go to learn more?
If you have any questions or comments, drop a comment below!
-
John Breakey, Founder of Promys
Want to find more ideas that make money?
Hey! 👋 I'm Pat Walls, the founder of Starter Story.
Get our 5-minute email newsletter packed with business ideas and money-making opportunities, backed by real-life case studies.