Thank you Klaviyo for sponsoring Starter Story ❤️
Turn one-time buyers into repeat customers. Try the platform loved by 265,000 brands
These Co-founders Who Never Met In Person Built A $5K/Month Billing SaaS
These Co-founders Who Never Met In Person Built A $5K/Month Billing SaaS
Hello! Who are you and what business did you start?
Hi guys my name is Spiro (Ros) Kontoprias, I am from Greece and I'm the co-founder of PriceWell. PriceWell came to life in November 2020 to simplify billing for everyone starting a subscription business.
Essentially, we are providing a personal billing team on a service where anyone can create a billing system for his/her company in less than an hour. Using our platform that requires absolutely no coding knowledge, we've helped hundreds of businesses create powerful billing processes.
From simple payment links that can be sent everywhere on the internet for instant secure payments to portals that allow customers to manage their subscription (upgrades, downgrades, cancellations, change card credentials, etc.), from coupon codes, discounts, and churn management, up until secure invoice issuance and automatic sales taxes calculation, you can create a powerful suite of processes in just a few clicks without any prior knowledge required.
When we initially started PriceWell we were convinced that we are going to sell to small software businesses with tech-oriented teams to save them time from the core product development. Soon, that proved to be as far from the truth as we could possibly imagine, as we've seen demand from actually non-technical people in the subscription services that didn't have the know-how, such as fitness groups, marketing agencies, social media vendors, and advertisers, private discord and telegram groups, as well as a few typical SaaS businesses (Software-As-A-Service).
Our reach and vision for the business broadened even further when we were contacted months ago by a leading discounts marketplace to help their struggling customers acquire and use discount codes. It was our first enterprise sale (of sorts!). Soon a few others followed, and I am excited to say that we are expanding on our vertical and markets we serve, experimenting with different use cases and selling across industries. We've progressed so much more than I could ever imagine a year or so ago.
As of now, our Monthly Recurring Revenue (MRR) stands at $5K with 120 active customers and almost 2,000 sign-ups. We are yet to spend a single dollar on advertising.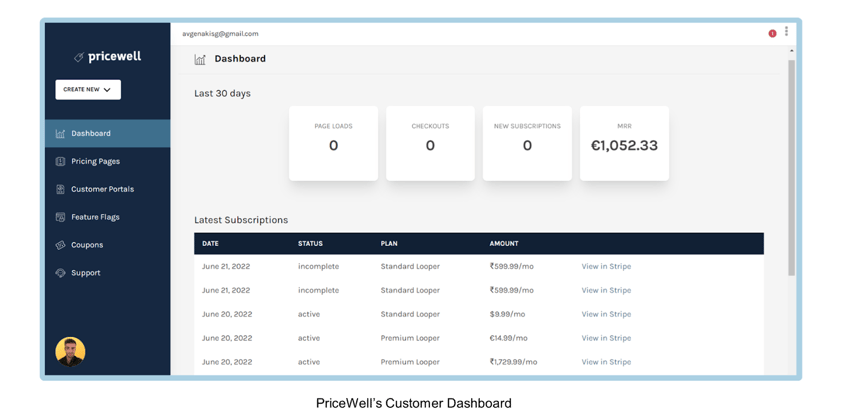 Always keep an eye out for your competitors. Don't focus solely on the product. See how the market is responding to external changes and leverage the situation in your best efforts.
What's your backstory and how did you come up with the idea?
In my 23 years on this planet, I've come to realize that a path can be full of twists and turns but looking straight ahead and focusing on the goal really helps navigate through the uncertainty. With that in mind, I started working at a young age in sales and business development desks, while majoring in Shipping, Logistics, and Finance. I've been entrepreneurial from an early age, creating my first venture at the age of 19. It was a one-man business, when I was trying to familiarize myself with the concepts of programming in Python and the Stock Market. What a challenge to begin with.
I ended up creating a bot to trade in the stock market, later sold to a trading broker in Greece. I fully invested the money I received back into the stock market, with unexpected success, even though my naiveness exceeded my ego at the time…
From the early stages of my life, I've known that I wanted to be an entrepreneur, but that drive truly jumped out when I was first contacted by our third PriceWell co-founder and current startup advisor, George Avgenakis, to work on a social media advocacy project. A team was gathered, and goals, deadlines, and KPIs were set but the team after a while lost its enthusiasm, due to internal complexities, ending up ditching the project.
During my time there, I had to work on integrating the billing system, a task that I initially considered (naively in hindsight) to be simple. For a semi-technical founder like myself, the integration was easier said than done and ended up failing to meet the deadline. During that failure, I was constantly asking myself: "Really there's no better way? How about all those no-coders working on subscription businesses? What do they do?"
After some short research on the problem that I accidentally discovered, I found out that other people were also considering it a tedious and unnecessarily time-consuming process, that takes away time from value creation on the main product. Moreover, most of them being on a tight budget don't want to hire a freelancer developer to do it, especially since they would not have any control over the final outcome.
Even for deeply technical people, like my co-founder Matthew Reid, taking away those 2-3 weeks to set up the billing processes can really make the cut. It is super inflexible, and it takes time from the main development of the product, which effectively leads to slower market validation and finding product-market fit.
Therefore, the need to solve this problem jumped out to me, but it didn't materialize immediately. At least not before our peculiar start:
Matt, my co-founder, and I have never met in person. Our work together is exclusively dependent on Slack and Zoom. Our current advisor, George made the initial e-meet-up happen. As I've previously pointed out, George and I have worked on a previous project together. George spotted an IndieHackers post by Matt who was already working on a similar idea. George contacted Matt who asked whether we would be interested in partnering up. Matt is a software developer with significant payment experience. He has integrated dozens of payment gateways and seen first-hand the difficulties and the time spent in creating a complete, functional billing system for a business.
So, looking back, I considered it a big opportunity, in terms of providing value to the customer (both time and money saved), personal struggle with the problem, the no-code market (highly expanding market), and the mission to empower everyone to start and build a business online. Those things were not enough though, we had to come up with a definite answer whether someone would pay for such a service. That didn't take that long though….
When we were still in the first weeks of PriceWell's inception and we had set up a quick website to collect contacts interested in the product, we got contacted by our soon to be first customer, asking whether he could pay us to speed things up, since he was really interested in launching his paid newsletter using our solution as the go-to monetization option. That was a big aha moment and a clear validation of our efforts and idea. Someone paid with the sole hope and wish to receive a solution some weeks down the road. I remember seeing the first payment rolling in almost falling out of my chair in excitement.
2000 sign-ups and 120 customers later, I can almost say that it was the best decision to continue after that first payment validation to work with a complete stranger.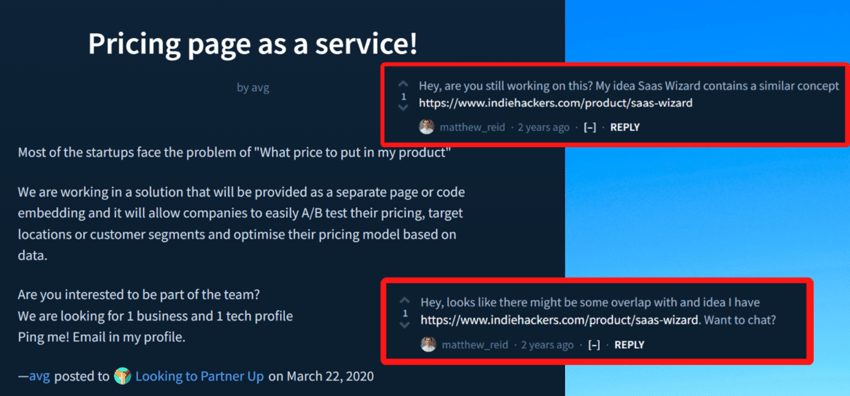 The convos responsible for the idea of PriceWell
Take us through the process of designing, prototyping, and manufacturing your first product.
The first MVP was a landing page that introduced the problem and our proposed solution (we hadn't coded anything at this point). The page collected emails from anyone who was interested. We collected about 50 emails after posting them on indie hackers, hacker news, and Twitter. Not the success we were hoping for.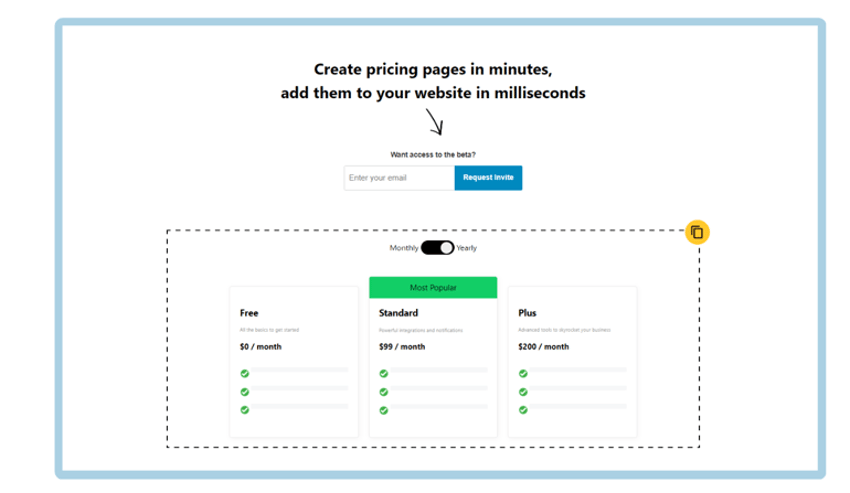 How we started
Although we hadn't collected thousands of emails, we decided that we needed a real working MVP to actually validate demand for the product. The nature of the problem we were solving (billing integration) meant that a no-code tool or a spreadsheet wouldn't work for our prototype. I, being a developer, had to write it all from scratch. George designed a very basic user flow using Marvel and I coded it up.
During this point, I adopted a mindset of leaving out as many things as I could. I picked a tool to handle user registration and used Tailwind CSS for the UI to keep the coding to a minimum. I didn't even build the ability to pay us for the product at this point. After two months of evenings and weekends, we had a working prototype with the most basic functionality. Anything that wasn't our core use case (or what we thought was our use case at the time) was left out. If you had anything other than the most basic pricing structure it wouldn't work.
We launched the MVP to our mailing list and on indie hackers. A few people signed up and immediately hit a bunch of bugs. It turns out that everyone has a slightly different flow when it comes to billing. We added a chat widget to the website and slowly we were able to handle the basic use cases of our users.
Through the chat widget and hundreds of demo calls, we slowly built up a better picture of what our target customer needs. Using these insights we were able to morph the MVP into a fully functioning product. Thanks to building on top of the Stripe API, we can implement new features in hours, sometimes minutes.
Describe the process of launching the business.
Our first attempt to launch PriceWell was characterized by pure and simple A/B testing. (A more appropriate way to say that we skewed things up) We didn't really know how to go about launching a business online, therefore when we got contacted by a deals marketplace that was specializing in about-to-launch businesses, we went for it. After some initial work, in August of 2021, we launched through this marketplace. We generated some early traffic, and we got some sign-ups. The only problem was that those on boarders were all low-quality, inactive users or maybe bots. We ended up posting little to no topline growth – a testament to a failed launch IMHO.
Find what you see yourself pursuing for the rest of your life, the thing that keeps you excited in the night for the next day to shine. Processes will follow, but if you lack motivation and drive, there are not many things that can go right.
A thing that I consider up to this day a bit of a letdown is that we haven't tried out launching on ProductHunt yet. ProductHunt is the go-to place to launch an online software business and I still believe that we could have done great if we tried our luck there. Never too late I suppose.
Since launch, what has worked to attract and retain customers?
In July 2021, after the PriceWell launch letdown, we identified that most of our target customers seek help on Fiverr, Upwork, and other freelance marketplaces to integrate Stripe and other billing providers for their business. Therefore, we created a gig on those platforms with the lowest cost possible (if there was a free gig, we would opt for it), in order to test the product and acquire our first users - super manually.
Furthermore, we explored their needs and requests while talking to them. That helped us navigate subsequent product developments and create value where there was a need for it. Even though early on, things were moving slowly, and we felt like we were doing any to no progress at all, we kept pushing.
Things in life are not always working out immediately, and start-ups are no exception to it. Take your time and believe in your value proposition – honestly just keep pushing! -. In the words of YC founder, Paul Graham start-ups need to "do things that don't scale" to reach scalability down the road. What has worked so far for us to retain our existing customers base is to:
Respond fast and happily to customer calls (ALWAYS talk with your customers)
Ship fast and make them commit
Let everyone else know about your new developments
Surely others face the same problem too.
Eventually, we moved out of Fiverr, mainly because other distribution channels (fewer manual processes) came afloat. What has worked splendidly for us so far has been social media like Twitter, Reddit, and Indiehackers, cold emails, and ads in paid start-up newsletters? It hasn't been a purely organic growth strategy, since some forms of paid growth have occurred, but the CAC/LTV has been kept impressively low, a fact that allows us to be a bit more affluent with our services spending.
5 months ago, we started also experimenting with content creation and programmatic SEO, and things went above and beyond our expectations quite fast! We've been featured in a few high-rank Hacker News posts and people have been sharing our content on blog posts, building a relatively strong backlink library. It is a long process, but results are rolling in quite nicely once you get it going. An area you should be experimenting with frequently and not be afraid to push the boundaries of your efforts.
We are currently going full force on content creation, and active cold sales since we've seen that those strategies have been working most effectively for us.
One tip that I'd love to share with the readers about our SEO strategy is that content takes time and there is no instant gratification. However, a steady, meticulous process and patience render truly awesome results. Take your time, provide value to your readers and people are going to share your content faster than you imagine.
Below you can see the Analytics of our past 24 weeks once we started active sales and content creation: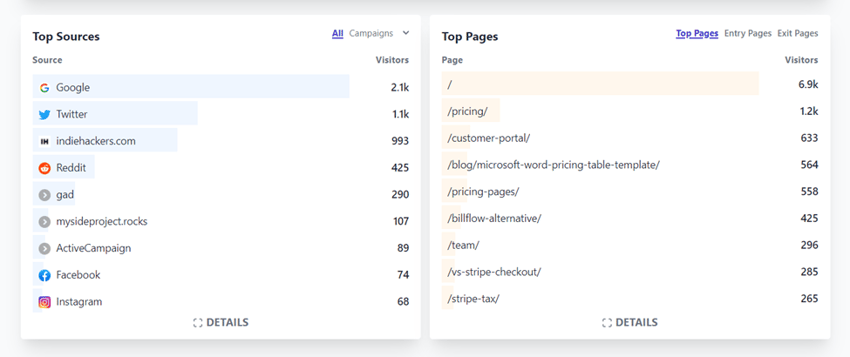 In efforts to differentiate our distribution and to attract well-suited traffic, 2 months ago we started running ads. It was a particularly interesting kind of event, since one of our main competitors shut down, freeing up space for its unhappy customers. We took advantage of the situation and we quickly targeted Google Ads of our competitor's alternatives. People were rolling in our website to give our product a try. Ended up acquiring north of 15 customers by running low-competition ads.
One of the ads redirects URLs
Lesson learned: Always keep an eye out for your competitors. Don't focus solely on the product. See how the market is responding to external changes and leverage the situation in your best efforts.
Closing in on our growth efforts, we decided recently to associate ourselves with active sales using cold email outreach. We've gone with this decision after our first Enterprise Sale -of sorts- rolled in. A true eye-opener on the kind of markets we can serve. From that point onwards, we tried to go upmarket and help medium-sized subscription businesses work around their billing management systems. Already we are prospecting a few top-tier subscription services in Greece and other parts of Europe. It's super time-consuming since a sale of that sorts requires a lot more scrutiny than a typical SMB sale, but we are confident that we can serve this kind of market with the same efficiency that we currently are in our niche.
If I had to offer a piece of advice for every start-up founder out there, I would passionately suggest NOT expecting growth trajectories of other (similar) projects posted on social media to look like yours. Everybody is running a different timing and different inputs, so I learned to focus solely on what we do as a company and not compare our growth to any other project out there. Makes your mental state leaner and your vision cleaner.
How are you doing today and what does the future look like?
PriceWell today, is a company that generates north of $5K per month while having essentially a lean running cost structure. We are proud to say that our profit margin stands at 88% with the main cost drivers being hosting fees, subscription fees, and ads.
Our current goals for the second half of 2022 are to improve efficiency on all fronts, from the distribution of our services to the cost structure we are operating in. Specifically, we are looking to double our MRR to $10K by the end of the year, while we expand on our SMB segment. Due to the nature of operating in this high-risk environment (most of our customers are solopreneurs or small teams) we are looking to solidify our place within the billing infrastructure services for larger-sized companies. Additional KPIs we have put in motion are decreasing our churn (smaller-sized businesses have a higher probability of default or pricing model swift), which currently is at 15% swinging month over month, and increasing our conversion rate to 10% from 5%.
On our traffic front, we are looking to hit 1,000 visits on a weekly basis consistently and to increase the average time on the website from nearly 2 mins to 3 mins.
I truly believe in the creator's economy, and I think that PriceWell can play an important role in expanding the boundaries that people can get paid online, as the range of founders and creators expands and diversifies. As we try to enlarge our business both in the subscription business and in the digital creator's services, I see myself staying with PriceWell and trying to grow with it, as we move from totally asynchronous work to establishing a base and enriching our team.
Thankfully my co-founder Matt shares the same vision and passion with me, and he is committed to making PriceWell succeed.
Our 2023 goal, which I can characterize as our long-term goal is to serve 1000 customers across industries and to be able to clear through our PriceWell products more than $10,000,000 for our customers.
Through starting the business, have you learned anything particularly helpful or advantageous?
Ask an entrepreneur, a question on mistakes or poor decisions and they can come up with a list just from the last month. The nature of the business is such, that you need to take life-changing decisions frequently and poor judgment calls are surely in the game.
Since we started PriceWell we have made a lot of mistakes, but constant touch with the business helps you dodge many close calls, as you improve throughout the process. One of the greatest lessons I've learned while co-running PriceWell was to make the difficult conversations early on. I consider it the bread and butter of entrepreneurship and I can stretch it to the extent that the more difficult conversations you make the higher the chances you reach the famous "default-alive" state that YC is so often talking about. Conversations like those can be equity share, business model failures, enlarging or reducing the team, taking the blame for a partnership failure, etc.
A definite missed opportunity for us was a couple of months ago when we got the chance to acquire market share from our competitors -one of them left the market- we did not push harder. We did not commit to the extent that users consider us the no-brainer option. Things should move fast in an early-stage organization, and we surely came up short on that.
On the other hand, partnering up with the largest deals marketplace on the internet to help users handle their billing details was a huge opportunity for us. It was one of those times that timing and conditions aligned ideally for us to close that deal. Not only did it give us an important topline boost, but it added to our legitimacy as an organization and helped us reflect trust in the world.
What platform/tools do you use for your business?
Throughout PriceWell's life, we have tried a bunch of tools to make operations run smoothly and optimize processes. Some with more success than others. Based on our beliefs and passion for the creator's economy and in an effort to help as many founders as we possibly can, we opt for tools created by fellow indiehackers or bootstrapped teams.
My personal favorite must be Trello, a famous productivity app, that helps us align thoughts, comments, and suggestions with the main product development in the fastest and most efficient way possible. We have based our day-to-day tasks on the app, as well as our public and private roadmaps. Literally, opportunities are endless.
A close second for me is Airtable by Howie Liu. Airtable is an Excel on steroids, that finds itself at the crossroads between a spreadsheet and a database. From user and market research to CRM and competitor tracking, I have based all my previously held, slow Excel tasks on this must-use app.
Other favorite tools:
📈Retool: Internal Dashboards and Monitoring
❓Freshdesk: Knowledge base and customer helpdesk
💹Chartmogul: Subscription Analytics Platform
📬Sendpulse: Distribution and Delivery Platform / Welcoming
✍️Netlify: Content writing and hosting platform
🏛️Slack: Mobile HQ
🚦Plausible / Hotjar: Traffic Analytic 👨‍💻Current Tech Stack
Frontend - React
Backend - Node.JS & Postgres with Google Cloud Functions and Push Queues
What have been the most influential books, podcasts, or other resources?
Finding your passion takes time, but as soon as you find what you want to see yourself pursuing for a large chunk of your life, you feel ready to get down to work and soak up as many resources as you possibly can. That's actually what happened to me in early 2018 when I started discovering the treasure of resources online. After almost 5 years, I have a limited suite of resources invaluable to (I hope) many entrepreneurs.
The weekly addiction for me is the All-in Podcast, for a quick yet wholesome round-up of things that matter at the crossroads of economy, technology, and politics.
Another one is Honey, I blew up the business by Dan Kirby that turned his entrepreneurial ordeal into a delightful, easy-to-follow journey and is on a mission to help business owners avoid self-inflicted sabotage.
Last one on the podcasts in Masters of Scale by Reid Hoffman, LinkedIn co-founder, that with the company of top executives and entrepreneurs talks about leadership, strategy, management, and fundraising to scale.
As for books, the single most important piece for me is Zero to One by Peter Thiel, co-founder of Palantir, Paypal, and legendary Silicon Valley investor. A great introduction to the intricacies of the start-up world and a great mental model for stagnation and vision. Definitely a suggestion!
Advice for other entrepreneurs who want to get started or are just starting out?
Even though I am young, and I don't have that much experience in the nuances of running a business (learning every day), I can definitely say that business takes passion and passion takes persistence.
I am lucky enough to claim that I have discovered my path from early on. It's that strange kind of feeling of waking up every day with a single thing in your head: for me is PriceWell and helping even more people take up enterprise billing. I am sure for many of you out there your business is your passion.
Find what you see yourself pursuing for the rest of your life, the thing that keeps you excited in the night for the next day to shine. Processes will follow, but if you lack motivation and drive, there are not many things that can go right.
Don't waste a single day, keep pushing to introduce your own vision for a better world. Provide constant value and get the gratification you deserve for it. Don't forget, money is the means, not the end goal. I like to think of it as a voting mechanism, the more value you provide to others, the more they will vote for you with their money – the essence of free choice.
If there's a single thing that you need to start things going, then that's definitely the passion. Find what you love and not a single day will pass without feeling you've made a contribution. Truly wholesome feeling indeed.
Where can we go to learn more?
If you have any questions or comments, drop a comment below!
-
Spiro Kontoprias, Founder of PriceWell
Want to start your own business?
Hey! 👋I'm Pat Walls, the founder of Starter Story.
We interview successful business owners and share the stories behind their business. By sharing these stories, we want to help you get started.
Interested in starting your own business? Join Starter Story Premium to get the greatest companion to starting and growing your business:
Connect + get advice from successful entrepreneurs
Step by step guides on how to start and grow
Exclusive and early access to the best case studies on the web
And much more!
PROMOTED
Did you know that brands using Klaviyo average a 95x ROI?
Email, SMS, and more — Klaviyo brings your marketing all together, fueling growth without burning through time and resources.
Deliver more relevant email and text messages — powered by your data. Klaviyo helps you turn one-time buyers into repeat customers with all the power of an enterprise solution and none of the complexity.
Join Brumate, Beardbrand, and the 265,000 other businesses using Klaviyo to grow their online sales.
Starter Story
Wanna see 52 business ideas you can start with less than $1,000?
Join our free weekly newsletter and get them right now.