Thank you Klaviyo for sponsoring Starter Story ❤️
Turn one-time buyers into repeat customers. Try the platform loved by 265,000 brands
On Launching An Event Planning Mobile App
On Launching An Event Planning Mobile App
Hi, my name is Adnan Kharuf and I am the founder of Plans Collective LLC. Plans is a mobile app that provides users with a dedicated social platform for organizing and attending events. Plans app goes beyond traditional event organizing functionality. It offers real-time features that assist hosts and guests to manage, track, communicate, and share before, during, and after an event.
Our users are organizers in their own social groups. For example, Family members organize their holiday get-togethers, sports players organize public events for pick-up basketball or golf games, and school clubs organize their team meetings. These are just some examples of the types of events that can be organized on Plans.
Our mission is to bridge the gap between social media curation and experiencing meaningful events in real-life. The first version of Plans app launched at the beginning of Oct 2021, and after the first 4 weeks of launch, we gained over 250 users and over 100 created events.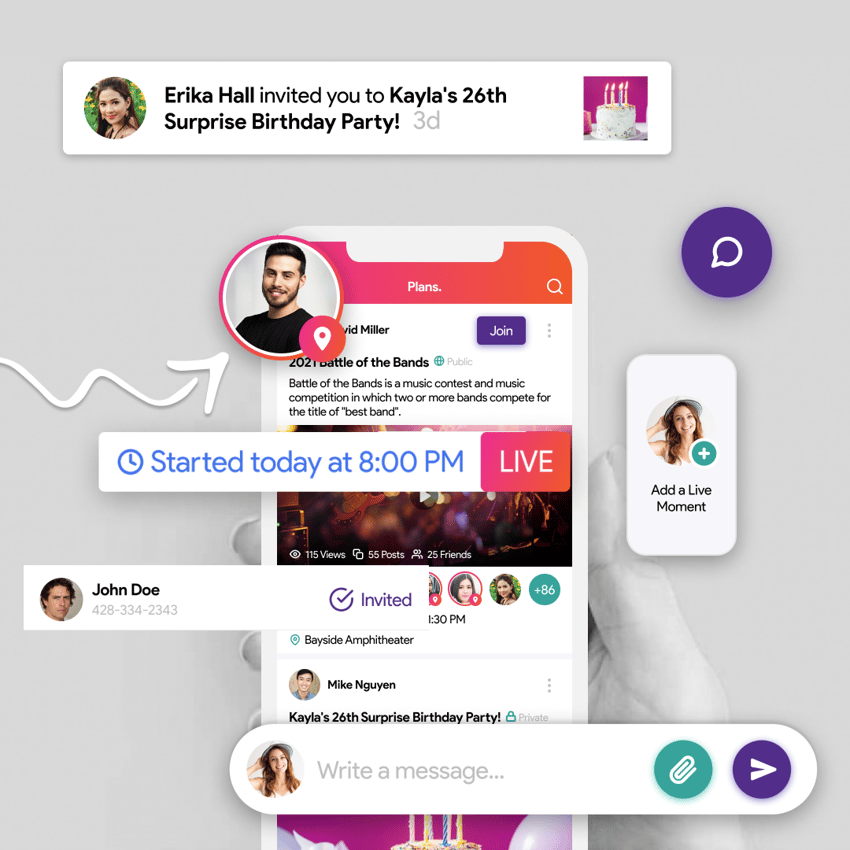 What's your backstory and how did you come up with the idea?
Plans are my 1st startup company. My focus has been on product management, marketing, QA, and UI/UX. With 7+ years of technical experience in product management, technical marketing, product marketing, and technical support in the enterprise CyberSecurity industry, I have expertise in defining a product's vision based on user problems and feedback. After completing competitive analysis and taking user surveys, I found a gap between social media curation and event experiences. Many users I surveyed find that current event apps do not provide a focused platform that provides the right amount of event engagement and socializing before, during, and after an event.
Adapting and learning from your failures is the key that's going to continue driving you towards success.
Some of my first ideas of the app came from my personal experiences as a young adult growing up in the Bay Area, California. My friends and I had a difficult time finding things to do and making plans. I always believed that it would make it easier for us if there was an app that could not only organize plans but provide authentic real-life events. I am an introvert, being in social settings has always been challenging. Social media can force us as a whole to put on a facade and it can create distance instead of real connections. It's more challenging than ever to distinguish between what's real and fake. This only made it more difficult for me to put myself in social settings throughout the years. In my opinion, the best way to solve it is to bring back meaningful connections and experiences. These are some of my personal experiences that have influenced Plans from an idea to a product.
Also, as we are transitioning out of quarantined society, meeting up with friends, planning get-togethers, or even having fun in a social setting can feel disorienting and stressful. It's been over two years since our lives fell into the new normal of social distancing. To come out of it can be a bit easier with the help of Plans app.
Currently, I am working as a Senior Partner Engineer and also the founder of Plans, which makes my schedule pretty tight. Managing two jobs is not easy! It is important to me that I make deadlines on time. Working smart is an important skill to have when trying to balance between two jobs. I hope one day, Plans will get funded and I can focus my attention on pursuing entrepreneurship full-time. There is nothing more exciting than seeing the product you took from idea to production, become adopted and used by users around the world.
Take us through the process of designing, prototyping, and manufacturing your first product.
The initial process of the Plans app started with a competitive analysis. I researched competitors in the space of events and social apps. I reviewed their feature sets, user feedback/reviews, gaps, and cons/pros. Also, I started surveying and discussing the app idea with our potential audience. After collecting this qualitative and quantitative data I built a requirements document to highlight the main features of Plans.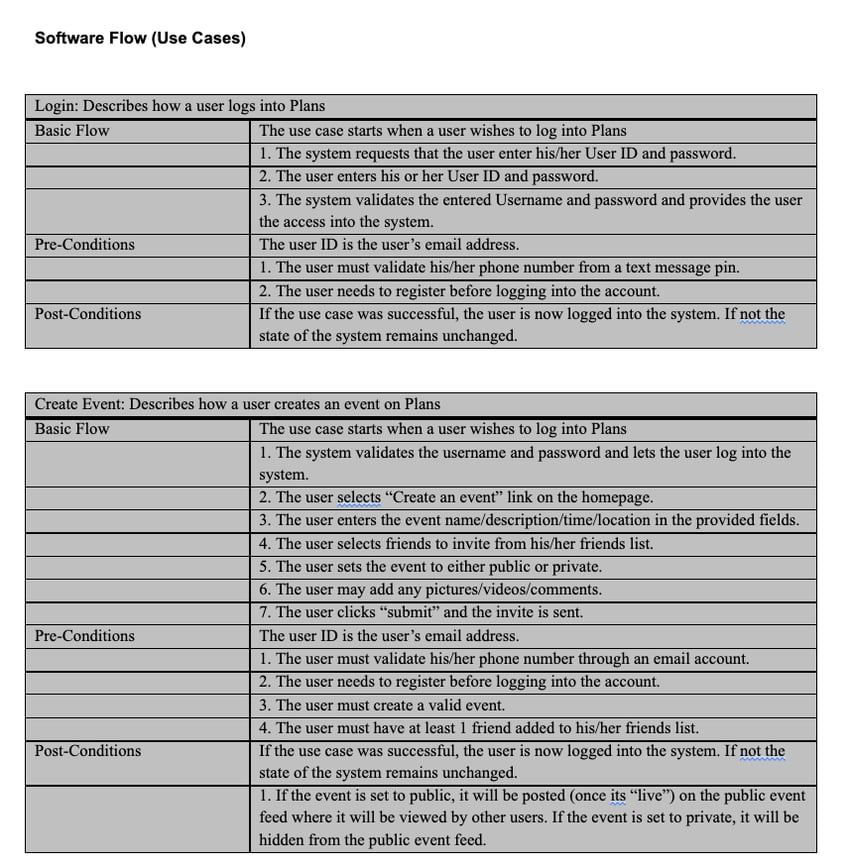 After completing the requirements document, I began working on the early set of potential user interfaces for the MVP. Your first version of the app should always be an MVP. An MVP is a product that has enough features to attract early-adopter customers and validate a product idea early in the development cycle. It can help minimize the time and resources you might otherwise commit to building a product that won't succeed. I learned that early on because it was a challenge to prioritize which features to include and not include in the MVP.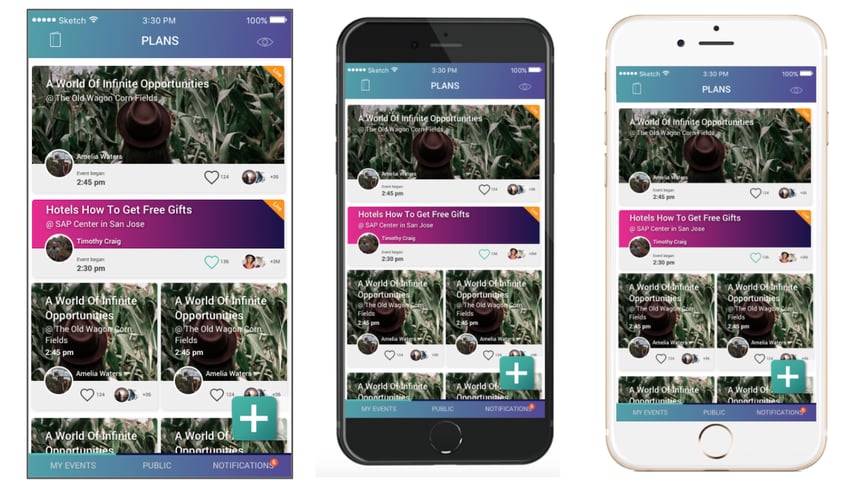 After the initial set of wireframes, I began interviewing to hire a developer to begin developing the MVP first version of the app. After the mistake, I made by hiring a development agency and losing some money with that contract. The initial estimates for the MVP development of the app were going to cost about $30k. I decided to bootstrap the costs and begin the development of the app. It took about 1 year to complete development for the backend, iOS, and Android apps.
Describe the process of launching the business.
Before our public launch, we ran a beta of the app to a small audience of friends and family. This was very beneficial because it helped us find unknown bugs and make minor enhancements and adjustments based on user feedback. I believe before launching a new feature or a new product, running an alpha or beta phase will help increase the probability that the product will succeed when it is launched. Beta testing evaluates the level of customer satisfaction and verifies readiness to release or deploy a new product, feature, or improvement. The goal for us was to gather feedback and make a judgment as to whether or not it is ready to be released into the wild.
After a successful beta phase, we began running a coming-soon campaign to generate buzz and excitement before the public launch. We used our social media pages to show a sneak-peak of various features of the app. You should always create some type of pre-launch marketing campaign for your product. This will help make the launch more successful and allow you to gain users before your product is even out yet.
On the day of launch, we immediately started word-of-mouth marketing to friends and family. We started sharing app launch information on our social media pages and passed out flyers at public locations. After the first week of launch, we were able to adopt over 150 users.
At the moment, I am still bootstrapping the company. Everything from ad budget, developer salaries, back-end services, and more. As we continue to work on our marketing strategy, my goal is to start pitching the company to investors to raise some funds to help relieve all the financial pressure that I'm currently feeling. I regret not starting this process earlier, because you may think that you can handle it all on your own. However, in reality, it starts adding up as you grow, there are many unexpected costs that you don't plan for.
Video demo:
Since launch, what has worked to attract and retain customers?
There are so many different types of marketing strategies when it comes to apps and all experience varying levels of success. We have built out our marketing strategy to use different types of tactics for short-term and long-term growth. Below are the current strategies we are focused on:
Free app: I believe we have been able to attract and retain a lot of users because Plans app is free to download and use. Other event planning apps on the market are usually not free, where customers are charged depending on the number of guests they invite or the types of features they use. Having a free platform has allowed us to reach a bigger audience.
Word-of-mouth marketing: As soon as the Plans app went live in the App Store, we immediately started our word-of-mouth campaign. We shared the news with friends, family, and reached out to as many people as we know. Also, created and passed out flyers at different locations such as college campuses, coffee shops, and
Retail stores. This helped us build our initial user base of about 150 users.
Fyler: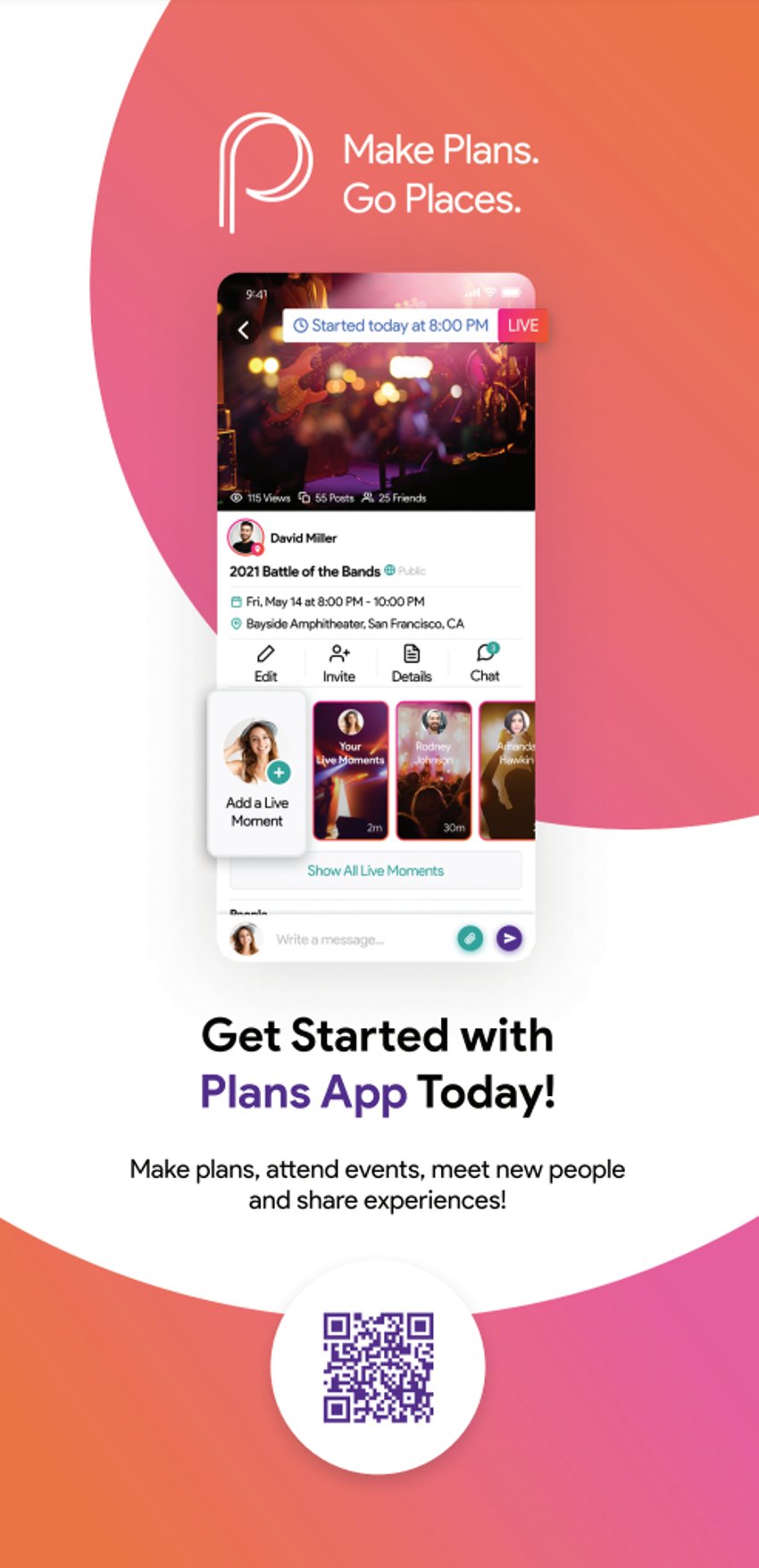 Social media pages: Our social media pages on Instagram, Facebook, and Twitter have been up almost a year before the Plans app launched. We ran a coming soon campaign that helped us build a following and excitement for the launch before it happened. And after the launch, we were able to convert some of those followers on social media to users on the app. We recommend you build out your social media pages well before you are getting close to launching a product since it does take time to build a following.
Facebook and Google ads: We recently started to incorporate ad campaigns using Facebook and Google. With small budgets, we can reach a bigger audience and generate more app installs. As we continue to grow and receive funding, we can continue to increase the ad campaign budget. As of today, we have been able to generate 150 downloads from a combination of ads on both platforms.
App landing page and blog: We designed and developed our app landing page to be very simple and easy to use. On the home page, by first glance, the users know exactly what the app is about with the simple text description and video demo. Also, they know exactly how to get the app, using the App Store links, send to phone link, and the QR code. Making it look as simple as possible has helped us convert web traffic to app installs faster. We also keep an up-to-date blog that has over 150+ posts that cover the latest on event trends, apps, tech, and more.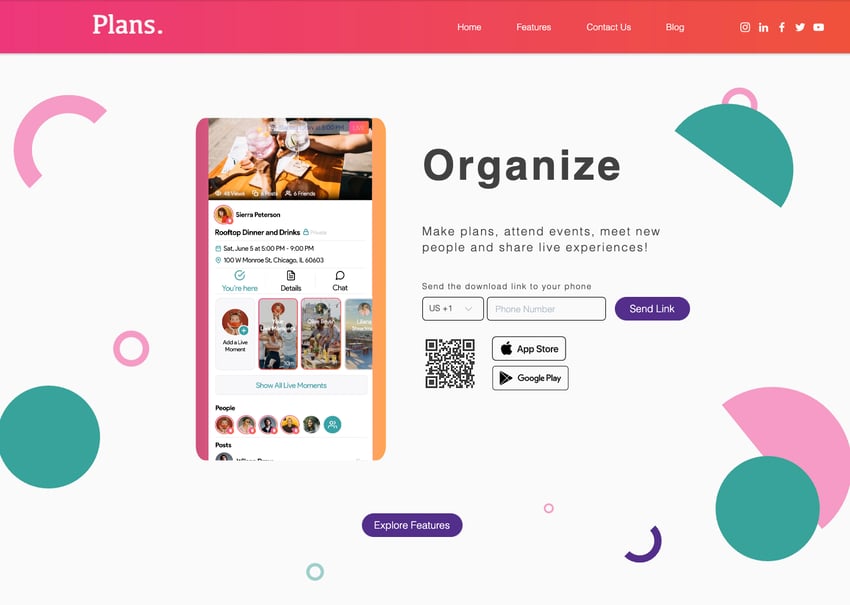 App store optimization: App Store Optimization (ASO) is an important process for us to gain visibility in the App Store and Google Play Store. Using helpful tools such as AppTweak, we continue to improve ranking by identifying and utilizing keywords that will help Plans app rank high in the App store. There are a lot of different strategies when it comes to ASO, and we are slowly trying out different methods to improve ranking in the long run. A recent achievement is Plans app is ranked #172 in the Google Play Store for the Events category.
Media coverage: Some traffic has been generated from our initial press media coverage. We are still working with an agency to grow our media coverage and reach out to more journalists. However, up to now, we are happy with what we were able to achieve from conversions from the press on Product Hunt, The WebApp Market, and Beta Page sites:
Promo campaign: We just launched a promotional campaign that offers anyone in the US to host an event, invite at least 25 friends and get $50 towards their event. We are hoping the campaign drives interest and new user adoption to the platform. For anyone interested to learn more about the promotion, visit our page here:
How are you doing today and what does the future look like?
Almost 2 months since our launch on iOS and Android, we have gained over 500 users with over 150 created events. Recently, we have expanded our availability from the US-only region to worldwide, hoping to gain a faster adoption rate with a bigger audience. We are in the process of working on our marketing strategy to continue driving adoption, exposure, and brand awareness. Some methods of marketing we are using include, social media marketing, website SEO, Appstore and Google Play Store ASO, Facebook ads, Google ads, promotions, email marketing, and press media exposure. Having realistic expectations and being patient is an important factor that is helping me stay focused and not become discouraged. No matter how good a product is, it also needs time to gain exposure and adoption in the market.
Currently, I manage a team of 5 full-time and part-time contractors; 1 UI/UX designer, 1 mobile developer, 1 social media specialist, 1 writer, and 1 SEO/ASO specialist. The main focus will continue to be the marketing, however, we are also working on the v2 of Plans. Version 2 of the app will include a complete redesign of the UI with new features.
In the short term, the goal is to reach 1000 users with a 25% retention rate. For mobile apps, it's important to understand how many active users you have to get a general sense of what your engaged audience looks like. After all, users downloading and keeping your app is one thing, but your engagement efforts are going to bear more fruit if your audience is actively making use of it regularly.
In the long-term, as we continue to innovate and iterate Plans App based on user feedback, I hope to see Plans App become a popular event tool used worldwide by users in all different types of social groups.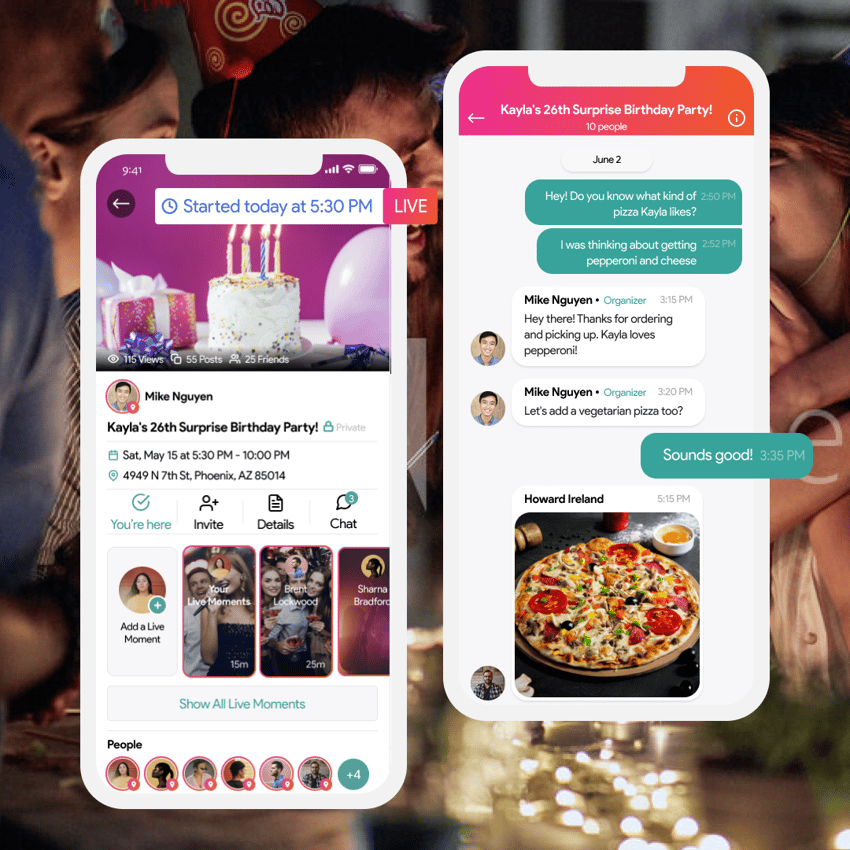 Through starting the business, have you learned anything particularly helpful or advantageous?
When it came to software development, the toughest challenge I had was finding an experienced mobile developer who was not only good at writing software code but also understood requirements. At the beginning of the journey, I decided to hire an agency to develop the Plans app. Unfortunately, due to multiple reasons, such as communication barriers and budget limitations. I ended up having to end the contract, cut ties with the agency, and lose some initial funds for the project. One thing I realized from that experience was if it sounds too good to be true, it probably is. The agency promised a lot but was unable to deliver in the end. After that experience, I took matters into my own hands and interviewed and hired freelancers to work directly with me. It was still a challenge to find good people, but once I did, the process of collaboration and execution became streamlined and effective.
Another challenge with software development is trying to make it "perfect". This was a tough one for me because I am a perfectionist and I wanted the product to look as good as possible. Unfortunately, what I learned was there was no such thing as perfect. What you think is perfect, might not be what your users think is perfect. So the best approach was to iterate fast and release often. It was really tough for me to accept the famous code "If you are not embarrassed by the first version of your product, you've launched too late". But once I did, I was able to move faster and focus on the user feedback that really mattered for product improvement.
What platform/tools do you use for your business?
What have been the most influential books, podcasts, or other resources?
One top influential books are How to Win Friends and Influence People by Dale Carnegie. Dale Carnegie's book has helped me to learn how to communicate and conduct myself in a professional and personal setting with others. I feel that his techniques have been most useful when managing my team. Especially when we are brainstorming and discussing Plans.
The Power of Broke by Daymond John has also been a very motivating and valuable book in my Plans app adventure. I have had my moments where I feel I hit financial roadblocks. Daymond John's book continues to remind me that creativity and passion are just as useful tools. The book is a great reminder that using your resources and thinking outside the box is important. It really helps me to stay motivated and focus on my goals.
Advice for other entrepreneurs who want to get started or are just starting out?
I believe dedication and consistency is the key to becoming a successful entrepreneur. You will always run into problems but you just have to push through and never give up when things get tough. Along the way, you will learn that you will make mistakes and nothing will go as expected. Adapting and learning from your failures is the key that's going to continue driving you towards success. When you're passionate about your company, overcoming challenges is rewarding. Don't let challenges stop you from starting out or even trying and "just do it!".
Another thing to be aware and careful about is other people's opinions. You will run into friends or family who will share their business ideas with you. Whether they are positive or negative, you need to take them with a grain of salt. Some could be helpful, but most of the time, the opinions come from critics who think they know best. Anyone can have an opinion or idea, but actually building it is a completely different journey.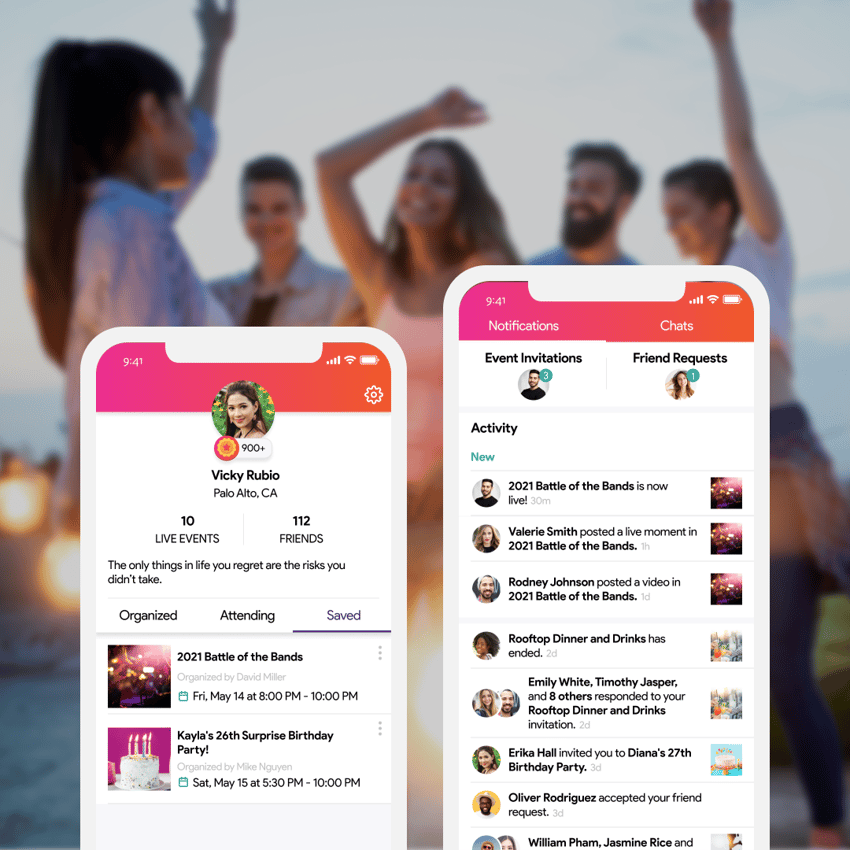 Are you looking to hire for certain positions right now?
We are not currently hiring out any full-time positions but are looking for paid part-time contractors who specialize in influencer/social media marketing, and SEO/ASO. Reach out to us at [email protected] if you or someone you know is interested.
Where can we go to learn more?
If you have any questions or comments, drop a comment below!
-
Adnan Kharuf, Founder of Plans Collective LLC
Want to start your own business?
Hey! 👋I'm Pat Walls, the founder of Starter Story.
We interview successful business owners and share the stories behind their business. By sharing these stories, we want to help you get started.
Interested in starting your own business? Join Starter Story Premium to get the greatest companion to starting and growing your business:
Connect + get advice from successful entrepreneurs
Step by step guides on how to start and grow
Exclusive and early access to the best case studies on the web
And much more!
PROMOTED
Did you know that brands using Klaviyo average a 95x ROI?
Email, SMS, and more — Klaviyo brings your marketing all together, fueling growth without burning through time and resources.
Deliver more relevant email and text messages — powered by your data. Klaviyo helps you turn one-time buyers into repeat customers with all the power of an enterprise solution and none of the complexity.
Join Brumate, Beardbrand, and the 265,000 other businesses using Klaviyo to grow their online sales.
Starter Story
Wanna see 52 business ideas you can start with less than $1,000?
Join our free weekly newsletter and get them right now.