Thank you Klaviyo for sponsoring Starter Story ❤️
Turn one-time buyers into repeat customers. Try the platform loved by 265,000 brands
LuggageHero Update: How We Grew Our Operation To 46 Major Cities [$100K/Month]
Start A Luggage Storage Business
This is a follow up story for LuggageHero. If you're interested in reading how they got started, published over 1 year ago, check it out here.
---
Hello again! Remind us who you are and what business you started.
I'm Jannik Lawertz, 36 years old entrepreneur from Denmark. I am married and have three kids - all boys.
I started LuggageHero back in 2016 creating a network of short-term luggage storage locations found inside local shops, cafes and hotels. And now, scrolling time ahead to 2021 we live in 46 major cities.
The idea came to me during a visit to the beautiful city of Barcelona. My family and I were struggling with our own luggage, as so many other travelers often do. One day I simply had enough, I approached a local store in Barcelona and asked them politely to store our bags while we would explore the city before flying home to Denmark. They agreed, and the experience went as smoothly as I was hoping it would.
When I came back from holiday, I started the process of developing a business plan. I thought the name for a company like this could be "Drop n Local" and since then, it all started to make sense to me.
The next step would have been to pitch the idea to local shops, hotels etc. I was running around Copenhagen trying to get shops onboard offering them a 50/50 split, showing how our business model is built on a sharing platform, financially and trust wise. Back then you could only book through our website and to be honest not the most smooth experience. Today, our customers can book via the website (much more easily) as well as an app where we offer both an hourly and daily rate.
Anyway, I managed to sign up a lot of stores in Copenhagen and register our first booking = Proof of concept! Shortly after, our current CTO and now Co-founder, Kristian Løkkegaard, joined the company. Kristian was not a fan of the name "Drop N local", so we agreed to change the name into LuggageHero.
I have to admit, LuggageHero IS a better name….!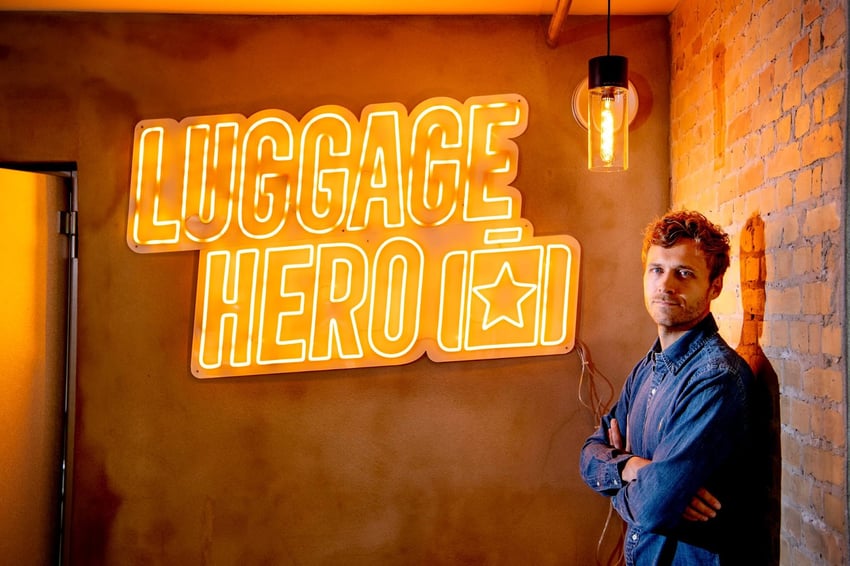 Tell us about what you've been up to! Has the business been growing?
The first year of the pandemic had a hard impact on LuggageHero. After all, we are in the travel industry and to no one's surprise luggage usually is only needed when people are on the go and traveling around with it….
Yet, we have seen a major pent up demand the last couple of months as we constantly manage to grow month over month. We even grew during the month of November, despite it being considered a not so huge month for us!
Believe in yourself and your product/service. If your target audience is big enough and your product/service is strong enough - you will succeed.
What we have done the past year and a half is to focus on internal processes. We have never been so lean and still so effective as the current situation clearly is showing. The reason for this is partly due to us being a lot more focused on what really matters, as well as an increase in knowhow due to the shifting environment that we had to adapt to.
A few cool things we did during the corona in order to increase awareness of our existence while the pandemic was roaring the loudest, was to create PR campaigns. We gathered data from our many email subscribers, and based on that we created interesting statistics about traveler's behaviour taking Covid into consideration. We launched a handful of PR campaigns based on this idea which resulted in us being featured in several of the biggest news outlets such as: Washington Post, Fox News, Forbes, Lonely Planet, MSN and many others. It is about adapting and surviving in whatever context you might find yourself.
Another interesting tactic we used to keep ourselves fresh in the mind of travelers, young travelers more specifically, was to create a TikTok. We have several posts with millions of views and have more than 400,000 followers. This was possible by following the current trends and creating content fitting for that specific platform - in this case TikTok.
What have been your biggest lessons learned in the last year?
Focus on yourself and control what you can control. Let the rest be and try not to worry about it. There are always so many things that can be done internally in any company. Therefore, focus less on external factors and instead use that energy and time to improve on what you actually can control; The internal factors. We did just that and it is paying off. Due to this, I consider us stronger than before the pandemic! Can you believe that?!
Focus on internal processes - we have never been so lean and still so effective as the current situation clearly is showing.
Besides that, don't be scared to try out new things. As I said before, it is about focusing on what really matters. However, there are also several things that can be adjusted in order to squeeze out just a little more value for the customers.
We have spent a lot of resources and energy on our booking flow in order to give our customers a better experience. Many small details have been adjusted and readjusted but it all adds up in the end. You can't go wrong in any business if the product or service is strong enough!
What's in the plans for the upcoming year, and the next 5 years?
Expanding and improving - big time! We created an ambitious plan that we have already started and we are excited about the future. The company is ready to take the next step and we are going to start doing just that in the US. In order to do that, I decided to move to Miami after Christmas to be more on the beat with our cities over there.
The plan is to improve our position in our current, most important cities as well as opening new cities. Improving our position means to be even better online as well as having the right shops in the best possible locations. We have developed a secret weapon helping us to point out the best locations in any city. For us it is crucial that we are right in the face of our customers when they need us.
Have you read any good books in the last year?
I love reading. To just name a few that I have read this year:
Monetizing Innovation. Good for all startups who fail to put the customer and pricing first before building!
Way of the wolf. It's all about selling in life. So better be good at it. The system 3x10 by Jordan Belfort makes sense and is easy to understand and remember. Read it!
Getting to yes. How to negotiate right.
Advice for other entrepreneurs who might be struggling to grow their business?
In line with the words of the authors from Monetizing Innovations, it's about putting your ICP (ideal customer profile) first. Don't feel too proud to go out and talk with people on the street. I did when launching LuggageHero. Talked to people using regular lockers in the stations and investigated their pain and pricepoint.
Believe in yourself and your product/service. If your target audience is big enough and your product/service is strong enough - you will succeed.
Last, don't be scared to reach out for help. There are more people out there who would like to help if you ask politely. Also, take courses and google the best rated books for whatever you are interested in knowing more about.
Are you looking to hire for certain positions right now?
We will be hiring in the US for the expansion department (the department which deals with signing up stores - simply put).
We are also looking for a People Manager. Someone who loves to deal with people and someone who can understand and adapt to cultures across US, Barcelona and Denmark. This person will be part of hiring new people, optimizing procedures around, hiring and tracking performance and following up with all the new people we hire. (write to [email protected]) if that sounds like you.
Besides that, we are running an internship program in Copenhagen and have been doing that for the past two years. We are always looking for students who are interested in learning and working with digital marketing.
Check out our website by clicking here to read more about our internship: https://luggagehero.com/internship/
Where can we go to learn more?
You can find us almost everywhere… check us out:
Website: https://luggagehero.com/
Facebook: https://www.facebook.com/luggagehero
Instagram: https://www.instagram.com/luggagehero/
LinkedIn: https://www.linkedin.com/company/luggagehero
Twitter: https://twitter.com/luggagehero
TikTok: https://www.tiktok.com/@luggagehero
-
Jannik Lawaetz , Founder of LuggageHero
Want to start your own business?
Hey! 👋I'm Pat Walls, the founder of Starter Story.
We interview successful business owners and share the stories behind their business. By sharing these stories, we want to help you get started.
Interested in starting your own business? Join Starter Story Premium to get the greatest companion to starting and growing your business:
Connect + get advice from successful entrepreneurs
Step by step guides on how to start and grow
Exclusive and early access to the best case studies on the web
And much more!
PROMOTED
Did you know that brands using Klaviyo average a 95x ROI?
Email, SMS, and more — Klaviyo brings your marketing all together, fueling growth without burning through time and resources.
Deliver more relevant email and text messages — powered by your data. Klaviyo helps you turn one-time buyers into repeat customers with all the power of an enterprise solution and none of the complexity.
Join Brumate, Beardbrand, and the 265,000 other businesses using Klaviyo to grow their online sales.
Starter Story
Wanna see 52 business ideas you can start with less than $1,000?
Join our free weekly newsletter and get them right now.