How We Increased Revenue From $15K/Month To $32K/Month In One Year [Update]
•
Published: March 29th, 2022
This is a follow up story for Kinda Healthy Recipes. If you're interested in reading how they got started, published about 2 years ago, check it out here.
---
Hello again! Remind us who you are and what business you started.
I'm a food blogger with two sites, Kinda Healthy Recipes and With the Woodruffs. Until my wife joined my team in June of 2020, I was a one-man operation. Now we tag team recipe development and content creation for both sites.
Around 85-90% of our revenue is from display advertising, with the remaining revenue coming from sources like Patreon, affiliate marketing, and sponsored social media content. I mentioned revenue has roughly doubled every year since going full time in 2018 in my first Starter Story on starting a food blog.
That trend continued in 2021, as we increased revenue from $15,000/month in 2020 to $32,000/month in 2021.
Tell us about what you've been up to! Has the business been growing?
In terms of revenue growth, I owe a lot of credit to Mediavine, my ad management company. Our advertising revenue increased by 82% while our traffic only increased by 21% YoY.
Making $10k/month from my business was once a dream. As soon as I reached that number, the goal moved to $20k, then $30k, and now $40k. It's important to find enjoyment in the work and where you're at now instead of constantly chasing the next goal.
There are macroeconomic factors at play within the past year like increased ad spend across the board, but these kinds of improvements have been consistent throughout my four years with Mediavine. In addition to optimizations on their end and tools like their high-earning Universal Video Player, I've done things to improve RPMs as well:
Added higher quality, taller photos to posts.
Increased content length with helpful information.
Added more headings and subheadings.
Increased site-wide font size and line height.
Optimized top performing posts with everything above.
Our biggest focus for 2020 and 2021 has been SEO and improving our organic search traffic. So far this year we've had 2.2M organic sessions, up from 1.6M in the same period last year (+38%). It's a bit smaller than the jump from 660k in 2019 to 1.6M in 2020 (+141%), but we're chalking that up to 2020 being a weird year and 2019 being our first year with any SEO efforts.
How we improved SEO:
Created more content.
Added as many relevant internal links as possible and created supporting content for high value content. (Example: BBQ Chicken Mac and Cheese* made with* Instant Pot BBQ Chicken)
Added more external links from sites in my domain authority range and let them know I linked to their content without asking for anything in return.
Improved content ranking in spots 4-10.
Added content like popular posts, photos, and relevant information to category pages. (Example: Ninja Foodi Recipes)
No-indexed (not deleted) old content that's not worth updating.
Food blogger specific: Encouraging readers and social media followers to leave recipe reviews.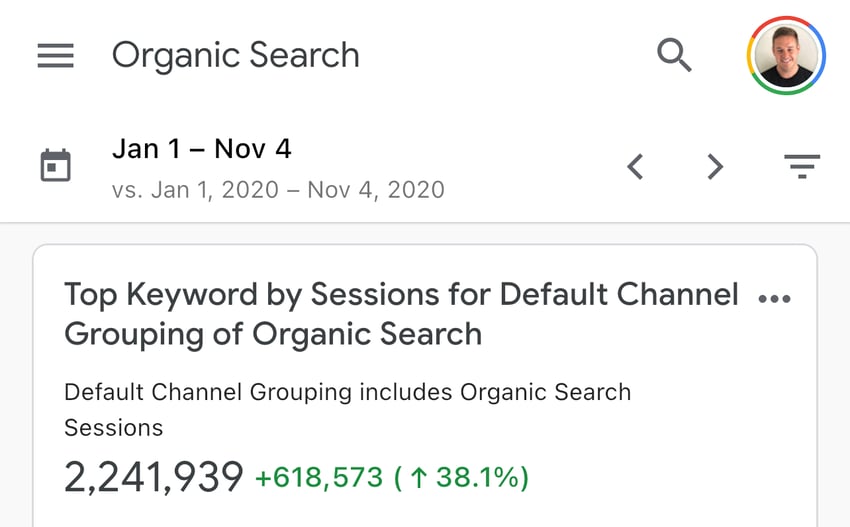 Social media is in a weird spot at the moment. Instagram is my biggest audience (182k followers), but engagement is dwindling in a major way for everyone on the 'gram. Pinterest, which was once the golden ticket for passive traffic, has been luckily flat for us but negative for most.
These networks have been trending towards keeping users on-platform at all costs for a while now. I'm sure it's only getting worse from here for content creators.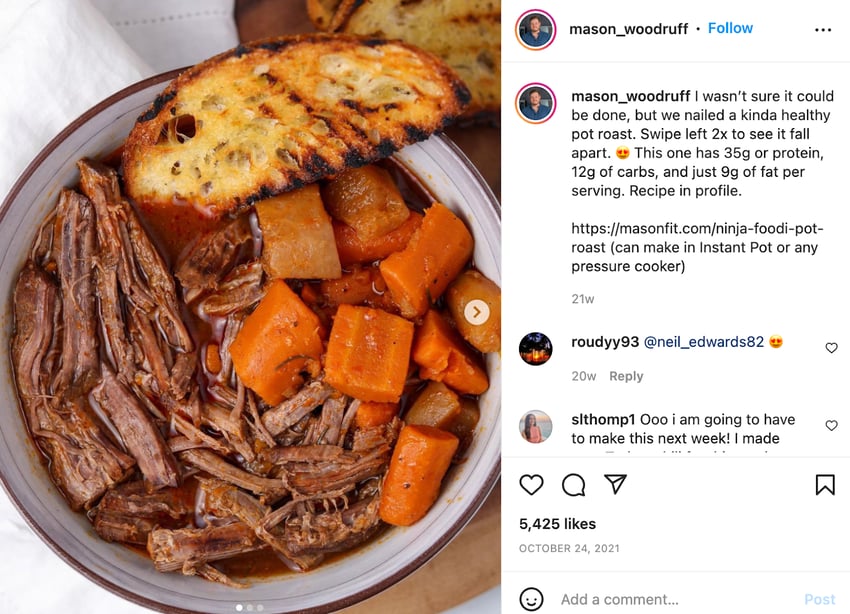 We use Linkinprofile to add clickable links and track clicks for every post on Instagram. Over the past month, we've had 20k sessions from Instagram posts. That's around 3% of our traffic for the month. Yet I still catch myself spending the most time there.
Once you find what's working, triple down on that. We've had a breakthrough this year with our content creation process and overall blogging strategy
We've tested Pinterest Stories, Google Web Stories, Instagram Reels, and other "new" tools on the major platforms without much success. In my first Starter Story interview, I mentioned my Facebook group. It's still a great resource for talking to my core audience, but the traffic is mostly insignificant.
All this equates to shifting time and money away from social media to focus on creating blog content and our email newsletter. Strategy aside, it's also been great for my mental health.
All these factors have gone into our decision to stop any sponsored content for the time being. On one hand, diversification of revenue seems like a safe play. But on the other hand, our ad revenue has priced us out of most brand deals for our audience size.
A $1-2k campaign takes a lot of time and has little to no long term value. And we've yet to find a campaign willing to pay a $10k asking price (which is probably the right move on their end).
What have been your biggest lessons learned in the last year?
Once you find what's working, triple down on that. We've had a breakthrough this year with our content creation process and overall blogging strategy. The keyword research and intention behind content is solid, our food photography improves every year as we're shooting every day, and we're working on a roadmap to turn our blogs into online resources with webs of content.
Need to learn how to make ground chicken or homemade tortillas? We have you covered, including recipes to make with the finished products. Looking for the best Austin food trucks? We have a guide that includes copycat recipes you can make at home like our dan dan noodles or smoked burgers. Nearly every piece of new content is intertwined with others in the content library.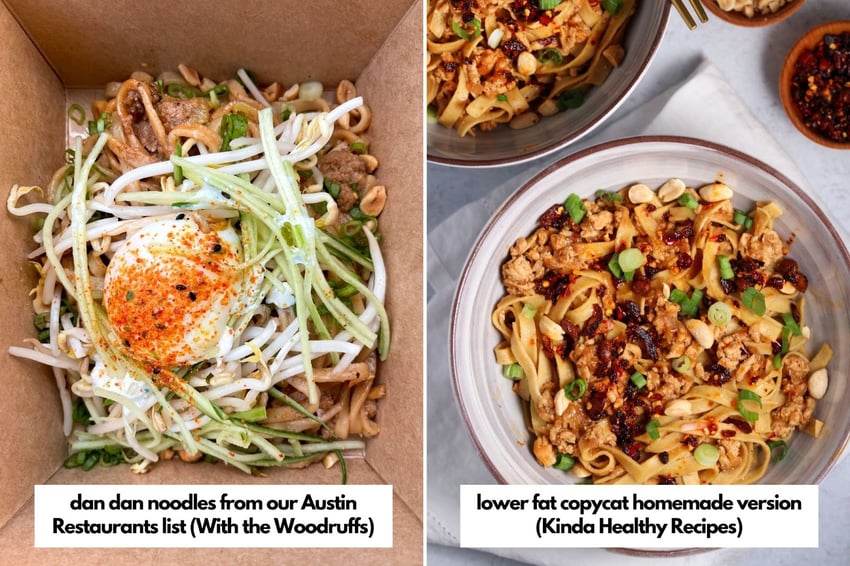 An important lesson my wife has learned over the past year, and a lesson I learned when first starting, is that you don't have to be an expert to start. The fact that you're critical of your early work is probably a good thing. As Ira Glass would say, it means you have good taste.
Everybody I know who does interesting, creative work they went through years where they had really good taste and they could tell that what they were making wasn't as good as they wanted it to be. They knew it fell short. Everybody goes through that.
And if you are just starting out or if you are still in this phase, you gotta know it's normal and the most important thing you can do is do a lot of work. Do a huge volume of work. Put yourself on a deadline so that every week or every month you know you're going to finish one story. It is only by going through a volume of work that you're going to catch up and close that gap. And the work you're making will be as good as your ambitions.
It's okay to be critical of your creative work as long as it doesn't stifle future creative work.
And finally, the goal post constantly moves. Making $10k/month from my business was once a dream. As soon as I reached that number, the goal moved to $20k, then $30k, and now $40k. It's important to find enjoyment in the work and where you're at now instead of constantly chasing the next goal. Have them, for sure. But remember that a previous version of yourself dreamt of where you're at now.
What's in the plans for the upcoming year, and the next 5 years?
We started working on our second site, With the Woodruffs, at the end of 2020 and launched with 20 pieces of content in April of this year. We've been consistently publishing and making great progress with organic traffic. Having the main site with an established domain authority makes life a lot easier. Since they're both food-related sites, it's easy to find parallels for linking back and forth to one another.
We're not planning to reinvent the wheel with the second blog. Once we've reached an impactful amount of traffic, we'll monetize via display advertising and continue building from there.
It's hard to imagine our revenue doubling in the next year as it has every year so far. If it does, great. But if we can even maintain our current numbers, that's great for our little husband-wife team. The work is fulfilling, and I never feel like I'm working. This has been a life changing business and I'm just excited to keep going.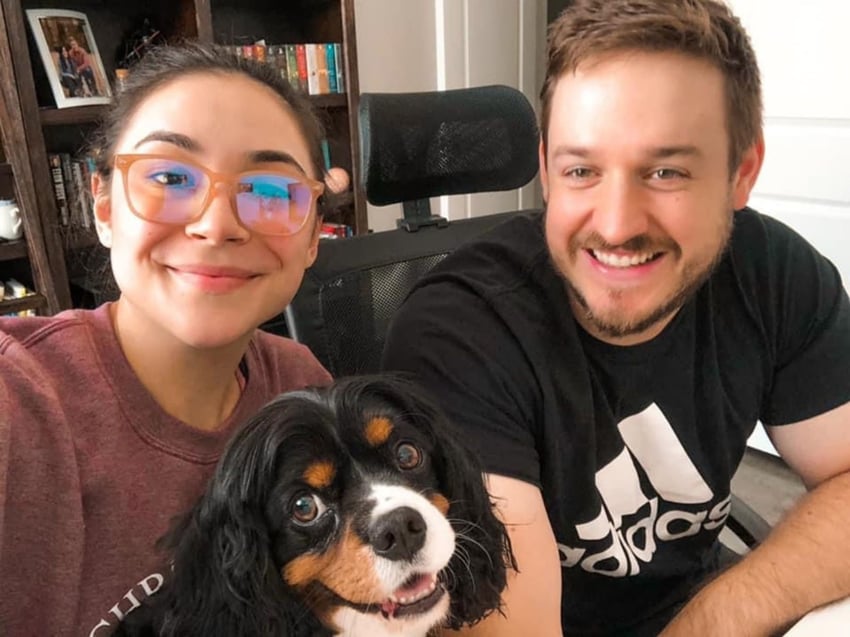 Beyond the business, I'll be making my first investment and serving as an advisor for a healthy frozen foods startup this year. I'm hoping to gain experience in the consumer product goods space and help build something valuable for my audience and others following a macronutrient-focused diet. We're also considering acquiring other blogs in related niches to build a complete portfolio of sites.
And on the personal front, we're following the official American Dream playbook and finally buying a house this year. Though I'm kicking myself for selling crypto for a down payment. Though ya gotta live somewhere, right? Starting a family and spending more time away from work are not too far down the road. (Hello, new parenting niche.)
Have you read any good books in the last year?
I have consumed very little business-related content this year. The closest I've come are podcasts like My First Million (entrepreneurship) or Animal Spirits (finance/investing). Most of my content consumption this year has been centered around food and cooking. Learning more about food science, cooking techniques, and different cuisines has been a big help in improving content quality and length.
Going back to tripling down on what's working, food content has become my bread and butter. So my goal is to become one of the best in the world at it. As far as resources go, there's more information than you'll ever be able to consume on YouTube. And don't forget about cookbooks, blogs, and documentaries. My wife has taken a few paid courses from famous chefs, but we've found better information on YouTube.
Also, I listen to Neil Gaiman's "Make Good Art" commencement speech at least once per quarter. "Somebody on the Internet thinks what you do is stupid or evil, or it's all been done before? Make good art."
Neil Gaiman - Inspirational Commencement Speech at the University of the Arts 2012
Advice for other entrepreneurs who might be struggling to grow their business?
It's boring advice, but most content creators should focus more on evergreen content (blogs, newsletters, and even YouTube) and less on ephemeral content like TikTok and Instagram Reels. Some people are becoming stars on the latter, but there are more people building serious businesses with the former.
You've heard it a thousand times but owning your content and audience is becoming more important by the day. Why earn $0.02 per thousand views when you could earn $50+ per thousand views on your own website?
Sure, you may go viral on TikTok. But your blog posts can go viral all the same. Our baked chicken tacos post that I mentioned in my first Starter Story, for example, has earned around $40k on its own since 2019 thanks to going viral on Pinterest.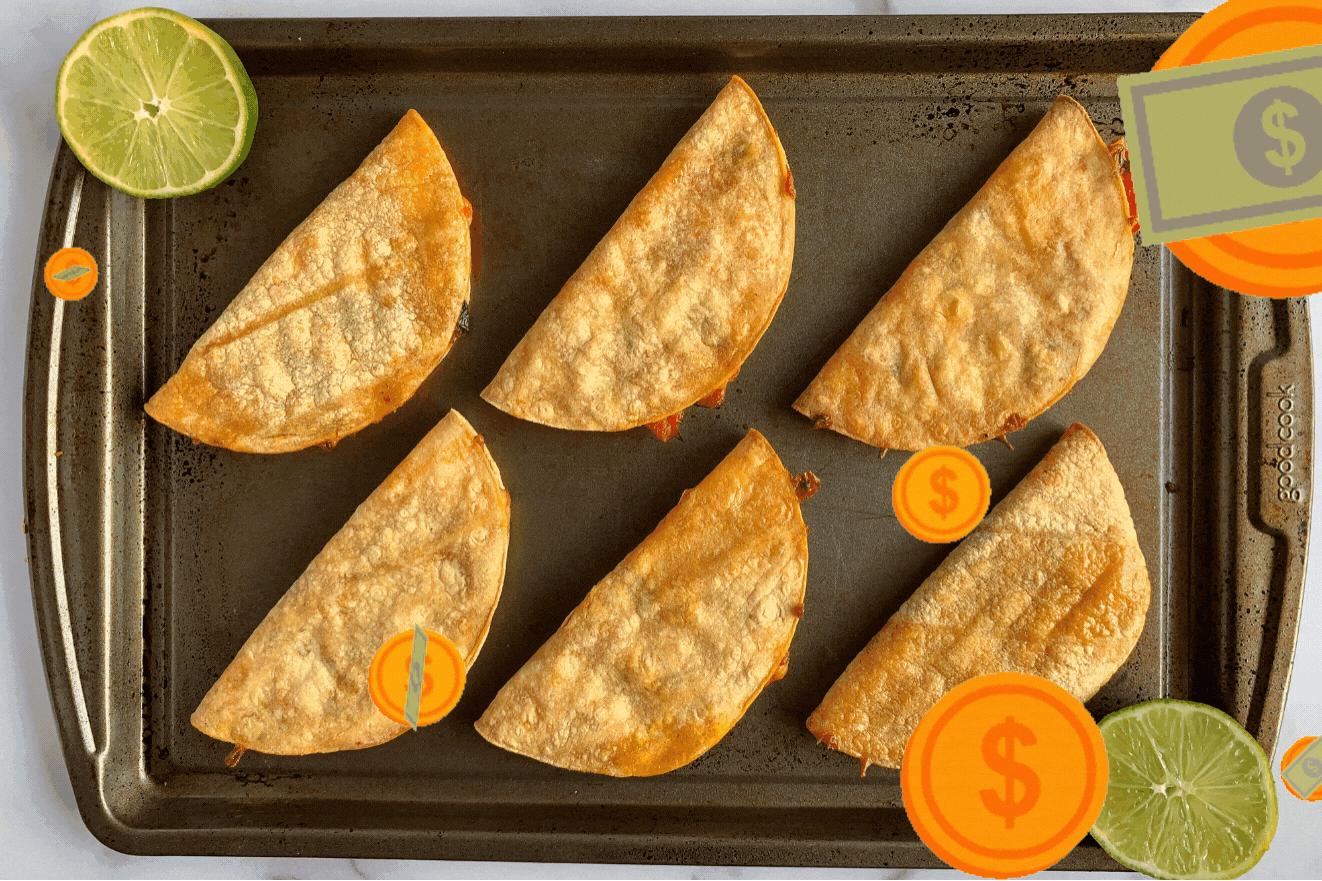 The last piece of advice I would give is that it's okay to work hard and love work. While there's been an increase in entrepreneurship in recent years, most people still don't understand it. Don't let people who are unhappy in their careers (or people who are already successful) deter you from working hard. While the ultra-talented may find success right away, I think the majority of us will need to be obsessed with work at times to build successful businesses.
Are you looking to hire for certain positions right now?
I've been searching for someone to turn our recipe database into meal plan blog posts. You know, taking main dishes and pairing with side dishes or building out full days of eating for different calorie intakes and macronutrient ratios. Ideally these meal plans include shopping lists or can all be made with similar ingredients. It takes a lot of planning and strategic thinking, and I've yet to find anyone to do it well. If you have any relevant experience, send an email to ma[email protected].
Where can we go to learn more?
If you have any questions or comments, drop a comment below!
-
Mason Woodruff, Founder of Kinda Healthy Recipes
Want to find more ideas that make money?
Hey! 👋 I'm Pat Walls, the founder of Starter Story.
Get our 5-minute email newsletter packed with business ideas and money-making opportunities, backed by real-life case studies.