This article is sponsored by AppSumo ❤️
Start selling your digital product on the marketplace trusted by 1M+ entrepreneurs
I Built A Smart Ad Creator That Generates $1M/Year
I Built A Smart Ad Creator That Generates $1M/Year
Hello! Who are you and what business did you start?
Bonjour! My name is Tufan and I am the founder of ADYOUNEED, the smartest way to create the ad you need.
ADYOUNEED is a marketing tech platform that allows small businesses and startups to create results by bringing Facebook, Instagram, Google, Tiktok... ads without any marketing knowledge. Although our main market is SMBs, many marketing agencies, and professionals using ADYOUNEED to save tens of hours each week.
Unlike other platforms out there we do not touch the adspend of the user, whatever you are spending on platforms such as Facebook and Google is paid to those platforms right away. We only charge a monthly subscription fee so a big portion of our revenue is a profit.
Currently, in August 2021 we are making a bit over $95,000 monthly recurring revenue and the best part is that we are just getting started.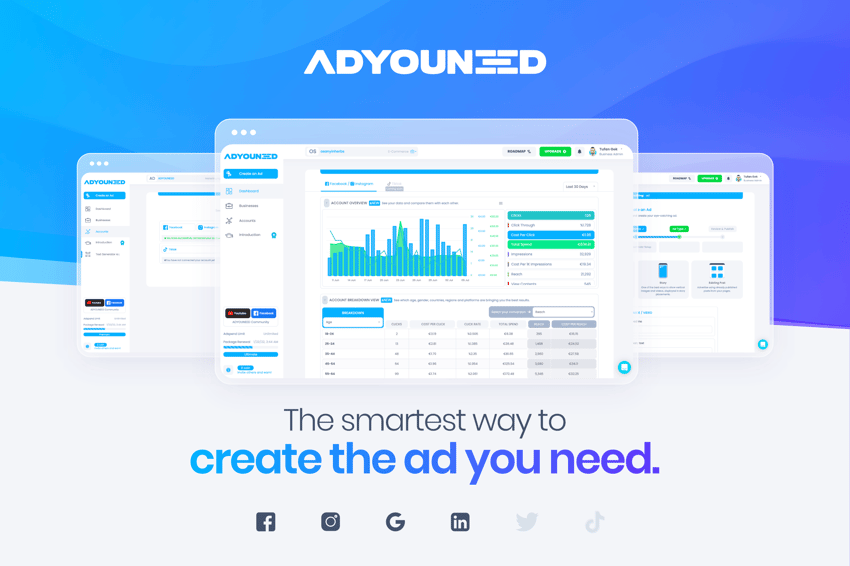 What's your backstory and how did you come up with the idea?
Working as a freelancer and then a marketing agency owner for many years now I have realized that many small businesses and startups know their product very well, have a perfect budget to market it but they are or wasting this budget on wrongly setup ads or they paid over 50% of their budget to freelancers or agencies which then make their go-to-market budget below what's needed to run a successful ad.
So seeing many of these businesses fail, I realized that between them and successful ads was the complex ad managers that took hundreds of hours to learn how to use them.
Create a super-star team that you can trust, the rest will follow even if your product does not have a market fit.
This is why we decided to create ADYOUNEED, a simplified and unified ad creation platform where you can create and manage ads on Facebook, Instagram, Google, Tiktok with many more platforms added every month.
Our "aha" moment came when we first tested our MVP (minimum viable product) which was honestly super ugly (but you know what they say, if your MVP is sexy you wasted some time) but made over $20,000 MRR on the 3 months it went live which was the big green light that was telling us to close doors for a couple of months and build the next marketing tech unicorn.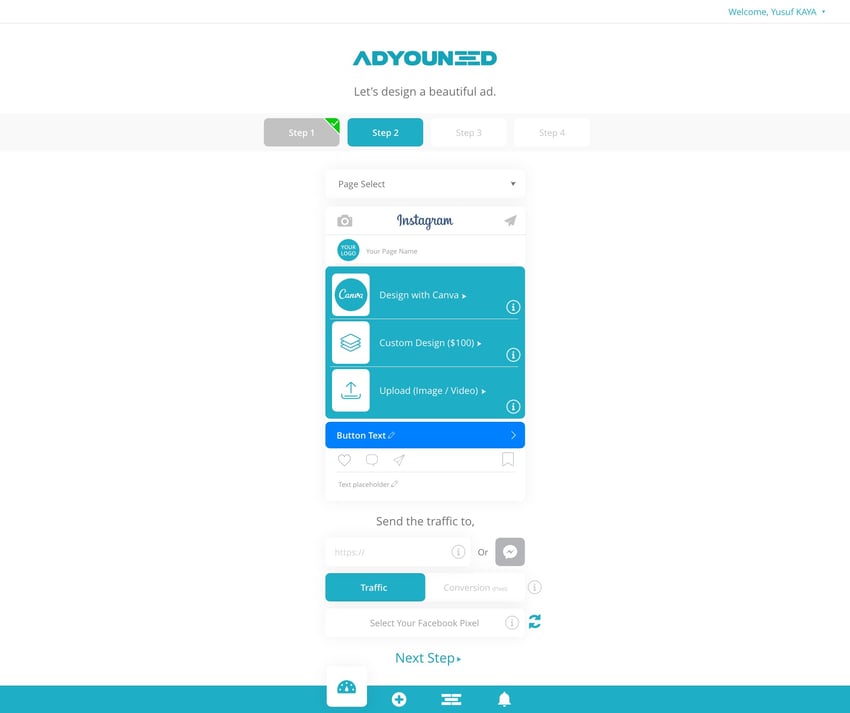 Take us through the process of building the MVP.
Development is the tricky part for a platform like ours that works using third-party APIs such as Facebook Ads API, Google Ads API and so on because your efficiency relies on their documentation. If the documentation is bad you can spend days coding that brings you "this API is deprecated".
On top of that, we wanted to bring these machine learning models only top spending companies use to optimize their ads to small businesses so they can also get amazing results on their ads which took us approximately 9 months of 7 days a week, 18 hours a day coding and designing to bring ADYOUNEED v2 that is now used by over 10,000 users all around the world.
Now let's talk about how much all these cost us,
Having a team of over 12 superstars and also the fact that we are based in Paris\France comes with lots of expenses although we were profitable from the first days.
This is why after our initial pre-seed fundraising (50k euros) right before our MVP, we also did a seed at 585,000 Euros in 2020 to grow even faster while building technologies that many on the market can only dream of. Thanks to this investment we were able to hire people from 3 different continents and also take bigger risks when hiring and building.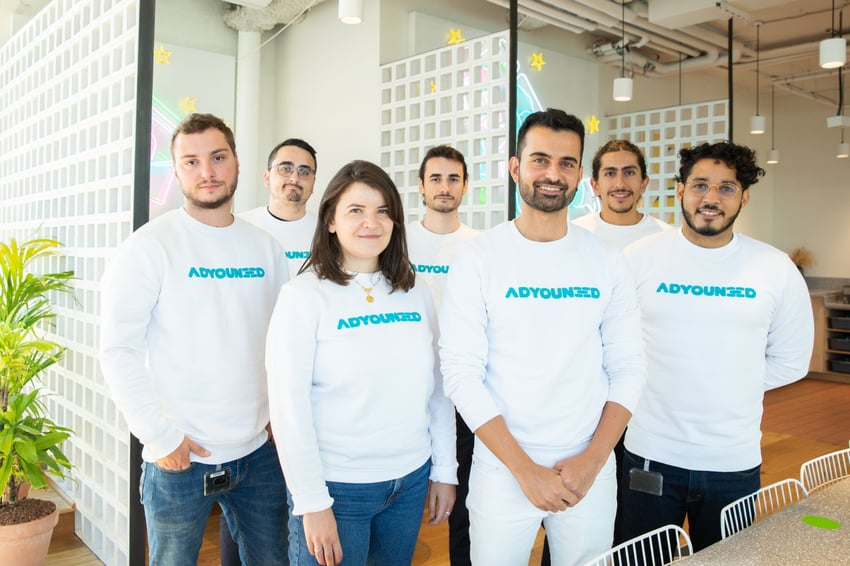 Although we have over $1,800,000 in the bank account, in 2021 we are planning to raise a Series A to capitalize the small business and startup marketing like Canva and Shopify did in their fields.
Since launch, what has worked to attract and retain customers?
Since we have been doing ads for many years, our initial go-to-market strategy was to create some killer ads optimized for paid subscriptions and scale the ones that are profitable in the first month aggressively till they are not. They worked pretty well and brought us a big amount of recurring revenue.
That being said, just relying on ads is a mistake many startups make. This is why we have also built a viral engine in the product, as soon as you sign up you have many opportunities to invite your friends and colleagues to ADYOUNEED to earn several months free on ADYOUNEED
Keeping those users is as hard as acquiring them of course which is why we have created a YouTube Channel and a killer Facebook Group to provide as much value as we can to our users since the more value we provide the less churn-rate we have.
How are you doing today and what does the future look like?
Today we have around $95,000 MRR (monthly recurring revenue) and our CAC (customer acquisition cost) is around $14 to $50 depending on the channel which makes it super easy to scale since even on the first acquisition we are profitable. And the best part is that all our ads are created on ADYOUNEED We are super proud of that fact!
Earlier I have mentioned that we are just getting started, and honestly, it's not just a self-motivation sentence there, we have a new product being launched soon and hundreds of new features in the upcoming weeks. We still haven't spent our last fundraising which means some aggressive marketing campaigns are on the way.
Through starting the business, have you learned anything particularly helpful or advantageous?
I always believed that to reach a level where no one has so far, you need a team that no one has so far. I would say that this is one of the best things I have done when it comes to ADYOUNEED. I have a team of amazing people which we would not be able to accomplish without. If I can give you one recommendation on this article it would be: create a super-star team that you can trust, the rest will follow even if your product does not have a market fit. I know tens of startups who did a pivot and scaled their company to 8-9 digits in revenue.
What platform/tools do you use for your business?
Now for the tools, here on ADYOUNEED we use ClickUp pretty much for all the task management and sprints, Stripe for payment, Segment for tracking, and Sendgrid for emails. Of course, we have tens of other tools we use but these are the big ones.
What have been the most influential books, podcasts, or other resources?
I can list hundreds of books and podcasts here but if I have to mention one name it would be Hooked by Nir Eyal where he explains how to create addictive products that would have negative churn. I have read it at least 2 times and it is still one of those books that I open when designing new features.
Advice for other entrepreneurs who want to get started or are just starting out?
Building an MVP has never been easier with all the no-code tools. If your dream is to create a business that would generate a stable amount of money, definitely create an MVP, test it on a platform like Product Hunt (that's what we did and became a Product of the Day). If it works, scale from there. At this point finding Business Angels will also be very easy since you have initial traction.
Are you looking to hire for certain positions right now?
We are hiring pretty much at all times, currently, the biggest need we have is Customer Success Managers, so if you are someone who knows how to create ads and you like ADYOUNEED, feel free to shoot us a message, regardless of where you are based we can offer you a good deal.
You can find our job openings here.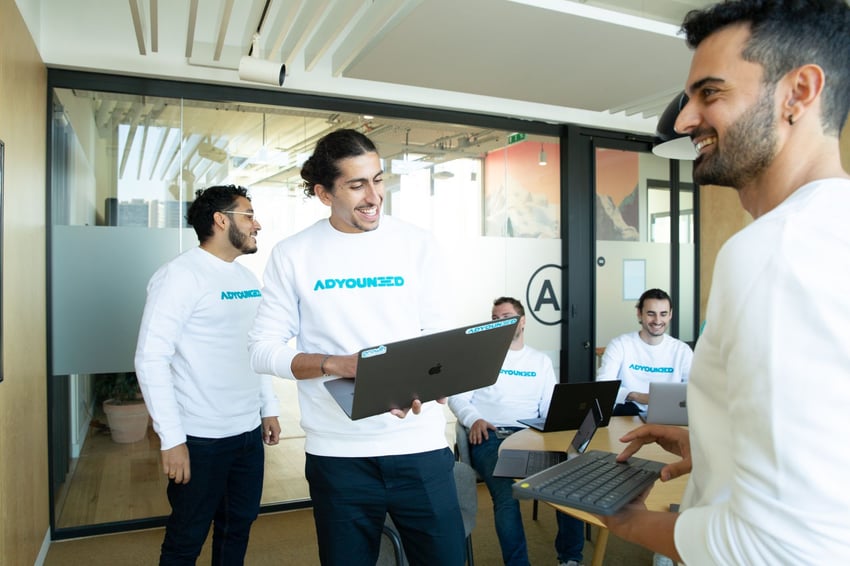 Where can we go to learn more?
If you have any questions or comments, drop a comment below!
-
Tufan, Founder of ADYOUNEED
Want to start your own business?
Hey! 👋I'm Pat Walls, the founder of Starter Story.
We interview successful business owners and share the stories behind their business. By sharing these stories, we want to help you get started.
Interested in starting your own business? Join Starter Story Premium to get the greatest companion to starting and growing your business:
Connect + get advice from successful entrepreneurs
Step by step guides on how to start and grow
Exclusive and early access to the best case studies on the web
And much more!
PROMOTED
Did you know that brands using Klaviyo average a 95x ROI?
Email, SMS, and more — Klaviyo brings your marketing all together, fueling growth without burning through time and resources.
Deliver more relevant email and text messages — powered by your data. Klaviyo helps you turn one-time buyers into repeat customers with all the power of an enterprise solution and none of the complexity.
Join Brumate, Beardbrand, and the 265,000 other businesses using Klaviyo to grow their online sales.
Starter Story
Wanna see 52 business ideas you can start with less than $1,000?
Join our free weekly newsletter and get them right now.