Thank you Klaviyo for sponsoring Starter Story ❤️
Turn one-time buyers into repeat customers. Try the platform loved by 265,000 brands
How TikTok Helped Us Grow Website Traffic & Social Media
This is a follow up story for My Curly Adventures. If you're interested in reading how they got started, published about 3 years ago, check it out here.
---
Hello again! Remind us who you are and what business you started.
Hello! My name is Jessica and I am the Content Creator, Blogger, and Influencer of MyCurlyAdventures which inspires people to travel more through finding exciting adventures close to home!
Through my website, I have created a Texas Travel Series to highlight different cities that people can visit for a weekend getaway. There are currently over 60 cities with my list of Texas cities being over 100 long. Additionally, some places are only a direct flight away!
My goal is that people can come to my website and find a quick trip for when that travel bug hits or they can browse my Instagram and be inspired by destinations close by! My favorite thing is when people come to my website or social media and say "wow! I never knew that was in Texas!" or "I never knew THAT city" had so much to do!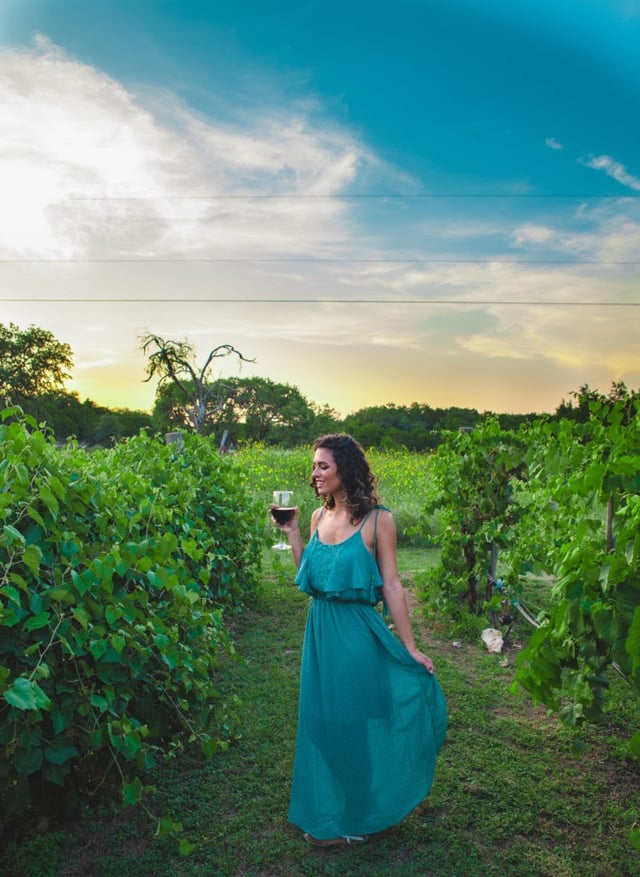 Tell us about what you've been up to! Has the business been growing?
Business has continued to pick up. As of last year, I got on TikTok (turns out you don't just have to dance to build a platform) and have seen so much unexpected success from that. Through the exposure from Tiktok, we've seen increased website traffic, increased social media followers, and overall brand recognition (almost everywhere we go, someone comes up to us because they've seen us on Tiktok or somewhere else).
Because of this so, many other exciting things have happened. We are launching the second edition of our travel guide which is bigger and better than the last one. We've added 5 new team members and we've started to include some more out-of-state and out-of-country content. We will always be primarily Texas-based, but we love a little outside travel too!
Right now I'm feeling the growing pains and learning to work through them. So much to do and not enough of me. Even though we are bringing people on it's like we can't bring them on fast enough. I'm grateful for that struggle though. We've spent the last 4 years working 80-100+ hours a week and I think we're at the point of gaining some normalcy and hopefully working less!
What have been your biggest lessons learned in the last year?
I've learned the value of keeping up with things as time moves on. With the launch of new social media apps like Tiktok and the rise of video, I had to get adjusted to something that I didn't originally like (quite honestly I'm much more of a text and photo person, but if people like the video then I'm going to learn how to do video). However, I realize that while I don't know how my business will change five years from now (or even one year from now) I need to continue to grow and learn or else get left behind. At first, my initial reaction is frustration that I've finally gotten the hang of something and now I have to pivot, but eventually, I learn the value and fun of new challenges.
I've also really learned how to give up tasks. Starting my business I wanted to be in control of everything and I liked the challenge of learning new things. However, even as I became a semi-expert on many things, I found much more value in letting go of things that actual experts could do. I'm trying to focus on things that only I can truly do and I'm learning that there's a lot more that can operate without me than I originally thought.
What's in the plans for the upcoming year, and the next 5 years?
Five years is really hard to plan. I tend to look out about two years just because that's enough to keep me busy. I'm launching the second edition of my travel guide and hoping that in the next two years we'll have it in major Texas retailers (if you're reading this H-E-B or Bucees send me an email!).
Additionally, I'm looking at launching some new products. I want to take the photos that we've taken and turn them into art pieces as an additional revenue stream. Unfortunately, that's about all I can say right now. We have a lot in the works, but they're still under wraps.
Have you read any good books in the last year?
I enjoyed the Four Hour Work Week. I read it a few years ago, but I wasn't quite at that stage yet. After revisiting it, I was able to get more ideas for letting go of things I didn't need to do. I also think it's such an expected story of an entrepreneur who works by themselves for 100+ hours a week. But the book reminded me that we get into this life for the freedom it gives. It reminded me that I don't have to be busy to be successful. One of my measures of success can be to be less busy!
I also liked I'll Teach You to Be Rich by Ramit Sethi. It's more of a no-nonsense guide to understanding and meeting your financial goals. I gained so much value on determining what was worth spending money on and what wasn't as well as practical tips for investing, etc. It's not so much about being rich, but how to live life by your standards.
Advice for other entrepreneurs who might be struggling to grow their business?
I feel like it sounds so simple, but sometimes easier said than done. However, my biggest advice will be to find your niche. If I had started as a travel blogger 4-5 years ago I would have been drowned out real fast. There was just too much competition. However, by focusing on my region and providing value where there wasn't a lot of information, I was able to emerge as an expert and appeal to a very specific set of people.
I would also say get on Tiktok. While growth is harder than it used to be, I've noticed so much success and a willingness to support small business owners. I watch realtors, doctors, dentists, lawyers, CPAs, housekeepers, etc find creative ways to share knowledge and provide value that then results in business opportunities. If you're not on it, download it and spend time watching different videos in your profession. You might be surprised at what can be done no matter your job profession.
Are you looking to hire for certain positions right now?
We're currently looking for writers/interns in Texas!
Where can we go to learn more?
If you have any questions or comments, drop a comment below!
My Curly Adventures has provided an update on their business!
Almost 2 years ago, we followed up with My Curly Adventures to see how they've been doing since we published this article.
Want to start your own business?
Hey! 👋I'm Pat Walls, the founder of Starter Story.
We interview successful business owners and share the stories behind their business. By sharing these stories, we want to help you get started.
Interested in starting your own business? Join Starter Story Premium to get the greatest companion to starting and growing your business:
Connect + get advice from successful entrepreneurs
Step by step guides on how to start and grow
Exclusive and early access to the best case studies on the web
And much more!
PROMOTED
Did you know that brands using Klaviyo average a 95x ROI?
Email, SMS, and more — Klaviyo brings your marketing all together, fueling growth without burning through time and resources.
Deliver more relevant email and text messages — powered by your data. Klaviyo helps you turn one-time buyers into repeat customers with all the power of an enterprise solution and none of the complexity.
Join Brumate, Beardbrand, and the 265,000 other businesses using Klaviyo to grow their online sales.
Starter Story
Wanna see 52 business ideas you can start with less than $1,000?
Join our free weekly newsletter and get them right now.