How We Grew Revenue 30% Despite The Challenges Of COVID
Start An Online Rug Store
This is a follow up story for Mundoalfombra.com. If you're interested in reading how they got started, published over 2 years ago, check it out here.
---
Hello again! Remind us who you are and what business you started.
I'm Manuel Mas and I have run with my family Mundoalfombra.com since the year 2001, where we sell rugs and carpets, most of them created in our town in Spain: Crevillent (near Alicante). My brother Antonio is our CEO.
We sell mostly in Spain, but sometimes some international orders arrive and we are happy to serve them. We sell all types of rugs and carpets for home and professional use. Think in all forms and sizes, also materials: natural fibers, leather, wool, acrylics, etc., and you ́ll have the perfect rug for your needs available in our store. Also, we are specialists in doormats and custom-sized rugs. The lack of specialized online stores in custom-sized rugs made our web reference in Spain for these needs.
Tell us about what you've been up to! Has the business been growing?
We've been growing by 30% since the beginning of Covid-19, and with SEO, Google Ads, and Facebook and Instagram ads, We´re making now around $32K/month revenue. In Spain, e-commerce has grown about 40% last year so we benefited from this situation.
Know where our limits are if there's a difficult situation like a lockdown.
Our Store has evolved with the introduction of a chatbot, who helps visitors to find their product or information, and also with some improvements along with the web.
Also, the team has grown a little with a new part-time employee who helps us in the day-to-day activity.
With new times, new products were coming. We developed a new anti-covid19 mat, which is perfect to put in high-traffic stores or public locations, to clean the sole of shoes with a special liquid. A high-resistance and locally-produced product, which helps the local industry to keep going.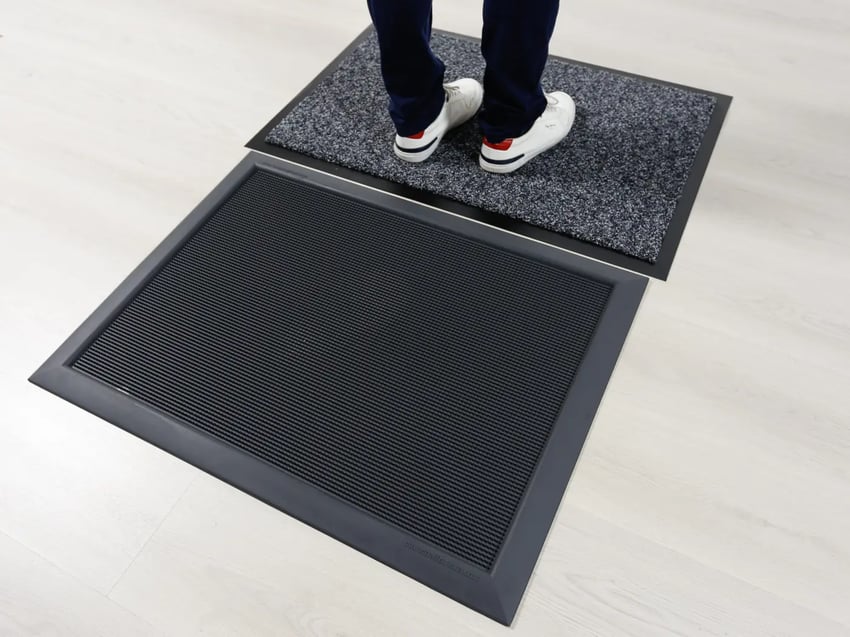 What have been your biggest lessons learned in the last year?
Probably the bigger learnings come from the remote adaptation we have implemented to activate it when needed. Also the needing of different processes and systems to improve our productivity and rising orders from clients, or different new products.
This has helped our company to achieve more flexibility and productivity day by day, and also know where our limits are if there's a difficult situation like a lockdown.
What's in the plans for the upcoming year, and the next 5 years?
One of our plans is, to begin with, internationalization. We need to explore and test how our business will respond to a European presence. Fortunately, shipping costs for our products are not higher than other small products and times should be fine.
The eCommerce future is exciting, and we want to enjoy it. Our 5-year plan is not defined, but seeks a well-done internationalization and being a 7-figure business as soon as possible.
Have you read any good books in the last year?
My 2020 good books have been:
Well, I´ll launch Gurulibros.com where I recommend some books.
Also in podcasts, these are my favorites (In Spanish):
Advice for other entrepreneurs who might be struggling to grow their business?
I think simplifying processes and automatization are a must these days. We have no-code tools that can help us day-by-day and help us be more productive.
Also, a big difference between you and competitors is how you communicate.
Where can we go to learn more?
If you have any questions or comments, drop a comment below!
-
Manuel Mas, Founder of Mundoalfombra.com
Want to start your own business?
Hey! 👋I'm Pat Walls, the founder of Starter Story.
We interview successful business owners and share the stories behind their business. By sharing these stories, we want to help you get started.
Interested in starting your own business? Join Starter Story Premium to get the greatest companion to starting and growing your business:
Connect + get advice from successful entrepreneurs
Step by step guides on how to start and grow
Exclusive and early access to the best case studies on the web
And much more!
Together With Semrush
If You Don't Rank In Google, You Don't Exist.
In order to be successful, you need to be visible online. If you're not, then your competitors might be stealing customers from you.
Semrush lets you quickly create content that ranks, and compete with the biggest brands in your niche.
Try Semrush Free Today ➜