How We Grew By Focusing On DTC And Launching New Products
•
Published: October 27th, 2020
This is a follow up story for Adventurist Backpack Co.. If you're interested in reading how they got started, published about 3 years ago, check it out here.
---
Hello again! Remind us who you are and what business you started.
My name is Kelly Belknap, and I'm a co-founder of Adventurist Backpack Co. (along with my wife Matilda). We design minimalist backpacks for travel, with a cause. For every backpack sold, we provide 25 meals to families in need across the U.S. (in partnership with the non-profit Feeding America as part of their Enterprise Society.)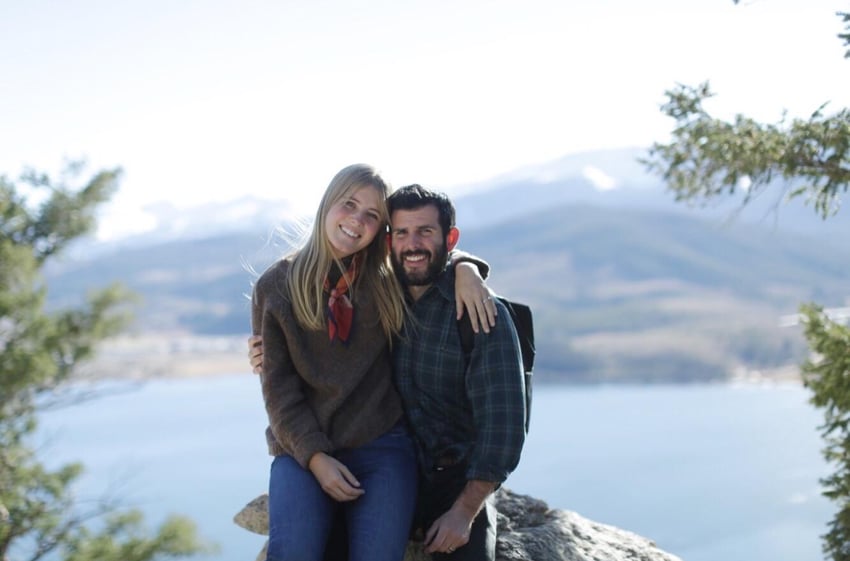 Matilda and I started Adventurist Backpack Co. back in September 2017. We always knew that if we were going to start a company, it would be with a social cause as a driving force. We believe that brands should strive not only to provide great products and customer service but to make the world a better place with each interaction and purchase. Before Matilda and I decided to start the company, we were on a round-the-world trip that was a catalyst for the company. We decided on our return home that we wanted to help end food insecurity across the U.S. and would pursue our passion for designing high quality, minimalist backpacks to help achieve that goal.
Currently, we have 3 backpack designs (the Classic, the Weekender, and the Safari), a brand new crossbody bag (the Sidekick), beanies, and tote bags, created for younger Gen Y and Z travelers such as ourselves, as well as anyone looking for a fashionable minimalist backpack for their travels and adventures.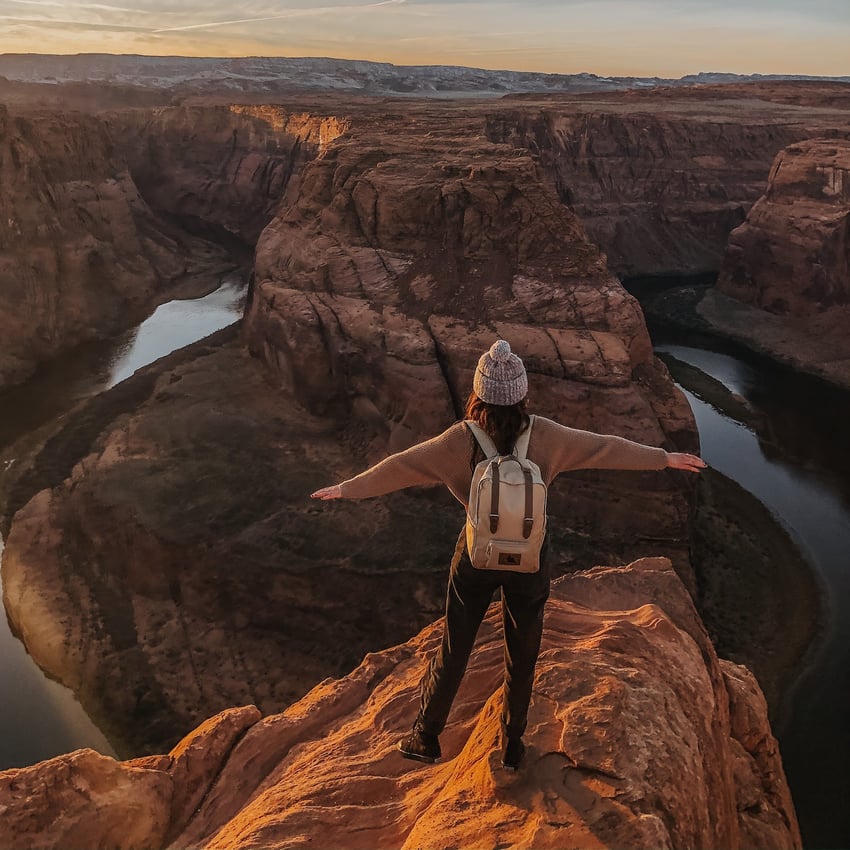 Since Adventurist Backpack Co. launched 3 years ago, we have been able to provide over 150,000 meals to families in need across the country, while designing a "UO Exclusive" backpack for Urban Outfitters, teaming up with Google for their International Women's Day conferences, and partnering with dozens of universities (such as UC Berkeley, Univ. of Arizona, Univ. of Oregon, Colorado State University, and more) to help fight student food insecurity across the country. Since our launch, we've been fortunate to have our backpacks/company featured in Outside Magazine, Conde Nast Traveler, Forbes, Travel Channel, Woman's Day, Men's Journal, CBS, ABC, and more.
Tell us about what you've been up to! Has the business been growing?
The business has fortunately grown pretty steadily since we last interviewed for Starter Story. Right now, obviously, Covid-19 is a big factor in a lot of our decisions and options moving forward. Since a lot of our retail sales to stores, universities, and organizations have slowed down since the pandemic began, we've chosen to focus almost all of our energy and attention on e-commerce and direct-to-consumer operations - which is really the only avenue most brands have completely in their control. As some of you know from our last Starter Story interview, we were excited to sell out our first two big orders with Urban Outfitters, and while they have expressed interest in bringing in more of our designs, at the moment lots of plans are stuck in limbo with many of Urban Outfitters locations (and loads of other physical stores) having to stay closed for a big duration of the pandemic.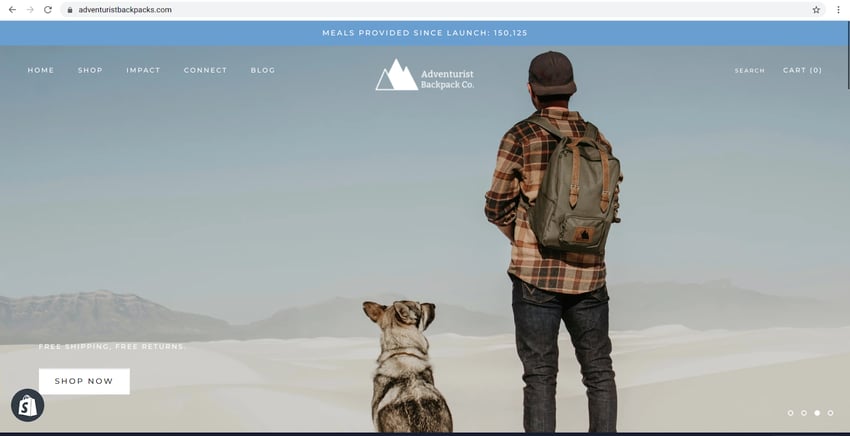 Because of this, we've worked a lot on making our website as user-friendly, informational, and efficient as possible. We've also spent a lot of time improving our email newsletters and social media presence (mostly Instagram - @adventuristbackpacks) and trying to provide value to our customers through those mediums, via blog posts, quizzes, giveaways, inspiring photography, and other exclusive info that might be interesting or useful. It's actually ended up being a kind-of blessing in disguise because we are now learning how to increase visitors on our website, which will end up being even better once things head back to semi-normal and we're able to continue supplying retail stores, universities, etc. with our backpacks again as well.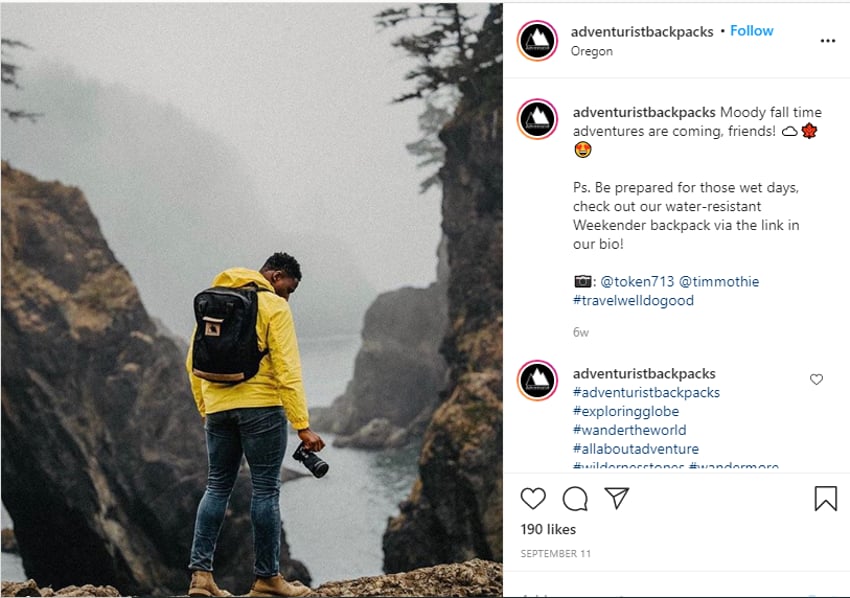 We've also been fortunate to receive even more exposure through the press, and have focused some energy on our tried and true tactic of sending around our story/updates to writers and editors of publications, who might find it interesting or applicable for their audience. Since we last interviewed on Starter Story, our backpacks have been featured in Outside Magazine, Jetsetter, Conde Nast Traveler, Forbes, Bustle, Woman's Day, Men's Journal, ABC, CBS, and more. This is something I always highly encourage other small business owners to do - if you have an interesting product and a mission or story behind your brand, there are many writers out there that would love to share it with their readers and require interesting topics to write about in their respective publications.
Lastly, we just released a new design a couple of weeks ago which has fortunately had a really good reception so far. It's a crossbody bag called the Sidekick, which is a versatile little bag that can be used for anything from travel to festivals to running errands or a night out. It's made with the same water-resistant 1000D polyester as all of our backpacks, and likewise is padded front/back for increased protection for phones/cameras/electronics/etc. We first created the Sidekick with the idea that it could be used as a convenient passport bag/wallet to use while traveling, but have since realized and promoted it as a bag that is truly a sidekick in the sense that it is there for you for whatever you might need to hold onto during everyday life. (Fun Fact: We actually decided the name for this design by sending out a survey to our newsletter subscribers, where they got to vote for a handful of names that we came up with, as well as suggest their own. This one happened to be a suggestion from one of our previous customers!)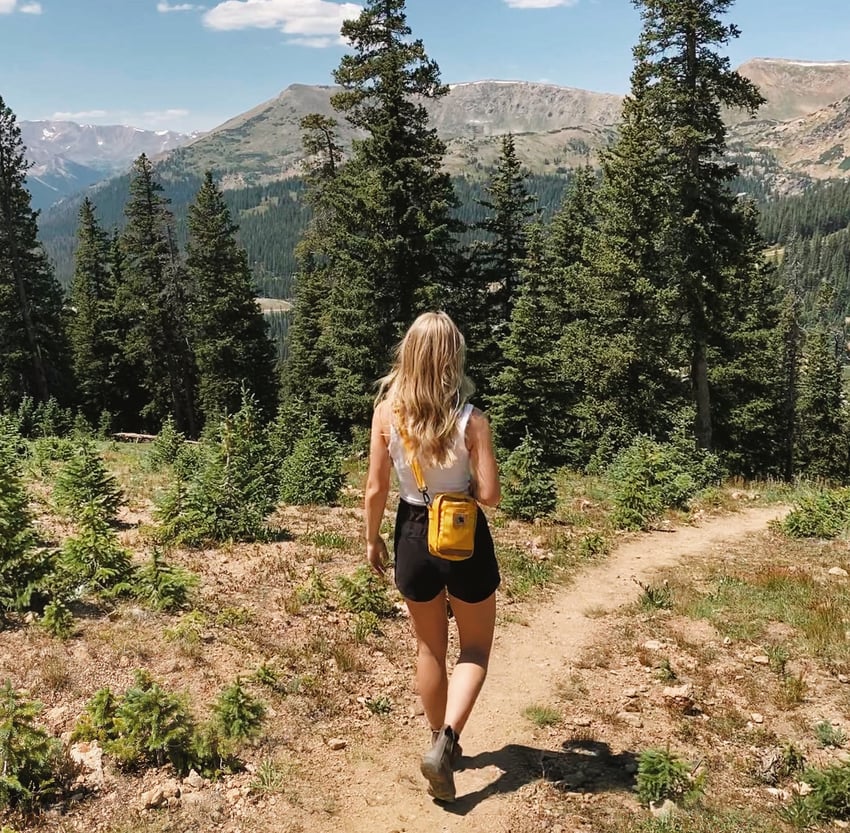 What have been your biggest lessons learned in the last year?
By far, the biggest lesson learned this year is to diversify your sales channels. With Covid-19 affecting all businesses, along with many people's way of life, we've learned that you cannot rely on one or two specific channels to hold you afloat during tough times. It's become increasingly necessary for each of our marketing and sales methods to be able to stand independently from one another if any of them become obsolete (temporarily or permanently). In the end, it also comes down to being able to adapt to change. Are we able to change our plan moving forward to fit with the new way of life and business, or will we go extinct because of a lack of adaptability and innovation? That's the question all businesses need to be able to answer with a resounding "yes, we will make it work even if it means shifting our whole business model to fit the times."
Making the wrong decision can really be a benefit down the road when you can apply what you've learned to different situations.
As mentioned in a previous question, this has made it necessary for us to focus more on online and B2C sales, where we have more control, opposed to relying on another business that may itself be having problems and reduce their buying operations for the time being. Maybe sometime in the future B2C sales will be affected negatively for some reason, and it will be necessary to shift our focus to retail sales, etc. In the best of times, you can evenly distribute attention to each and have a well-rounded strategy to maximize sales on all different fronts.
Since my last interview with Starter Story (and before the pandemic hit), we had started teaming up with universities across the U.S. to sell our backpacks in their student stores and having a percentage of all campus sales go toward fighting student food insecurity. This is something that Matilda and I are both very passionate about, and are excited that we've been able to partner with universities such as UC Berkeley, Univ. of Oregon, Univ. of Arizona, Univ. of Wisconsin, Univ. of Arkansas, Colorado State University (my alma mater), and dozens of others. It's funny because sometimes when starting a business, you can overlook seemingly obvious business opportunities (like a backpack company partnering with educational institutions), and sometimes you have to get back to basics and really look for the simple connections that could be beneficial for your business, and others. We're excited to continue this work, and ramp up our partnerships as soon as classes return to campuses post-Covid.
What's in the plans for the upcoming year, and the next 5 years?
Our main goal is to provide 1 million meals to families in need across the U.S. through our partnership with Feeding America by our 5th business anniversary. As part of FA's Enterprise Society, and with exponential growth, we're hopeful that we can achieve this goal within the next 2 years.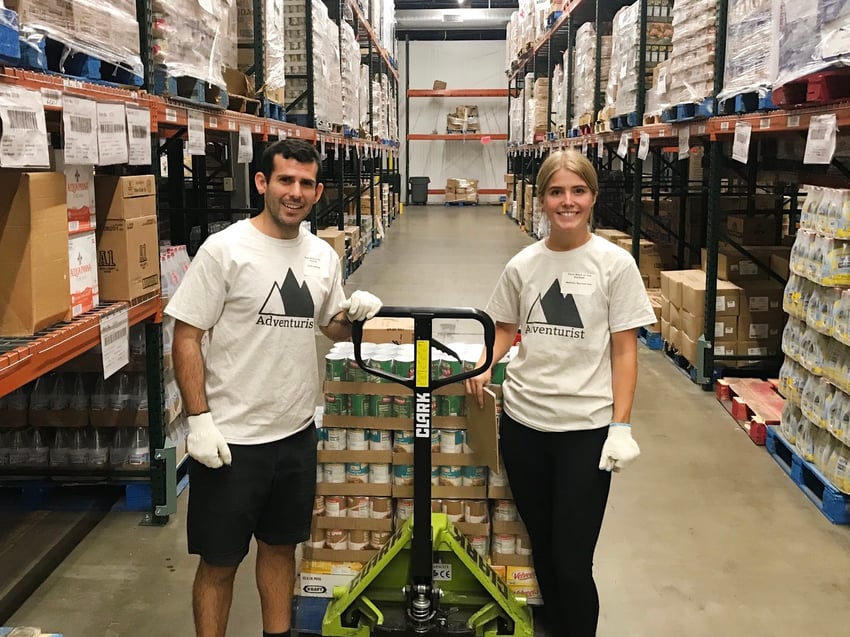 We plan to continue working with Urban Outfitters to sell our different backpack designs and hope to get our products into other national retailers such as REI and Nordstrom in the coming years as well. We recently released our 4th bag design, and have plans to release at least one new backpack/bag a year (we like to spread out our product launches to make sure we have plenty of capital to cover the costs and to make sure that the designs are the best that they can be before releasing them on our website). We're also very excited to keep teaming up with universities across the country in the coming years. We would love to have our backpacks in all major universities/colleges within the next few years, and have a program in place to eliminate food insecurity on all college campuses.
Thirdly, we plan to continue our focus on D2C sales, where we have the most control of our success during the pandemic, and also the highest profit margins as an e-commerce business. We feel that if we can grow this side of our business through social media, email marketing, and press, it will give us a lot more freedom to expand in other areas.
Lastly, we hope to expand our operations to Matilda's home country of Sweden and begin marketing in more of Scandinavia. We would love to get our backpacks in retail shops around Stockholm, Goteborg, Ostersund, and other larger cities/towns across the country, as well expand our online presence and establish a warehouse in Sweden so that we can more efficiently fulfill orders in the region. Since our backpacks were designed and inspired by Scandinavian style (and it being Matilda's native home), we think this would be a natural next course over the coming years, even if a bit more in the distant future.
Simply put, our ambitious and broad 5-year goal is to make Adventurist Backpack Co. a household name across the country, and the brand that fellow adventurists turn to when they need a high quality, affordable backpack/bag for travel, the outdoors, school, or work.
Have you read any good books in the last year?
One of the silver linings of the pandemic is that it's given us a lot of time to catch up on reading some of the books we've been meaning to - so I've gotten the chance to read a lot of great books, some in quite different genres than I normally choose to read.
For the most part, I love reading biographies/autobiographies, history, science, and business-related books and have taken a recent dive into fiction, philosophical texts, and Swedish literature as well. Though you can learn many things from philosophy, fiction, history, and science, I'll instead list some of my favorites that are specifically related to business, both recently read and old favorites:
Purple Cow by Seth Godin - This book gives a unique look to starting a business, and helps you think about what kind of interesting factors you can build into your business from the very start. It teaches that it's not enough to create a product and then figure out how to market it, but to build marketability into the brand/product from the get-go.
Trust Me I'm Lying: Confessions of a Media Manipulator by Ryan Holiday - this is a book that might be the most valuable that I've read, and don't be nervous about the provocative title, this book has absolutely nothing to do with lying about anything. Simply put, it teaches how you can get in touch with writers/editors/other media to tell your story and spread the word about your brand, and even comes with some great email templates which I've used myself to secure articles/blog posts for Adventurist.
Shoe Dog by Phil Knight - The autobiography of Nike's founder, relaying the story of how he built the company from the ground up. Definitely an inspirational read, and one that comes with good practical ideas to implement in your own business throughout.
Advice for other entrepreneurs who might be struggling to grow their business?
As new business owners, Matilda and I have definitely experienced our fair share of ups-and-downs and learning experiences. One thing we've learned is that everything seems to go in waves - if one week brings tons of orders, new partnerships, and an article in a mainstream publication, the next week might not be very fruitful at all in comparison - so it's important to push through the tough/slow times because there will always be good stuff up ahead if you stay focused and put in the time and energy.
Probably the biggest advice we have for new entrepreneurs that might be struggling is to have a very DIY mindset. Google is your best friend, and you can find the answers to most of your questions by simply researching online. And a lot of times there isn't a perfect answer to a specific question or situation that you may be experiencing anyways, so making a decision and learning from trial and error can be the best option. Plus making the wrong decision can really be a benefit down the road when you can apply what you've learned to different situations.
Lastly, we encourage anyone starting a business to launch before they're ready. In most cases, and especially for e-commerce brands, it can definitely be nerve-wracking and scary to launch a company, but there's so much stuff that you have to figure out along the way that if you freeze up and wait until you feel 100% ready and confident, it could turn into an endless excuse instead of actually going for it.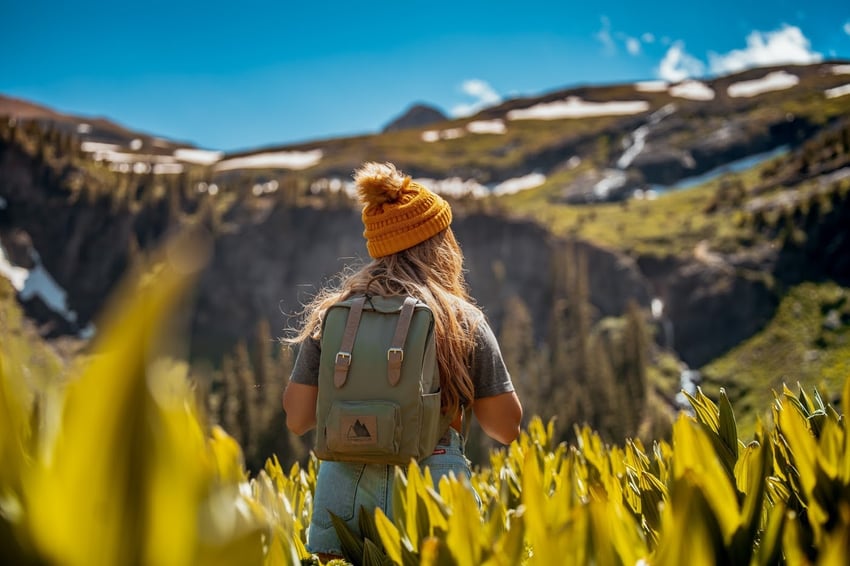 Are you looking to hire for certain positions right now?
We aren't currently hiring, but if you'd like more information about our company, or would like to send over a message/resume for future consideration, please feel free to email us at [email protected]
Where can we go to learn more?
If you have any questions or comments, drop a comment below!
-
Kelly Belknap, Founder of Adventurist Backpack Co.
Adventurist Backpack Co. has provided an update on their business!
8 months ago, we followed up with Adventurist Backpack Co. to see how they've been doing since we published this article.
Want to find more ideas that make money?
Hey! 👋 I'm Pat Walls, the founder of Starter Story.
Get our 5-minute email newsletter packed with business ideas and money-making opportunities, backed by real-life case studies.
Together With Hired
You'd like to grow your engineering team, now what?
Having open roles is one thing, but getting qualified candidates to apply is another. That's where Hired can help.
Get instant access to a curated pool of responsive top tech and sales talent
Filter by what you need (skills, experience) and what they want (WFH, equity)
Trial Hired and pay nothing until you make a hire
See candidates now.