Thank you Klaviyo for sponsoring Starter Story ❤️
Turn one-time buyers into repeat customers. Try the platform loved by 265,000 brands
How We Focused On Recruiting Influencers And Grew Our Business By 30%
This is a follow up story for Combat Flip Flops. If you're interested in reading how they got started, published over 4 years ago, check it out here.
---
Hello again! Remind us who you are and what business you started.
My name is Matt Griffin, but I go by Griff. I'm the CEO and co-founder of Combat Flip Flops. We're a fashion and lifestyle brand that makes products in conflict zones to create jobs and security. With our profits, we fund women's education in Afghanistan, land mine clearance in Laos, and support Veteran Charities at home.
A few of the founders are Special Operations Army Rangers. After several tours in Afghanistan and Iraq with elite units, it was apparent our national policy was failing and would continue to fail due to U.S. politics and poor military leadership. So we got out and pursued the one path that made sense--business. The areas flourishing with business are more secure. Loose logic would dictate that if we want more security, then we need more business. And that's how Combat Flip Flops came into fruition.
If you want the full download, we're offering the ebook of our company formation and history FOR FREE on our website. If you don't the F-word, avoid downloading the book and carry on reading this article.
We started with the production of our AK-47 flip flop and eventually grew into a full men's and women's fashion line to include jewelry made from landmines, Afghan scarves, hats, tees, etc.
The internet is weird and we've ridden every wave imaginable since 2012, including a successful appearance on Shark Tank. Revenues range from $100K/mo to $250k/mo.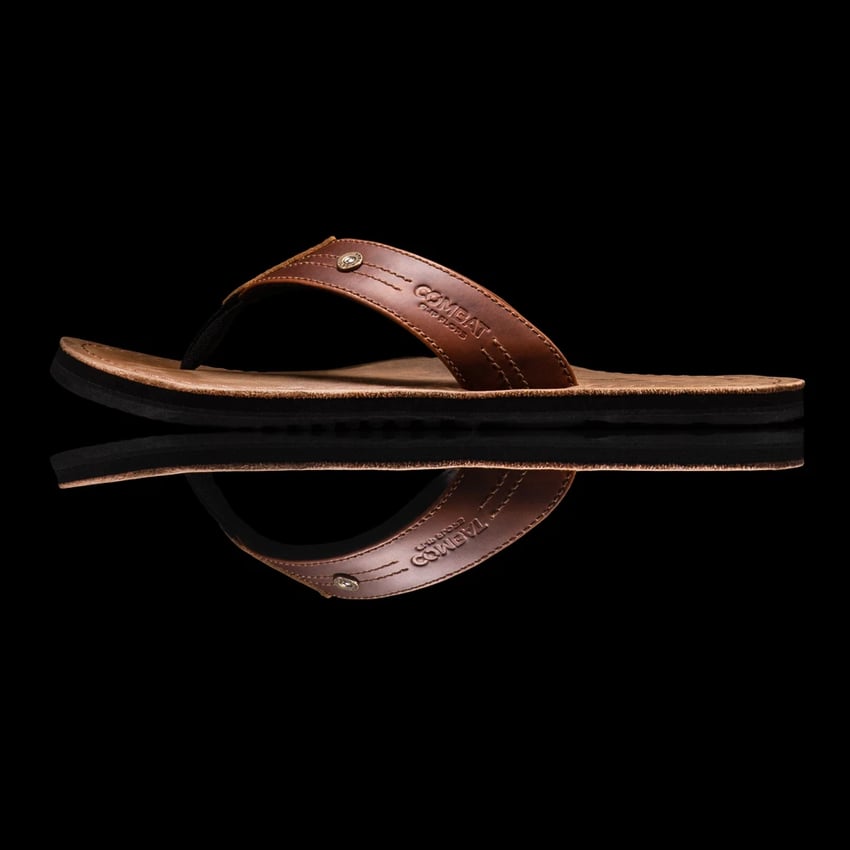 Tell us about what you've been up to! Has the business been growing?
Since we last spoke, our business grew roughly 30%. We consider that a win as we gained that growth profitably and during COVID.
Write down what you want to do, break down the subtasks, put them on the calendar, then hold yourself accountable. It's pretty simple when you plan it out.
To increase traffic, we focused on the fundamentals. Kill all the slow-selling products, focus on improving the winners, TAKE BALLER PHOTOGRAPHY, and built continuity between our advertising, website, emails, and social media. Website traffic was roughly the same, but the conversion rates are up, cart values are up, and social interaction is up. We simply aimed to do more with the same--by making it look better.
We don't have any new employees. The company is still operated with a small team of five core employees and a handful of contractors. As the saying goes, " It never gets easier, you just get better." Everybody on our team simply got better at the core tasks of their job and educated themselves on new skills to move the company and mission forward.
We haven't branched out into any new marketing channels, but we did focus on recruiting micro-influencers. Influencers with 5K-15K followers with good engagement seem to be the right fit for us. We're able to communicate well, make them feel like a part of the team, and contribute back to them with commissioned-based performance. We have a few influencers that consistently generate $1K+ per month with minimal investment. The thought is to build a stable of 100+ of those types of influencers. Good people. Good imagery. Good business.
Facebook seems to be an unstable partner at the moment. With their program changes in January, all of their reporting went to crap and the advertising effectiveness is questionable at best. As a team, we're curious to see what their Q1 earnings look like as every small business in our network is having the same problem and decreasing ad spends.
Keeping your current customers happy is pretty simple. Communicate. We respond to every social comment, call customers that place orders over $100 and work to answer every email within 24 hours. People just want to hear from you, good news or bad news. Fortunately, we're a flip-flop company, not an insulin manufacturer. We can generally calm customers easily if they lose a package, get an incorrect size, or receive a funky print on a t-shirt.
What have been your biggest lessons learned in the last year?
Calm is contagious. This past year was chaotic for everyone. If you're the boss, you need to maintain a zen state of calm if you want your team to act the same.
The best thing we did this year was created checklists for each member of the team. The checklist logically rolls through most important to least important tasks. The lists are shared via google sheets and everybody on the team can see what each person did or did not complete in a day. This process kept everybody focused on the most important tasks to the business. It was the fundamentals that saved us this past year.
Oddly enough, we sold 6 months' worth of our shemaghs (scarves) in about 48 hours when the CDC said any face covering would be better than nothing. Sometimes it's better to be lucky than good.
With everybody being home, shoes were not as essential in 2020. And with a significant number of people looking for alternatives to Chinese-made products, they sourced flip flops for everyday wear not made in China. Fortunately for us, we're one of a handful of brands that don't manufacture footwear in China. Another win for the team.
The best lesson/effort made this year was our photography. For years, we did the standard footwear photos on white or other basic colors. To change it up, we flipped the entire site to black and decided to be the best photography on black on the market. And once we had the images down, we made sure they were consistent across ads, website, social, and email. It worked. Take the time and learn to photography your products better. It'll be worth the time and investment to communicate the quality of your product through great imagery.
Outside of business, this year enabled the team to slow down and get square in life. Eat better, get in shape, go to those medical appointments we've been avoiding, taking care of the garden, being creative, etc. It was a reprieve that showed us the hustle we'd been executing actually wasn't the best way forward. We still hustle, but it's calm and smooth now. As it should be in flip flops.
What's in the plans for the upcoming year, and the next 5 years?
For the upcoming year, we're continuing our "Slow is Smooth, Smooth is Fast" approach. We saw what worked and set goals to do it 20% better.
The goals are reasonable, time-constrained, and measurable for everyone to see. Healthy, profitable, fun growth. This year and beyond.
Have you read any good books in the last year?
Why We Sleep
Zen and the Art of Happiness
The Immortality Key
Sailing Made Easy
Breaking the Habit of Being Yourself
I'm not a podcast guy. If I have spare time, it's an audiobook. And if there's spare time beyond that, it's spent working out with a good Spotify playlist or meditating.
Advice for other entrepreneurs who might be struggling to grow their business?
If you fail to plan, you plan to fail. Write it out. It's early Feb as of the time I'm writing this and I already crushed my Q1 goals and 33% of my 2021 goals. That was done through planning. Write down what you want to do, break down the subtasks, put them on the calendar, then hold yourself accountable. It's pretty simple when you plan it out.
If you want a good format to start your planning process, try the Passion Planner. I used it for about six months, then modified the process to fit my lifestyle within a standard moleskin journal. When you put pen to paper, you're manifesting your life--not filling in somebody else's blanks. Do you.
Are you looking to hire for certain positions right now?
No, we are not hiring at this time. However, we are looking for influencers that want to rock the product, support the mission, and earn some side cash. If you're interested, hit up [email protected]
Where can we go to learn more?
If you have any questions or comments, drop a comment below!
-
Matt Griffin, Founder of Combat Flip Flops
Combat Flip Flops has provided an update on their business!
Over 2 years ago, we followed up with Combat Flip Flops to see how they've been doing since we published this article.
Want to start your own business?
Hey! 👋I'm Pat Walls, the founder of Starter Story.
We interview successful business owners and share the stories behind their business. By sharing these stories, we want to help you get started.
Interested in starting your own business? Join Starter Story Premium to get the greatest companion to starting and growing your business:
Connect + get advice from successful entrepreneurs
Step by step guides on how to start and grow
Exclusive and early access to the best case studies on the web
And much more!
PROMOTED
Did you know that brands using Klaviyo average a 95x ROI?
Email, SMS, and more — Klaviyo brings your marketing all together, fueling growth without burning through time and resources.
Deliver more relevant email and text messages — powered by your data. Klaviyo helps you turn one-time buyers into repeat customers with all the power of an enterprise solution and none of the complexity.
Join Brumate, Beardbrand, and the 265,000 other businesses using Klaviyo to grow their online sales.
Starter Story
Wanna see 52 business ideas you can start with less than $1,000?
Join our free weekly newsletter and get them right now.