Thank you Klaviyo for sponsoring Starter Story ❤️
Turn one-time buyers into repeat customers. Try the platform loved by 265,000 brands
How We Exceeded Our Revenue Projection By Over $7M
Start A Fulfillment Business
This is a follow up story for ShipMonk. If you're interested in reading how they got started, published almost 3 years ago, check it out here.
---
Hello again! Remind us who you are and what business you started.
Hey! I'm Jan Bednar, the founder, and CEO of ShipMonk, an order fulfillment center based in Fort Lauderdale, Florida. Since 2014, we've been making eCommerce dreams come true by providing a comprehensive, technology-driven solution to logistics. In short, we help you "Stress Less, Grow More."
Today, ShipMonk is a multimillion-dollar enterprise, with a 2019 revenue of $67M. We've been recognized far and wide by prestigious publications such as Entrepreneur Magazine (360 List of Best Entrepreneurial Companies in America, #115), Deloitte Technology (Fast 500, #51), and, and for three years in a row, Inc. Magazine (Inc. 5000 lists of Fastest-Growing Private Companies in America).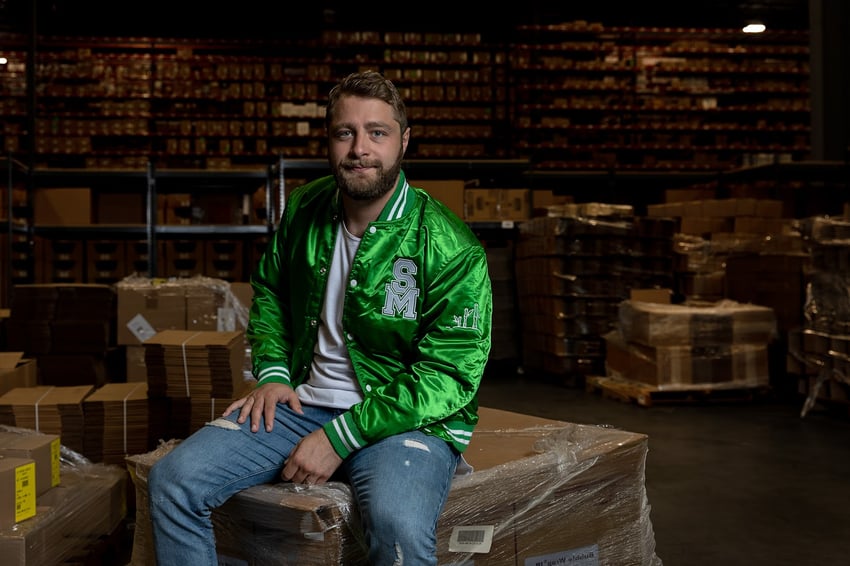 Tell us about what you've been up to! Has the business been growing?
Business for ShipMonk has been booming! We exceeded our revenue projection by over $7M last year, and we expect to break $100M in 2020. It's been another whirlwind year for us, but we wouldn't have it any other way.
Making mistakes is normal and not inherently bad — every misstep is a step in the right direction if you're able to learn from it.
Our growth isn't just confined to nickels and dimes — we've also onboarded hundreds of new employees, which means the ShipMonk family is larger than ever. All in all, this translates to better service for our merchants, who have benefited greatly from our expansion and technological investments. Our order accuracy rate, for example, sits at an impressive 99.85%.
Speaking of technological investments, our proprietary order, inventory, and warehouse management software continue to be one of our biggest accomplishments. Our latest and greatest feature is branded tracking pages — a feature that allows businesses to boost customer loyalty and provide pertinent shipping information while using their own branded designs and URL. So far, it's been a hit.
Lastly, we've ramped up our marketing efforts by posting regularly on our blog and social media platforms. When you have a company as unique as ShipMonk, spreading the brand gospel through engaging content is pretty much a must!
What have been your biggest lessons learned in the last year?
This year has certainly brought its fair share of obstacles, so I think the main thing for us has been staying flexible and taking each day as it comes. We've been very fortunate in that we haven't been hit too hard by the pandemic and have, as an essential business, continued to remain profitable. However, if we weren't proactive from the very beginning, things could've turned out differently.
At the end of the day, it's impossible to predict what'll happen next, and that's a conundrum that every business faces. However, I'm a firm believer that our true character is revealed in the face of adversity. In a lot of ways, 2020 has proved what we're capable of as a company. It feels deeply fulfilling to know that we've navigated murky waters with both the compassion and determination needed to keep pushing forward.
What's in the plans for the upcoming year, and the next 5 years?
World domination! Just kidding — sort of.
Since our growth is contingent on our physical capacities, we plan on continuing to expand nationally as well as globally. 2021 should be a huge year for us, as we plan to open two new warehouses — one in the Midwest, and another in Europe.
We've also somewhat shifted the type of businesses we work with. Thanks to incredible developments in our digital and physical infrastructure, we're able to take on larger merchants looking for a reliable, stress-free fulfillment solution.
In terms of what's next for ShipMonk, we have full intentions of continuing our upward climb and cementing our status as an industry leader in eCommerce and logistics.
Have you read any good books in the last year?
I've actually been getting into an awesome podcast called The Tim Ferriss Show — you may be familiar with him if you've ever read The 4-Hour Workweek. He's a cool guy, and his podcast is basically him sitting down with all sorts of interesting people, like Jamie Foxx and LeBron James, to dig deep into their methods and pass on actionable insights to the listeners at home.
Advice for other entrepreneurs who might be struggling to grow their business?
Last year, I talked about starting a business to solve a problem, and how important having the right mindset is. You don't want to go into something with entirely surface-level intentions — sure, there are glamorous aspects to success, but getting to a good place and staying there takes an immeasurable amount of work.
There are a host of factors that could inhibit your growth — ineffective marketing and poor communication being big ones. In my opinion, the best way to circumvent challenges is through a mix of education and lived experience.
Making mistakes is normal and not inherently bad — every misstep is a step in the right direction if you're able to learn from it. Of course, it doesn't hurt to be prepared, which is why we devote our expertise to our blog, which is chock-full of useful information and resources for both prospective and seasoned business owners.
Are you looking to hire for certain positions right now?
Yes! The ShipMonk team is growing like crazy, and we have open positions across all of our departments in Florida, California, and Pennsylvania. If you're an energetic out-of-the-box thinker who likes to work and play hard, check out our Careers page — we'd love to have you!
Where can we go to learn more?
Contact
Links
Social Media
If you have any questions or comments, drop a comment below!
Want to start your own business?
Hey! 👋I'm Pat Walls, the founder of Starter Story.
We interview successful business owners and share the stories behind their business. By sharing these stories, we want to help you get started.
Interested in starting your own business? Join Starter Story Premium to get the greatest companion to starting and growing your business:
Connect + get advice from successful entrepreneurs
Step by step guides on how to start and grow
Exclusive and early access to the best case studies on the web
And much more!
PROMOTED
Did you know that brands using Klaviyo average a 95x ROI?
Email, SMS, and more — Klaviyo brings your marketing all together, fueling growth without burning through time and resources.
Deliver more relevant email and text messages — powered by your data. Klaviyo helps you turn one-time buyers into repeat customers with all the power of an enterprise solution and none of the complexity.
Join Brumate, Beardbrand, and the 265,000 other businesses using Klaviyo to grow their online sales.
Starter Story
Wanna see 52 business ideas you can start with less than $1,000?
Join our free weekly newsletter and get them right now.