Thank you Klaviyo for sponsoring Starter Story ❤️
Turn one-time buyers into repeat customers. Try the platform loved by 265,000 brands
How We Created A $7.5K/Month On-Demand Beauty And Wellness Platform
Start A Mobile App Development Business
Hello! Who are you and what business did you start?
Hello, my name is Mohammed Khonizi and I am the CEO & founder of Panda Wish, an on-demand beauty & wellness platform that makes booking a massage or a beauty service at home or hotel easy and convenient with a tap of a button.
Our platform, which you can think of like the Uber of beauty and spa services, makes it simple for clients to order a massage or a beauty service by simply selecting the service type and duration and sends out the request to available therapists within 5 km distance, once accepted, a therapist will be on the way.
Our customers are travelers as well as local spa and salon customers who would rather receive the service at the convenience of their own home or hotel over going to a crowded spa or salon even if it costs a little bit more.
Our app was first piloted in the last quarter of 2019 in a small city called Naga City in the Philippines. The app was well-received, we got big traction in a short period with hundreds of clients and therapists signing up to our pilot program. Our app was awarded one of the most innovative businesses in technology in the city and by early 2020 we entered the discussion to be an exclusive in-house spa solution for one of the largest hotels in the region.
The talk and our service had to temporarily go on hold due to the pandemic and regulations. Today, we are in the process of relaunch as the country is opening up.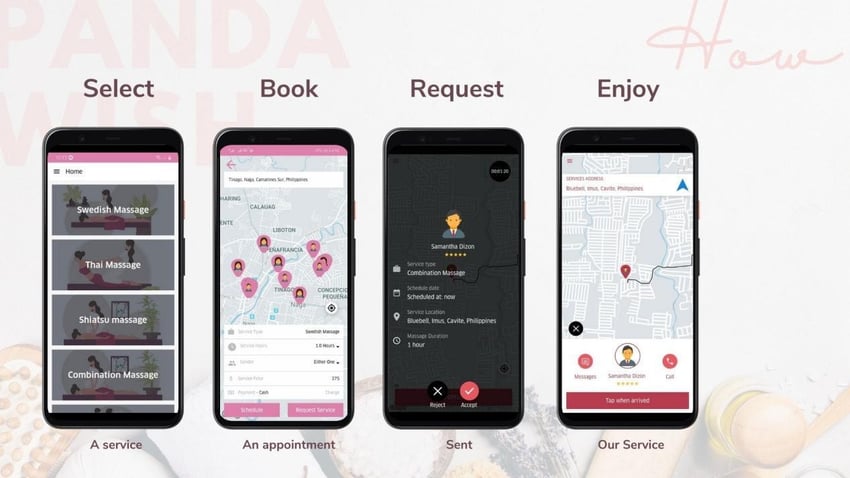 What's your backstory and how did you come up with the idea?
I have worked in the IT industry for over 10 years, from digital marketing for small companies, all the way to consulting for Fortune 500 companies.
I graduated top of my class at Wayne State University with an MBA in IT & Management. Panda Wish isn't my first startup, I had a successful exit in the past, and entrepreneurship has always been part of who I am.
In 2018, on a business trip to the Philippines and after a long flight, I tried to request a massage service, which was shockingly difficult despite the massive number of spas across the city. After failing to secure a massage through the hotel, I called a friend of mine who used to be a masseuse, he tried to secure for me a massage therapist by calling spas, and people he knew.
Was a long night that consisted of so many calls and three hours later he was able to secure a therapist for me. The very next day, I invited him for a coffee to learn more about the spa business and its challenges as I was pretty sure we can do something about it.
I realized the biggest challenge was communication between the clients and the therapists and after learning more about how hard it is for a massage therapist to earn a good income, I realized we can build a solution to make it easier for clients like me to request the service while helping massage therapists to earn a good income.
I validated the idea first by a market survey where we asked potential clients how they would like this type of service, and what they were willing to pay for it. We also interviewed tens of massage therapists to find out their pain points.
The day we launched the pilot, I realized this is going to be big. Over 100 therapists in that city showed up to the event and wanted to be a part of our platform.
Understand that things will go wrong and that is okay. Flexibility is key as your product may have to adapt and change to fit the market needs.
Many who have been working for spas. I realized we are solving a really big problem not only for clients but for therapists as well. I also was surprised to see bloggers and influencers from other cities covering the event and wondering when this can be offered in their city.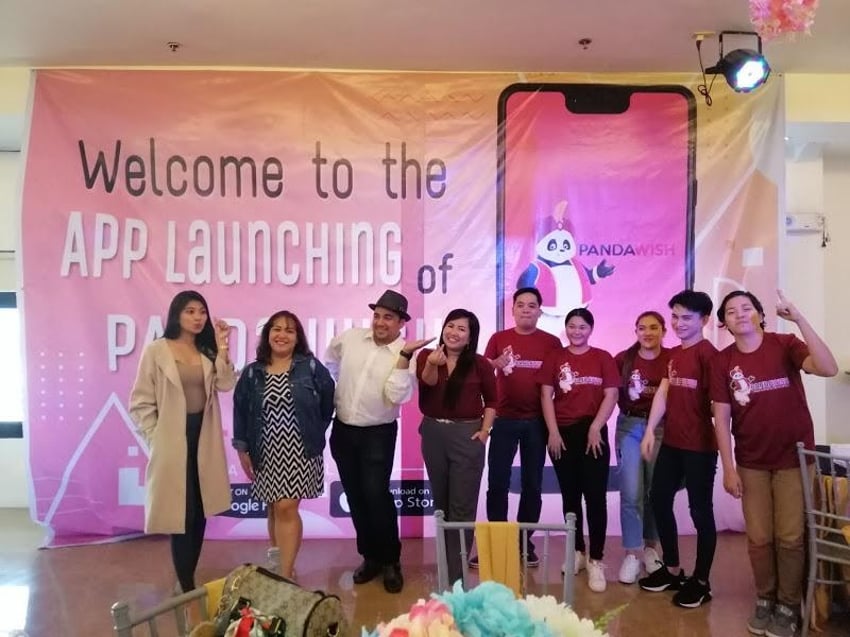 Take us through the process of designing, prototyping, and manufacturing your first product.
The first step was to define my product. I was very excited to make a massive on-demand app for all types of services (cleaning, moving, massage, etc), but after conducting market research I realized the right app will be an on-demand beauty and wellness platform. We started prototyping by hand and showed potential customers what the app will look like to get their feedback.
Eventually, we had a rough idea of what we were trying to build, this is when we designed the first mockups and created dummy versions. After a few iterations, we had a design for developers to work with.
Creating an on-demand app was a real challenge, as it was way more complicated than any app I worked on in the past, it required massive synchronization between all services in a manner of milliseconds for the service to work.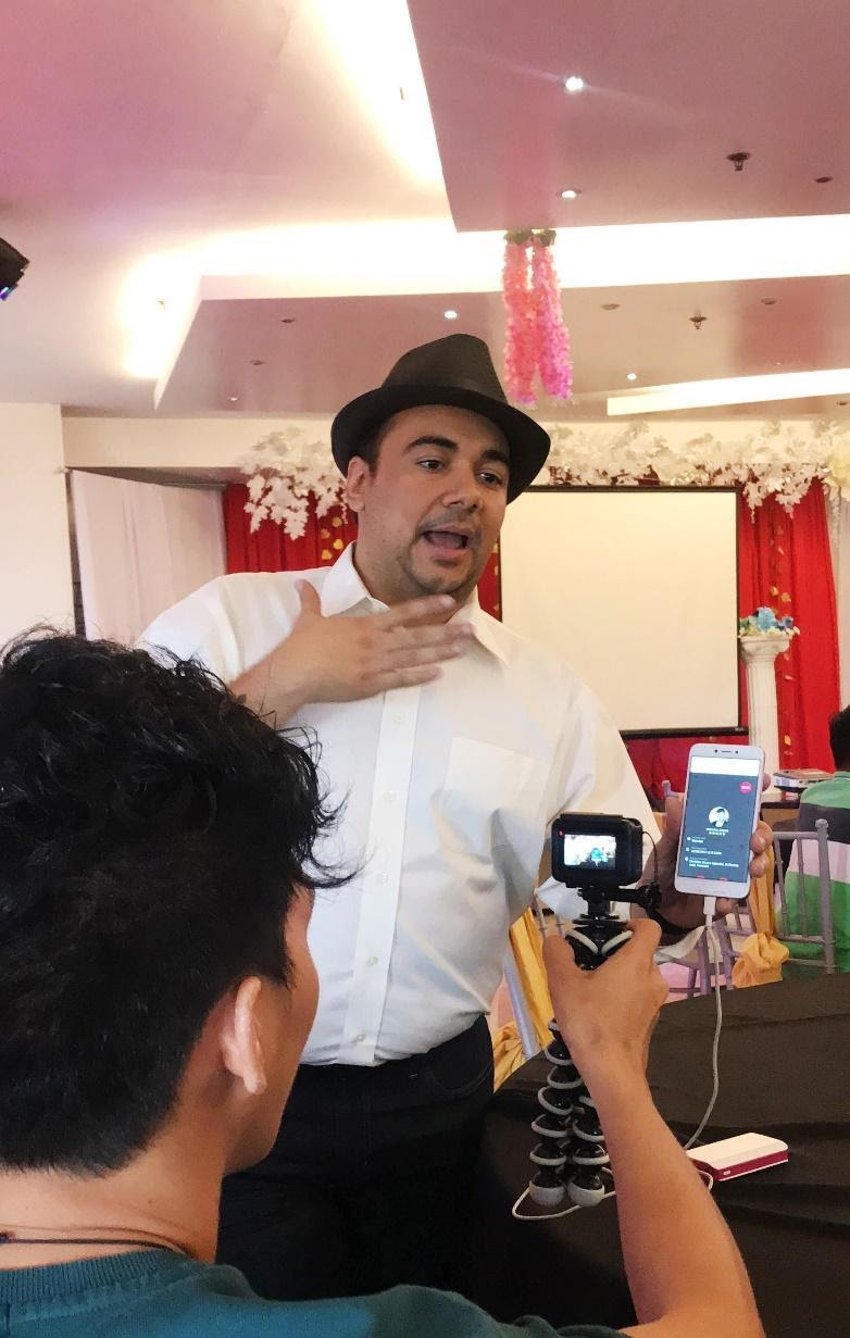 Describe the process of launching the business.
Our team invested a lot of time to ensure the pilot launch was a success. Since the app is an on-demand app, we had to ensure both therapists and users log in at the same time, especially on the first day. So, we set an event, invited therapists, our marketing team reached out to bloggers, and media outlets, as well as printed material in most rental transportation in the city. Our marketing team did a phenomenal job in making sure the whole city that we launched. We signed up therapists before the event, so upon the completion of the event that took place in the morning, they were able to go live.
Our apps were not ready on launch day due to the third party that failed to deliver on time, causing us to launch with only the original site (was very challenging) as everyone was expecting to see and use the apps. The android apps became available a month later. We start seeing orders coming in from day one despite having a web-only solution on launch day.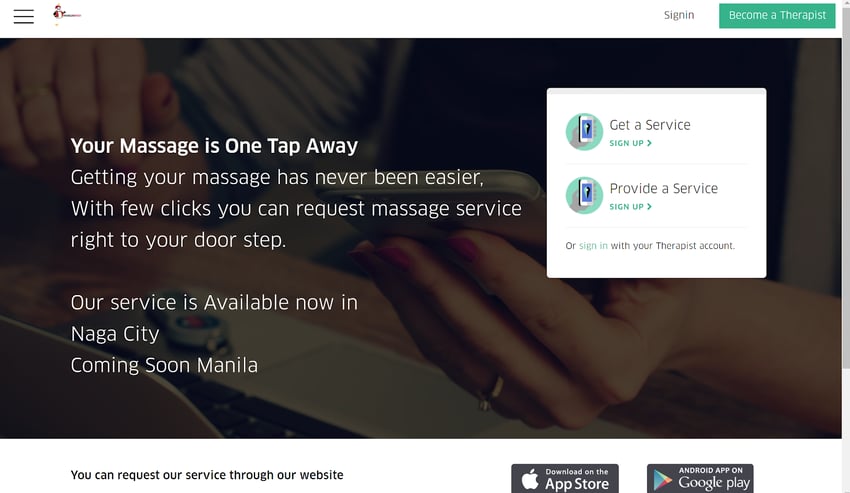 I financed the businesses by putting $50k of my own money as an initial investment. Our biggest cost was development.
I am currently doing the first equity crowdfunding phase on Miventure where we aim to raise $100k for completing our IOS app and relaunch post-pandemic.
One of the biggest lessons we learned is to do all the development in-house.
In the beginning, we outsourced our IOS app development to an offshore company. They failed to deliver a working product on time causing us to slow the beta test, and launch with only a website and android apps. This was a major setback for us especially as our target clients are mostly IOS users and we got a lot of frustrated feedback for not having an IOS app that they can use.
Since launch, what has worked to attract and retain customers?
What worked well to attract new clients were flyers, posters, mall booths, and word of mouth. We got better results advertising to people with traditional ads over digital. What helped us retain customers, is 24/7 support to address any issue when the platform encounters any glitches. Also, the engagement of our marketing team on both Instagram and Facebook.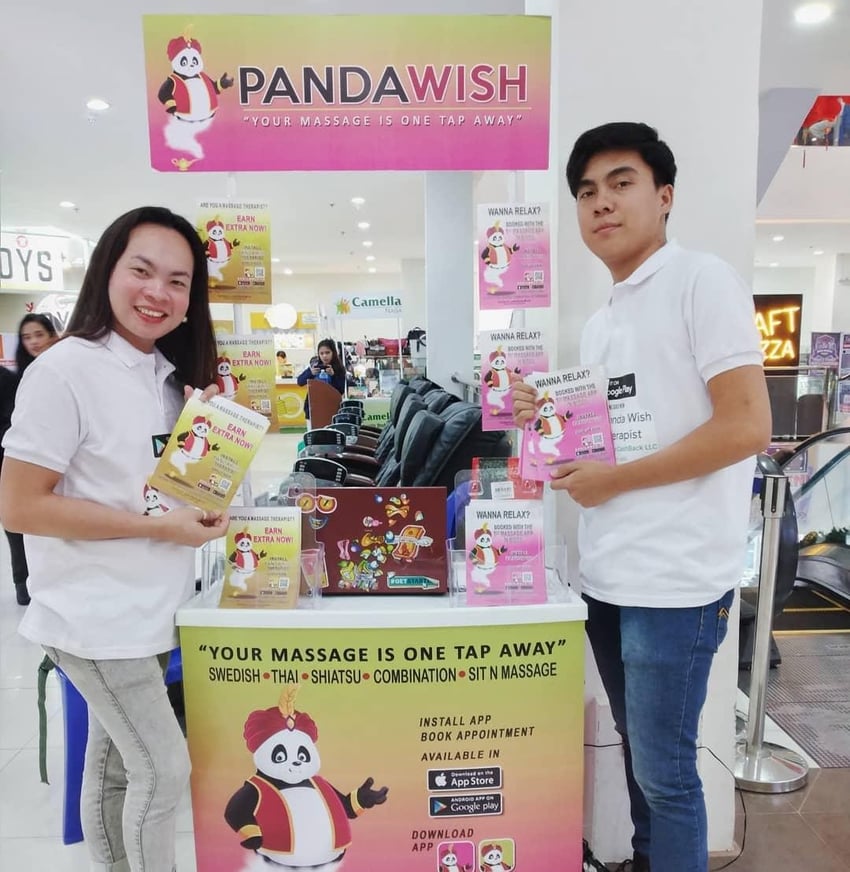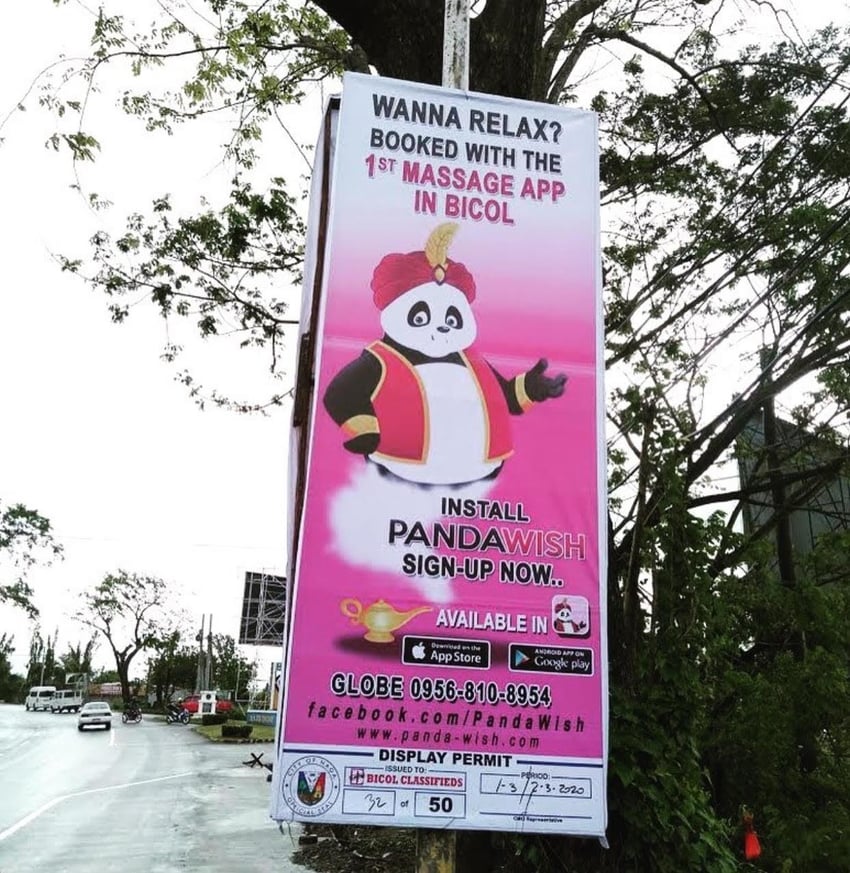 How are you doing today and what does the future look like?
Our team is doing very well. We had to halt our service due to the lockdown in the Philippines but we are still getting requests daily both through our mobile app and our Facebook page for our service. Our team is taking advantage of this time to improve our app and website, while also raising money to take the platform to the next level post-pandemic.
Our platform makes money by receiving a commission of 40% - 50% of each transaction. Our customer acquisition cost is $5 with an expected ROI of $630 over 7 years. On the other hand, we also have acquisition costs of therapists of an average of $15 / therapist.
We keep our customers engaged through mailing lists, but most importantly notifications through the app.
Our short-term goal now is to relaunch post-pandemic and offer our service in the 3 largest cities in the country. We aim to take our platform globally and offer a comprehensive list of beauty and wellness services worldwide.
Through starting the business, have you learned anything particularly helpful or advantageous?
One of the most important things I learned is to always write down your plan and modify it accordingly. Having things just in your mind is a bad practice. Once things are written down, you will start seeing the gaps in your plan and you will be able to get ahead of them.
What platform/tools do you use for your business?
What have been the most influential books, podcasts, or other resources?
I don't listen to many podcasts. I am a big fan of the Shark Tank TV show and I think it is a good resource for entrepreneurs to understand how potential investors will look at their product or their startup and how to craft the art of the deal.
Advice for other entrepreneurs who want to get started or are just starting?
Try to be as prepared as possible before diving in. Do your market research, have your business plan and modify it as you go along. Understand that things will go wrong and that is okay. Flexibility is key as your product may have to adapt and change to fit the market needs.
Are you looking to hire for certain positions right now?
We are currently seeking to hire marketers, and event planners in Manila & Cebu, Philippines.
Our marketers will help us partner with hotels, Spas, and beauty Salons, as well as signing up massage therapists and beauty specialists in these two cities.
Where can we go to learn more?
If you have any questions or comments, drop a comment below!
We are currently raising money through an equity crowdfunding round, anyone who is interested to own future equity in our company can invest from $25 and up through Miventure
-
Mohammed Khonizi, Founder of Panda Wish
Want to start your own business?
Hey! 👋I'm Pat Walls, the founder of Starter Story.
We interview successful business owners and share the stories behind their business. By sharing these stories, we want to help you get started.
Interested in starting your own business? Join Starter Story Premium to get the greatest companion to starting and growing your business:
Connect + get advice from successful entrepreneurs
Step by step guides on how to start and grow
Exclusive and early access to the best case studies on the web
And much more!
PROMOTED
Did you know that brands using Klaviyo average a 95x ROI?
Email, SMS, and more — Klaviyo brings your marketing all together, fueling growth without burning through time and resources.
Deliver more relevant email and text messages — powered by your data. Klaviyo helps you turn one-time buyers into repeat customers with all the power of an enterprise solution and none of the complexity.
Join Brumate, Beardbrand, and the 265,000 other businesses using Klaviyo to grow their online sales.
Starter Story
Wanna see 52 business ideas you can start with less than $1,000?
Join our free weekly newsletter and get them right now.