Thank you Klaviyo for sponsoring Starter Story ❤️
Turn one-time buyers into repeat customers. Try the platform loved by 265,000 brands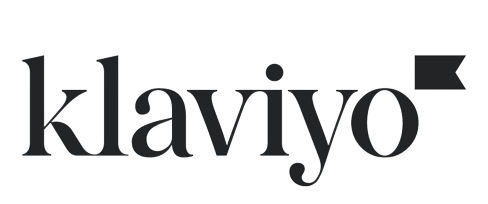 How I Pivoted Quickly When The Pandemic Threatened My Entire Business
This is a follow up story for Kamino Wallet. If you're interested in reading how they got started, published almost 3 years ago, check it out here.
---
Hello again! Remind us who you are and what business you started.
Hi! I'm Kan Yamamoto, the designer and the maker of the Kamino Wallet.
I make minimalist, eco-friendly paper wallets out of washable paper to help you lighten the load on your pocket and the environment.
The slim bifold wallet is my best selling product so far, and my customers love its seamless origami design, which is pretty minimalistic while keeping its versatility.
Since I opened my shop in June 2018, it has grown slowly but steadily. Though I'm based in a rural village in Japan, my products are loved by many users from all around the globe.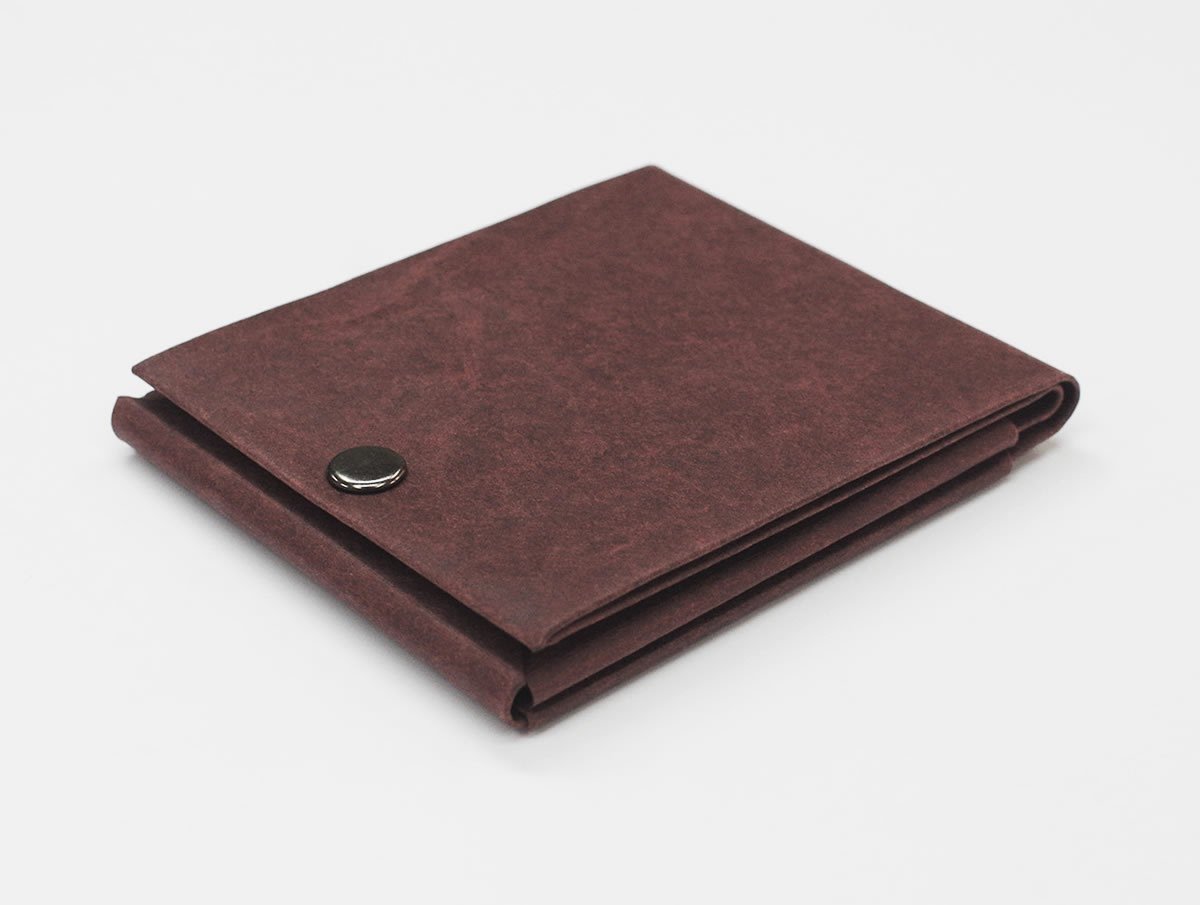 Slim Bifold
Tell us about what you've been up to! Has the business been growing?
My international sales have significantly declined (like 90%!) since last March because of COVID-19. Shipping to many countries from Japan has been suspended, including the U.S, which used to be the market where the majority of my customers are from, and it has not yet resumed to this day. (Edit: Shipping to the US has been finally resumed since October 2020.)
Find something that motivates you and keeps you going, however small it is. That would be the first step towards growth.
From the beginning of the business, I've focused on the global market because I figured that the demand for minimalist wallets in Japan was pretty small. But I had to change that strategy facing the unprecedented impact of the pandemic, and it turned out somewhat more successful than I expected.
First, I designed and released some notebook covers to meet domestic demand for stationary, which was itself a hit. It also helped that the pandemic pushed Japanese society towards the spread of cashless/contactless payment, so the demand for my slim wallets has increased as well.
Then, in the process of spreading the words, my wallets were picked up by a buyer of a well-known shop in Tokyo. Although I didn't intend to do wholesale initially, I realized that it could be another marketing channel, so I gave it a shot. I haven't seen much effect yet as it's recent, but I hope it'll contribute to the exposure of my brand in the Japanese market.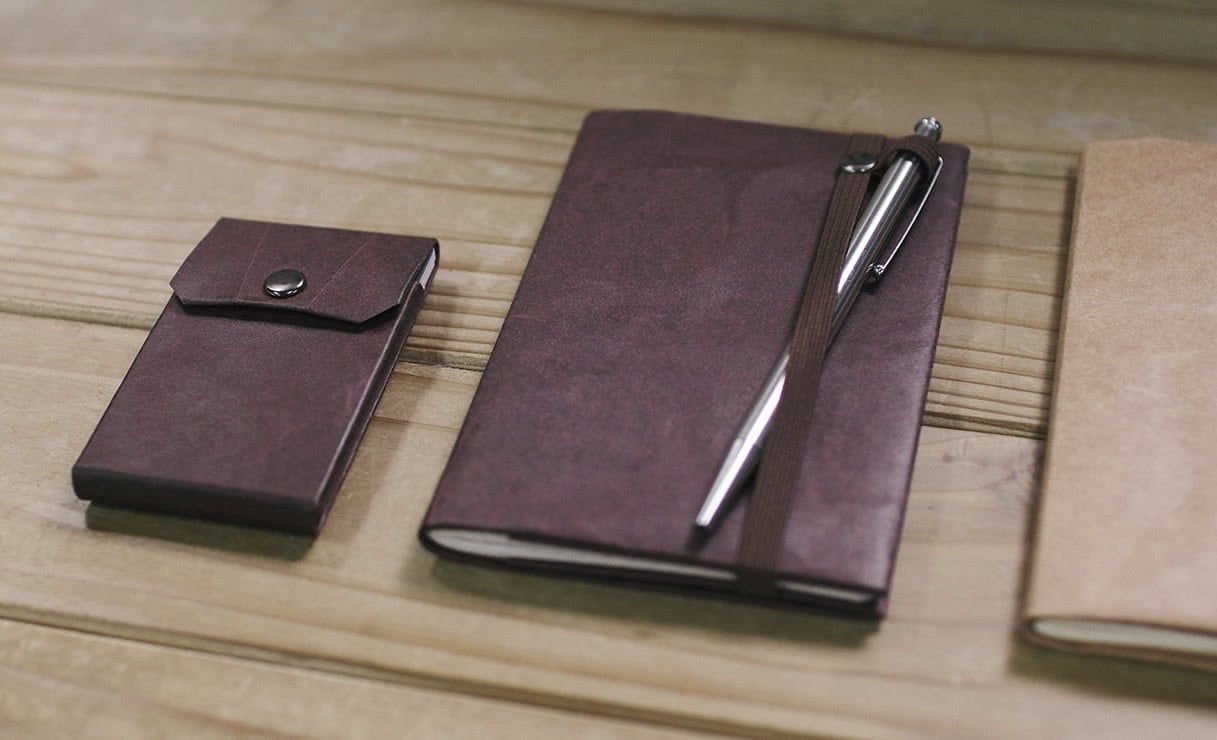 Card Wallet and Notebook Cover
What have been your biggest lessons learned in the last year?
I've always tried to help my customers genuinely when they have problems with delivery or the product itself, and people started to mention their experiences with my service in their reviews. To me, it became clear that providing sincere service is an essential part of my business. It helps not only to retain existing customers but also to build trust around the brand.
I've also learned that people tend to leave reviews more if I ask them after long periods, like 2-4 months from their purchase. I used to bulk mail them, but it didn't work, so now I send tailored emails to each customer with their names and follow up questions.
The reviews published on the website are only a fraction of the feedback I get (as I get a lot by email as well), but they represent the reason why I'm in the business. Through the feedback I get from my customers, I know I'm making something useful that helps people make their lives better, and that's what keeps me going.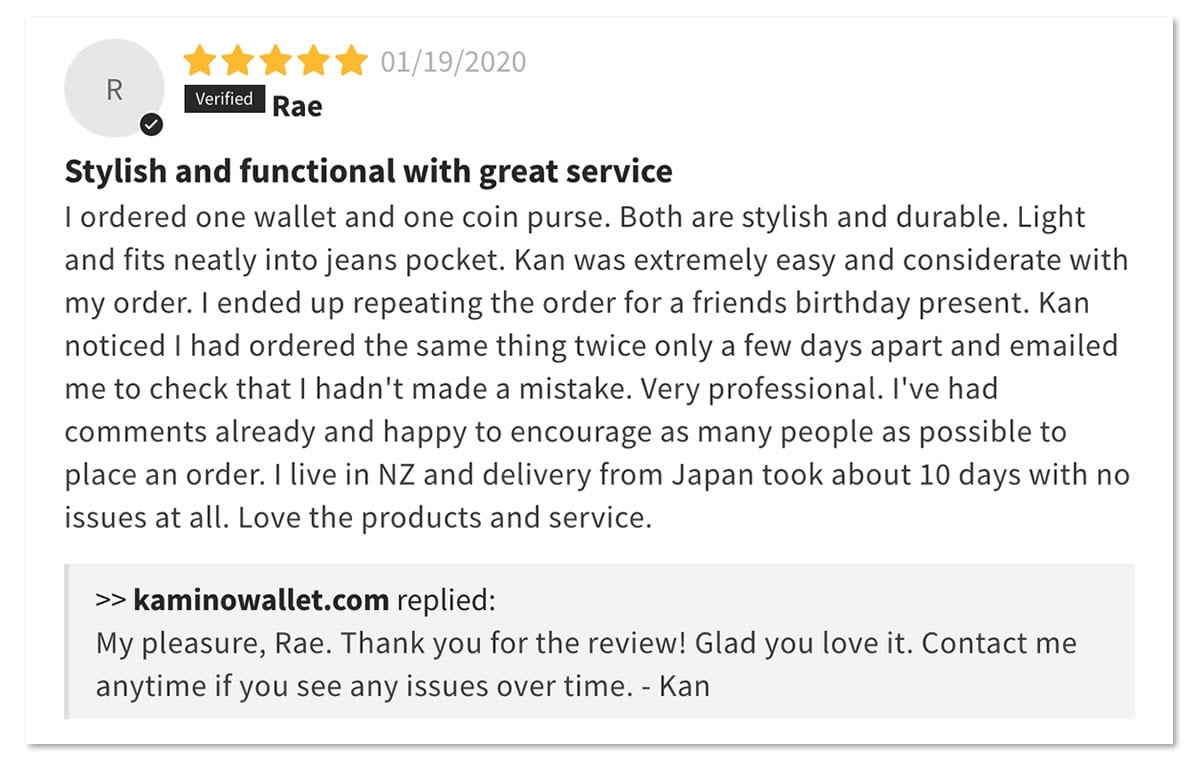 One of the reviews on the website
What's in the plans for the upcoming year, and the next 5 years?
It's been a difficult time for me as a small business owner. Even today, I have no idea when the international postal operation gets back to normal or if it will at all. For the coming year, I'll keep focusing on the domestic market, which I wouldn't have had the opportunity otherwise. I'm pretty excited that my wallets started to get some traction in Japan.
Also, I'm always seeking new materials to work with, which is more environmentally-friendly and has more color variations. My long term goal would be to develop durable paper material myself, cooperating with local washi paper artisans, which then could lead to the revitalization of the rural area where I'm based.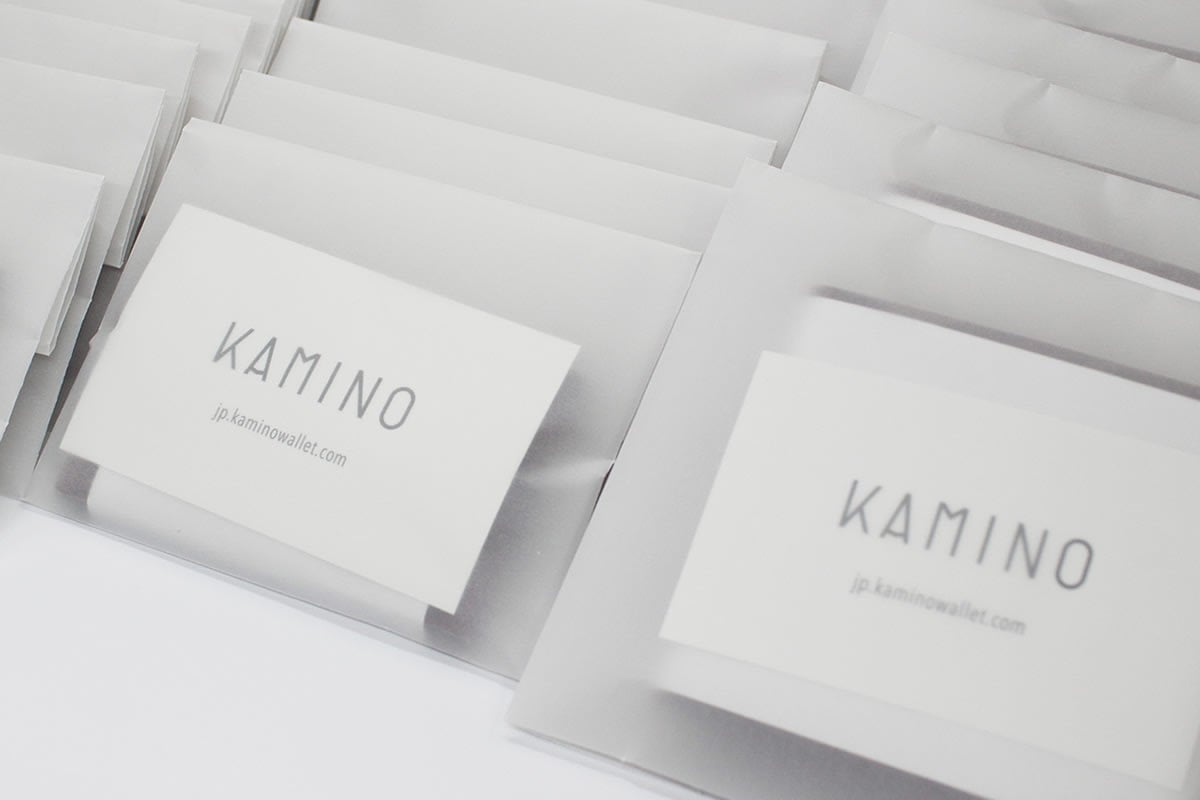 I use only paper for packages as well, no plastic
Have you read any good books in the last year?
The Psychology of Price by Leigh Caldwell.
Pricing has always been a trouble for me, but this book changed the way I think about pricing and helped me a lot to create my pricing strategy. It's full of examples of tactics from the viewpoints of behavioral economics that you can apply to your business.
Advice for other entrepreneurs who might be struggling to grow their business?
I'm struggling to grow my business myself, so I'm not sure how to put it, but growth is not possible if you can't keep doing what you're doing, especially in these difficult times.
Find something that motivates you and keeps you going, however small it is. That would be the first step towards growth. Stay healthy!
Where can we go to learn more?
-
Kan Yamamoto, Founder of Kamino Wallet
Discover the best strategies of successful business owners
Join our newsletter and receive our handcrafted recap with the best insights shared by founders in Starter Story each week.
Useful, convenient, and free:
PROMOTED
Did you know that brands using Klaviyo average a 95x ROI?
Email, SMS, and more — Klaviyo brings your marketing all together, fueling growth without burning through time and resources.
Deliver more relevant email and text messages — powered by your data. Klaviyo helps you turn one-time buyers into repeat customers with all the power of an enterprise solution and none of the complexity.
Join Brumate, Beardbrand, and the 265,000 other businesses using Klaviyo to grow their online sales.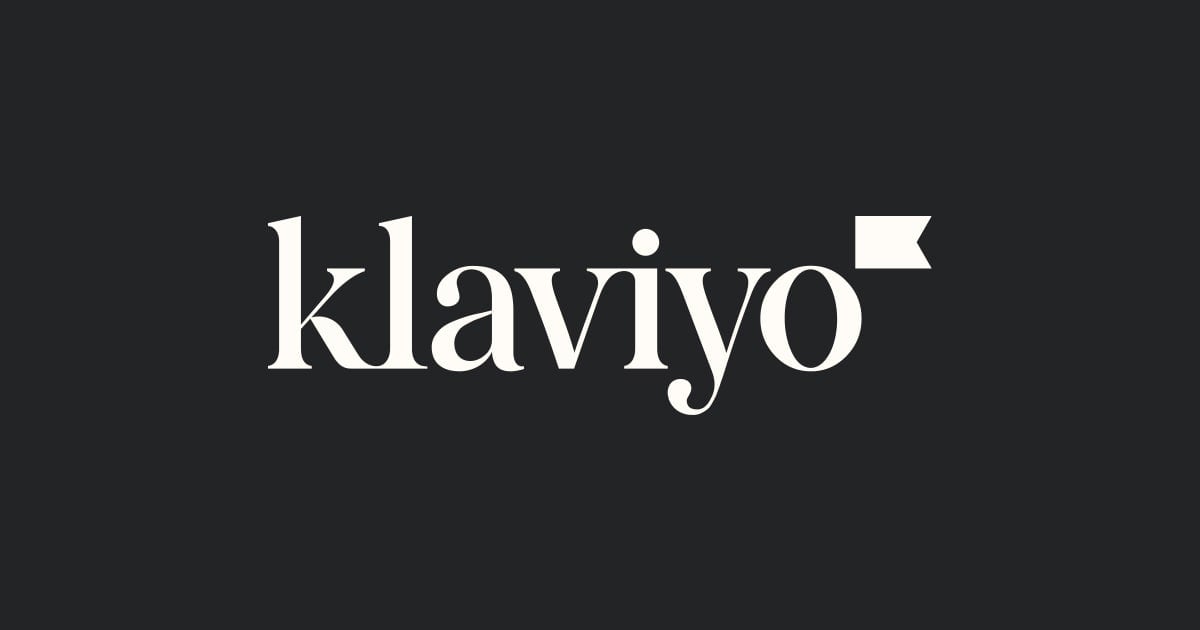 Together With Klaviyo
Companies using Klaviyo see a 95x ROI (yes, 95x)
Use Klaviyo to turn hard-earned customer data into hard-working emails and texts.
Try the platform that 265,000 brands use to grow their business.
Try it now (it's free) ➜