How I Partnered With Another Company To Grow My Business
Start An Online Jewelry Store
This is a follow up story for Bang-Up Betty. If you're interested in reading how they got started, published over 3 years ago, check it out here.
---
Hello again! Remind us who you are and what business you started.
Hey! It's Stacey Bowers with Bang-Up Betty. I'm a jewelry maker based in Little Rock, Arkansas, who makes funny, quirky and feminist hand-stamped and hand-cast jewelry as well as enamel pins, stickers and more. Bang-Up Betty jewelry and gifts are beloved by the irreverent at heart.
You might have seen me in Chris Guillebeau's latest book "100 Side Hustles," and some of my pieces have made it onto the lapels and around the necks of a few celebrities, you might know (ahem, Julianne Moore and Janelle Monae).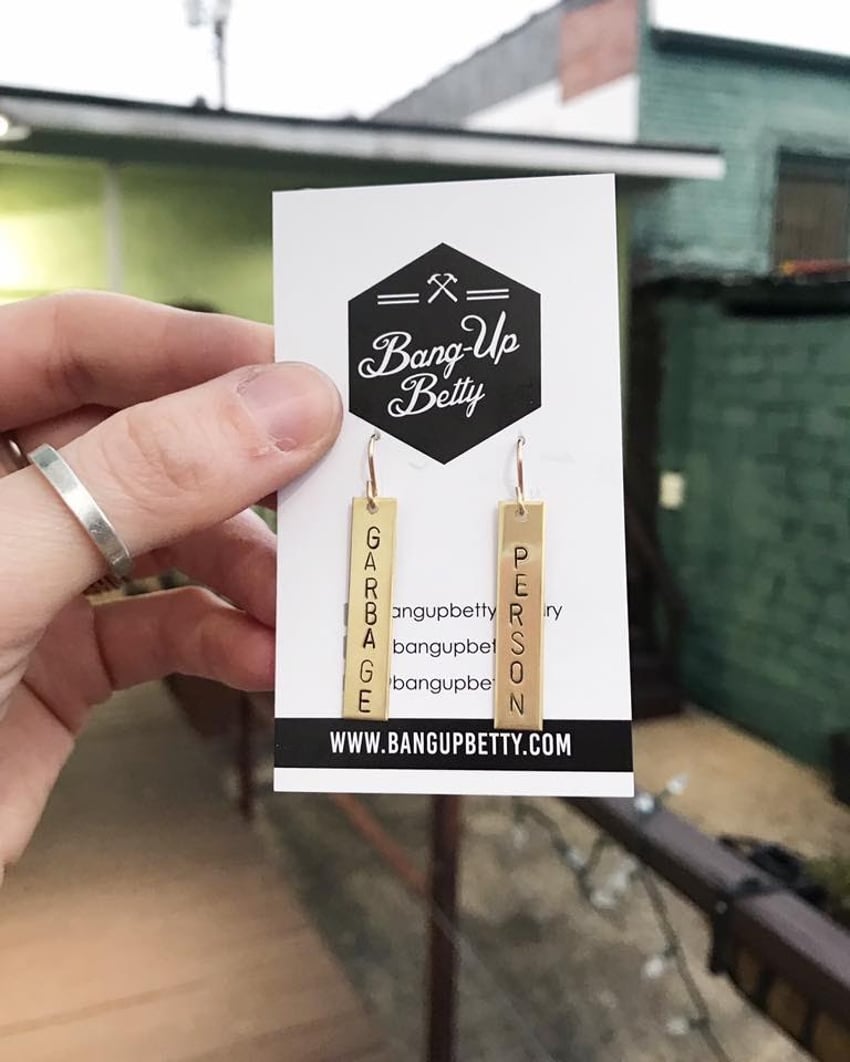 Tell us about what you've been up to! Has the business been growing?
2019 was a wild year for Bang-Up Betty. I started the year off by resigning from my full-time job as a marketing director of a nonprofit and taking my jewelry business on as my main gig. I had been juggling working and running my business for more than five years.
I did my first wholesale trade show in Las Vegas at the beginning of 2019, then spent the summer really focusing on growing the business, getting comfortable with my new schedule and all of the anxieties that come with not having a bi-monthly paycheck anymore, and I started taking classes at my local arts center to improve and expand my craft so I can keep things at Bang-Up Betty fresh and new. Being able to take classes changed my life and my work. I recommend anyone in a creative (or not-so-creative) business always consider professional development.
Probably the biggest thing that happened in 2019 was by partnering with another local business owner and jewelry designer on a storefront in Little Rock. The owner of Stifft Station Gifts, in the quirkiest neighborhood in the city invited me to work out of her incredible gift shop, giving me a home base for clients to shop all of my work and have custom orders made on the spot. I'm just coming off the holiday at the shop, and it was such an incredible experience and a game-changer to have a central location for my clients to visit me and see my work.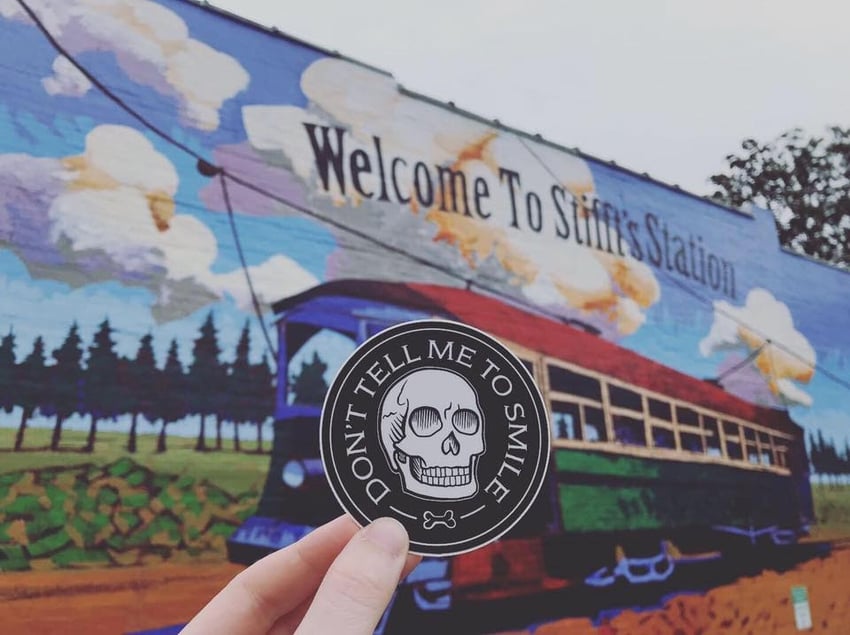 All that said, I feel like I've really spread my creative wings recently. You can see a lot of the new hand-cast bronze jewelry I've been introducing, and I'm still creating the beloved hand-stamped jewelry, stickers and enamel pins that are true to my brand.
Having the storefront has really given me a new vehicle for marketing, allowing me to use Google better to drive traffic to my brand. The location has also let me get really creative about marketing. I started planning fun neighborhood events to get people talking about the shop and Bang-Up Betty, and I created a class series called "Bead 'n B*tch" for creative folks to get together at our shop and make things with me. I started inviting other artists to do workshops here, and it's brought so much conversation about us. With that being said, I've seen myself lean more into Facebook than ever before because of the ease of sharing links and events; before I was really honed in on Instagram (which I still use regularly), but I noticed Instagram not driving as much traffic to my work as it used to, so that made me explore other social media platforms and local marketing more.
What have been your biggest lessons learned in the last year?
I think one of the biggest lessons I learned was that maybe I'm just not that into trade shows. I'm currently considering sales reps for my brand so that I don't have to invest the time off work, energy, a crazy amount of money, and exhaustion of actually going to market. I think money is better spent on paying someone to do that for me. So if you know of any fantastic sales reps or showrooms that represent funny brands, please send them my way! I wanted to do at least one show to find out what they're like, and I hit that goal. It taught me a lot.
Partnering with Stifft Station Gifts was definitely the biggest boon to my business this year. Typically I'm a little skeptical of partnering with people, especially bigger businesses than mine because I've had big businesses hire me or buy my work for a while then decide they'd rather make their own version of it and cut me out. That really hurts and it's a terrible way to use small businesses. But the partnership with Stifft Station Gifts felt right, and I'm so glad I dove into it.
What's in the plans for the upcoming year, and the next 5 years?
I'm working on rolling out a ton of new designs in the next several weeks, and of course, right now I'm really focused on Valentine's Day. I've been implementing what I've learned from taking classes into my work to make new, different pieces to keep everything fresh and exciting. Right now I'm just really focused on product development, also because, since designing is art, it's good therapy, and who doesn't need therapy?
I'm kind of a weird business in that I fly by the seat of my pants more than other businesses. And a lot of that is probably because what I do is art, and it's always changing. I still do every little thing myself, so it would be great to get some help in the next five years. I would love to be able to have someone come in and help with the nitty-gritty of Bang-Up Betty, which for me is website management, uploading products to all the different sales channels I use, following up with wholesale clients, and keeping me organized. As I said before, I'm also looking to expand the wholesale aspect of my business by utilizing sales reps and other sales channels that don't make me go to market.
Through it all, my goal is to keep it fun. This might sound crazy to some people, but I wouldn't want to grow Bang-Up Betty too big. It's very close to my heart, and I like the handmade aspect of it. I like feeling like I'm sending a little piece of myself out in every package. I've always said that when this isn't fun anymore, I won't do it anymore. So let's keep it fun.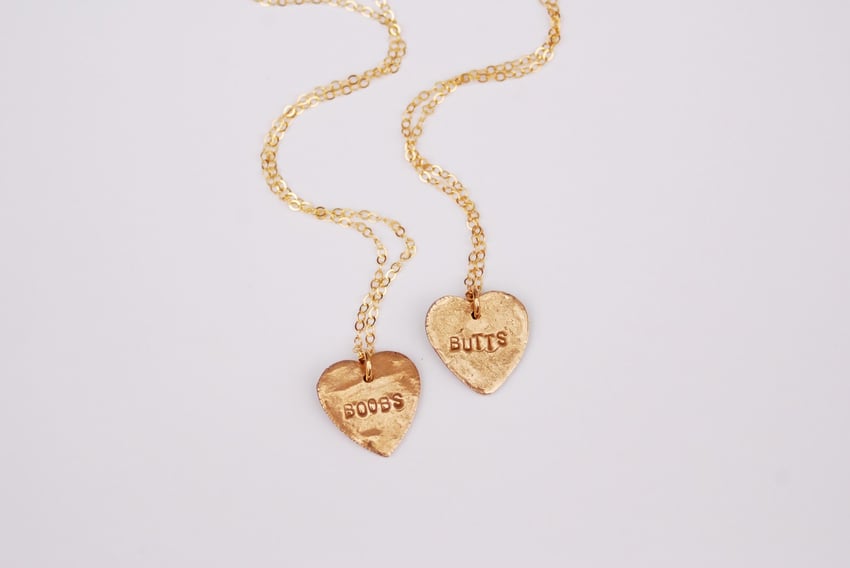 Have you read any good books in the last year?
Last year, Chris Guillebeau's 100 Side Hustles was published with a feature on Bang-Up Betty, and that's maybe one of the most magical things that have ever happened in my life. It's a beautiful book filled with photos and stories of people starting businesses on the side and making them grow. It's a great place to find inspiration and tips from other business owners.
I don't really read a lot of business-savvy books, but I do read a lot, and I get inspiration for jewelry from what I read. I read some pretty dark stuff, which is reflected in my jewelry, and a lot of activist literature. Last year some of my favorite reads were Will My Cat Eat My Eyeballs? by Caitlin Doughty, The Royal Art of Poisoning by Eleanor Herman, and Eloquent Rage by Brittney Cooper. As a designer, I never know where I'll find inspiration.
I'm just getting on the podcast train and am looking for recommendations. I'm always a little late to every party.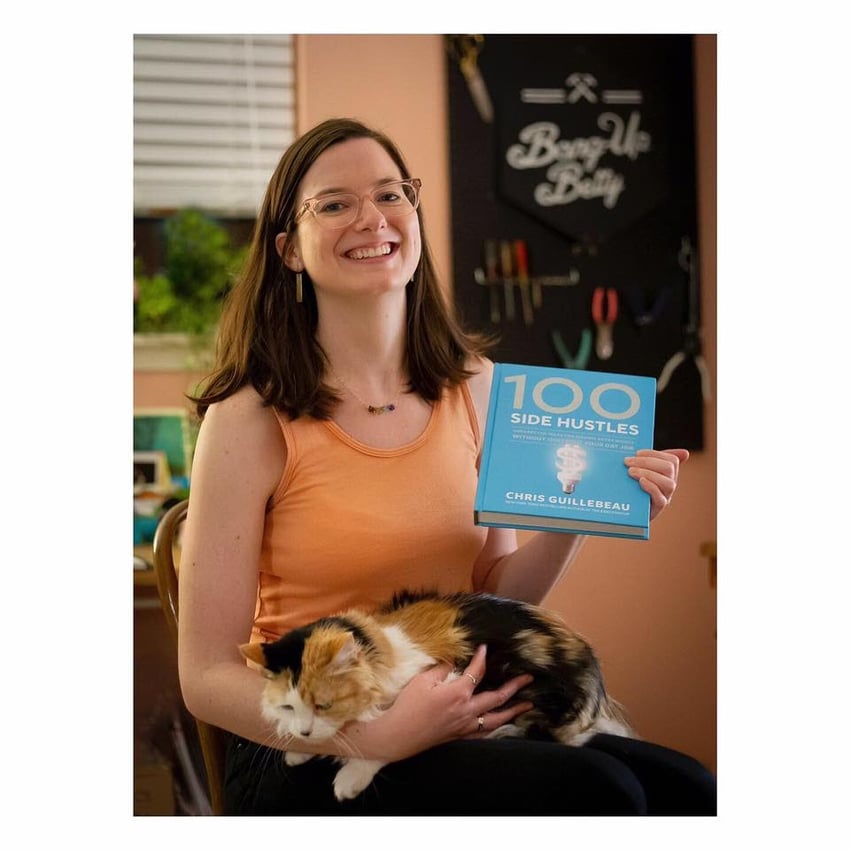 Advice for other entrepreneurs who might be struggling to grow their business?
Be patient! Bang-Up Betty was definitely a slow-growing business, and honestly, I'm grateful for that. I read so many horror stories about makers like me getting featured in something huge like a news article or by a celebrity and it almost crushing their little business before they were really off the ground. When you're making something individually as I do, it takes time and care to produce each item. If I got hit with even 150 orders overnight when I was starting out, I would have crumbled.
I don't regret keeping Bang-Up Betty a side hustle while I worked full-time until I felt comfortable making jewelry full-time. Consider multiple sources of income while you're starting out.
I am probably a weird case in that I have never taken out a loan for my business, but it's just something I didn't feel comfortable doing. I didn't want to be in debt with the business, so I grew slowly enough to pay off everything I needed to buy as I bought it. That made me feel more in financial control.
I think there's a lot of pressure in the entrepreneur climate to immediately see success and to just take off like a rocket, and I don't think that's healthy for everyone. I know that's not healthy for everyone. So don't compare yourself to the Joneses too much. Everyone's business is completely different, and we can probably all say that our businesses are very emotionally important to us.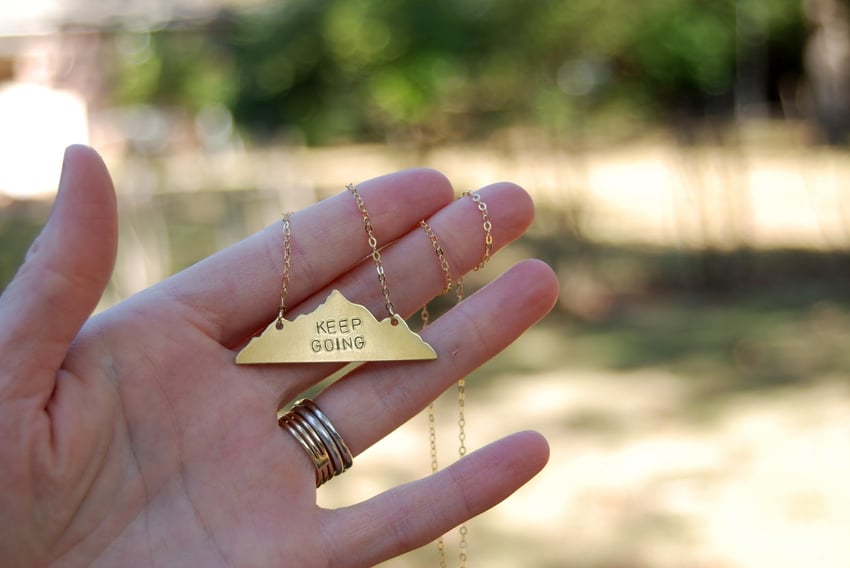 Are you looking to hire for certain positions right now?
Like I mentioned before, I'm definitely on the lookout for a good rep or a good rep group to showcase my brand to potential buyers.
Where can we go to learn more?
If you have any questions or comments, drop a comment below!
-
Stacey Bowers, Founder of Bang-Up Betty
Bang-Up Betty has provided an update on their business!
Over 1 year ago, we followed up with Bang-Up Betty to see how they've been doing since we published this article.
6 months ago, we followed up with Bang-Up Betty to see how they've been doing since we published this article.
Want to start your own business?
Hey! 👋I'm Pat Walls, the founder of Starter Story.
We interview successful business owners and share the stories behind their business. By sharing these stories, we want to help you get started.
Interested in starting your own business? Join Starter Story Premium to get the greatest companion to starting and growing your business:
Connect + get advice from successful entrepreneurs
Step by step guides on how to start and grow
Exclusive and early access to the best case studies on the web
And much more!
Together With Semrush
If You Don't Rank In Google, You Don't Exist.
In order to be successful, you need to be visible online. If you're not, then your competitors might be stealing customers from you.
Semrush lets you quickly create content that ranks, and compete with the biggest brands in your niche.
Try Semrush Free Today ➜