Thank you Klaviyo for sponsoring Starter Story ❤️
Turn one-time buyers into repeat customers. Try the platform loved by 265,000 brands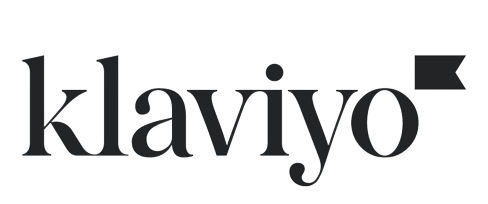 How I Nearly Doubled My Monthly Revenue In One Year
This is a follow up story for sarahpaintspets. If you're interested in reading how they got started, published over 3 years ago, check it out here.
---
Hello again! Remind us who you are and what business you started.
Hi! My name is Sarah Miller and I am a custom pet portrait artist. I am 24 years old and live in Atlanta, Georgia. A few of my favorite things are Taylor Swift, fat cats, and trail mix. I grew up in a family of animal-lovers and always had at least 3 pets living in our house at once. I have always been more artistic than the average person, but never took an art class.
I started my business as a side hustle in college. I decided to paint a watercolor portrait of my boyfriend's childhood cat for our one-year anniversary. He loved it so I posted on Facebook that I would paint other people's pets for $10 each. The orders have not stopped coming since and now sell for an average price of $180 each.
THEN: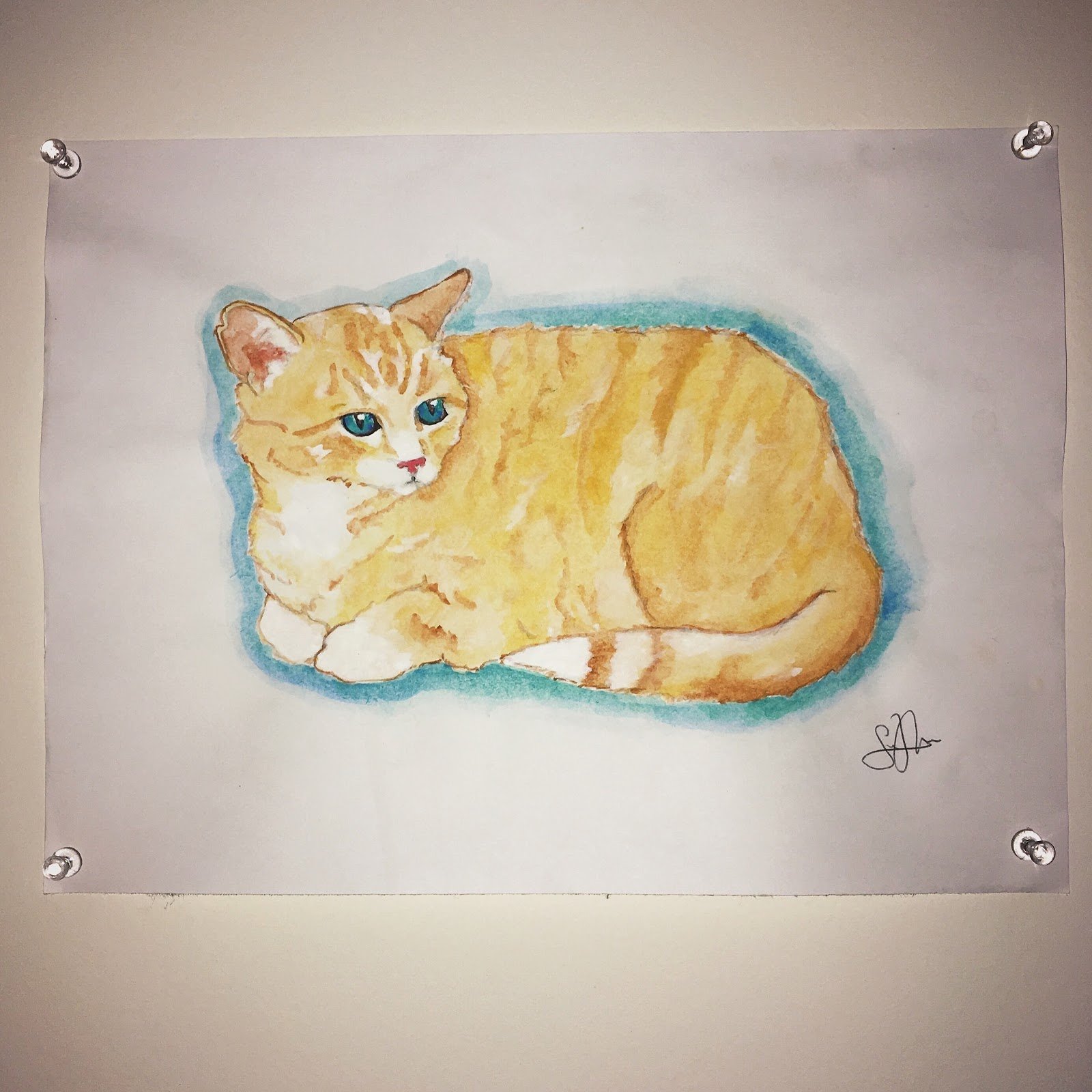 NOW:
Tell us about what you've been up to! Has the business been growing?
Since my last Starter Story about a year ago, my business has done much better. In my first year as a full-time pet portrait artist, I was averaging less than $3,000/a month. Now my monthly sales hover around $5,000 with an increase during the Christmas season. I am still a one-woman show. However, when I have a full orders list I have to work almost 10 hours a day to keep up with the demand. I am considering hiring an assistant of some sort to give me more time painting and less time doing miscellaneous tasks.
Trust yourself, listen to someone you truly align with and prove the rest wrong!
My "big break" came after I sent Jonathan Van Ness, the star of Netflix's Queer Eye, a pet portrait of his cats Bug and Larry. He posted about it a couple of times with it displayed in his bedroom. The momentum from being introduced to his millions of Instagram followers gave me a boost of momentum in orders. I have painted pet portraits for several other high-profile people such as Heather McMahan, Jackie Schimmel, Benito Skinner, Kate Kennedy, and Hannah Berner. They loved their portraits and have shared my artwork with their audiences. Even celebrities want custom art of the dogs and cats that have their hearts!
Press has been a third source of orders, behind social media and word of mouth referrals. Simply Buckhead and Voyage ATL are two local magazines who featured me in articles. It helped me get in front of an audience who might not be active on Instagram. And the articles have also brought credibility to my business that my customers were excited about.
I served a total of 494 customers and had 589 transactions on my website. I introduced a new product called "Quick Sketch Portraits" which quickly became very popular. These are $25-$35 custom pet paintings that are small in size and are a less detailed, whimsical style. I post a Quick Sketch Sale time and date on the first Sunday of every month. I put a limited quality of up to 50 Quick Sketches in stock and they sell out in minutes. These have become very popular in my younger customers who may be able to afford a $180 portrait of their pet.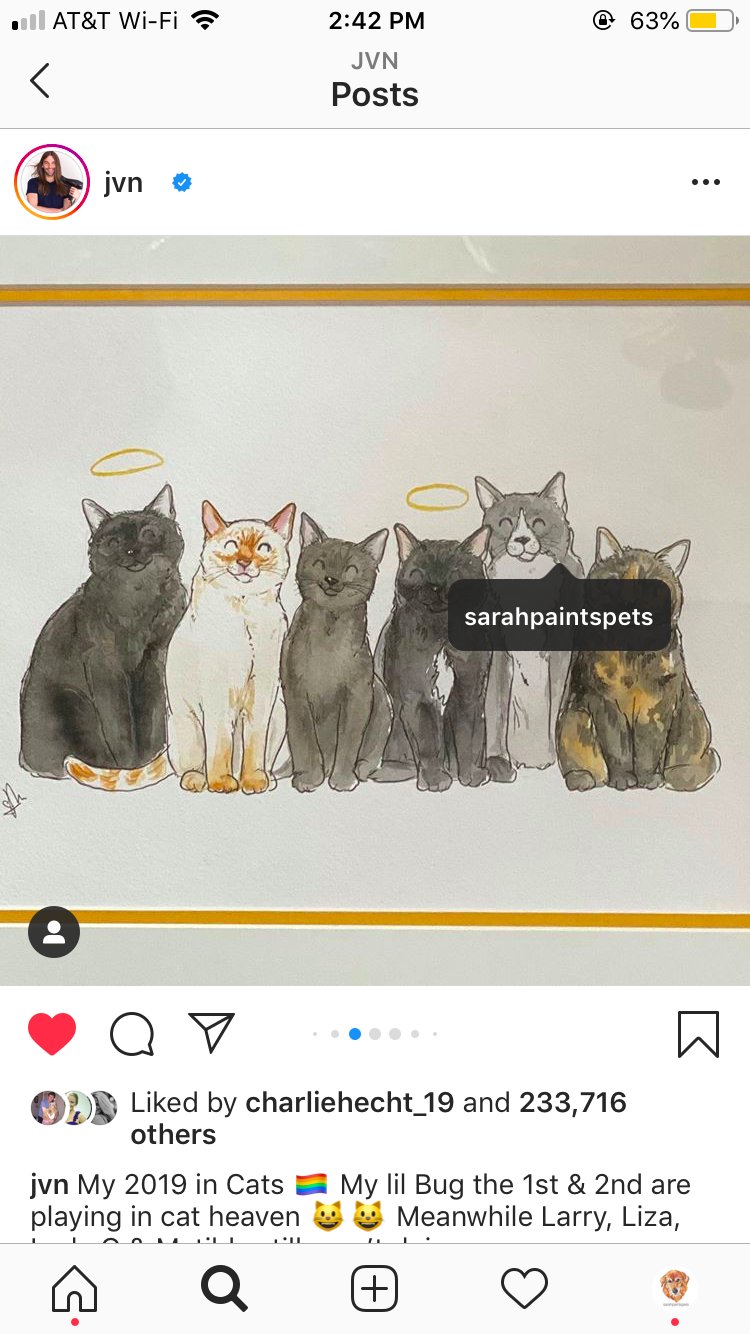 What have been your biggest lessons learned in the last year?
The biggest lesson I have learned in the last year is something I am still struggling with daily. I am naturally a more risk-averse person. I think that the biggest mistakes I made in the last year were not taking risks. The business was going better than ever in the fall and peaked during the holidays. I was working at capacity, but I can't help but think about the extra income I missed out on by not offering extra items people can order with their portraits. I hadn't set up things beforehand to sell things like phone pop sockets, coasters, and coffee mugs to print custom pet portraits on.
Something I implemented last year that was extremely helpful was batch-working. I wear a lot of hats while running my business: artist, social media manager, packager, post office worker, customer service representative, and more. In order to not be paralyzed with what task to do when throughout the week, I designated specific days for specific tasks. On Mondays and Tuesdays, I only answer emails and paint portraits. On Wednesdays, I finalize portraits going out that week. On Thursdays, I send completed portrait emails, package 10-25 portraits, and print postage. On Fridays, I take a trip to the post office and send out tracking numbers.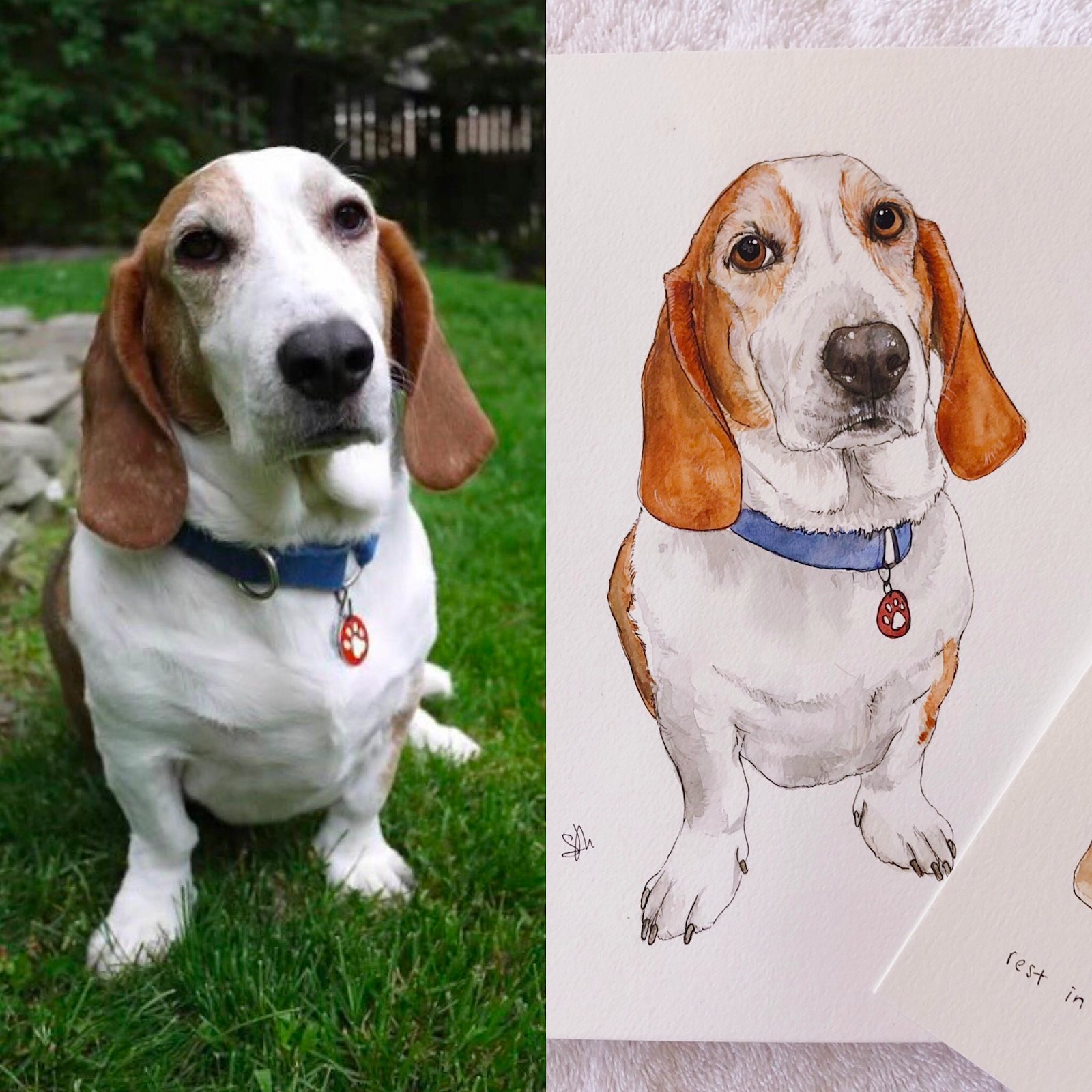 What's in the plans for the upcoming year, and the next 5 years?
In the next year, I plan to add more passive income streams. It has really hit me lately that working 10 hours a day may not be sustainable. I am only 24 years old so I know I have the energy to do it, but I am aware that this may cause burn-out at some point. In order to keep my income up and cut back on hours, I must introduce passive income into my business model. This may come in the form of dog/cat prints being sold in shops, printing my paintings onto different mediums such as coasters and pop-sockets, etc.
Being able to make money without actively sitting down and painting a dog from start to finish would be a dream come true. I will always continue to do the painting myself (my business name is Sarah paints pets, after all). While I keep improving my artistic abilities, I will be able to improve the quality of my work and therefore raise my prices accordingly. I will never lose my passion for animals and the meaning I find in my work.
My logo is my childhood dog, Toby who passed away in 2017. It absolutely broke my heart to lose him, but having his painting in my parent's home is such a special way to remember the happiness he brought to the world. Putting his face on everything I do is a constant reminder to paint every pet as if it were my own. I really do believe in celebrating the unconditional love of a pet through art.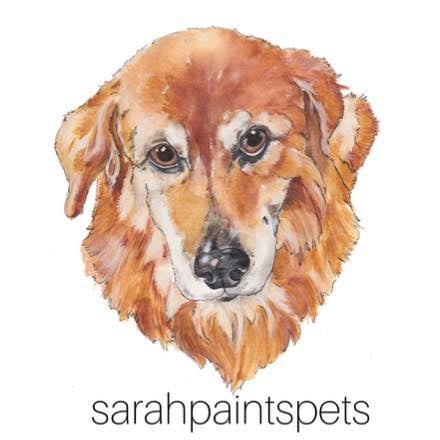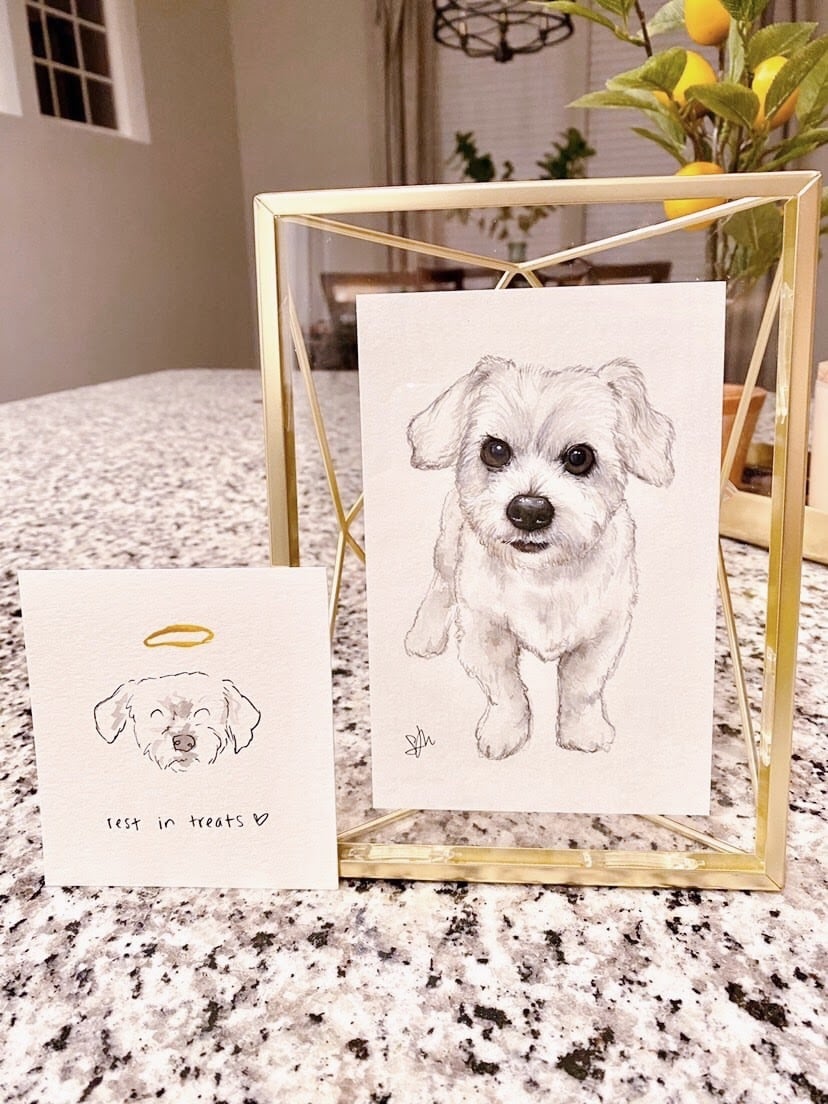 Have you read any good books in the last year?
If I'm being honest I do not read books. But I am constantly listening to podcasts! I work from home by myself so I need podcasts to fill the empty silence. The ones I listen to weekly are all classified as a comedy, pop-culture, or entertainment.
They are somewhat comforting to me in the lonely hours of self-employment. My current favorites are Be There in Five, The Morning Toast, Absolutely Not, Ask Iliza Anything, Getting Curious with Jonathan Van Ness, and The Skinny Confidential Him & Her Podcast.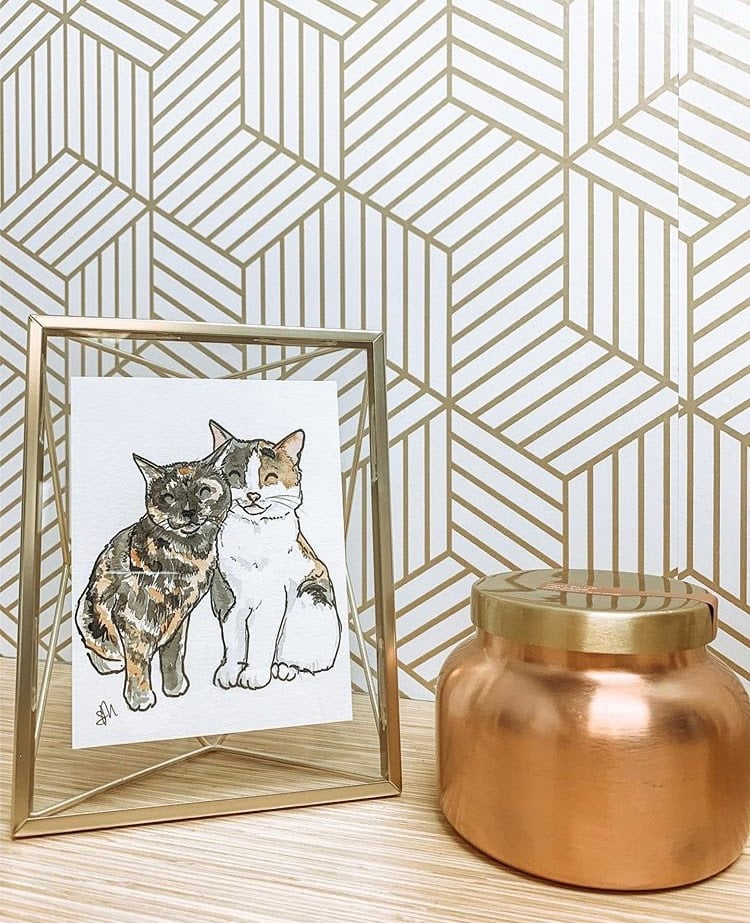 Advice for other entrepreneurs who might be struggling to grow their business?
Honestly, my biggest piece of advice is to be careful who you take advice from. There are SO many resources out there (podcasts, books, off-handed comments from family members). I think if we listened to all of it then we would stop listening to ourselves.
When I wanted to take my business full-time after college graduation, I got countless condescending comments from people. Maybe they meant well by saying, "no but what's your real job going to be?" or, "Are you sure you don't want to get that corporate job with health insurance?" Or maybe they were projecting their own fear onto me.
Either way, it made me doubt myself unnecessarily. No one knows your business and your potential as well as you. Trust yourself, listen to someone you truly align with and prove the rest wrong!
Are you looking to hire for certain positions right now?
I am not ready to hire right now, but it is definitely in the back of my mind every week. In the near future, I hope to be defining a role to assist me in back-end stuff.
Until then, my roommate's pitbull Daffodil will retain her role as a primary assistant.
Where can we go to learn more?
If you have any questions or comments, drop a comment below!
-
Sarah Miller, Founder of sarahpaintspets
Want to start your own business?
Hey! 👋I'm Pat Walls, the founder of Starter Story.
We interview successful business owners and share the stories behind their business. By sharing these stories, we want to help you get started.
Interested in starting your own business? Join Starter Story Premium to get the greatest companion to starting and growing your business:
Connect + get advice from successful entrepreneurs
Step by step guides on how to start and grow
Exclusive and early access to the best case studies on the web
And much more!
PROMOTED
Did you know that brands using Klaviyo average a 95x ROI?
Email, SMS, and more — Klaviyo brings your marketing all together, fueling growth without burning through time and resources.
Deliver more relevant email and text messages — powered by your data. Klaviyo helps you turn one-time buyers into repeat customers with all the power of an enterprise solution and none of the complexity.
Join Brumate, Beardbrand, and the 265,000 other businesses using Klaviyo to grow their online sales.
Starter Story
Wanna see 52 business ideas you can start with less than $1,000?
Join our free weekly newsletter and get them right now.