How I Built And Scaled The First Airbnb For Motorcycles
How I Built And Scaled The First Airbnb For Motorcycles
Hello! Who are you and what business did you start?
My name is Guillermo Cornejo, and I am the founder and CEO of Riders Share. Riders Share is like Airbnb, but for motorcycles: we are an online marketplace where people can rent motorcycles from each other.
People come to our website and list their bikes to earn income, and other people rent them. We provide insurance, roadside assistance, payment processing, and other services to increase trust and make the transaction possible. In return, we obtain a percentage of the transaction as revenue.
We have had over 22, 000 motorcycles listed on our platform nationwide in the United States. We have over 120,000 registered users and we have raised $3.5 million in venture capital since our launch in February 2018.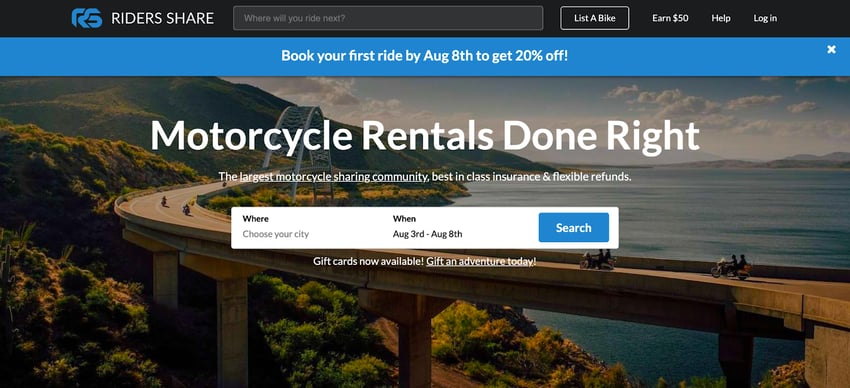 What's your backstory and how did you come up with the idea for Riders Share?
I spent a while looking for ideas - I was trying to start a business because I felt overqualified for my job and that I never had the opportunity to work at a job appropriate for my skills. I worked as a data analyst in the auto industry for GM, Nissan, and Hyundai, in a variety of roles: analyzing used car sales, subprime loans, leases, dealership loans, planning and even call center optimization.
I crashed a motorcycle, and I didn't want to spend several thousand dollars buying a new one. I only used it every other weekend. I figured renting would make more economic sense, except it didn't: motorcycles cost $200 a day to rent. At that cost, the market opportunity was clear to me. I also suspected that the risk management tools used in subprime risk management would also help me manage the insurance risk of motorcycle rentals to manage costs.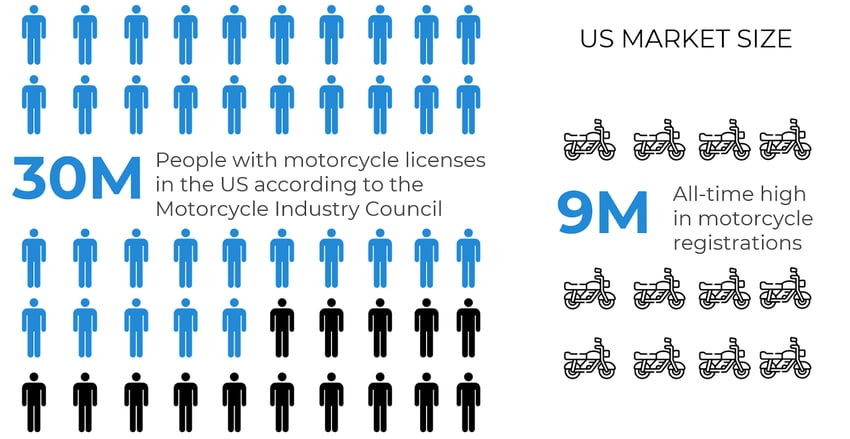 I validated the idea with a crappy website that collected leads - it helped me estimate the cost of acquiring supply and demand by running ads. I had an analyst job that paid decently and I had savings of $15,000 to fund the first version of Riders Share and kept my job for several years.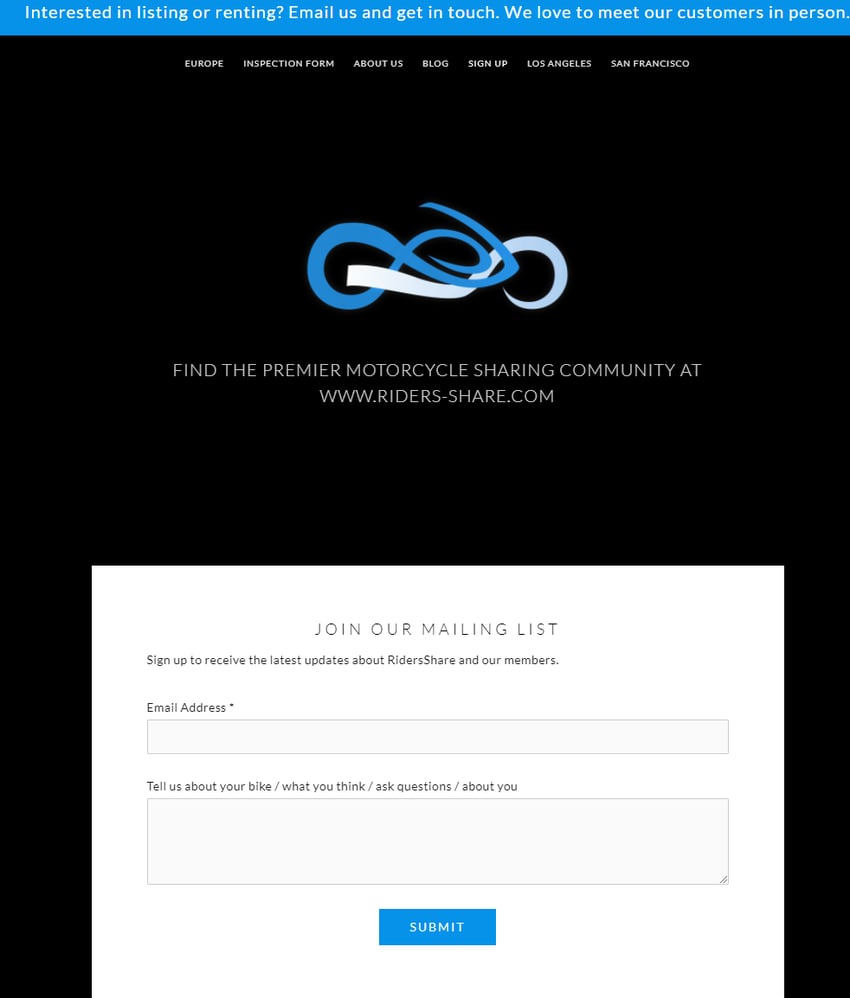 Take us through the process of building the platform.
I spent 6 months researching the market and its size and found a lot of information from news articles about the CEO of the largest brick and mortar competitor. That's when I decided to make the jump. Many of the forecasts I made about transaction sizes and gross margins proved fairly close to reality 6 years later.
Finding a developer
Initially, I tried outsourcing the website development. This proved costly and low quality, resulting in the first 2 versions of Riders Share failing.
I was able to recruit a technical cofounder in 2017 and that changed everything. It was a lot easier to work on the product when the developer was invested, understood the end goal, and worked really hard to succeed. I went through 3 potential cofounders for a few weeks before settling on Brendon, who outworked everyone before him. I met Brendon on Reddit!
When it comes to design, we basically learned from the leaders in the sharing economy.
Startup Costs
When it comes to pricing and costs, it was a lot harder. We had to purchase auto liability insurance policies, general liability policies, Google ads, Facebook ads, etc to make it all happen; and insurance was so costly that I lost money each time somebody booked a motorcycle - but I knew I needed a track record to negotiate lower insurance costs, so I did it anyway.

How did you launch the business? How did you get traction?
Of the 500 emails of people interested in listing their motorcycles pre-launch, not a single one of them ended up listing their motorcycle. This is why I do not ever trust survey data.
To earn traction, I initially relied on earned media. I emailed the editors of many motorcycle magazines about the "Airbnb of motorcycles", and because we were the first, we got significant coverage. This is how we obtained our first 500 or so motorcycles. For two-sided marketplaces, acquiring supply is the #1 priority. In addition to the press, I personally posted on groups, forums, social media, and any free website you can imagine to get the word out about Riders Share. I also posted on groups for hosts from other sharing economy websites - if they list cars on Turo, why not motorcycles with us? Subsequently, organic traffic became our largest source of traffic and revenue. The backlinks from the publications helped us rank well on Google. We also started running ads to grow faster and to prove our unit economics. If anything, demand proved harder than supply.
In addition to personal savings, I acquired 10 credit cards at the same time to get a credit line total of $60,000, and that's how I funded the first 6 months. I also got into an MBA program on full scholarship, and took out loans to pay for living expenses but used them for the business instead. The MBA at UCLA connected me to future investors and also helped me free up time compared to my full-time job.
In total, I used about $100,000 in loans and my own savings that allowed me to grow and obtain enough data to negotiate a lower-cost insurance policy, and then we were in business. Improved gross margins and fast growth allowed me to raise my first round of institutional investors.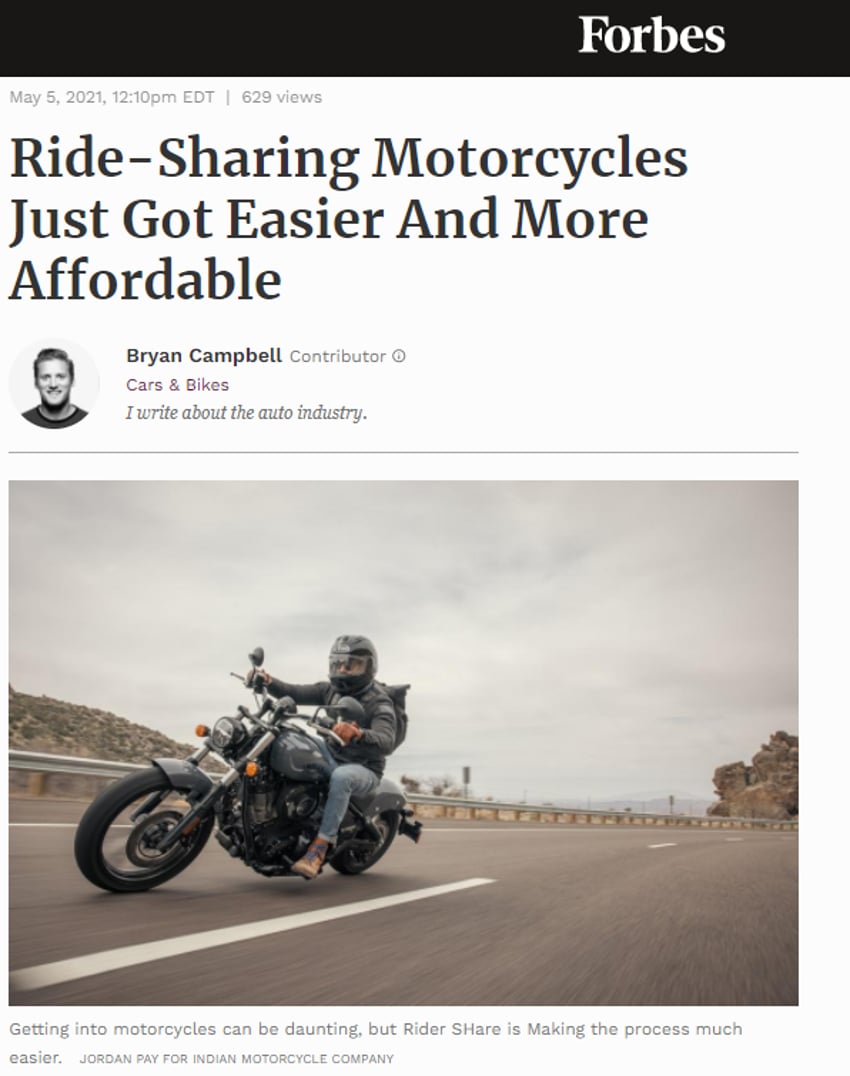 Since launch, what has worked to attract and retain customers?
Each market has its own channels depending on the level of competition and your users' journey to a decision.
SEO
In our market, most people are not familiar with motorcycle rental brands and start the journey with research on Google. So our focus was how to rank on Google. We optimized the website, earned backlinks, and wrote a blog targeting low competition keywords that people researching a motorcycle trip would target.
Newsletters
We send these blog articles to our users in biweekly newsletters and also advertise them a bit on Facebook, and that seems to be enough to get them ranking on Google.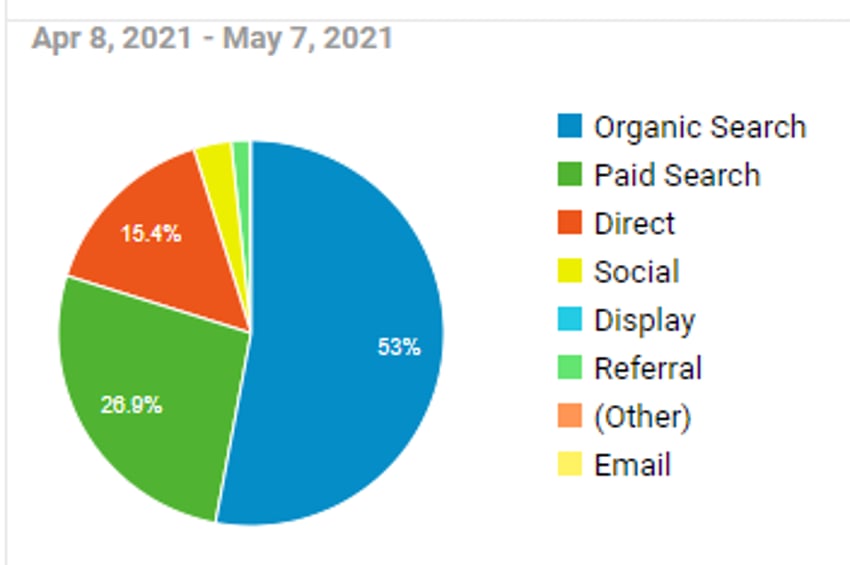 Google Ads /SEM
We also used Google Ads. Although we have a large organic presence now, at the start we did not in most cities and Google Ads helped get it jump-started.
Building Relationships With Journalists
We found press releases do not bring organic results. Most of the links are tagged as no-follow. However, having a story written on behalf of journalists makes their job easier so it helps in earning media. You have to build relationships with journalists for them to write about you.
We don't have that many return customers because most of our customers are travelers, and people travel once a year or so. To encourage return usage, we released a subscription service that gives customers a 35% discount in exchange for a monthly payment.
How are you doing today and what does the future look like?
We are very close to being profitable, we just need a little more scale. Our margins are around 45% and we take roughly 55% of the total rental revenue for a net take rate of 25%.
Our conversion rates are roughly 1%, depending on the channel. Our transactions average over $300 each and we have 100,000+ registered users. We are growing 100% YoY but that's actually slowed down due to COVID compared to 2019.
We have positive ROI on ad spend on Google and are working on doing the same on social media to accelerate growth. While we are doing a good job of reaching people already interested in renting motorcycles, the next step to fuel growth is to reach people that aren't considering this option and would love to if they knew it existed.

Today we have 6 full-time employees and we operate in 48 states. Our goal is to quadruple our revenue compared to 2020. In the long run, we'd love to encompass more of the motorcycle travel experience and to continue to lower costs to make riding more affordable.
Through starting the business, have you learned anything particularly helpful or advantageous?
You have to be ready for the unexpected, such as COVID. We also learned that online fraud is a big deal: first, Nigerian scammers tried using our platform to create fake listings and ask people to wire them cash (they succeeded - twice!). Then, people in the US tried using fake identities to rent vehicles and steal them. Online fraud is pervasive and you should plan to lose 0.50% of your revenue to chargebacks if you start an online business - more if your business involves renting.
Frankly, don't start a company unless you have an incredible advantage that can't be easily replicated. It's just too hard and not worth the risk. The vast majority of new businesses fail. It is a lot more difficult than it seems.
Being the first mover is not usually a good advantage, but in our case, it helped us get the press coverage we needed to get the initial traction. It also helped us rank on Google and obtain valuable insurance data that today allows us to have superior pricing over our competition.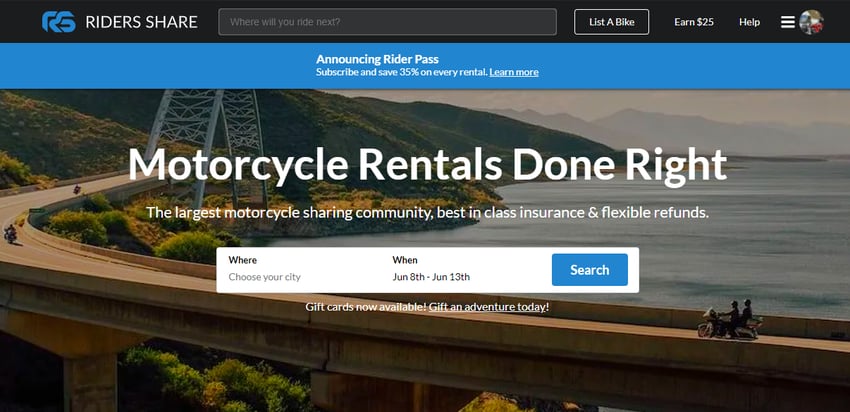 What platform/tools do you use for your business?
We built the website in-house. Tint.ai is our insurance broker. We use Mailchimp but are considering moving to Klaviyo for email marketing.
We use Dialpad for customer service (to run a mini call center). I also like UpCounsel for legal services.
We don't use any third-party tools, although we have like 6 APIs to prevent fraud and reduce insurance risk.
What have been the most influential books, podcasts, or other resources?
The Lean Startup by Eric Ries is a must. For online marketplaces, "The Platform Revolution" has specific strategic advice that can be crucial to the success of a marketplace. We have been able to succeed thanks to our adherence to the principles of this book.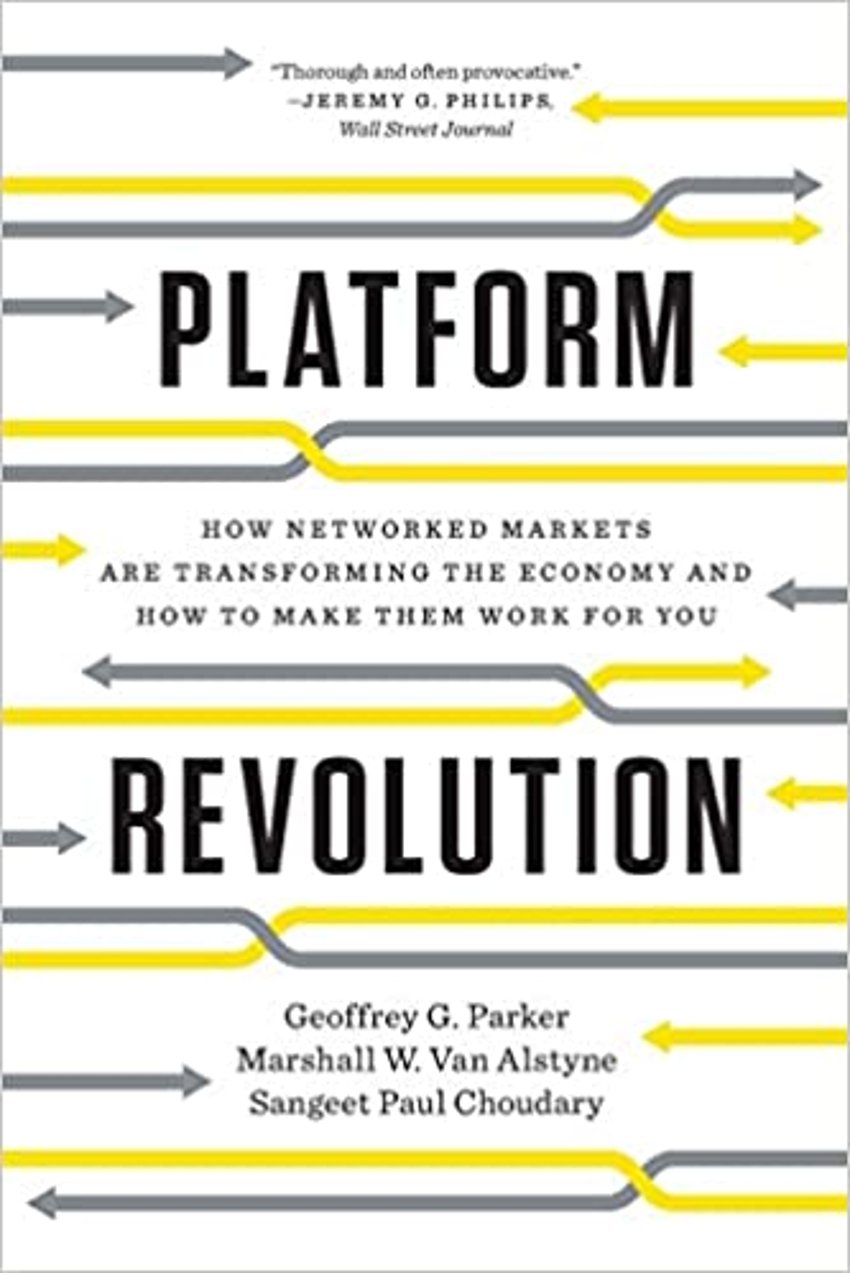 Advice for other entrepreneurs who want to get started or are just starting?
Frankly, don't start a company unless you have an incredible advantage that can't be easily replicated. It's just too hard and not worth the risk. The vast majority of new businesses fail. It is a lot more difficult than it seems.
Where can we go to learn more?
If you have any questions or comments, drop a comment below!
-
Guillermo Cornejo, Founder of Riders Share
Want to start your own business?
Hey! 👋I'm Pat Walls, the founder of Starter Story.
We interview successful business owners and share the stories behind their business. By sharing these stories, we want to help you get started.
Interested in starting your own business? Join Starter Story Premium to get the greatest companion to starting and growing your business:
Connect + get advice from successful entrepreneurs
Step by step guides on how to start and grow
Exclusive and early access to the best case studies on the web
And much more!
Together With Semrush
If You Don't Rank In Google, You Don't Exist.
In order to be successful, you need to be visible online. If you're not, then your competitors might be stealing customers from you.
Semrush lets you quickly create content that ranks, and compete with the biggest brands in your niche.
Try Semrush Free Today ➜