How I Started A $284K/Month Eco-Conscious Clothing Manufacturer
•
Published: November 18th, 2022
How I Started A $284K/Month Eco-Conscious Clothing Manufacturer
Hello! Who are you and what business did you start?
Hi. My name is Andrija Šajkaš. I'm the founder and the CEO of FUSH ltd, a clothing manufacturer from Serbia. We're experts in manufacturing activewear, running t-shirts, and sports jerseys. Another noteworthy thing about FUSH as a clothing manufacturer is that we only make customized products, meaning we make each order from scratch.
What started as me working from a tiny office as a founder/account manager, finding international clients in need of clothing manufacturing, and finding local manufacturers in need of new orders is now a two-factory clothing business with 170 people, one solar-powered facility, a knitting facility and a network of international clients.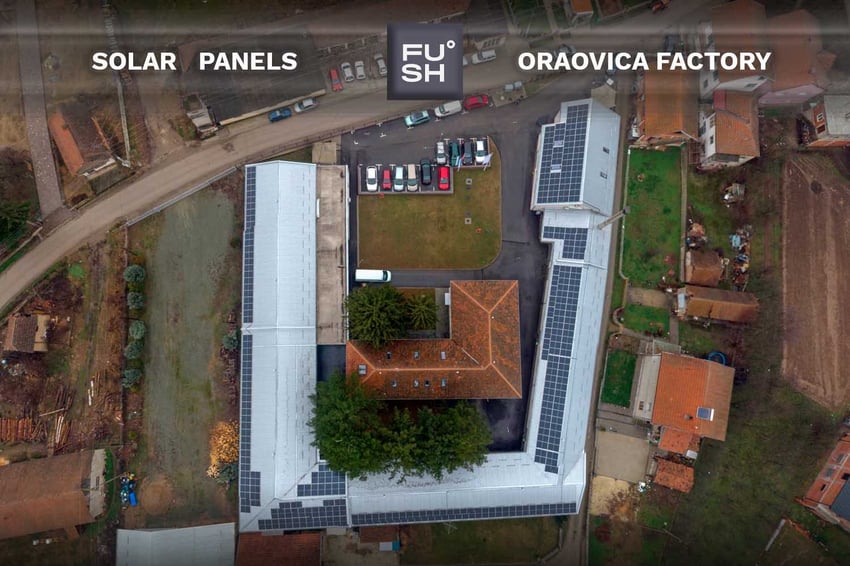 Communicate even the minutest details and information that you believe is common sense.
What's your backstory and how did you come up with the idea?
Between high school and uni, I got a job at a wholesale textile business. That's where I got introduced to the industry.
A few years after that, I opened a small clothing store. I was sourcing clothes from both local manufacturers and dealers and for the most part, I didn't like the quality of the products I was buying, nor did I like the prices. This is why I had to close the shop and try something new.
Since I knew the clothing manufacturing landscape of Serbia quite well, meaning I knew which manufacturers I could trust for future projects, I decided to try my luck on Alibaba and find clients looking for European production for their promotional clothing.
This was the earliest phase of what has become FUSH in today's form – me as an account manager scouring for clients online and then looking for the best possible local manufacturers to handle production.
Back in the day, you couldn't find a low-MOQ manufacturer on Alibaba and I saw an opportunity in offering customized pieces with an MOQ as low as 50 pieces. This is how we competed with the low prices of Asian manufacturers.
Take us through the process of designing, prototyping, and manufacturing your first product.
The first garments we made were promotional t-shirts. Clients would send us existing garments and we'd disassemble them in an attempt to recreate the model. We were trying to guess what specific type of fabrics, threads, and patterns we'd need to use to make a new piece similar to the sample. Back in the day, there was a lot of guesswork that we learned a lot from over the years.
We couldn't make models from scratch, because we didn't have a single pattern maker in our ranks so copycatting was a way to go at the very start.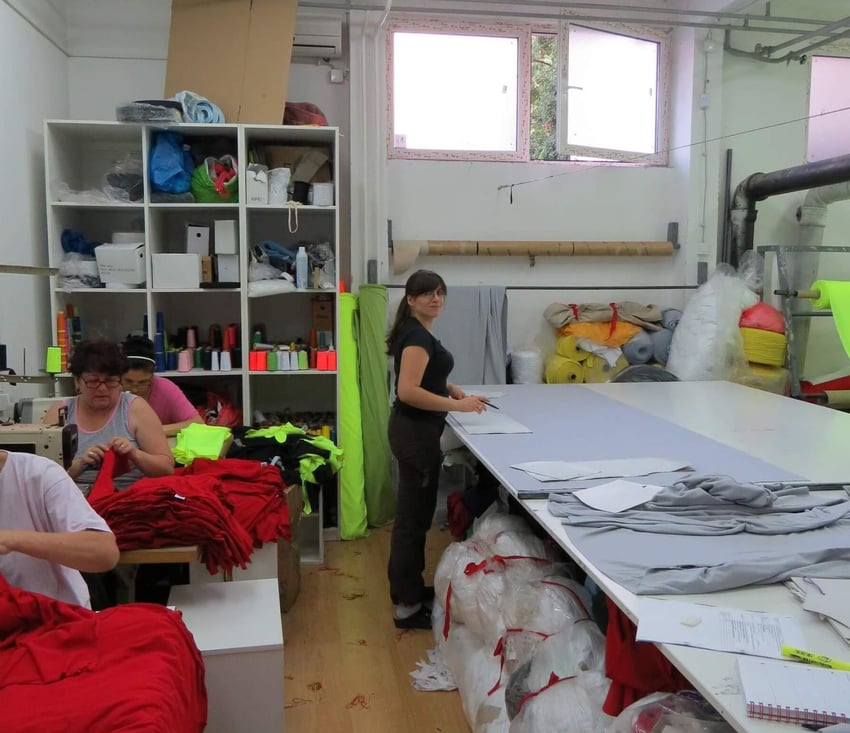 We track down industry-relevant keywords with difficulty low enough to be able to rank with just quality content and enough traffic to warrant the effort in making such content.
Describe the process of launching the business.
FUSH came to life once I realized good clothing manufacturers in Serbia are few and far between but we didn't start as a manufacturer.
Because of my history as a clothing store owner, I've managed to map out decent local manufacturers that I could work with on my next project – finding international clients for those manufacturers and making a living by taking a small commission from each successful cooperation. I managed to earn a decent living and start building savings for potential expansion. It was a one-man show until 2005.
That year, FUSH was born. During my time as an account manager, I calculated that, with a combination of equipment and real estate loans and my savings, I could finance a small expansion. I managed to move into an apartment building basement, buy some basic textile equipment, and hire six people to handle warehousing, fabric cutting, and sample sewing.
All this was done to handle more orders. We could now buy fabrics in bulk and cut them ourselves as well as outsource only sewing, embroidery, and printing. This resulted in a significant increase in profits.
To get to where we are now, we've got a lot to thank our clients at the time, who were the ones asking for more different products with each new order, which in turn expanded our portfolio and guided the expansion to where we are today.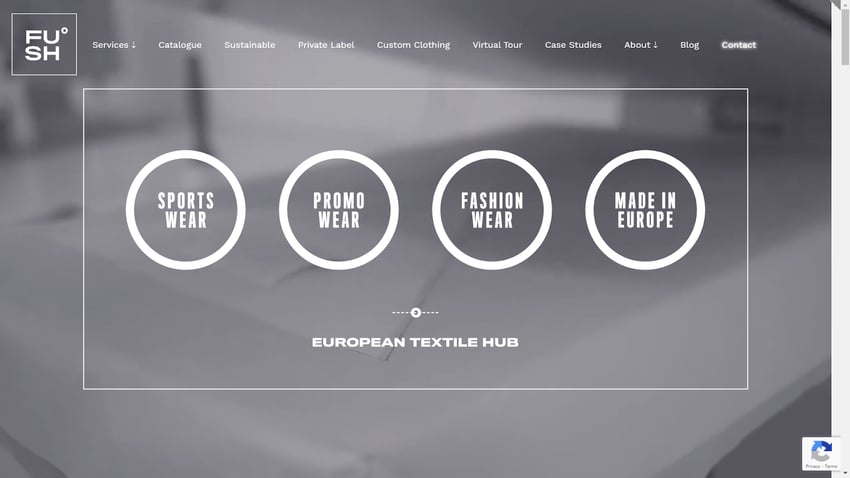 Since launch, what has worked to attract and retain customers?
Our first effort to make a name for ourselves was full-on guerilla marketing. We found ideal potential clients on Alibaba and sent them FUSH-made t-shirts, hoping they'll like our quality and pricing. It worked initially and was our main source of clients in the beginning. The more we worked, the more clients we got purely by word-of-mouth. Our two major clients at the time came to us that way and took over the bulk of our manufacturing capacity.
That's when we gradually stopped using Alibaba as a means to attract potential clients. Today, we're not on it at all. Low MOQ has been our forte then and once Asian manufacturers started offering it, we lost the competitive edge on that network.
As far as other networks are concerned, we have a profile on Europages and Manufy but neither has brought in any significant business yet. They both have strong sides, though – Europages is a source of a lot of inquiries we get from our website contact form and Manufy is a relatively new network specifically built for networking between European brands and manufacturers, which is great for our business model.
Our main attraction for both existing and new clients is the ease of communication. We always make sure that no stone is left unturned before we even start sampling. It also helps that our account managers are fluent in English and French so language is not a barrier, which is often the case with overseas suppliers.
Since we've been making sports clothes for the past 17 years and our portfolio of those garments is quite big, businesses from this niche that find us, stay with us. Another feature that helps retain customers is our ability to customize fabrics in terms of different knitting patterns, textures, and weights. Our ultra-light custom mesh fabric has been a great attraction for marathons.
As far as marketing efforts go, we've devoted almost all our attention to on-page SEO. We found keyphrases we could easily rank for with quality content and went about creating it. It worked fantastically because we've attracted two major clients from the teamwear industry.
We use SEMrush to track down industry-relevant keywords with keyword difficulty low enough to be able to rank with just quality content and enough traffic to warrant the effort in making such content. The two such keywords we had the most success with are "sustainable clothing manufacturers" and "clothing manufacturers Europe".
LinkedIn is 90% of our social media marketing efforts. We dedicated this social media channel to the awareness stage of our sales funnel because most of our potential clients are actively using it. We're currently testing the waters with In-mail cold outreach.
Team spirit and empathy are just how invaluable in any business.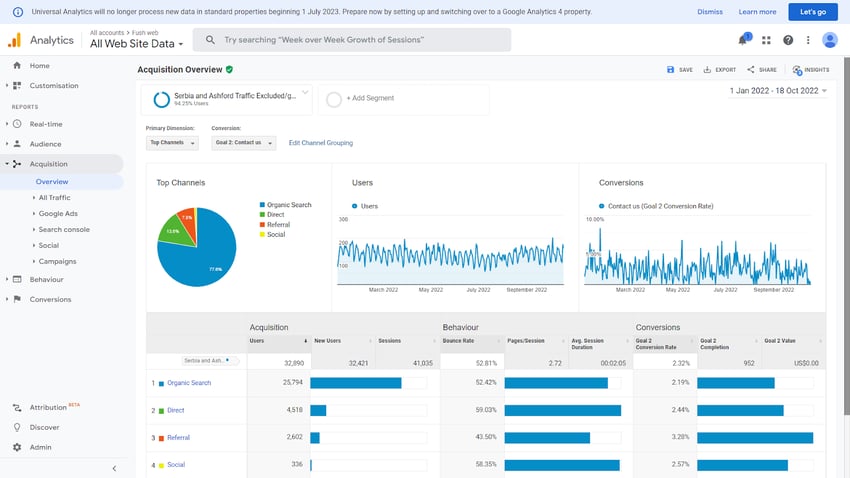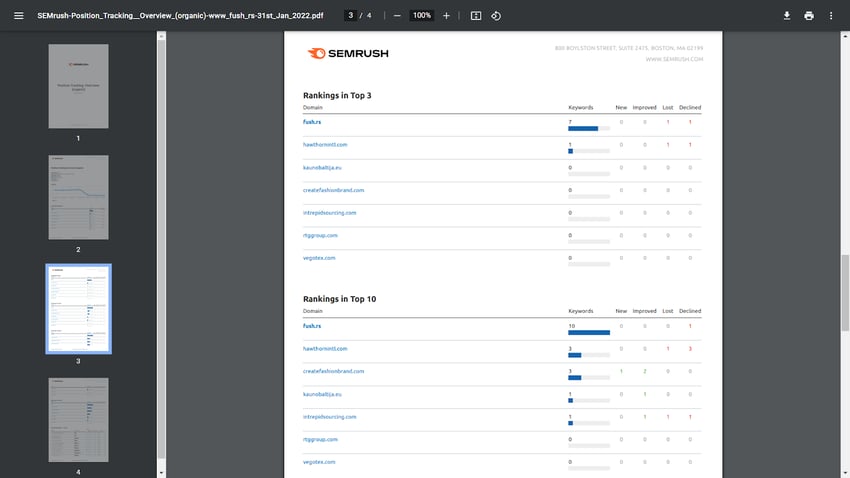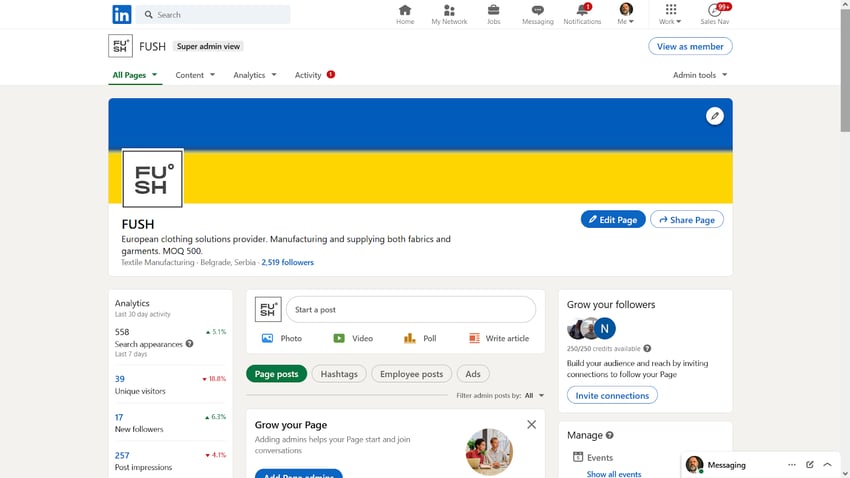 How are you doing today and what does the future look like?
We've expanded our catalog to various streetwear products, something that the pandemic accelerated. That means we're using more organic cotton than ever before, which is a true relief from the sustainability point of view. Also, it lets us get one foot in the door of the fashion industry, something we haven't been involved in enough in the past.
Being that our mass production facility runs almost entirely on solar, we plan to supplement that solar system with batteries so we can store the excess energy we create during spring and summer. When you consider that Serbia uses fossil fuels for 70% of the electricity it creates, FUSH being 100% solar-powered is an excellent outlook for our clients' CO2 reduction plans.
We work with one major teamwear brand and are in negotiations with another, which means we're likely to have more streamlined production and a more stable revenue flow. This would allow us to further invest in business development. Two main business development goals are: GOTS and GRS certifications and expanding the knitting facility with jacquard machines.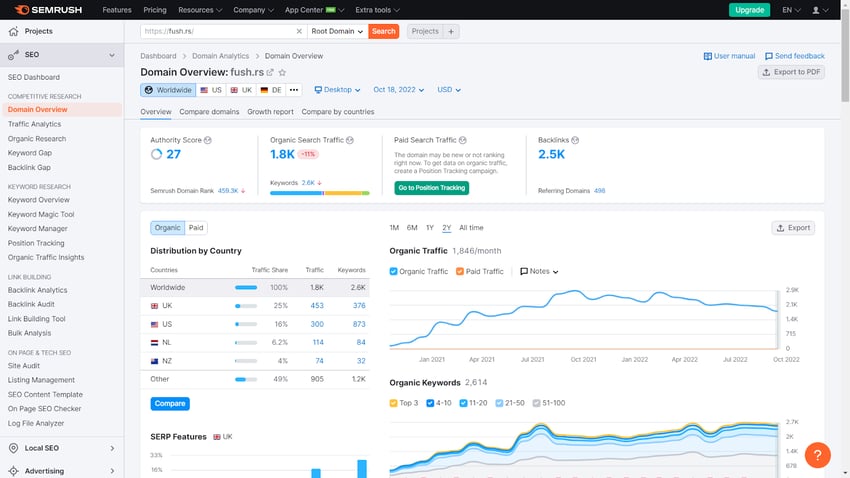 Through starting the business, have you learned anything particularly helpful or advantageous?
Communicating even the minutest details and information that you believe is common sense. When people are immersed in any industry, they tend to forget that the world around them doesn't know the ins and outs of their field of expertise.
We learned a whole lot through trial and error, especially with dye sublimation. We wrote about it at length on our website but it mostly comes down to tackling fabric shrinkage.
What platform/tools do you use for your business?
We're members of many textile industries' B2B networks, out of which two stand out – Manufy and Europages. We got both online exposure and some small business opportunities from both networks.
As far as marketing tools go, we're using Google Analytics, Search Console, SEMrush, Moz Domain SEO Analysis tool, and Ubersuggest.
With some of the regular clients, we use Monday for all business communication.
What have been the most influential books, podcasts, or other resources?
Nothing from the industry or business-related, I'm afraid.
The one book that I often return to is What I Talk About When I Talk About Running by Haruki Murakami. I'm a fan of his work generally but this book is in a way related to what I do as an entrepreneur. A clothing business such as ours is very much like a marathon so this book hits home for me. Plus, most of the clothes we made since 2005 were worn by runners so there's that layer too.
Advice for other entrepreneurs who want to get started or are just starting out?
If you plan to start a manufacturing business, make sure that you know what you do well enough to be able to explain it to someone who has no clue about how clothes are made. Because, more often than not, your clients won't have a clue about the technical parts of your cooperation. You'll best achieve this with:
A pre-written guideline for business communication so all your account managers have the same approach
A website that succinctly conveys all the important information
If you haven't started yet, define your target persona and your target market and build your brand around that. Knowing your target market before starting your business will help you fine-tune the tone of your website and your social media channels.
I'd like to add that just how invaluable team spirit and empathy are in any business. Both inside the company and in relationships with your clients. Having recruiters with backgrounds in psychology can help you build such a workforce.
Also, if you'd like to make a difference, be radically transparent. This would mean that you'd have to do the right things, which costs more but will help you sleep at night and will eventually attract the best possible clients.
Are you looking to hire for certain positions right now?
We're currently looking for office staff mostly, nothing directly involved with our industry. We've recently hired a sewing production manager and saw an instant increase in productivity.
Where can we go to learn more?
If you have any questions or comments, drop a comment below!
-
Andrija Šajkaš, Founder of FUSH Ltd
Want to find more ideas that make money?
Hey! 👋 I'm Pat Walls, the founder of Starter Story.
Get our 5-minute email newsletter packed with business ideas and money-making opportunities, backed by real-life case studies.