How Foodsharing Went From Being Fun To Saving The World
•
Published: September 15th, 2022
How Foodsharing Went From Being Fun To Saving The World
My name is Ela Haney and I'm the CEO & Co-Founder of Cook Eat. We are Switzerland's first online marketplace for home-cooked food. We could slow down the negative effects our food system is responsible for.
Over 30% of our ecological footprint is caused by our nutrition, so something needs to change, fast. Through food sharing and cooking more portions from fewer kitchens we can save water, electricity, and food waste from all the private household kitchens that are not used when eating together.
Our online marketplace caters to the largely eco-conscious population of Switzerland and the general demographic of 25-55, with a strong skew towards females.
I have been working on the idea for over 9 years. Together with my co-founder Matthew Brandt our knowledge of the food-sharing industry is unparalleled and we are using our combined knowledge in product design and data analytics to launch the world's first food-sharing metropolis here in Zurich, Switzerland.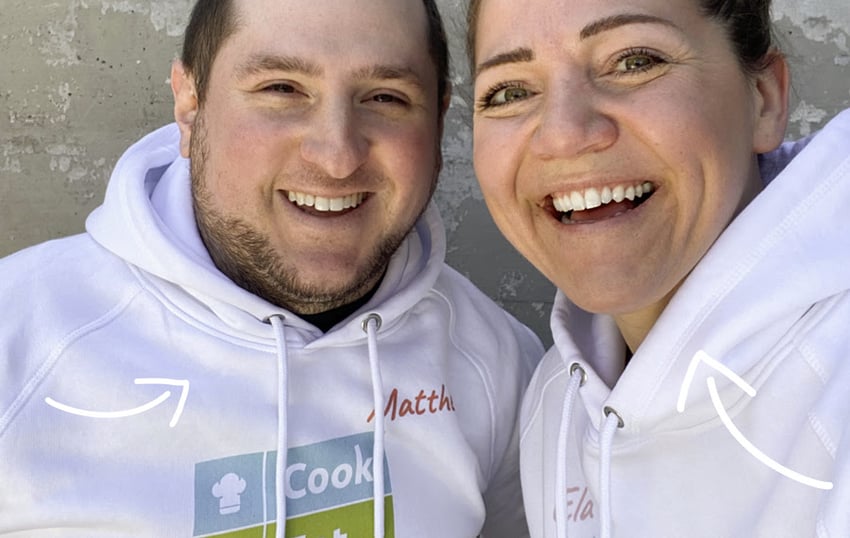 What's your backstory and how did you come up with the idea?
I never wanted to be a founder, which I believe makes me a better one. Back in 2013 when I worked happily on my career as an Art Director at a digital design agency, and some of my co-workers decided to spice up our daily routine by eating all home-cooked vegan food for 30 days as a challenge.
The struggle to find the time to cook 3 times a day led us to the idea of a marketplace where we could just buy in on a meal a neighbor is cooking.
I was immediately in love with this idea and since I couldn't find anything like that out there, but knew how to create digital products, I built the first MVP with existing tools like Doodle and WordPress to set up the meals. People were booking and the first great experiences were taking place at the tables of those hosts!
As a digital product designer, I knew that listening to your users and developing only what's needed is key to creating product users love.
We've rung nearly 2,500 doorbells. Addressing micro-communities and neighborhoods online has virtually no impact, as the targeting is not precise enough.
Take us through the process of designing, prototyping, and manufacturing your first product.
The WordPress version of our platform worked pretty well in the early days.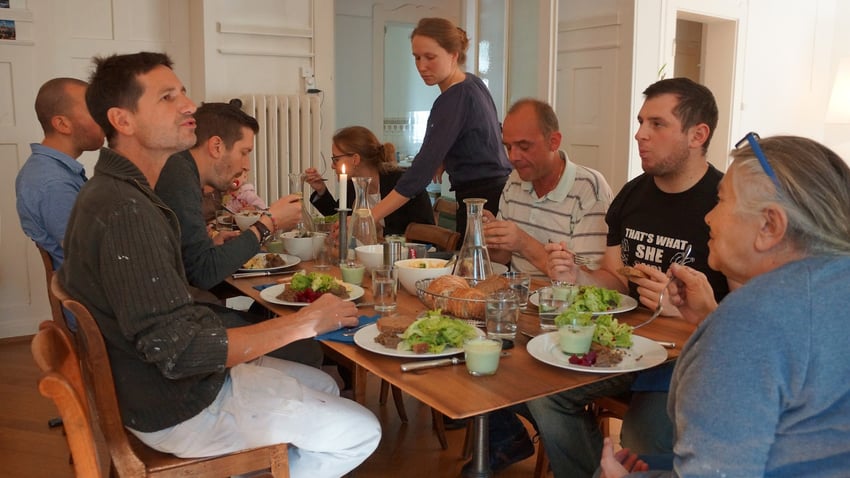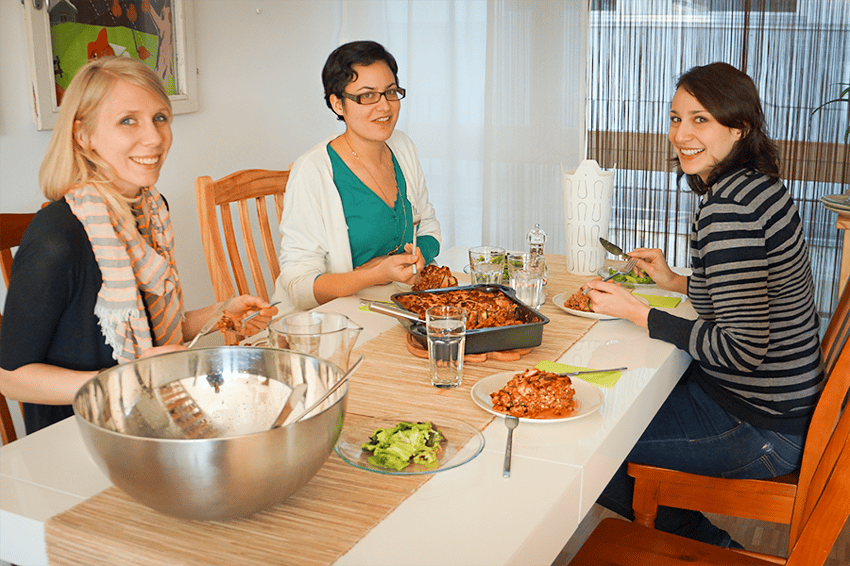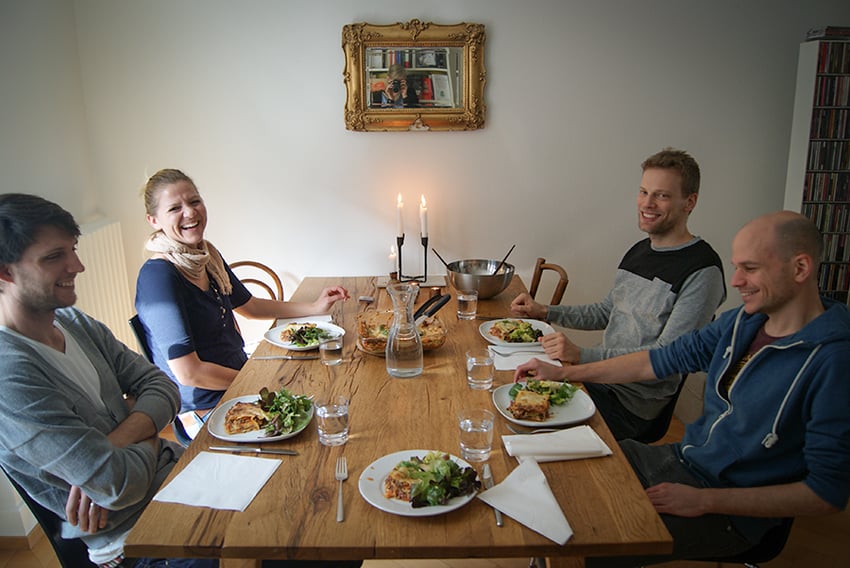 We were able to test if people would be open to eating food from a former stranger. Everything in the background was still me. I was setting up the meals online, I was asking people if they had any meals planned for the week where they could cook a few portions more and share. On the guest side I was going around offering those meals to strangers working close by and this all worked perfectly. All meals were sold and then one day I reached a limit of meals I could handle per week. I was working full time and a meal was give or take taking me an hour to handle. So with around 10-20 meals my week had gotten quite busy.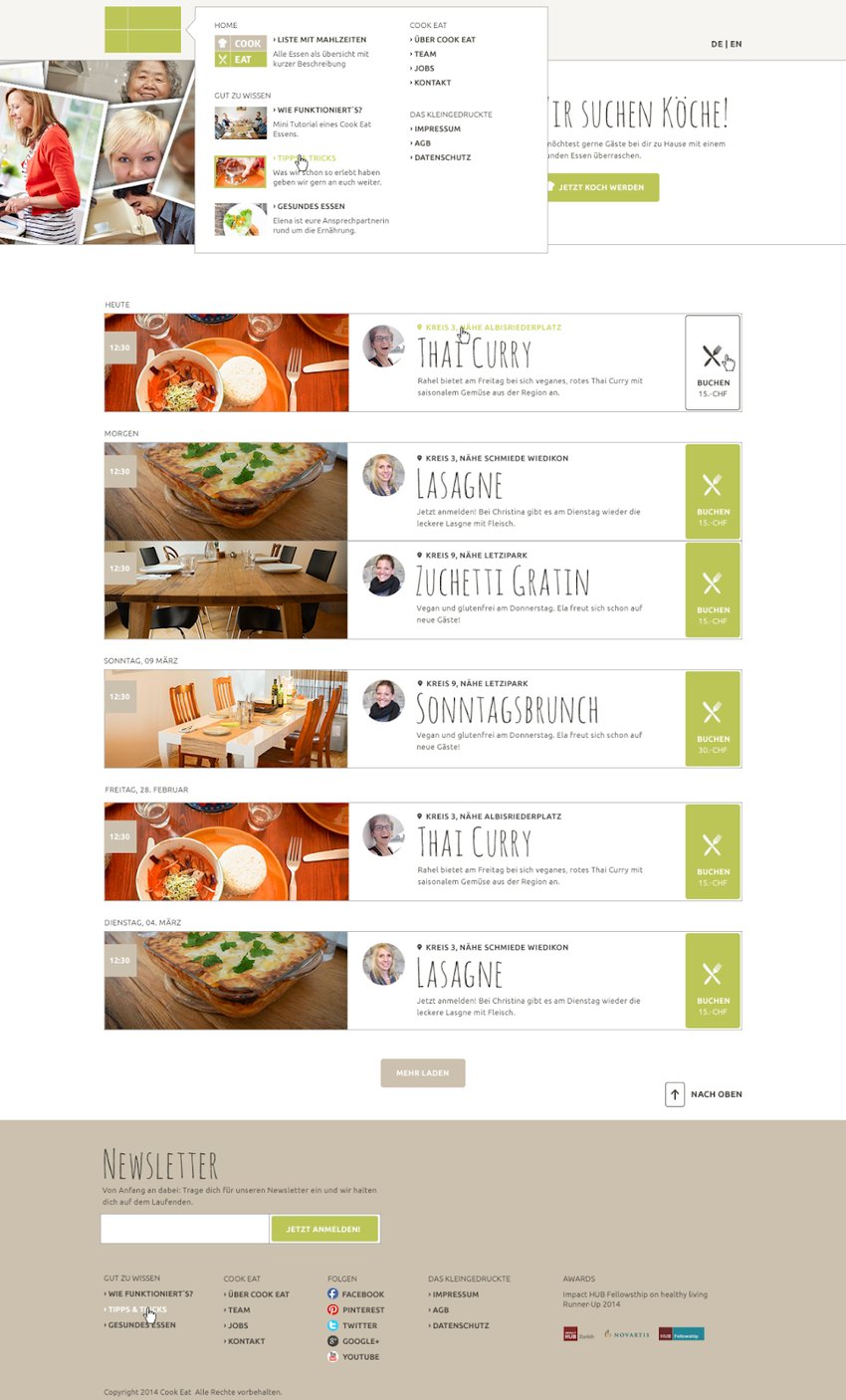 This is also when I met Matthew and who was hooked by the idea from our first meeting. We started automation and evolving the technical aspects of the platform. Trying to find a way to shift the meal creation and motivation of our users from me over to the digital product.
We participated in a lot of startup awards but finally realized that with our idea there is always someone helping with Alzheimer's, curing cancer, or inventing the next new plant-based meat product leaving us with healthy nutrition (rightfully) in second place.
After trying to find a developer for the team for years by working with several over months, Matthew and I had the whole prototype and specifications ready for our first bootstrapped food-sharing platform. We decided to invest ourselves to have the product built by an agency for us.
We very quickly saw that we could never build all the cool features we had anticipated. The offer was too expensive for us and we realized that we had no information yet about what customers wanted! So we trimmed it down and ended up with our first version of the marketplace, which was coded up within 3 months and we were finally online! Yeaaaaah!
Describe the process of launching the business.
The marketplace has been online since March 2018. We learned fast that we would need to be full-time founders or go home for this idea. It would not grow organically as it needs a lot of "educational" work to make people aware of the fact that you could sell and buy home-cooked food to/from your neighbors!
We applied and graduated from the US-based pre-seed startup accelerator «Founder Institute» and all our pitch practice paid off when we were able to convince 4 amazing Swiss angels of the vision to buy home-cooked food anywhere and anytime.
The Cook Eat AG then was founded in November 2021, when we secured our pre-seed in financing and with that worked full-time on the idea! We took quite a few weeks to plan out our go-to-market strategy, or as it was to be called, later on, our go-to-building strategy. Customers within the sharing economy are generally not willing to travel more than 800m to take part in offers. Therefore, we knew that we had to target extremely local communities to have the host and the guest within this distance.
From January 2022 onwards, we rang hundreds of doorbells across Zurich with one objective: to build hyper-local sharing communities around food sharing. As we quickly learned, food sharing is a new concept and despite over 80% of positive feedback people just didn't use the platform. Learning more about our food system and how our food habits are destroying the planet we realized that food sharing could be so much more than just amazing home-cooked food!
In building a two-sided marketplace we need to cater to both sides of the business. The supply side (home cooks) is challenging, as they often feel a lot of insecurities around offering their food to others - "Who will show up?", "Is my food good enough?", "Is it legal?" and "What if no one buys it?" are common questions we get from first-time cooks.
The demand side (guests) are having difficulties booking and planning their meals. Everyone just lives in the idea of loving to eat spontaneously even if they might be looking forward to a planned meal. It's hard to fight against deeply ingrained habits, but we never gave up! There has to be an open marketplace for home-cooked food in the future or the words some of our community members are saying "it just makes sense!"
If anybody had told me that it would take 9 years to get here (and it's still not certain) I would have not pursued the idea. So as it's been written about elsewhere already: "a startup is a marathon, not a sprint!"
Since launch, what has worked to attract and retain customers?
To be honest not much has worked. We have not yet reached the critical mass this idea would need to make the platform relevant for enough people. We have learned that addressing the concerns of "Who will come?" "Will it be bought?" and "Is the food safe?" head-on is something that works well (+5% conversion rate). The way we do this is with 2 main activities:
We book & visit the cook on their first meal (of course we eat the delicious food!)
We take this opportunity to conduct our "kitchen check" to make sure everything is tidy and produced hygienically
These two things together produce feelings of safety for both sides of the marketplace, as well as stemming some of the insecurities from offering food the first time. Over 60% of our first-time cooks go on to offer multiple times on the platform as well.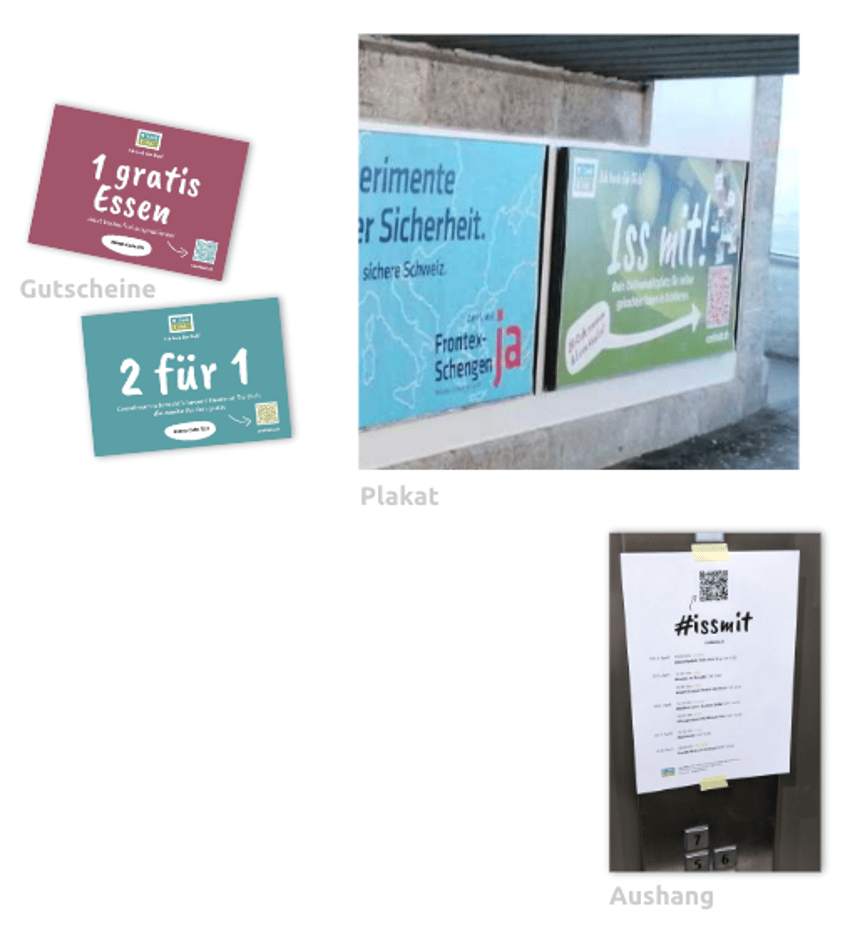 One of the main challenges facing us has been focusing on local communities (location, location, location). This is because addressing these micro-communities and neighborhoods online has virtually no impact, as the targeting is not precise enough.
We regularly promoted individual meals and the platform with paid ads on Facebook & Instagram (where our target demographic is) and after investing a few thousand francs, only had a few clicks and the occasional signup to the platform, but no meals were created or bookings.
After nearly 2,500 doorbells (our fingers and throats are a little sore from all of those doorbells and conversations) and our launch so far, we have learned several important things. Here are the top 3:
Iterate! We have changed our pitch at the door hundreds of times and continually tweak the message based on feedback we receive from our interviews at the door.
Be persistent! No one will remember you after the first message. We have to email users multiple times (some users have been in our campaigns for over 4 months!) before they convert to a cook or guest.
Stay fluid! Unless you can prove why something is a bad idea, it's worth trying. Challenge your beliefs and biases; sometimes, you don't know what will stick! When we started reaching out to housing cooperatives, we didn't see any reason why they would want to partner with us - today we're working with one of the five largest cooperatives in the region!
How are you doing today and what does the future look like?
Our business is still very young and unfortunately not yet profitable. We are learning as much as possible about our market and users and adapting to that as quickly as possible. Building a community is a long, difficult process and in our case has the major component of bringing about behavioral change, which is possibly the hardest thing in marketing a product to do!
Day-to-day we are concentrating on growing our communities within the different settlements and as of the time of writing, we're especially focused on conducting our Impact Study about food sharing, in conjunction with one of the largest housing cooperatives in the region, within their 10 different settlements around the Zurich area.
We spend a good portion of our time going door-to-door and acquiring users, visiting first-time cooks (eating amazing meals!), and doing our kitchen checks as well as promoting our community, primarily through social media and email marketing to our list of over 3,000.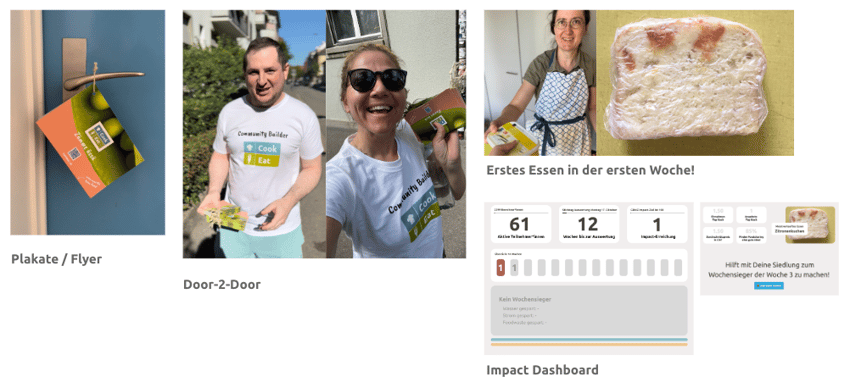 No one knows what exactly the next months and years hold but what we can say is this: food sharing is the future! Over 88% of people surveyed are enthusiastic about the idea and we see great potential in Cook Eat for a lot of reasons other than just the environment; different generations coming together, social inclusion for people of all backgrounds, a chance for people to form bonds and build trust with neighbors - these are amazing things that many people today wish for!
Through starting the business, have you learned anything particularly helpful or advantageous?
If anybody had told me that it would take 9 years to get here (and it's still not certain) I would have not pursued the idea. So as it's been written about elsewhere already: "a startup is a marathon, not a sprint!" You can get lucky with your idea but still, be prepared for a lot of work. You really have to love the crazy-diverse spectrum of tasks you need to perform daily, or else you'll be lost.
One thing is really important that you should check on yourself. "Can you still perform, if you are scared?". Because: "it's scary!". There are hard decisions to make like cutting salaries or letting people go; there might be big shipments to order, and contracts to sign and every startup will eventually run out of money – it's kind of the nature of a startup. You can't lose your head in this situation! You'll need to do all those things scared, so test yourself on it.
Body & Mind! Integrate sports into your every day. It's crucial to keep the body healthy while working on building up and running a business. Rule of thumb is to accumulate 60 min. of exercise a day. I love going for a swim over lunch, doing some yoga in the morning, or doing a HIIT workout anytime I need a break. Matthew and I also go indoor climbing together! This is a great way for us to brainstorm ideas and get a workout, as well as strengthen our bond as co-founders.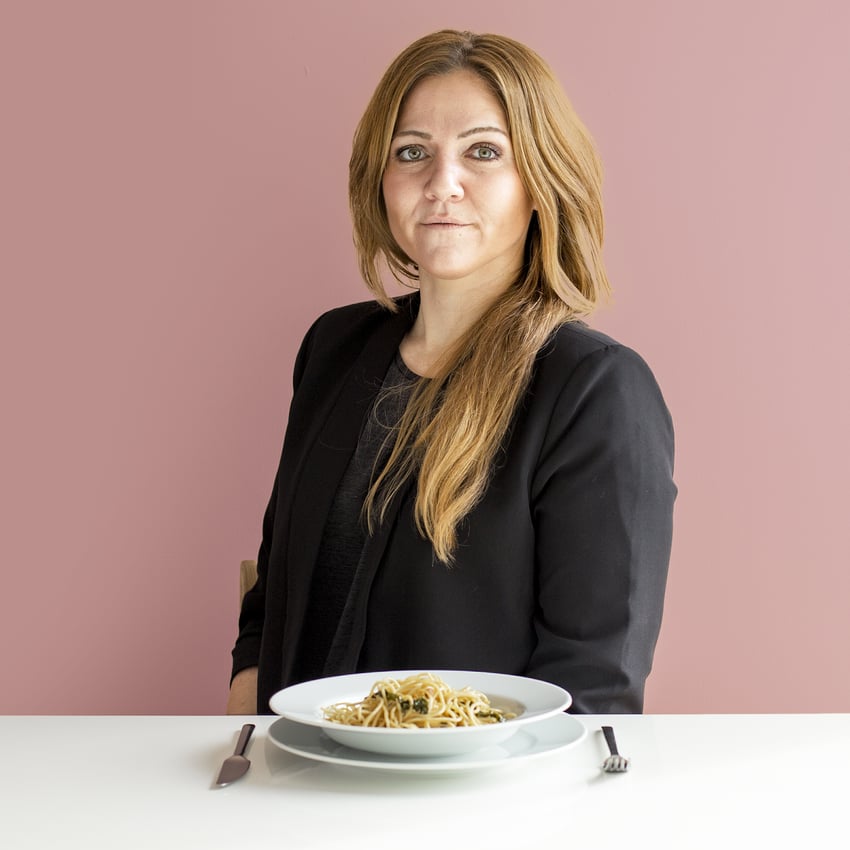 What platform/tools do you use for your business?
We run a small and lean setup as a digital platform, with our Cook Eat marketplace (built on Symfony/PHP) taking center stage. Surrounding it are:
What have been the most influential books, podcasts, or other resources?
My focus is wandering through hundreds of topics a day and I read a looooot about psychology and social behavior to keep understanding our users. Of startup bibles and self-care books I mostly just watch video summaries as I am a very visual learner and this is a super fast way to find interesting new habits to test and integrate into my workflow.
Atomic Habits summary by James Clear
THE LEAN STARTUP SUMMARY (BY ERIC RIES)
At times I run into a good podcast that stays with me for a few episodes before my focus shifts again. I remember loving "UNF*CK" Karla Loewentheil or Beziehungskosmos (Swiss German)
I love recipe books, even started writing my own (Swiss Food Blogger Book), but never finished as there is so much else to do.
Advice for other entrepreneurs who want to get started or are just starting out?
#1 – Do!! Test the market and only build what you find missing or solve problems actual users are having. Listen to everyone and talk to everyone about your idea. Great enlightening inputs can come from anywhere.
#2 – Fast! 80 % is well enough. Don't focus on details if it's not critical to your product or your test. Ditch it! But be smart about shortcuts. A lot of times they take longer!
#3 – Repeat! Be persistent and consistent. Users, investors, co-founders, partners everyone needs their time. Stay on track and communicate open and loud your message until you are eventually heard. We'll let you know if it paid out for us in the end.
Where can we go to learn more?
If you have any questions or comments, drop a comment below!
-
Ela Haney, Founder of Cook Eat
Want to find more ideas that make money?
Hey! 👋 I'm Pat Walls, the founder of Starter Story.
Get our 5-minute email newsletter packed with business ideas and money-making opportunities, backed by real-life case studies.