This Year I'm Going Full Time On My Ghostwriting Side Hustle
•
Published: October 1st, 2022
Hello! Who are you and what business did you start?
My name is Brian Rouff and I started a writing business called Mister Words. (My wife jokingly calls me that anyway, so I figured I'd put the name to good use.)
My primary service is helping people with good ideas write their books, which can range from writing the book for them (ghostwriting) to providing coaching and consultation for those who want to do it themselves. We recently added screenplay services as well. My customers tend to be older individuals who have led interesting lives and want to write a memoir as a legacy for family and friends, although I've also helped clients write business manuals, how-to books, and even novels.
Although my business is still a side hustle after more than 15 years – my day job is running a marketing/PR firm in Las Vegas – I will be turning it into my main gig over the next 12 months. Currently, I'm bringing in revenues averaging $1,500/month, but the potential is for much more than that.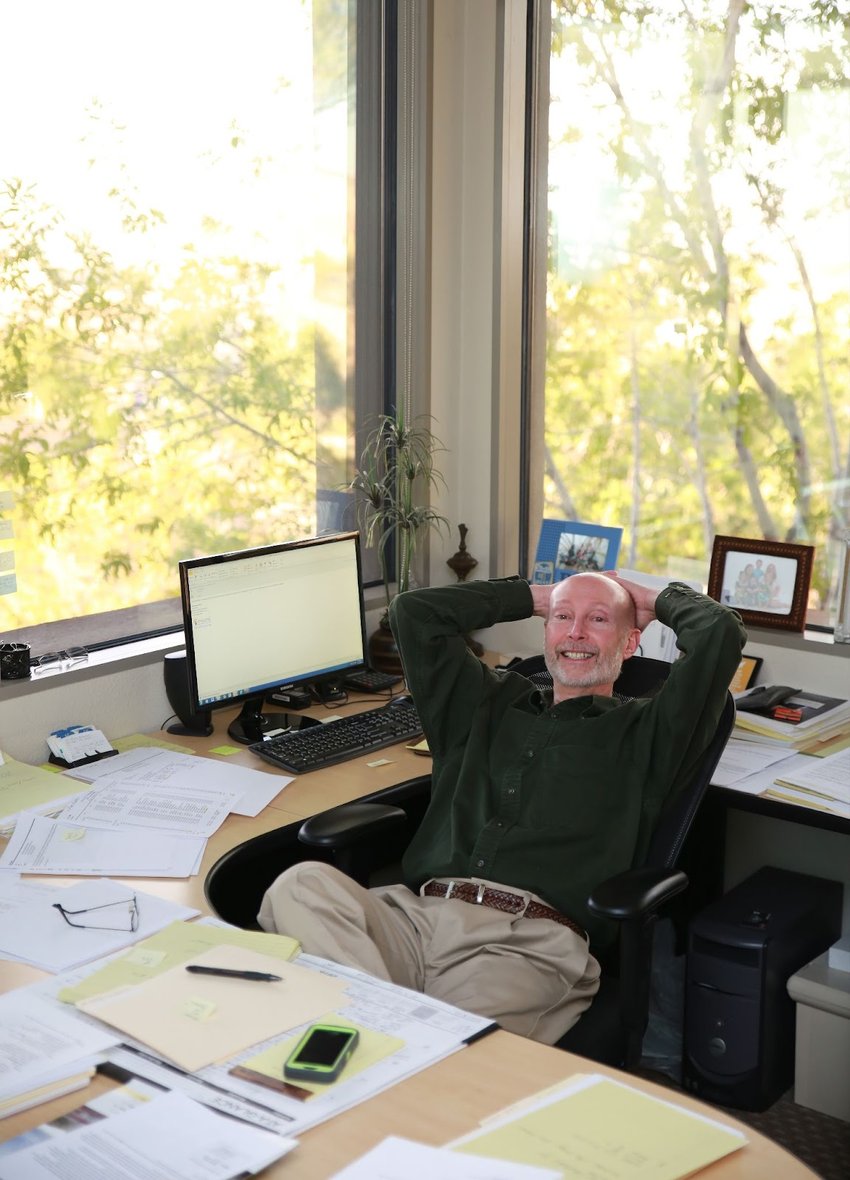 Mister Words founder Brian Rouff, hard at work in his office
What's your backstory and how did you get into ghostwriting?
I've always been able to make a living as a writer. Lucky for me, it's the only thing I'm good at. In school, I took every writing course I could get my hands on. Journalism classes were especially helpful because they taught me how to be observant and concise. After years in marketing and PR, where I still toil away my days, I decided to reach for the brass ring in 2000 – writing my first novel. The result was Dice Angel, a Las Vegas mystery that received positive reviews and sold tens of thousands of copies.
I can't take credit for getting into ghostwriting on my own. A copy of "Dice Angel" made its way into the hands of a retired casino owner, who had been trying to write his novel for years and was getting nowhere. After several meetings, he hired me to write his book for him. It turned out to be a ton of work, but it paid well and launched me on my ghostwriting path. Not only did I write a sequel for him, but I've also written more than a dozen books for other individuals, as well as branching into writing consultation/coaching for clients who want to be more hands-on.
This is the right path for me because it doesn't feel like work. And it requires very little in the way of resources or infrastructure. If I have to, I can do it anywhere with a pen and a pad of paper. My other business ideas were more complicated and risky.
To this point, I've acquired new clients largely through word of mouth and a few small investments in internet marketing. Extra income is always welcomed.
Take us through the process of designing your services and getting your business out there.
Because this is a service, not a product, taking it to market was relatively simple. I guess the closest thing I have to a product is my website.
I've always been able to make a living as a writer. Lucky for me, it's the only thing I'm good at. Depending on the job, my hourly rate is $75 - $150. This can cover anything from coaching to editing to rewriting. If it's a major project like a book, it can easily be $10,000+. Typically the process involves asking the client a ton of questions (this is where my journalism background comes in), recording the answers digitally (the recordings can range from 12 - 20 hours), turning them over to a transcriptionist, then crafting the narrative into a coherent structure. Normally we go through two or three rounds of revisions before we're ready to move on to editing, and then more revisions after that. It's a meticulous, painstaking process, and I (or any ghostwriter) earn every penny. I usually stick to my guns on rates, but sometimes if it's a kid or a nonprofit situation, I can be a soft touch. I guess I shouldn't say that, huh? ** **
At the time I started this business, the website cost less than $1,000. I spent another $500 to register the company as an LLC here in Nevada. And a graphic artist friend designed the logo in return for a lunch or two. (That's right, we creative types all work for food.) That's about it.
As a writer, photos of me on a keyboard would be boring. Sorry, it's not lion taming or mountain climbing or something more interesting.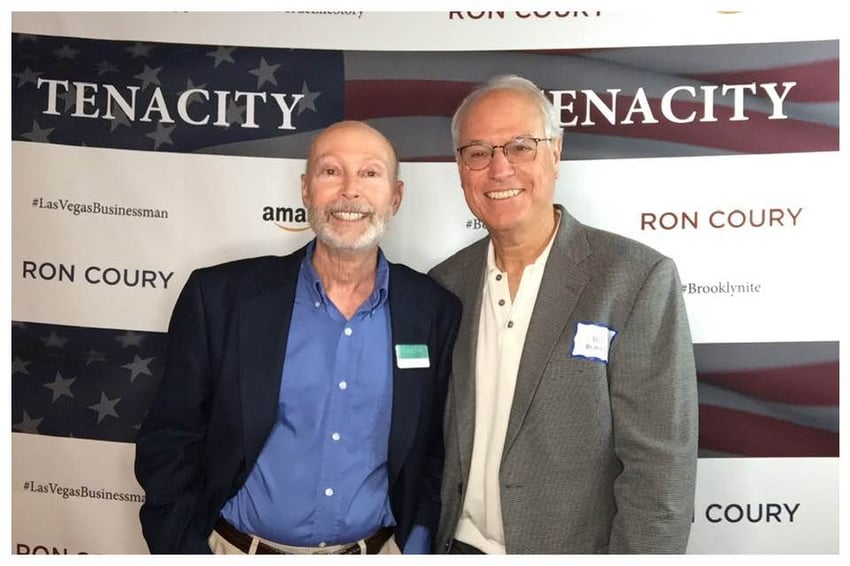 "Writers Brian Rouff and Bob Burris at the launch party of a client's memoir, which they helped bring to market."
This started as a standalone project, so I had no idea I was "launching" a business. It just happened organically over time. As a side hustle, it's still not technically a full-fledged business, but I plan to rectify that situation soon. The biggest lesson for me has been "don't give up your day job until you're ready to commit 100%."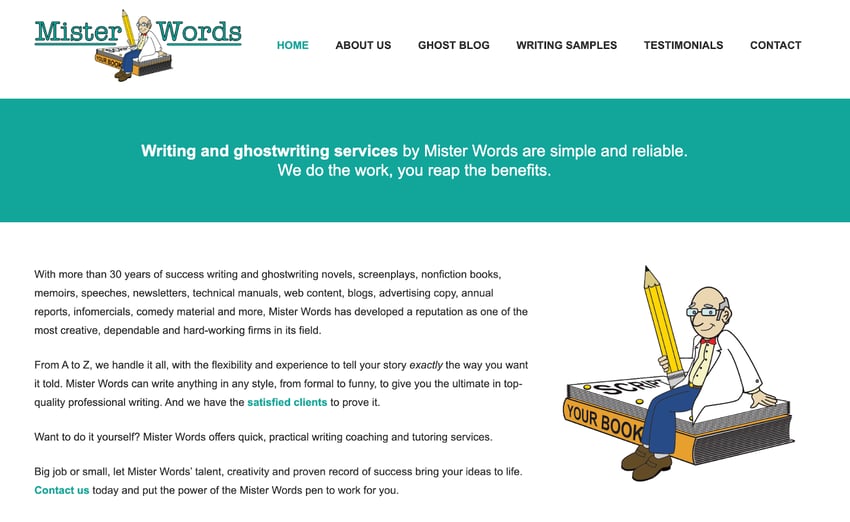 Since launch, what has worked to attract and retain new clients?
Repeat business and referrals have been my best friends. That, of course, is a byproduct of doing quality work and satisfying my customers/clients. (I have several quality testimonials, so it's not just me saying that.) I always go out of my way to make sure they're happy with the final product. And even though my name isn't on the book or article – that's what ghostwriting is all about, after all – I still take pride in a job well done. It's about enjoying the process and building business relationships, not taking credit. I have my books and short stories for that. These, by the way, are my best calling cards for business development because they show what I'm capable of doing. I've also spent a great deal of time building my "Google resume," which is populated with positive stories about me and my work. That's one of the first places prospective clients look when they're vetting you, and it's a real credibility-builder.
I've also had some success joining FB college groups and promoting my services to mothers of recent high school seniors who may need guidance on their college application essays.
How are you doing today and what does the future look like?
Doing well, thank you. I still have my day job as a managing partner for a Vegas-based marketing/PR firm, but I'm phasing out. Of course, it's always scary giving up a steady paycheck, but the kids are grown, my wife still works and our needs are modest these days.
Once I'm doing this full-time, I intend to invest some money in a Google Ad Words campaign. A business associate has been providing that service professionally for many years and I've seen it work wonders for other service providers. I'm feeling optimistic.
I've already teamed up with a successful indie screenwriter to expand my offerings. If the business takes off, I'd consider hiring other writers to increase capacity and grow the operation. But I'm getting ahead of myself. Ultimately, if I can clear $5,000/month, I'd be a happy writer.
Amazon sales of Brian's novels have led to increased business for Mister Words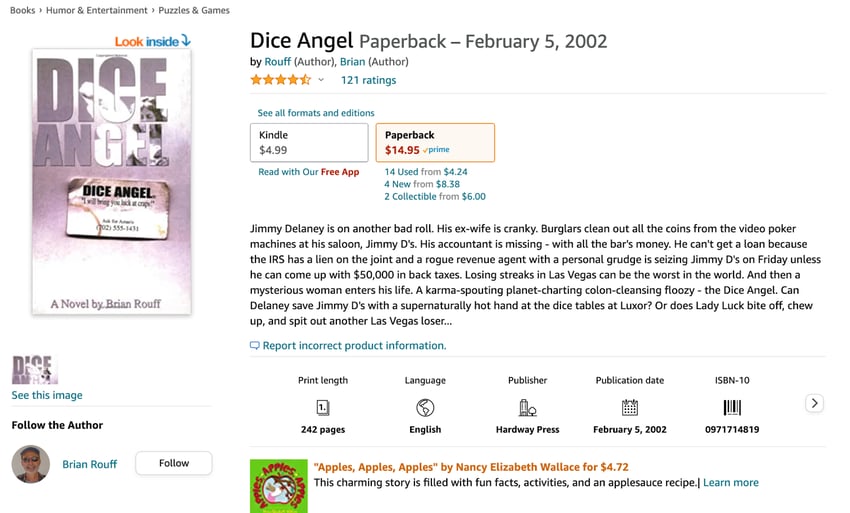 Through starting the business, have you learned anything particularly helpful or advantageous?
Walk before you run. Be patient. Success usually happens incrementally, not overnight. Be sure to set client expectations early and repeat them often. Particularly important in this business is explaining the difference between revising and rewriting. Along those same lines, watch out for "scope creep," which is an expansion of services without a commensurate raise in compensation. As with most things, honest and timely communication is the key.
Plan each day but build in enough flexibility to account for unforeseen circumstances. Expect setbacks. Stay positive. Be relentless!
What platform/tools do you use for your business?
I'm an old-school, low-tech kind of guy, so I try to keep things simple. I started years ago on a PC, so that's the technology I continue to use. I abuse each computer till it wears out, which averages every three-four years.
On the writing side, I use Word documents. I don't love the Microsoft business suite, but it's fairly universal so I stick with it. For meetings, Zoom has become my go-to platform. My website was built on WordPress, which is so simple that even I can do most of my updates.
For social media, Facebook is still my platform of choice. I've tried Twitter and Instagram but had trouble building much of a following. When I go full-time, I'll be focusing more on LinkedIn.
What have been the most influential books, podcasts, or other resources?
Speaking of "old school," I've always been a big fan of the Dale Carnegie classic, How to Win Friends and Influence People. If you follow his advice, you're bound to build strong business relationships for life. I've also revisited "The E-Myth" several times, as a reminder of how to control your business, rather than letting your business control you.
When it comes to writing, I recommend Fiction Writing Demystified by Thomas Sawyer – yep, that's his name – "Bird by Bird" by Anne Lamott – she tells compelling, relatable stories about the writing process – and, of course, the AP Style Guide and the Chicago Manual of Style, two essential reference books depending on what kind of writing you're doing. Oh, and Stephen King's "On Writing." One of his best pieces of advice on becoming a good writer is to be a voracious reader.
Advice for other entrepreneurs who want to get started or are just starting out?
Treat people fairly. Jump on small problems before they become big problems. Always over- deliver. Show up for meetings five minutes early. Be a creative solutions provider. Learn something new every day. Plan each day but build in enough flexibility to account for unforeseen circumstances. Expect setbacks. Stay positive. Be relentless!
Where can we go to learn more?
If you have any questions or comments, drop a comment below!
-
Brian Rouff, Founder of Mister Words
Want to find more ideas that make money?
Hey! 👋 I'm Pat Walls, the founder of Starter Story.
Get our 5-minute email newsletter packed with business ideas and money-making opportunities, backed by real-life case studies.