On Starting A Dog Training Business With 11 Active Trainers
Start A Dog Training Business
Hello, I am Margie Wiesmand. My company is Island Dog. We work with clients and their dogs for a pet dog, Therapy Dog, and Service Dog training. We currently have 11 active dog trainers on our staff.
We are fortunate to have 13 full classes and a waiting list for classes. Clients find us through word of mouth and the internet.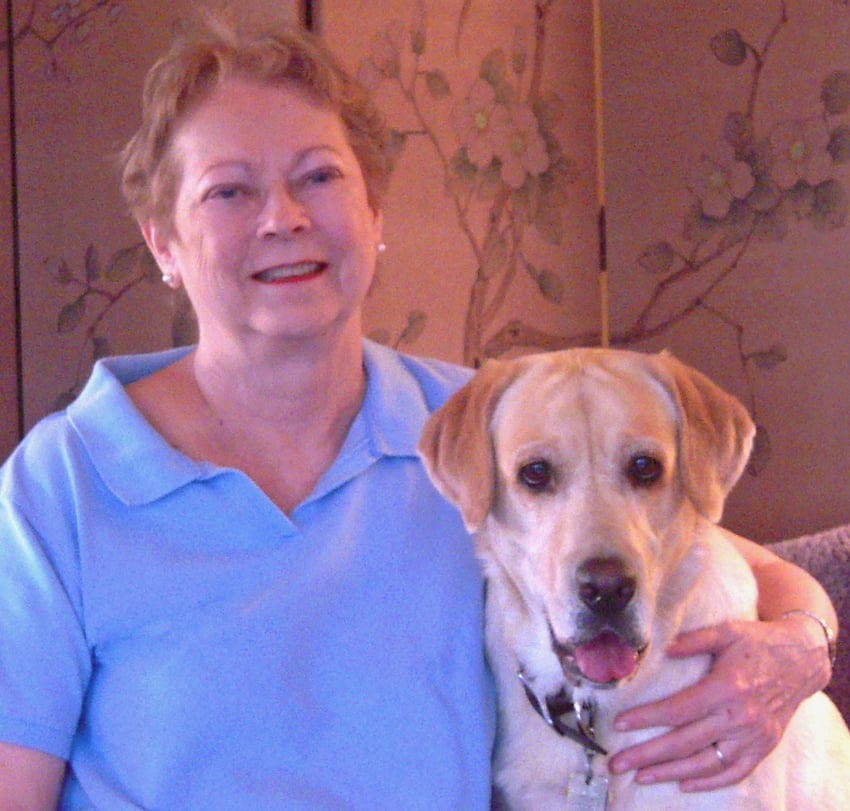 What's your backstory and how did you get into entrepreneurship?
I have a BFA in Production Management and Lighting Design. I worked as a freelance stage manager for the theatre and television. (No, probably nothing you've seen). Michael (my husband) and I rescued Ralph a GSD/Terrier puppy from a questionable home. We went to obedience classes. Ralph and I didn't exactly fit the image of the other wealthy clients and their purebred dogs. He was spunky and determined. The teacher said she was going to put her hand down his throat to stop him from biting her. I told her he was fast and if she did that he would bite her. She did. He did. And she told me to "have that dog put down." On the way home that night Michale and I were talking. Ralphie started barking and would not stop. As we looked up a semi had crossed into our lane and was heading straight towards us. Michale swerved just in time to miss a head-on collision. Ralphie saved us all.
Michael and I moved to Alabama from Connecticut. My choices and opportunities for work in my field decreased. Fortunately, I found a company that hired me as an Assistant Director/Producer/Director for military films and advertisements.
I finally had a job that paid semi-weekly! I loved the work, the people, and the travel. During one of my work trips, Ralphie died. My heart was broken. Until I met Amber. She was a shelter puppy. And my life changed forever. I was determined that she would have good manners. I got a book from the library by Barbara Woodhouse and started training her. She was a great little dog. So smart and eager to learn! She did eat through a wall once and destroyed a sofa. She was a big part of my learning curve of learning to teach her what the house rules were. Next came Brandy a beautiful Irish setter. She just appeared in our front yard. I posted flyers and checked with neighbors. It seems she was dropped in our neighborhood. We took her in and she became our dog. Her best trick was to lie on the floor with her front paws crossed looking very regal.
My heart dog, Summer, was a yellow Labrador Retriever. She was given to me by what became my closest friend and mentor. We went to obedience training and she loved doing anything I asked. We did Therapy Dog Training and she worked as a Therapy Dog in a long-term care facility and a hospital on their psychiatric floor for 6 years. She taught me to listen to her, to pay attention to her.
My friend and I started a not-for-profit dog school to benefit the therapy dog group we were associated with. I was training dogs Monday -Thursday and loving every minute of it. Time passed, things happened and I was fired by the group. No reason was given. I went in to work one day and was told to pack my things and leave. Which was a little cumbersome because I owned the building they were using. I was crushed. The school my friend and I started and the therapy group I volunteered with for 13 years was no longer part of my life. My heart was in pieces. The group moved out and I was left with a building. I didn't want to invest my heart with people or dogs ever again. I wanted out. I put the building up for sale in 2014. When I was told by my insurance agent how much it cost to insure an empty building I decided to put in a phone and do private dog training. Some of the dog trainers I had taught from the other group heard about what I was doing and asked to join me. I was not ready to start another dog school, but they were insistent. So like a Phoenix rising from the ashes Island Dog started training classes. We started with two classes per week and are now doing 14-16 classes per week.
How are you doing today and what does the future look like?
Our future looks good, barring the pandemic. We were closed for 3.5 months. That's lost income that cannot be recovered. Because our staff is all volunteers we don't have to face salary losses, but equipment, landscape, utilities, and insurance costs are constant.
Learn how to listen to the dogs, how to read body language, and what to do to help the dog understand what you want.
We are in the middle of our Oct/Dec session and we have clients registered for January 2021. I would like to begin paying the staff. We could run daytime and nighttime classes if we had teachers available.
Through starting the business, have you learned anything particularly helpful or advantageous?
Clients find us through word of mouth, referrals from veterinarians, Facebook, and our website. I tried 2-3 paid media and did not get a good return for the money. Now I do not pay for advertising.
I do support my local Humane Society and other rescue groups. I give discounts to adopted dogs and participate in non-profit fundraisers.
What platform/tools do you use for your business?
Just like with dogs, training, training, training. The business part of dog training is not the fun part. I created a website through Google. I can talk to someone there whenever I have a problem or don't understand how to do something.
I use Facebook as a means to get public information out. I use QuickBooks for accounting. These tools are quick, not always easy, but accurate.
What have been the most influential books, podcasts, or other resources?
Through memberships with the Pet Professional Guild, the Association of Professional Dog Trainers, and as an AKC Trainer Evaluator I receive constant opportunities to take online classes, attend conferences (now virtual) and webinars. The dog training field and trainers are consistently providing new information.
Through these associations, I can "speak" with Internationally known positive trainers and get their input on challenges that I face.
Advice for other entrepreneurs who want to get started or are just starting?
If you want to be a dog trainer start with your dog. Take him to a positive dog trainer who is a member of PPG for group classes Volunteer with shelters. You'll meet more personalities in a shelter in a day than you will in a classroom in a month.
Learn how to listen to the dogs, how to read body language, and what to do to help the dog understand what you want. I learn something almost every day from dogs, through reading, webinars, and seminars.
Where can we go to learn more?
-
Margie Wiesman, Founder of Island Dog
Want to start your own business?
Hey! 👋I'm Pat Walls, the founder of Starter Story.
We interview successful business owners and share the stories behind their business. By sharing these stories, we want to help you get started.
Interested in starting your own business? Join Starter Story Premium to get the greatest companion to starting and growing your business:
Connect + get advice from successful entrepreneurs
Step by step guides on how to start and grow
Exclusive and early access to the best case studies on the web
And much more!
Together With Elevate
Scale Your Business Like A Shark
Shark Tank judge, serial entrepreneur, and investor in 32 private companies, Kevin O'Leary will be Electric's 2022 keynote speaker at Elevate.
With that background, Kevin O'Leary (aka Mr. Wonderful), would know a thing or two about growing companies.
Join him and tons of others in Elevate 2022, a full-day event, highlighting changemakers who inspire us to make the world and workplace better - your business will thank you!
Make sure you register today ➜.