On Starting A Growth-Focused Digital Marketing Agency
Hello! Who are you and what business did you start?
Hi everyone! I'm Eren Kocyigit and I'm the founder of NBT (Next Big Thing). We're a Growth Studio, providing Growth and Digital Marketing products, solutions, and courses to brands, agencies, entrepreneurs, marketers, and accelerators, with our mantra: #itsallaboutGROWTH
So, what do we do?
NBT's #1 goal has always been to introduce Growth-Driven Marketing and Digital Marketing to wider audiences- whether it's through services/products we provide to brands or through training to individuals. And I think we cover pretty much everything in regards to this goal.
We provide:
Growth Marketing Consultancy & Services to brands through the Marketing Machine platform- our all-in-one growth marketing suite, and we also use our partners' tools (like HubSpot), depending on the needs of our clients.
As an exclusive partner in Turkey, we provide globally accredited online Digital Marketing Institute courses for brandsand individuals
We offer online or in-class NBT Growth Marketing Bootcamps for brands, accelerators, universities, and individuals
And we provide self-service solutions through our online learning platform Growth Marketing Hub to brands that want to receive Growth Marketing services with multiple user packages, and individuals who want to improve their careers or start a new career in marketing.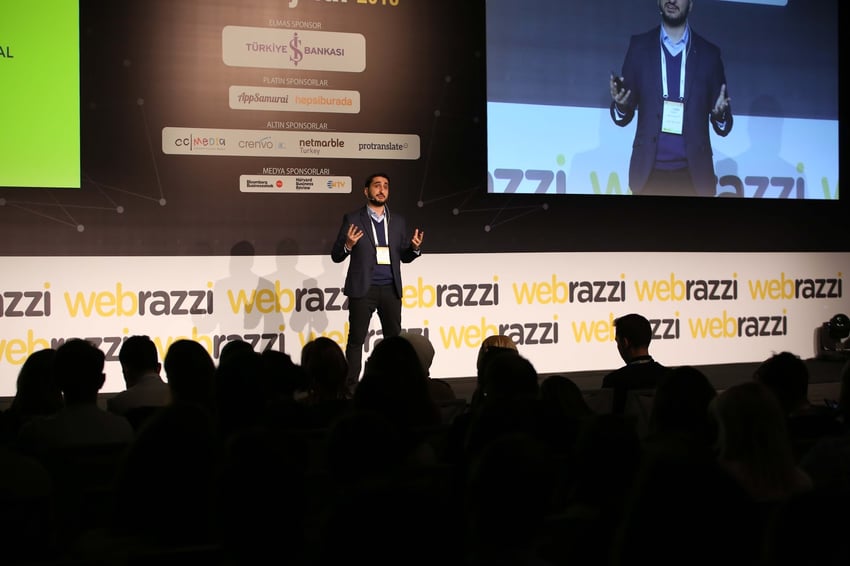 What's your backstory and how did you come up with the idea?
Marketing has always been my passion and I guess I've spent most of my time being an entrepreneur, including my teenage years. With the combination of both, even when I was working for corporates, I co-founded other initiatives, I finished my Ph.D. in marketing, and I was giving marketing lectures in universities and accelerators.
At that point, I knew exactly what I wanted to do and I think there's not really "the best time" or a "safe time" when it comes to following your dreams. So, like most of the entrepreneurship stories, one day I took the risk of quitting my job and founded NBT (but of course, I was already prepared).
I founded NBT in 2015 in Istanbul, and since then, it has been a challenging but rewarding journey. In the very first year of our foundation, we were basically consulting startups and scale-ups with their growth marketing operations and providing some operational services.
In 2016, I saw great potential for NBT globally, and we have expanded our growth marketing consultancy and operation services worldwide by opening our London office.
By 2017, we expanded the NBT team to 20+ people. That year we founded NBT Academy and started providing growth-driven marketing workshops and training to individuals and brands in many countries.
In the following years, we have launched the Marketing Machine Platform and elevated our consultancy and operation services to the next level. We have also launched our online learning platform - the Growth Marketing Hub (GMH), which is basically a self-service platform including growth marketing guides, tools, online courses, and many resources.
In addition, we strengthened our services by partnering with global brands such as HubSpot, SEMrush, Digital Marketing Institute (DMI), and SAP in addition to dozens of international acceleration programs and universities.
Now I have a great team consisting of growth marketing consultants, specialists, designers, product managers, and developers working in two offices in London and İstanbul.
Take us through the process of designing, prototyping, and manufacturing your first product.
As a growth studio covering many angles in the sector, developing products is just one part of what we do. Our first product was the Marketing Machine I mentioned earlier, which is an all-in-one marketing platform. We run our growth marketing operations with our clients in regards to building growth funnels, creating & executing growth plans, and monitoring key growth metrics with comprehensive real-time and periodic reports.
The reason we built such a product is to be able to execute NBT's proven success "growth funnel methodology" properly. There weren't any platforms to meet our needs.
Like I said, the most innovative aspect of the Marketing Machine is its funnel structure. It enables the brands to analyze the leads from online channels in detail (how much traffic came from which page, how many of them turned to leads, how many leads turned to sales and how much revenue is achieved etc.) and visualizes these details on growth funnels.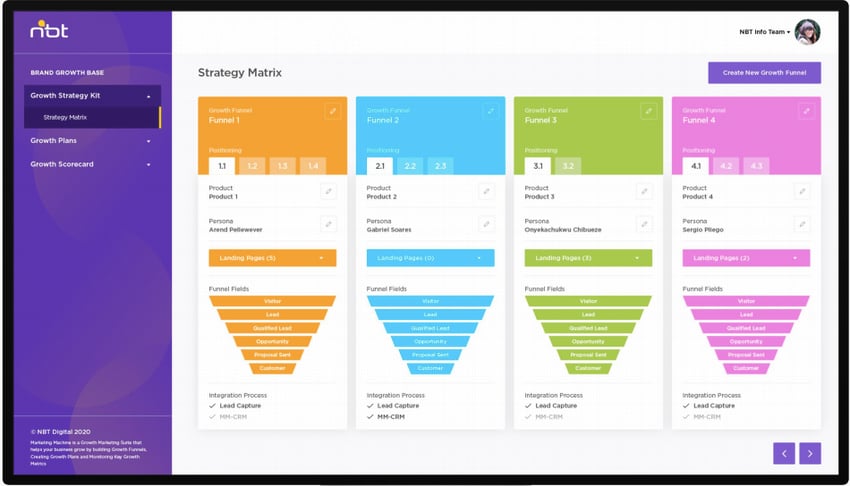 The outline and determining the framework took quite a time. During this process, we conducted numerous sessions and iterations to determine the features of the product.
We focused on two important points: 1) The customers to monitor the overall processes and their growth from a single panel 2) The customers to measure the value of the growth marketing operations.
After that, we created a "Growth Model" that handles growth-driven marketing processes within the scope of Strategy, Plan, and Reporting. Then we classified the activities conducted undergrowth marketing processes, under the related areas of the Growth Model, and determined their "credit values" (which is basically the currency of our credit-based pricing)​.
And finally, we implemented the product structure by combining the Growth Model with the determined credit system.
Currently, we're using the Marketing Machine only in-house for the brands we work with. But in 2021, we're planning to launch it as a SaaS for the startup/scaleups to manage their own processes, or agencies to manage their growth marketing processes with their clients.
Describe the process of launching the business.
Before I launched NBT officially, I already had some contacts that were willing to get services from me, who I met mainly in my marketing lectures and contacted me through referral. I wanted to have 100% control of my business so I had no funding or investment support.
After your initial business launch operations, it's paramount that you need to structure all your processes from HR to managing cash-flow, marketing to daily operations.
At the very beginning, I had to build the website, plan the business structure, handle the finances (I also have a finance background), building and maintaining customer relationships- so it was more like a one-man-show. As a next step, I employed a former coworker who was a great support to me in regards to executing the growth marketing operations for our customers. He also quit his job just right after me to work with me. I remember saying to him: "Well, you are also taking this risk with me. We will sink or swim together". (I would like to add a note that after 6 years, he's still working at NBT)
Because my main expertise is growth-driven marketing, you can imagine strategizing and executing NBT's growth plan wasn't a challenging job. I knew exactly what I needed to do, who my persona was, where they were, and how to reach them. However, as the team and the number of clients grew it was a bit challenging to keep the same high-quality bespoke services, so I started to think about how to change my business model, the company structure, and how to handle different people (both clients and employees)- which I haven't given a thought at first.
Since launch, what has worked to attract and retain customers?
We have a couple of brands, products, and services under our umbrella brand, catering to B2B and B2Cs. For this reason, I will answer this question by explaining a little bit more about NBT's methodology in general, and the marketing tactics we use.
We call our approach "the Growth Marketing Loop" which is proven to implement the right growth structure. We collect information, position the umbrella and sub-brands, create the marketing strategy and plans accordingly, and constantly monitor, measure & optimize for sustainable growth.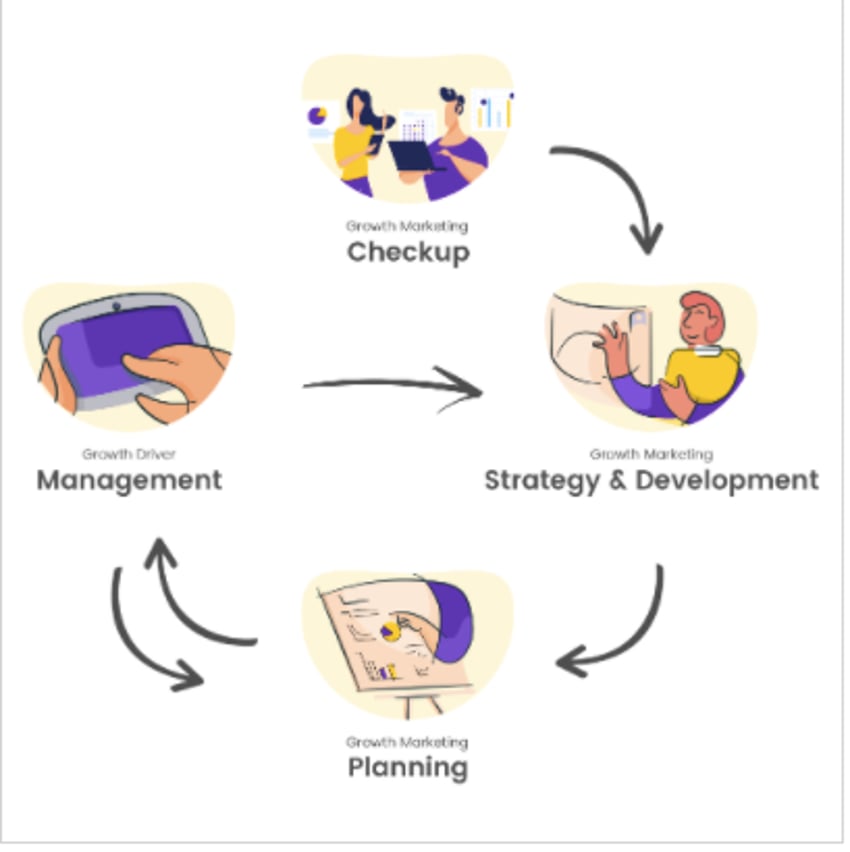 We start with the Growth Marketing Checkup which includes: the Internal Analysis (covering the 4P), Competitor Research (covering the 4P), and Customer Insights.
As the second phase, we develop the Growth Marketing Strategy. We create personas and match each persona with a Brand/Product/Solution, build Growth Funnels, determine the brand positioning and create targeted metrics for each funnel on the Marketing Machine.
At the funnel-based Growth Marketing Planning stage, we create the plans by associating each tactic with related funnel(s) and persona(s) and add targeted metrics for each tactic. And then we optimize our marketing strategy and iterate our activities according to the targeted metrics.
Luckily we don't have that "the shoemaker's son always goes barefoot" situation so, at NBT, we are capable of conducting all the growth marketing activities for ourselves apart from influencer marketing, which are:
Content Marketing
Social Media Marketing
Paid Media Marketing
SEO (search engine optimization)
Email Marketing
Earned Media Marketing
To get to the main point, I want to talk about what marketing tactics we go for to attract and retain customers. At this point, we crank it up a notch and generate tactics not in 2, but 4 growth areas:
Tactics for reach/attract: For brand awareness, these are the proven success tactics we use:
Paid media activities (ads) on platforms such as Linkedin, Adwords, Twitter, Facebook, Quora, and Reddit
Getting referral traffic and backlinks from relevant publishers and institutions
Social bookmarking activities on the relevant Facebook and Linkedin groups, forums, or popular platforms like Quora and Reddit
Regular social media posting
Content marketing with the keywords that our target personas search. It's a great way to bring in organic traffic
Remarketing to our current database or people who have visited our website
Tactics for engage/convert: The tactics we use here are for CRO (Conversion Rate Optimization) and consist of:
Engagement actions on our website
UX analysis and improvements
Regular social media posting
Remarketing
Content marketing (mostly ebooks, case studies, podcasts, and webinars with landing pages)
Tactics for nurture/close: The tactics we generate (for mostly our B2B brands and services) include:
Email sequences (a series of automatic emails) through HubSpot. These can be sent at predetermined intervals or can be based on an action/inaction
Remarketing
Website engagement and marketing automation activities through HubSpot where we track our leads' actions and act accordingly.
Tactics for retain/grow: This growth area is all about customer lifecycle management. The tactics we use here are mostly:
Upsell and cross-sell activities
Retention management where we monitor our customers' net promoter scores periodically
Co-marketing with our customers via testimonials and by creating mutual case studies/success stories.
How are you doing today and what does the future look like?
Since our founding, supporting brands and individuals in their business and career has been our top priority. This year has been very hard on almost every business but luckily (and with hard work), we still managed to grow, and also supported many businesses and individuals on their growth journeys.
Today, I can easily say we're one of the leading growth marketing agencies, providing end-to-end growth and digital marketing consultancy services, training, and products. What gets me excited the most is the value we're bringing to the ecosystem and I am always looking for new ways to improve this. In this regard, I'm planning to sponsor more universities at their growth events and support more accelerators. Another short-term plan of mine is to establish the infrastructure of the "NBT Ventures" structure that will support the early-stage initiatives, and hopefully, we'll launch it at the beginning of 2022.
Through starting the business, have you learned anything particularly helpful or advantageous?
It sure has been a rollercoaster of a journey! Of course, I've made some poor decisions along the way and one of them was not managing the rapid growth process of NBT well. The nature of our business requires us to be very well organized and structured, in addition to having extensive knowledge. At that time, there wasn't a written framework of how NBT does business, a playbook, or an onboarding process document, and when we started growing in terms of employees and clients, at one point it wasn't manageable nor a profitable business anymore.
I wasn't in all processes to understand how the recruits were handling their roles, or whether the clients were happy with our services. As soon as I realized this isn't a sustainable structure, I made some changes in our recruitment processes and the company structure- even a couple of times in one year to understand what works the best. Luckily, the team still managed to adapt to new structures quickly and we were able to see what worked or didn't work quickly.
You can be an expert in what you do, but that's is not enough to run a sustainable business. Always have a team of other experts in regards to the skills you're not equipped with.
On the other hand, I was always looking for new opportunities for the company to provide better services, increase brand recognition and generate more income. One of them was launching the NBT Academy. At first, I was the only person that was giving marketing lectures and training to companies, accelerators, and universities. Now I'm proud that almost everyone at NBT is a marketing lecturer and also so proud to support many accelerators and university growth programs free of charge.
Another strategic move that brought NBT great opportunities is partnering with global brands such as HubSpot, Digital Marketing Institute, and SAP. These strategic partnerships enabled us to enhance our services significantly as well as providing us with brand recognition globally.
What platform/tools do you use for your business?
I'm a firm believer in using and integrating tools into businesses for significant operational efficiency, better insights, and smart decision-making.
HubSpot: To me, this is the ultimate tool that covers businesses end-to-end in regards to marketing, sales, customer service, and content management activities. We're also a HubSpot Gold partner (soon to be Platinum) and supporting businesses in regards to onboarding, implementation, and consulting.
Growth Marketing Hub (GMH): Our self-service online learning platform including growth marketing guides, tools, online courses, and many resources. We bundle our Growth Marketing Workshops with GMH and provide the attendees with a better learning experience during and after the workshops.
Marketing Machine: Our all-in-one marketing suite in which we run our growth marketing operations with our clients in regards to building growth funnels, creating & executing plans, and monitoring key metrics with comprehensive reports.
Jira and Slack for in-house project management and communication
SEMrush: For SEO management, content marketing management, competitive research, and advertising purposes
Moovly Studio: For creating video animations
And a wide range of platforms and tools for paid & organic traffic and website management such as Google Analytics, Google Search Console, Google Tag Manager, WordPress, Linkedin Ads, Facebook Business, Criteo, Quora Ads, Bing Webmaster, etc.
What have been the most influential books, podcasts, or other resources?
For books, I can say:
And the podcasts I can recommend are Masters of Scale by Reid Hoffman and Naval.
Advice for other entrepreneurs who want to get started or are just starting?
As the world grappled with unprecedented change this year, I think the terms agility and resilience have been more critical to entrepreneurs. The most important skills a company should have are flexibility, adaptability, and resilience. To realize what can work better is one thing, but the ability to pivot very quickly is another. Therefore after your initial business launch operations, it's paramount that you need to structure all your processes from HR to managing cash-flow, marketing to daily operations.
Making mistakes is a given in entrepreneurship. It is so stressful but I think learning from your mistakes and acting on them quickly shapes you as a person and your company.
As an experienced marketer, another important piece of advice I can give you is (the common mistakes I see startups make) don't only focus on brand awareness (traffic generation and attracting customers) but also focus on the other stages of your sales funnels like engage/convert, nurture/close and retain/grow. Marketing should be conducted as a whole and strategies should be planned end-to-end. There are hundreds of things you can do at every stage and sometimes the efforts can be lower and it can be more profitable to keep an existing customer rather than gaining a new one.
Last but not least, you can be an expert in what you do. This is not enough to run a sustainable business. Always have a team of other experts in regards to the skills you're not equipped with.
Are you looking to hire for certain positions right now?
We are not currently hiring out any positions but we always love when marketing enthusiasts contact us to be a part of the NBT family, and we evaluate their CVs first when we have an open position.
Where can we go to learn more?
If you have any questions or comments, drop a comment below!
-
Dr. Eren Kocyigit, Founder of NBT (Next Big Thing)
Want to start your own business?
Hey! 👋I'm Pat Walls, the founder of Starter Story.
We interview successful business owners and share the stories behind their business. By sharing these stories, we want to help you get started.
Interested in starting your own business? Join Starter Story Premium to get the greatest companion to starting and growing your business:
Connect + get advice from successful entrepreneurs
Step by step guides on how to start and grow
Exclusive and early access to the best case studies on the web
And much more!
Starter Story
Wanna see 52 business ideas you can start with less than $1,000?
Join our free weekly newsletter and get them right now.